Pros:
Good looks

Comfy cabin

Packed with tech
Cons:
Boot room not as good as rivals

Expensive to repair
Introduction
The A-Class may be the tiniest motor in Mercedes' model line-up, but that doesn't mean it's an inferior Benz compared with its bigger siblings. Far from it, in fact.
Wearing an aggressive front end, and a modern interior, as well as that commanding Merc image, there's no wonder it's such a common choice for family hatchback consumers.
Indeed, with a bunch of trims and powerplants, the A-Class sits at the pinnacle of many people's "must buy" lists.
On The Road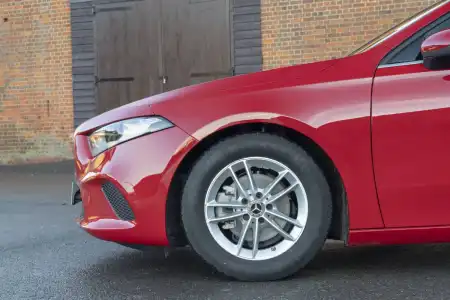 Performance
We won't bore you too much here, but let's just say there's an extensive range of transmissions and engines available in the Mercedes A-Class. To cut a long story short, it matters not which powertrain you go for - all provide an enhanced driving experience versus models of the past.
The entry petrol unit is a 1.3-litre turbocharged affair, known as the A 180. It produces 136hp and gets to 62mph in 9.2 seconds - or 9.8 seconds if you choose an automatic model. The maximum speed is 132mph - and, despite being the base A-Class, it's an enjoyable car to drive. We loved it. Why? Because it's not pretentious, it's muscular enough – and it's affordable.
We also tried the 1.3-litre 163hp A 200. This shoots to 62mph in 8.2 seconds, or 8.0 seconds with an auto 'box, and its top speed is140mph.
If it were our cash, we'd go for the A 180 SE DCT (auto) - at only £23,740 on the road. Okay, you'd get if for £22,140 if you prefer a manual - but we're lazy when it comes to left foot action.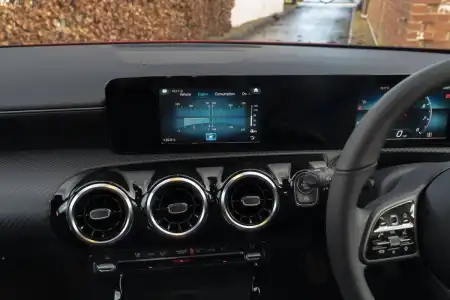 Ride Handling
The A-Class' handling has an athletic focus, although a BMW 1 Series is even better. The baby Benz carves through corners with great skill, and the grip is good, making you feel confident behind the hatchback's wheel. This is particularly the case at this time of the year when the roads are greasy and damp.
There's a little bit of roll if you take a bend too fast, but, generally, there's abundant stability. In fact, you get enough feel and eagerness from the chassis to have a giggle if you want to. A major part of this is due to the nicely weighted steering, which gives a good sense of how much traction the front tyres boast.
Cruising at motorway speed, you'd be excused for thinking you were driving a bigger car, thanks to the low road and wind noise. What's more, the A-Class is just as pleasant to drive in town, and its compact size makes parking a piece of cake. It's also worth noting that the Merc's turning circle is tight.
Additionally, the steering is nice and light at low speeds, giving decent manoeuvrability.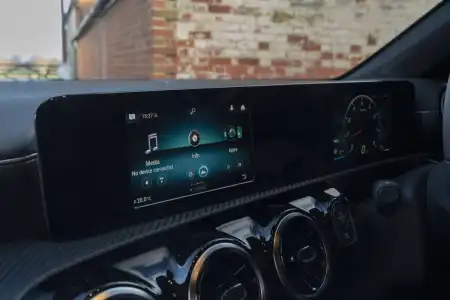 Styling
Hushed, vibration-free motoring is a significant factor in the premium driving impression produced by the A-Class.
During the latest model's development, special focus was given to high structural rigidity and the linking points between the suspension, powertrain and body.
To enhance noise insulation, the Mercedes features specially formed components, such as the air and coolant management systems or trim parts in the cabin.
Furthermore, comfort elements from higher car segments have made their way to the A-Class. For instance, available as an optional extra, and for the first time in the A-Class series, the vehicle can be configured with a Multicontour Seat Package with climate control and a massage function.
Additionally, Mercedes' Seat Comfort package (standard on all British models) incorporates angle and depth adjustment of the front seats as well as height adjustment.
In The Car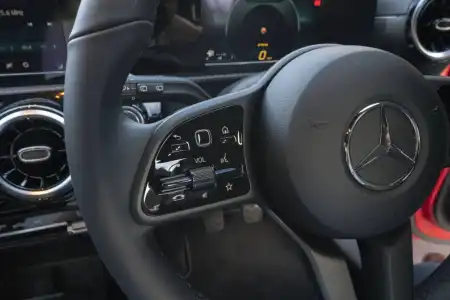 Behind the Wheel
Mercedes-Benz has gone to town on the A-Class's interior, and you can tell. It's miles better than the pre-2018 model and vaunts exceptionally modern design and leading-edge technology.
The Benz is fitted with a couple of 7.0-inch screens - a driver display instead of typical dials and a centrally placed media system. This instantly sets the A-Class apart from competitors, even more recently ushered in ones. You can also get bigger 10.25-inch displays if you go for the Premium equipment line.
Powering all this is Mercedes-Benz's MBUX infotainment system, which can be operated via a central touchpad or the touchscreen. The menus are easy to use and give the car a mature, advanced feel. Should you want, most of the A-Class' supporting functions can also be run through voice commands, which work well.
The front seats we've already written about are worth bringing up again because they're perfect if you have a dodgy back. We should know – our test driver does. They make long periods behind the wheel carefree, as we discovered on our four-hour road test. Speaking of the Merc's steering wheel, it provides a broad range of movement, making your favoured driving position uncomplicated to find.
The A-Class is as likely to be used swanning between business meetings as it is on the school run, so we were happy with the good visibility all around.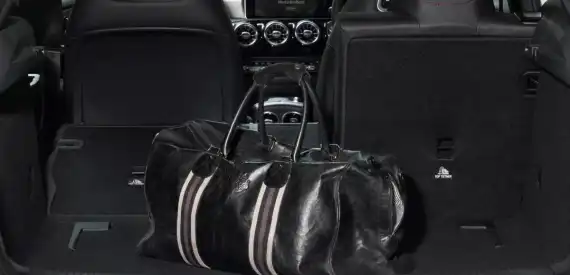 Space & Practicality
The absence of cabin space was a familiar complaint about the last A-Class and is something that Mercedes-Benz has worked hard to correct in this generation.
Head room, elbow room, and shoulder room have been boosted in the rear and the front, and now there's ample space for four-up. Sure, you'll squeeze five people in at a push, but the middle rear seat is best suited to kids because of the thick central tunnel stealing legroom. Headroom and legroom for the outer back chairs are plentiful for most people now, though. And better than in Audi's A3.
Boot room has swollen to 370 litres in the A-Class, and although that's still short of the 380 litres on hand in the BMW 1 Series, VW Golf and BMW 1 Series, the boxy, square shape of the Mercedes' boot make it very practical.
Not only does it show off an additional 29 litres of cargo capacity with the rear seats up compared with the preceding model, the load opening is 20cm broader. This means it's stress-free to get cumbersome items - such as buggies - inside.
For longer objects, the rear seats collapse just about flat, and the boot also contains hooks and power sockets.
Ownership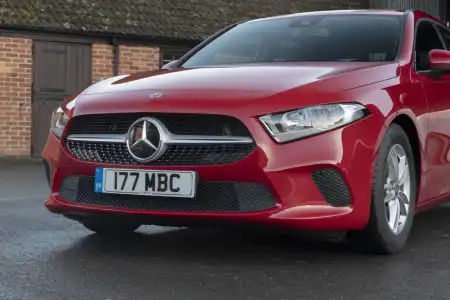 Running Costs
If you're after the most frugal standard version of the Mercedes A-Class, then you should buy diesel. The A 180 d does over 60mpg, and the A 200 d can achieve mid 50s mpg. The A 180 and A 200 petrols return over 45mpg when equipped with either the manual transmission or the automatic 'box.
Merc's electrified A 250 e, which claims over 200mpg in formal testing, seems the one to go for on paper. However, this is only the case if you make loads of trips using pure battery power. Over longer journeys, mid-40s mpg is more realistic.
Of course, as with any car, a lot of your running costs will be influenced by where and how you drive. Furthermore, mpg varies with the weight of the installed equipment and the size of the alloys. Remember, the larger the wheels, the more fuel your vehicle will guzzle.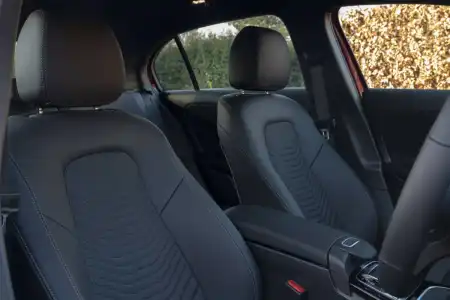 Quality & Reliability
The Mercedes-Benz's exterior and interior build-quality is as solid as you can buy. It's been amongst the pick of the bunch in the automotive world since 2018; but like all new motors, we can't guarantee what its quality and reliability will be like until it's been around for some years.
However, what we can state is that Mercedes has an enviable reputation for building great cars. The A-Class is fitted with parts that other "higher up the chain" Mercs have utilised, so the model should prove trustworthy. That said, there's lots of technology aboard, so if things do go wrong, the repair bills will be huge. Servicing for the A-Class is timed at every year or 15,500 miles - whichever comes first.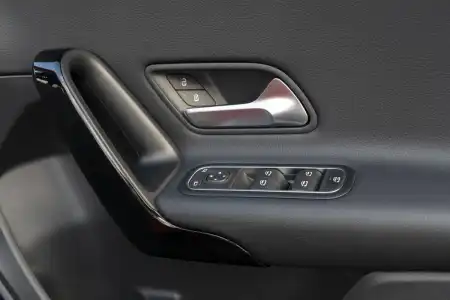 Safety & Security
Euro NCAP awarded the Mercedes-Benz A-Class the full five stars in crash tests. Therefore, you can bet your bottom dollar that the compact hatch will do very well should an accident happen. We say this with a degree of confidence because the Benz has a whole lot of driver assistance systems that are fitted to shield all occupants and stop it from straying off the beaten track.
Indeed, the A-Class uses the latest driving assistance systems - as used in the leading S-Class - which gives it the uppermost level of active safety in its segment. For the first time, the baby Benz can drive semi-autonomously in some situations by keeping a close eye on the traffic situation. Enhanced radar and camera systems enable the A-Class to see up to 500 metres ahead.
What's more, there are twin Isofix points installed as standard on the outer areas of the A-Class' rear seats. Easily reached, you won't have any worries attaching your kids' car seats. Truthfully, the parents on this test team have found them uncomplicated to use.
And on the security side of things, Mercedes equips a category one alarm or Thatcham category two immobiliser to just about all its new cars produced for the British market.