Pros:
Dynamic styling with performance to match

Engine soundtrack will wake the neighbours

Beautifully upmarket interior with lots of quality kit
Cons:
Quite pricey especially if you like your optional extras

Expect to feel a few bumps when driving in Sport mode

Back seat passenger space is limited due to the coupe styling
More On This Car
Need more information?
Request Dealer Contact
Introduction
The entry-level model in the Mercedes-Benz CLA line-up is the CLA 35 4MATIC which is available as a Coupe or Shooting Brake. But as you move up through the range, the top model is the all-singing, all-dancing AMG CLA 45 S 4MATIC+ Plus Coupe which competes on a far higher level.
With a 2.0-litre petrol engine delivering 421hp and a whopping 500Nm of torque, this is certainly not a car for the faint-hearted. It boasts dynamic, race-car-inspired AMG styling and the performance perfectly matches the looks.
With four-door practicality, this is a hot hatch with attitude but without the 'in-your-face' grunt and styling of boy racer models. It's elegant, sophisticated and very, very fast.
On The Road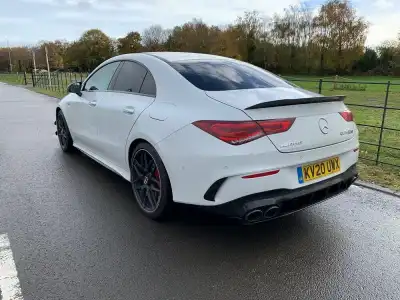 Performance
AMG is the performance side of Mercedes-Benz so any model carrying the name is always going to be bursting with power. The AMG CLA 45 S 4MATIC+ Plus Coupe is no exception with its punchy four-cylinder petrol engine delivering 421hp and 500Nm of torque. That results in a 0-62mph sprint time of just 4.0 seconds and a maximum speed limited to 155mph, but you just know without the restrictions the car would go much quicker.
The acceleration is blisteringly fast as it powers its way through the eight-speed dual-clutch transmission and there are steering wheel-mounted paddles to change gear manually.
The power seems relentless at times and there are also drive modes that sharpen up the responses even further. These are called Slippery, Individual, Comfort, Sport, Sport+ and RACE. These drive modes are altered via a dial on the steering wheel which means your focus remains on the road ahead with both hands on the wheel instead of searching through fiddly touchscreen menus.
Out on the open road and twisting country lanes, the grip is ultra-assured and that means any bends can be attacked with utter confidence thanks to pin-sharp reactions. The steering is perfectly weighted with all the driver feedback you could wish for and, despite its superb levels of firepower, the car maintains a sense of invincibility.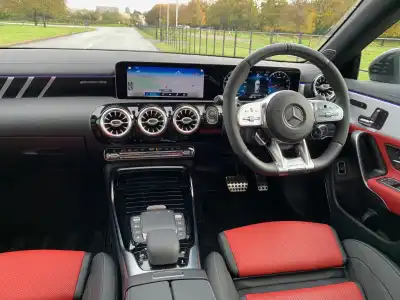 Ride Handling
The AMG CLA 45 S 4MATIC+ Plus Coupe is a beautifully balanced model and great fun to drive with confidence on any road. It cruises effortlessly on motorways, quickly reaching the national speed limit and there is an easy-to-operate cruise control system to maintain a legal speed.
It is agile in busier town centres and is always willing to show its true worth on the open B roads with lots of twists and turns. Our car was riding on 19-inch wheels which were the perfect size. There was no sign of bounce, body sway or wallowing through just over 300 miles of driving.
The car features AMG Adaptive Damping and this system works away in the background automatically and electronically. Basically, it adjusts the damping at each wheel individually depending on the road surface, speed and acceleration, so the spring stiffness is adjusted continually.
The various drive modes alter the levels of stiffness so if you are driving in Comfort mode, expect softer damping for maximum comfort on long journeys, while Sport and Sport+ modes stiffen the damping characteristics for an overtly dynamic driving style.
And for the first time, the 4MATIC all-wheel drive system has a Drift mode which is achieved by extra power being sent to a rear wheel making one spin faster than the other, enabling drifting manoeuvres – a practice best saved for controlled track work under guided supervision.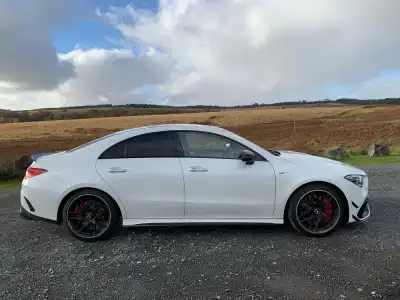 Styling
As you would expect on a race-inspired Mercedes-Benz there are bundles of AMG-specific design cues, such as the more aggressively styled radiator grille, rear apron with diffuser design and spoiler. The car had an AMG aerodynamics package, plus an AMG Night package as standard and that introduces lots of menacing high gloss black trimmings. There are multibeam LED headlights, frameless doors, four exhaust pipes, a panoramic roof and 19-inch AMG alloys with red brake callipers to complete the muscular appearance.
Move inside and it's quality through and through with the finest leather upholstery, soft-touch surfaces, 64-colour ambient lighting, plus performance seats with fixed head restraints. The two-tone red and black leather interior is the perfect bold colour scheme for such a powerful vehicle.
The car is well insulated from outside noises, apart from the engine of course, especially when being driven in the sportier modes. However, switch across to the calmer Comfort setting and everything seems to become more composed. It's like the world has started spinning at a slightly slower pace. Then for more attention-grabbing noise, move up to Sport and the enhanced exhaust sound will wake any snoozing neighbours.
In The Car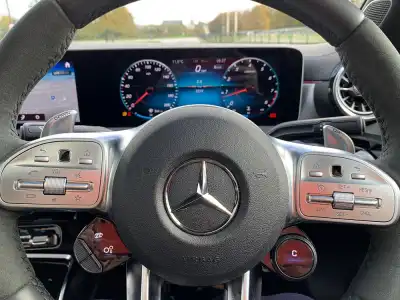 Behind the Wheel
Powered seats complete with memory settings plus a fully adjustable steering wheel means it takes a matter of seconds to find the perfect driving position inside the AMG CLA 45 S 4MATIC+ Plus Coupe.
The AMG Performance seats offer plenty of support and can also be heated to fend off the winter blues as can the flat-bottomed AMG sports steering wheel.
The general visibility is fine straight ahead, sideways and over the shoulder, but the tapering off roofline results in quite a narrow rear screen which isn't so impressive.
All controls, dials and readouts are perfectly positioned for ease of use on the fly and the car has a simplistic, clutter-free feel to it. But there is a wealth of on-board technology to get stuck into.
There are two 10.25-inch touchscreens stretching across the dash with sharp graphic displays and these are accessed via steering wheel controls, a touchpad and controller with quick keys or voice control.
There is also the onboard personal assistant that is summoned with the magic words 'Hey Mercedes' and can be asked to do tasks such as adjust the temperature, find a parking space, change the radio station and much more. On the downside, it cannot be deactivated so be careful of saying 'Mercedes' out loud or you'll be drawn into a conversation like it or not.
Creature comforts include a pitch-perfect Burmester sound system, full smartphone connectivity, Mercedes' impressive MBUX multimedia system with sat-nav, plus a media display with lots of extra AMG-specific content which is really useful if you plan on visiting a race circuit and need to analyse track data.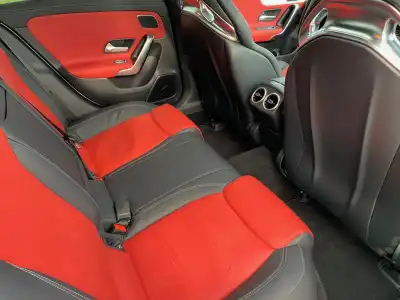 Space & Practicality
Coupe-styled cars are never very spacious in the back and although a couple of adults can travel in the CLA 45, the leg room gets very tight if the front seats are pushed well back.
In addition, the sloping roofline design limits the headroom so anyone over six feet tall will feel their hair brushing against the car's headlining.
The boot is not massive, which is once again akin to most sports coupe models, but it can swallow 460 litres of kit and there are a number of practical storage compartments scattered throughout the car. These include a glovebox, door bins with drinks holder, cubby box beneath the armrest, cup holders and a covered tray with a wireless charging pad.
In the back, passengers get pull-out cup holders in the fold-down armrest, along with a small compartment where two extra Type C USB ports are located to plug in mobile devices.
Due to its dynamic styling, occupants do sit pretty close to the ground so getting in and out of the vehicle can be an issue for anyone who is not too nimble.
Ownership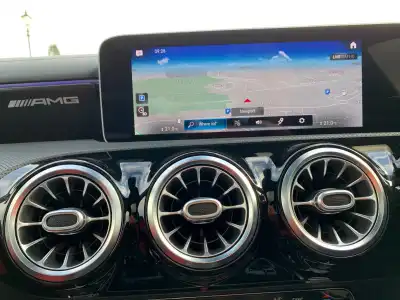 Running Costs
A car with the performance ability and on-board technology of the Mercedes-Benz AMG CLA 45 S 4MATIC+ Plus Coupe is never going to be a cheap option. It's a premium car with a price-tag to match. Our range-topping test model was priced at £58,045 although the cost was bumped up by £595 due to the addition of digital white metallic paint.
The day-to-day running costs will very much depend on the way the car is driven, but the official combined fuel figure is a 33.2mpg. If you spend the majority of the time in Sport or Sport+ modes then expect much lower fuel efficiency.
The carbon emission figure of 189g/km would result in a first year Vehicle Excise Duty charge of £870 dropping down to £150 the following year.
But there is more expense to be factored in because under a recent restructuring of the tax system, owners of cars with a list price above £40k pay a £325 supplement for five years. After five years, the vehicle is taxed at the applicable standard rate.
The insurance group rating for the test car is 45.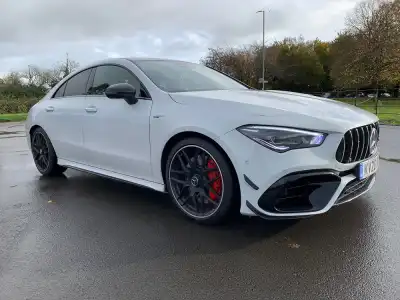 Quality & Reliability
Mercedes-Benz has an excellent reputation that is the envy of many premium manufacturers for developing reliable cars that are durable and survive the test of time. You only have to look at how many older models have been round the clock a few times to appreciate the longevity of the brand's vehicles.
And there are no reasons to believe the AMG CLA 45 S 4MATIC+ Plus Coupe will buck that trend.
The leather upholstery looks very upmarket but also feels exceptionally well-put-together and the whole cabin with its modern, innovative instrumentation and switchgear looks like it will still be just as appealing after several thousand miles of hard driving have been clocked up.
There are plenty of soft-touch surfaces and although the touchscreen may prove a little prone to fingerprints, it can easily be wiped clean. And there are a number of other ways to access the touchscreen features such as the 'Hey Mercedes' personal assistant or steering wheel controls.
The car comes with a three-year, unlimited mileage warranty for added peace of mind, plus Mercedes Mobile Roadside assistance across Europe.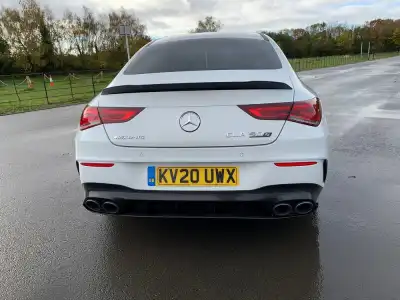 Safety & Security
Euro NCAP awarded the Mercedes-Benz CLA Coupe a maximum five stars for safety when it was tested and it is kitted out with a wealth of technology to protect occupants, pedestrians, cyclists and other road users.
Our high-end test car featured active brake assist, lane-keeping assist, blind-spot assist, adaptive brake assist with 'Hold' function and a three-stage electronic stability programme.
There is also an AMG Track Pace feature. This is for the more serious race drivers out there and is your own personal race engineer. It offers access to more than 60 stored race circuits so you can familiarise yourself before taking to the track. It also gives feedback, records lap times and other relevant data along the way.
And the reassurance of the Mercedes-Benz 4MATIC+ all-wheel-drive system will keep you firmly planted in more adverse driving and weather conditions. There is also a Drift mode for the more adventurous to play with.
Of course, as is the way with all premium manufacturers, there are all manner of optional extras and safety packs that can be added for a fee.
Remote locking, a quality alarm and immobiliser will help keep any uninvited attention at bay.
More On This Car
Need more information?
Request Dealer Contact