From £58,880
Pros:
Genuine off-road ability

Strong towing capability

Luxurious interior
Cons:
Expensive to buy

Only one model available

Not as capable as a proper off-roader
More On This Car
Take one for a spin or order a brochure
Request a Mercedes-Benz A Class brochure
Request a Mercedes-Benz A Class test drive
Introduction
The E-Class is one of the finest choices a buyer can make, with Mercedes making a model for virtually every need from economical diesel saloon through to a powerful petrol-powered cabriolet. The estate model is capacious and stylish, and now Mercedes has added a soupcon of off-road ability to the mix to create a jacked-up soft-roader.
It's separated from the usual E-Class range with some black plastic cladding, impressive 20-inch wheels on raised suspension, and silver coloured under bumper protection for when the going gets rough, and keep it in touch with competition from the Volvo V90 cross Country, Audi A6 Allroad, and a myriad of other competitors.
On The Road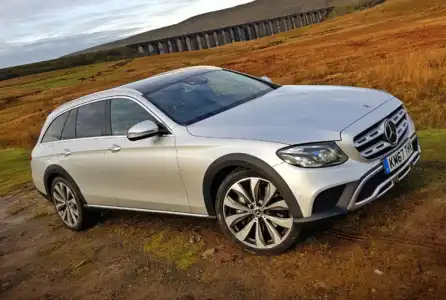 Performance
There's only one engine option for the All-Terrain model, but what an engine it is. Under the bonnet is a 3.0-litre turbocharged diesel that produces a reasonably impressive 258hp, but it's the torque figure (the force that actually gets you moving) of 620Nm that generates the smiles.
Despite being a hulking estate model that measures close to five metres long, that diesel unit allows it to accelerate to 62mph in a sportscar-rivalling 6.2 seconds. However, it's the way in which the car does it that impresses, with nothing so uncouth as a high-revving, wheel spinning getaway. Instead the All-Terrain pushes you firmly into the seat and gathers pace continually, all the way into illegale speeds and ultimately on to 155mph.
There's a nine-speed automatic gearbox that shifts eerily smoothly, ensuring the car is kept in the optimum power band at all times.
Venture off-road and the permanent four-wheel drive system comes into its own, spreading the power between the front and back with a split of 31:69.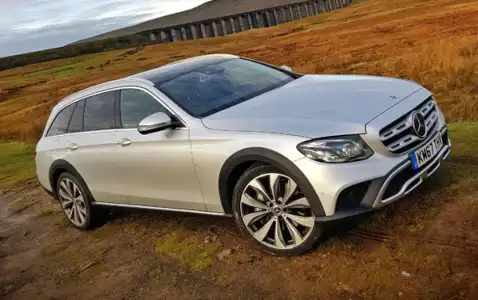 Ride Handling
On the road, the E-Class has always been exemplary. Raising the suspension by 29mm has improved it even more, with only the roughest of road surfaces upsetting the calm of the cabin. Should the mood take you, the air-suspension can be stiffened a little to allow for more body control and higher cornering speeds but, while finely judged, sacrifices a little of the comfort.
It's the All-Terrain mode that is the talking point though, and that raises the suspension by a further 20mm, allowing the E-Class to cross rough surfaces that would be beyond all but a 'proper' 4x4. It's enough to get over the Yorkshire Dales in a direct route, rather than following the roads, but the odd rock here and there will clatter the underside and some higher profile tyres might come in useful.
However, the off-road abilities should not be doubted. As if to prove it, we hooked up a two-horse trailer to the back of the car - there's a tow hook included in the price - and dragged the loaded trailer up steep, muddy climbs without breaking a sweat. The car was put through punishment few owners would be likely to repeat, and passed with flying colours.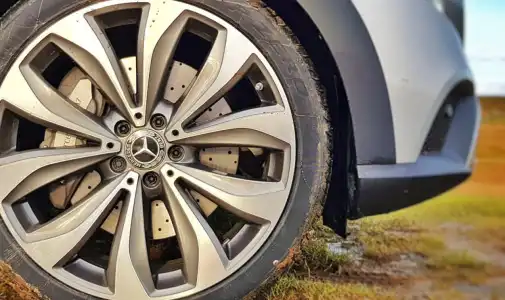 Styling
That big engine is a V6 unit, so naturally smoother than the smaller engines in the Mercedes range. In fact, once fired up and warmed up a little, you would be hard pushed to tell it's a diesel at all. At a cruise the noise is isolated almost entirely, while tyre and wind noise are kept low, making it an incredibly quiet place to relax.
It's improved further by some gloriously comfortable seats that aren't too far removed from armchairs, with electrically powered adjustment and built in heating. That air-suspension helps too, especially when the car is switched into Comfort mode.
The only fly in the ointment are those impressive 20-inch wheels. They look incredible, filling the wheel arches beautifully, but the thin rubber tyres that surround the wheels don't have quite enough thickness to smooth out the tiny vibrations you feel in the road. A slightly smaller wheel and a thicker tyre would go some way to improving matters, and might also improve off-road ability slightly too.
In The Car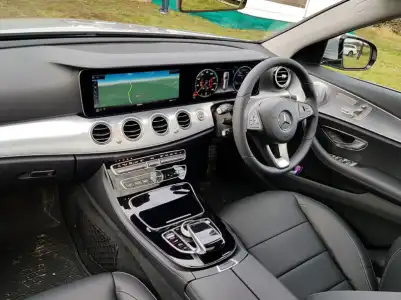 Behind the Wheel
If there's a more luxurious cabin this side of a Bentley than this, I would be surprised. While Mercedes hasn't quite nailed the hewn-from-granite feel that you find in an Audi, the design that has gone into the interior is spectacular. For the E-Class, Mercedes has mixed up the old-money wood and leather with a vast digital panel that spreads from the driver's eyeline across the car almost to the passenger. Underneath are traditional chrome air vents, four in a line that are set within a smooth, light wood panel. Below that, a piano black centre stack swoops downwards, housing the climate control and audio buttons, as well as the control system for the infotainment system. It sounds like quite a mix, but works together so well you wonder why nobody else has followed suit.
The huge 12.4-inch screen that dominates the dashboard is controlled using a control system that sits satisfyingly where your left hand might rest. The touch sensitive control also includes buttons and rotation, making entering information or selecting options quick and easy, although it's not initially intuitive.
Happily, Mercedes has left a series of physical buttons on the centre console to control regularly used features - think volume controls and cabin temperature choices. There are USB sockets to connect smartphones to, which then loads up either Android Auto or Apple CarPlay, and there's also Bluetooth connectivity for hands-free phone calls and audio streaming.
All that tech is presented in a stylish, refined dashboard that oozes quality and class. It really is a special place.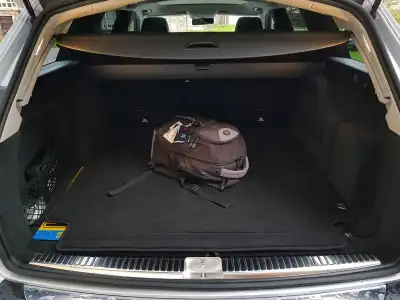 Space & Practicality
Developed from the standard E-Class estate, switching to four-wheel drive hasn't interfered with luggage capacity in any way. The powered rear door lifts up to reveal 640 litres of stowage capacity, but fold down the 40/20/40 split/folding rear seats and that extends to a mammoth 1,820 litres. By way of comparison, that's almost 20% more than you'll find in the back of a Volvo V90 estate.
The electric towbar can be extended with a press of a button in the boot, or on the driver's door, while a 360-degree camera view allows you to reverse up to a trailer and hitch up with pleasing accuracy.
Outside of off-roading or towing, the cabin remains large and comfortable, with plenty of room for those up front and more than enough for two adults in the rear. Squeezing three in would leave shoulders rubbing, but two child seats wouldn't be a problem at all.
Ownership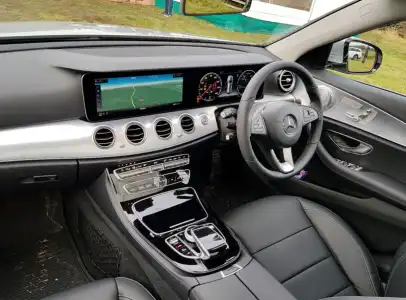 Running Costs
The market is abandoning diesel at an alarming rate, but it's still the most practical option for a car such as this, offering the torque required for off-roading and towing. The happy coincidence is that it is also more frugal with the All-Terrain promising 41.5mpg.
However, the high list price of the car means tax bills are rather steep. A retail buyer will be facing a first year car tax bill of £800, with an ongoing bill for the next five years of £450 a year. Company car users will also face a steep 37% benefit-in-kind rate, means a 40% tax payer will be looking at paying HMRC more than £700 a month.
Depreciation is generally low on specialist Mercedes models such as the All-Terrain, which means leasing and PCP rates are proportionally lower. The high list price is eye-watering, but consider the value after three years that you'll get back and the car starts to look a lot more reasonable.
Quality & Reliability
Mercedes' reputation for building rock-solid cars that don't go wrong is somewhat out of alignment with reality. While the cars aren't unreliable, they do have some faults and issues.
Customer care is strong though, so should something go wrong then the three-year unlimited mileage warranty should see you being looked after. The warranty can even be extended, while fixed price service plans are also available for added reassurance and peace of mind.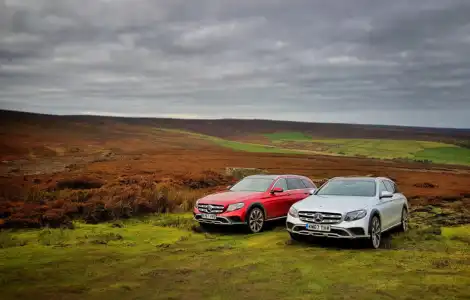 Safety & Security
Safety is a critical part of Mercedes' marketing, with buyers now expecting the highest levels of passive and active safety, as well as the latest technology to assist drivers on the road. The E-Class All-Terrain is no different, coming loaded with digital goodies to keep the car on the straight and narrow.
Alongside countless airbags, there's autonomous emergency braking that will attempt to stop the car before an impact, even if the driver isn't paying attention. However, it's slightly disappointing that other equipment, such as blind spot warnings, adaptive cruise control and lane keeping assist are consigned to the options list.
That said, should the worst happen then the E-Class is likely to be a safe place to be, scoring a full five stars when EuroNCAP tested the standard version of the car last year.
More On This Car
Take one for a spin or order a brochure
Request a Mercedes-Benz A Class brochure
Request a Mercedes-Benz A Class test drive