From £44,675
Pros:
Dynamic styling with performance to match

Roof can be lowered or raised on the go

Packed with innovative technology
Cons:
Limited boot space

Price jumps quite dramatically as you add extras or opt for more powerful engines

British weather! Chances to lower the roof will be limited
More On This Car
Take one for a spin or order a brochure
Request a Mercedes-Benz E Class brochure
Request a Mercedes-Benz E Class test drive
Introduction
We Brits love our open top motoring and can't seem to get enough of stylish, if sometimes impractical convertibles. Some offer dynamic handling capabilities but are lacking when it comes to refinement and will lead to the necessity of a chiropractor on speed dial. Others offer supreme comfort and plenty of on-board luxury as well as roof-down-fun in a matter of seconds – the Mercedes E-Class falls into the latter category.
This Cabriolet is the fifth member of the Mercedes E-Class family which has been completely revised within a year. It boasts coupe-like styling but when the sun puts in an appearance the roof can be lowered in an instant.
On The Road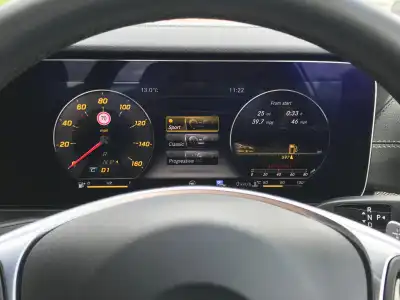 Performance
With a choice of punchy diesel and petrol engines mated to a 9G-TRONIC nine-speed automatic gearbox for rapid gear changes, the Mercedes E-Class Cabriolet is also available with 4MATIC permanent all-wheel drive.
The classy four-seater boasts beautifully crafted streamlining and sporty good looks similar to the E-Class Coupe but adds the attraction of open-top motoring in a matter of seconds. In fact, the fabric roof can be raised or lowered in just 20 seconds whilst travelling at speeds up to 31mph.
Our test model was powered by a 2.0-litre 194hp diesel engine and could sprint from 0-62mph in an impressive 7.7 seconds and onto a top speed of 147mph.
But it's the manner in which the E-Class Cabriolet achieves these figures that really impresses. Not only is it car for all seasons, but it offers various driving characteristics to suit your mood too. There is a Dynamic Select system that offers driving modes called Comfort, Eco, Sport, Sport+ and Individual – these enable you to alter the car's responses, which together with the Air Body Control set-up allows you to configure the throttle response, gear switches and much more.
The acceleration through the ultra-smooth nine speed gearbox is rapid and if driven with a heavy right boot, the burst of power is instant. The road-holding is confident and assured with ample driver feedback through the steering. And when the mood takes you, there are steering wheel-mounted paddles to take further control over the gear shifts.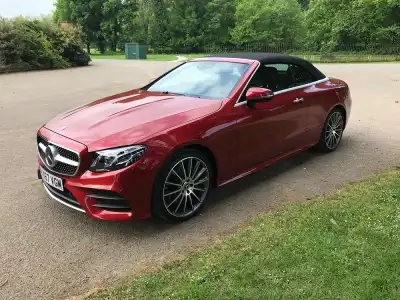 Ride Handling
By choosing a premium convertible you are guaranteed the best of both worlds with roof-down motoring combined with all the luxurious touches associated with an upmarket coupe.
Yes, you will still feel the occasional bump and dip along the way especially when the car is being pushed hard in Sport+ mode, but switch across to Comfort and everything becomes that little bit more refined and grown up.
The optional Air Body Control suspension costing £1,495 extra is worth splashing out for as it helps the car glide across the rougher surfaces. Our car was sitting on 20-inch wheels and it coped with everything but the most severe potholes.
Comfort levels within the car are supreme and the even when driven enthusiastically, the E-Class Cabriolet feels very safe and undeterred by challenging country roads with lots of twists and turns. The latest model is actually 123mm longer and 74mm wider than its predecessor. It has a wider track and that in turn helps deliver improved driving dynamics.
Our test car also featured Mercedes' 4MATIC permanent all-wheel drive, which is a first for the E-Class Cabriolet.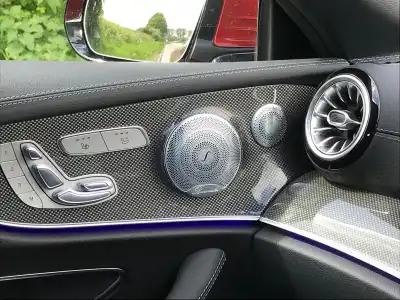 Styling
One thing is guaranteed if you drive the Mercedes E-Class Cabriolet – expect lots of attention. That's because the car is an instant head-turner thanks to its sleek profile, drawn-out bonnet with power-domes, low-positioned diamond grille hosing the Mercedes star, LED high performance headlights (upgraded to multibeam LED intelligent lights on our car) and tail lights that resemble the glow given off by a jet engine.
Move inside and the interior also features the 'wow' factor with beautiful fine Black Nappa leather, a 12.3-inch widescreen cockpit display that can be configured according to taste, plenty of soft touch surfaces and 64 colour ambient lighting.
One issue facing any open-top driver in the UK is the weather. But even on colder days, the E-Class cabrio can be driven top-down thanks to heated front seats and neck level blowers. The weather was a bit dull and chilly on one of my test drives, but I was still able to lower the roof and crank up the seat heater and neck warmer.
The multi-layered fabric roof, which is available in dark brown, dark blue, dark red or black, boasts sophisticated insulation to reduce wind and driving noise. This makes it effortless to hear conversation within the car even at higher speeds.
In The Car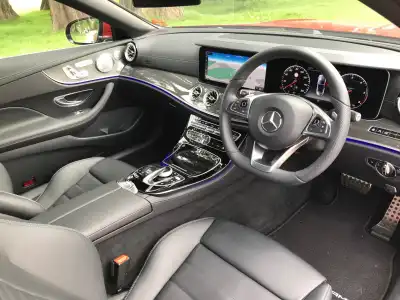 Behind the Wheel
It's quick and easy to find the perfect driving position in the E-Class Cabriolet with powered seat adjustment buttons along with an automatically adjustable steering wheel. Memory settings mean more than one position can be saved should you ever let anyone else drive the car!
The interior oozes luxury and an optional extra on the test car was a woven metal trim along the dashboard and sides of the doors. It costs £365 and looks similar to carbon fibre and houses the turbine engine-inspired air vents.
And whilst there is plenty of kit as standard, the test car was loaded with options including Comand Online (£1,495). This infotainment upgrade enables effortless smartphone integration and wireless charging plus internet and live traffic information.
There is a pair of 12.3-inch display screens that blend together beautifully to create one long screen that looks like its floating beneath the glass. And of course, these can be personalised to taste. The instrument cluster behind the steering wheel can be displayed in Classic, Sport or Progressive layouts and all manner of readouts such as navigation, music, phone contacts and eco driving information can be displayed with various colours and fonts.
Another addition to the test car was a Premium Plus package (£2,895) that introduced a number of features including a pitch perfect 23-speaker Burmester surround sound system that delivers concert hall quality acoustics.
And one tiny detail that cannot pass without a mention is the seat belt extender. After getting yourself comfy, selecting the destination, organising your music etc, simply press a button and the seat belt is delivered over your right shoulder – simple, but very effective.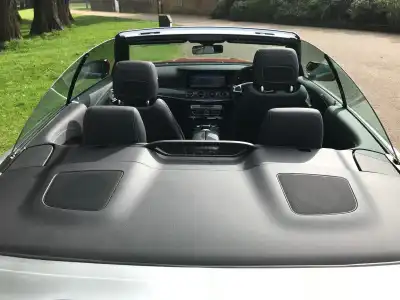 Space & Practicality
The two-door Mercedes E-Class Cabriolet is a four-seater car and there is space for a couple of adults in the back, although like most coupe-designed cars, leg room is tad limited. Up front it's a different story with the driver and passenger treated to ample leg, head and shoulder space along with seats that can be power-adjusted.
Weather conditions in the UK can change in the blink of an eye, so it's very convenient that the Mercedes' roof can be raised or lowered on the move. It takes about 20 seconds and can be achieved at speeds up to 31mph.
The boot offers a capacity of 385 litres that is reduced to 310 litres when the roof is down. New to this car is 50:50 folding rear seats that create a convenient load-through feature.
What Mercedes has been very clever with is utilising every inch of space within the car. Up front there is a practically-sized glovebox, a covered armrest bin that houses all the smartphone connection cables, cup holders, door pockets and handy trays.
Back seat passengers get their own cup holders, storage bins, nets and fold-out pockets to store away their goodies.
Ownership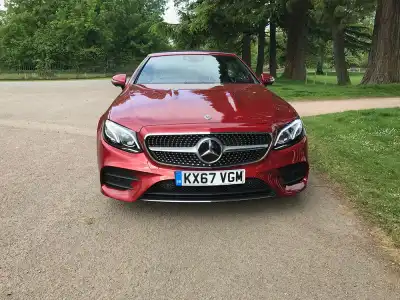 Running Costs
Obviously, a car as elegant and richly-equipped as the Mercedes E-Class Cabriolet will make a dent in the savings - our test car began life costing £44,675 but the raft of options saw that price increase to £50,490, which in all honesty is a reasonable outlay for such a feature-rich, beautifully-designed and dynamic car with premium badging.
The real price hikes are seen if you go searching for a more powerful model with the E 400 4MATIC priced at £58,650 before options.
Our test car was impressively economical to run and even when driven in Sport+ mode, the fuel gauge still dropped away slowly. According to official figures, the car can deliver combined fuel efficiency of 57.7mpg with carbon emissions of 126g/km. These figures would result in a first year Vehicle Excise Duty charge of £160 dropping to £140 for each following year.
But it's worth noting that under the recent restructuring of the tax system cars with a list price above £40,000 pay a £310 supplement for five years. After the five-year period the vehicle is taxed at the applicable standard rate.
The insurance group rating for the test car is 41.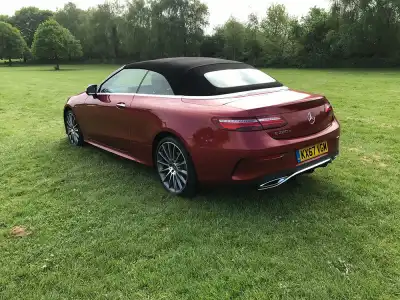 Quality & Reliability
One factor that always poses doubt with a convertible is the longevity of a soft top roof. But there will be no such concerns over the Mercedes E-Class Cabriolet because it meets high quality standards in terms of durability and operation and is derived from the outstanding S-Class Cabriolet.
It's a multi-layered structure with sophisticated insulation to reduce wind and driving noise. In fact, with the roof raised it feels like you are inside the hard-top coupe model.
The seat upholstery is beautifully designed and, along with the switchgear, looks like it will survive the test of time. There are no ugly, hard plastic surfaces that would be susceptible to scratching and the car has a very solid feel to it.
The E-Class Cabriolet comes with a three-year, unlimited mileage warranty.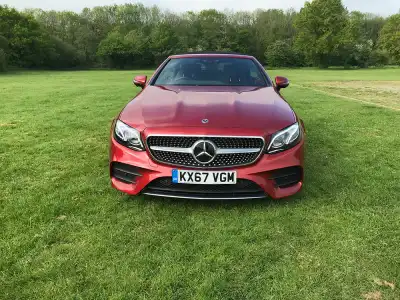 Safety & Security
The Mercedes E-Class Cabriolet has not been selected for testing for a Euro NCAP safety rating but the saloon version was awarded the maximum five stars. In addition, the C-Class Cabriolet also received top marks.
Most of the bodyshell components are made of die-cast aluminium and sheet steel and according to Mercedes, the cabrio not only meets all current national and international crash requirement, but also the more stringent internal Mercedes-Benz safety standards.
As a member of the E-Class family, the car offers the same features, such as active brake assist, attention assist, cruise control and plenty more besides.
A Driving Assistance package costing an extra £1,695 added blind spot and lane keep assist, drive pilot, evasive steering assist and pre-safe plus.
The test vehicle also boasted 4MATIC permanent all-wheel drive which is a first for the E-Class Cabriolet.
More On This Car
Take one for a spin or order a brochure
Request a Mercedes-Benz E Class brochure
Request a Mercedes-Benz E Class test drive