From £26,525
Pros:
Considered styling makes the car look and feel larger than it is

All wheel drive provides reassurance

Silly performance from the GLA 45 AMG
Cons:
Off-road action is really beyond the GLA

Rattly old diesel engine

Slightly cramped and dark in the rear
Buy and save on quality approved and used cars
Introduction
As is the trend in Stuttgart these days, the changes made to keep the car fresh are subtle, with bumpers and headlights being just about all that's visible. Under the skin there's been some beefing up of suspension and electronics, but it's much the same as it's always been. However, buyers like the GLA so there's no point in fixing something that's not broken, but is it enough to keep up in a class of car that's booming, with rivals from Audi, BMW, Jaguar, and even Skoda to contend with?
On The Road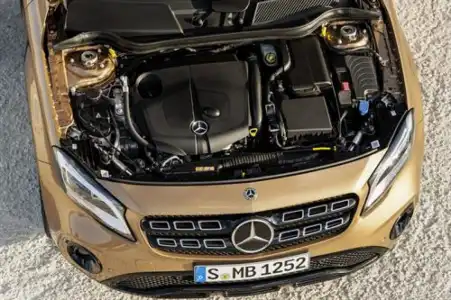 Performance
There is a huge variance of models with the GLA range, but it's the AMG GLA 45 that attracts the most attention thanks to its huge wheels, large spoilers and dramatic splitter. That's all there to tame the 381hp engine that rockets the car from standstill to 62mph in just 4.4 seconds. It takes the term hot hatch to another level, but at close to £60,000, the price follows it there.
Most will opt for either the 2.1-litre diesel engine fitted to the 200d and 220d, or the 1.6-litre petrol engine in the 200. The latter produces just 156hp, but that's enough to keep the 62mph sprint close to eight seconds, while peak torque is available at low revs making it a flexible and relaxing engine.
My time was spent with the 200d that uses Mercedes' basic 2.1- litre diesel engine rather than its latest, more refined engines. There's just 134hp available but, despite that, Mercedes has extracted a decent level of performance from the engine. Acceleration is brisk and linear, while in-gear power is available thanks to lots of low down torque.
A seven-speed automatic gearbox shifts smoothly, if not quite imperceptibly, but it always ensures you're in the right gear, ready to use what little power is there as efficiently as possible. That makes overtaking moves a little easier, or merging with faster motorway lanes a piece of cake.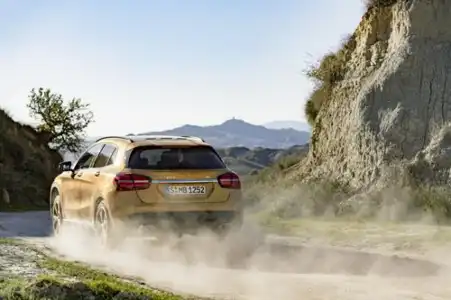 Ride Handling
The A-Class upon which this is based has always been a tad firm, skipping across bumps rather than gliding over them. The GLA is better, thanks mainly to extended suspension that sees the car riding 80mm higher than its hatchback sibling.
It's still a little on the firm side, but UK buyers tend to like that, despite the ride remaining a fidgety over small bumps and cracks in the road surface. It settles down at motorway speeds, absorbing longer undulations impressively, making it a capable cruiser.
A positive side effect of the stiff suspension is excellent body control when cornering, with little roll from the car unsettling passengers. It's almost engaging to drive, with wide tyres gripping tenaciously. Should you press on just little too hard, a collection of electronic gadgets step in to curtail the fun, controlling the power and braking on each individual wheel and keeping the car firmly on the tarmac.
An option of 4Matic all-wheel-drive adds a degree of security to the handling, and will help on a snowy morning, but it doesn't transform the GLA into a on off-roader. There's a nod to off-road capabilities with the addition of Hill Descent Control, a system that will keep the car at walking pace down steep drops, but the Mercedes remains best suited to the road.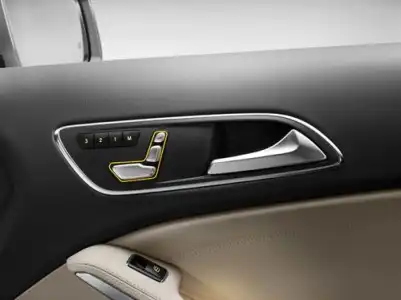 Styling
It's a surprise that Mercedes hasn't chosen to introduce its recent diesel engine to the GLA range, as the existing 2.1-litre unit has been around for a decade or so. In comparison to its rivals, it's a noisy engine. There's an almost agricultural noise when starting the engine from cold, although it does settle down at speed to a less disturbing hum.
In fact, once warmed up and moving along, the entire GLA is a rather pleasant place to be. There's little wind noise, the engine noise fades into the background and, thanks to that raised ride height, tyre noise is kept a little further away from the cabin.
However, the temptation to go for even larger wheels to fill those black plastic clad wheel arches should be reinstated, as the thinner tyres lead to a rougher and noisier environment in the car, while also not adding much in the way of roadholding. The all-wheel-drive models get 17-inch wheels as standard, but the 16-inch options on the ordinary models provide an excellent balance of refinement and ability.
In The Car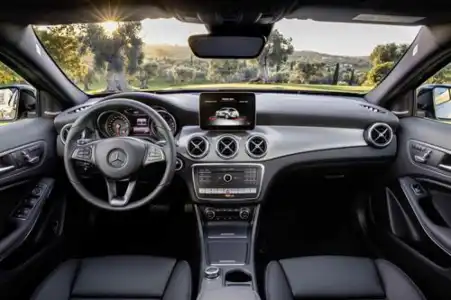 Behind the Wheel
The revised GLA has seen more changes on the inside, but again they're all quite subtle. The basic design remains much as it used to be, which means there's a solid and upmarket dashboard that exudes a premium feeling, but there's now extra bits of chrome and clearer instruments.
An iPad-like infotainment eight-inch screen is stuck high in the centre, but it's not a touchscreen - something that confuses initially! However, an excellent control system sits where your left hand would naturally fall, allowing you to operate the entertainment, navigation, car settings and so on quickly and intuitively. For other key options, like the temperature controls or radio volume, Mercedes has wisely left physical buttons to press, making it easy to adjust the environment without taking your eyes off the road. Elsewhere there's technology everywhere, from US sockets to Bluetooth connectivity, steering wheel mounted controls, cruise control and a reversing camera, amongst other things. Disappointingly, a DAB radio isn't standard, but both Apple CarPlay and Android Auto are available.
Every model comes swathed in either leather, or Mercedes' man-made leather called Artico. The fake stuff really is very good indeed, and you'd be hard pressed to tell it's not from a real cow, so every model from the most basic upwards has a real quality feel about it. There's an expectation that a Mercedes has to offer an interior that feels special, and the GLA manages that with aplomb.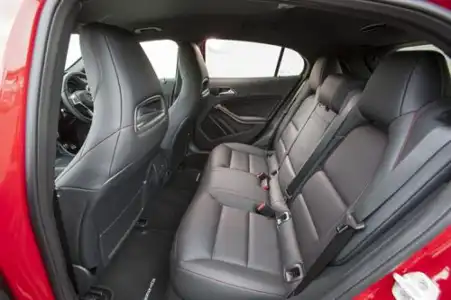 Space & Practicality
Despite it's big and tough stance, the GLA is actually a rather small car cleverly disguised as an SUV. Room in the rear seats is at a premium, especially in terms of headroom, so families with teenagers would be advised to look elsewhere. It's also rather dark in the rear thanks to a small windows and a belt line that sweeps upwards at the back of the car.
There is plenty of space in the boot, which is able to swallow 481-litres of whatever stuff you might put in a boot (more than you'll find in an Audi Q3, but less than a BMW X1) and the rear seats split and fold in thirds. Two of the rear seats also include ISOFIX points for child seat mounting.
Eslewhere there ar eplenty of cubby holes and storage compartments, but other rivals offer more space for the money.
Ownership
Running Costs
Despite the trend away from diesel, it remains the most frugal option on the GLA. Officially there's 67.3mpg on offer, and even the 4Matic version can manage 56.5mpg. Unusually, these aren't wildly optimistic figures, although it depends very much on your own driving patterns. Even the petrol options will return north of 40mpg on a good run, although the 45 AMG model will drink fuel nearly as quickly as Lewis Hamilton's Mercedes F1 car.
All models, bar the AMG, attract car tax at the standard £140 per year, with year one rates ranging from £140 to £500. The AMG will cost £800 in tax for the first year, and £450 for the next five, making it a costly model. The same is true with company car tax, that sees the most frugal model cost around £230 a month for a higher rate taxpayer, and more than doubling for the AMG. That increased performance really need to be worth the money…
Residuals remain strong on Mercedes cars, so cash buyers will get a lot back when they come to sell, while those buying on PCP or leasing will get lower rates thanks to higher future values. The list price might be steep, but it's less painful when second hand prices are taken into account.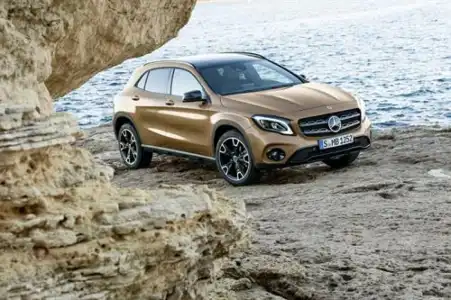 Quality & Reliability
Mercedes don't make the hewn-from-granite cars it used to, but there's nothing fundamentally wrong with the modern models. As a brand, Mercedes is very much middle of the road in terms of reliability, on a par with Jaguar and slightly ahead of BMW, according to Auto Express' most recent Driver Power survey.
The perceived quality is top notch, however, with the interior and exterior materials feeling fantastic, and not a squeak or rattle anywhere. And if something does go wrong, the Mercedes network is well regarded, while the car some with a three-year unlimited mileage warranty offering security and reassurance.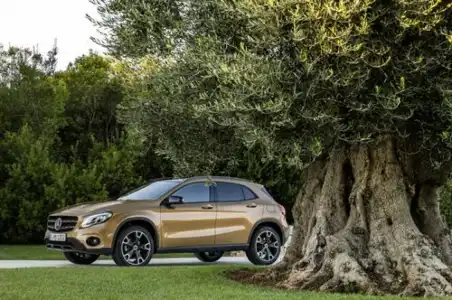 Safety & Security
Safety has been a mainstay of the Mercedes brand for decades, and nothing changes with the GLA. in EuroNCAP crash testing, the GLA scored the maximum five stars, with adult and child occupants being particularly well protected.
Every model gets fitted with myriad safety aids, with countless airbags, automatic brake assist, driver fatigue monitoring, stability control, hill start assist, and a bonnet that detects a pedestrian impact and rises to gently absorb as much of the impact as possible.
However, disappointingly the likes of blind spot monitoring, lane keeping assist and adaptive cruise control are options across the range at an eye watering extra cost of £1,695.

Find out our latest offers for used Mercedes.
Buy and save on quality approved and used cars