Pros:
Big. So big

Spacious

Luxurious
Cons:
Expensive to run

Disappointing ride

Not quite an S-Class
More On This Car
Take one for a spin or order a brochure
Request a Mercedes-Benz GLS brochure
Request a Mercedes-Benz GLS test drive
Introduction
On the more modest side of a Bentley Betayga, Range rover has nailed the go-anywhere luxurious SUV, but BMW as had a crack with the gargantuan X7. Keen not to be left behind, Mercedes has let loose the mammoth GLS, the so-called "S-Class of SUVs".
Stuttgart's marketing people could be setting up the opulent seven-seater SUV for a fall, but Mercedes has thrown everything at this new model, from powerful engines to air suspension. We drive it and find out if the marketing line is deserved, or if its just hyperbole.
On The Road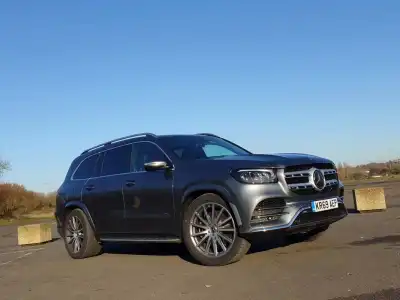 Performance
For such an outsized machine, there's a relatively normal-sized engine under that enormous bonnet. It's a 2.9-litre V6 diesel engine that develops a healthy if unremarkable 330hp. However, there's a mammoth 700Nm of torque to play with as well, with peak torque available almost from tick-over. That's enough to propel the GLS to 62mph in just 6.3 seconds.
Making that sort of swift progress feels unnatural in something so large, almost as if you're asking for a shopping centre to be moved nearer. The rear of the car squats down, there's a pause, and then it's tough to tell if you're moving forward at speed or if the wheels are pushing the earth backwards.
A long brake pedal that allows for easy modulation makes stopping just as effortless and controllable, which is a good thing as the GLS will keep going to 148mph where allowed. It's quite something, at least until you find a corner.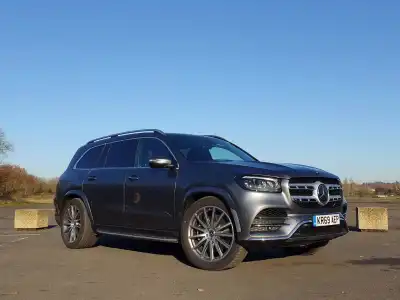 Ride Handling
European variants of the GLS get a complex active body system, but UK buyers have to make do with only adaptive air suspension. The hardship.
Perhaps it might have been wise to invest in the extra technology though, as the GLS does tend to rock around quite a lot. Keeping around two and a half tonnes of metalwork upright takes some tough suspension, and that's created an odd combination of lateral stiffness that causes the shake, and soft vertical movement that soaks up long, motorway undulations.
At lower speeds, you can feel each surface crack and pothole in the road, the GLS failing to isolate them from the cabin at all, but it gets better the faster you go.
Ultimate handling is adequate, but then the GLS is roughly the same size as the QE2 (and as luxurious) so sporting agility and driving engagement are probably not criteria buyers will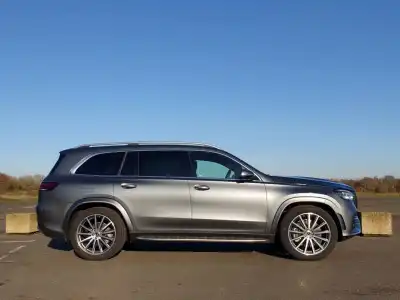 Styling
Rather than being based on an S-Class chassis, the GLS is really a stretched GLE, so it takes on some of its smaller siblings characteristics. The atmosphere isn't quite so rarified as a proper S-Class SUV, but that's not to say the GLS is rough around the edges.
The engine note is hushed, as it would be uncouth to have that diesel rattle permeate the cabin. Wind noise is also surprisingly absent, despite the bulk of the car having to cut through the air like a cow through butter.
The nine-speed automatic gearbox is as smooth as you would expect, offering barely noticeable changes under power and being completely undetectable when gently cruising.
It's let down a little by the suspension though, as that constant low=speed jiggle upsetting the calm of the cabin.
In The Car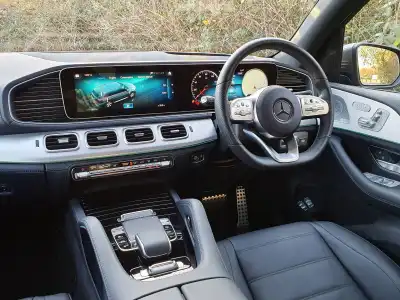 Behind the Wheel
There's a real sense of modern luxury behind the wheel of the GLS, with a digital touch screen running across most of the width of the dashboard. It's not all touchscreen, as there are plenty of blank spaces in it, but it definitely has the wow factor to impress guests with.
The infotainment screen is matched by a digital display for the driver although this is less effective, as the display is trying hard to mimic traditional dials while being obviously digital. With the focus on digital displays, perhaps it's time to finally ditch the traditional?
For those who chat happily with Siri, Google or Alexa, you can bark instructions to the car using the Hey Mercedes handle which, when it works, makes light work of changing settings and setting the sat nav. And if you refuse to keep up with the modern world, there's still a control pad on the centre console for those that want to use their hands to make changes.
It's all wrapped up in high-quality aluminium, piano black plastic trim, and Mercedes' man-made leather. It could arguably do with a little more flourish in the design, but it's a thoroughly pleasant cabin to spend time in.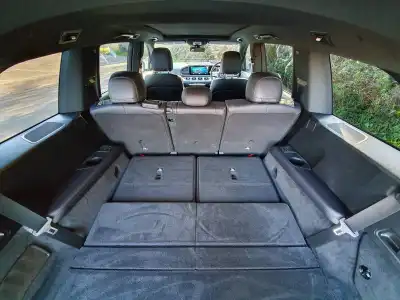 Space & Practicality
There are 5.2 metres of Mercedes GLS, so you'd assume that there would be plenty of space inside. Happily, that's right, with front-seat occupants getting a real armchair experience. However, the seats you really want are in the second row. There you'll find acres of legroom (up almost 9cm from the previous model) and enough luxury for all but the most demanding of oligarchs. Should those demanding ones really want more, the three-seater bench can be replaced by two luxury chairs.
The third row of seats folds into the boot floor but, once in place, they'll take a couple of adults without too much of a problem. Certainly, children will be happy enough there.
Every single seat is electrically adjusted, heated and leather-clad, and there's a five-zone climate control system to keep individuals comfortable. Those in the middle row get touchscreen infotainment centres to play with, and there are 11 USB ports dotted around the car to keep everybody fully charged and connected.
The boot takes 355-litres of load when in seven-seat mode, 4700-litres in five-seat mode, and an enormous 2,400-litres when all the seats are folded flat and the boot filled to the roof.
Ownership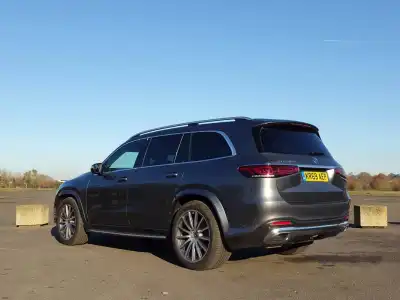 Running Costs
For something roughly the same size as Kuwait, you'd expect to get through quite a bit of fuel. Officially, the GLS 400d will return just over 28mpg, and our time with the car saw the on-board computer show 24mpg. In defence of this, if you're seriously considering a 2.5-tonne SUV that's more than half as long as a London bus, then economy probably isn't high on your list of requirements.
The purchase price is obviously high, but the residuals should be quite strong. This puts PCP and leasing rates starting from around £800 a month, while company car users will need to find an additional £900 or so a month to cover their tax bill.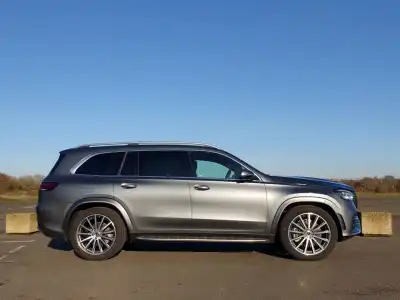 Quality & Reliability
Mercedes-Benz covers the GLS with a three-year unlimited mileage warranty and provides four years of pan-European roadside assistance.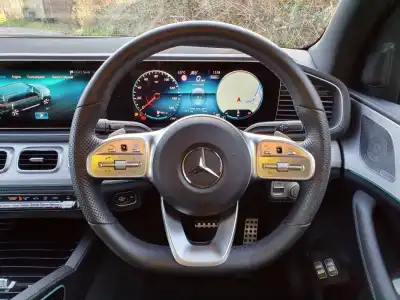 Safety & Security
EuroNCAP hasn't tested the GLS and, given its expected rarity, are unlikely to do so. However, the GLE on which it's base has been tested recently, where it achieved a full five-star result.
Both adult and child occupants were very well protected in the event of an accident, but there's a less positive outcome for any pedestrians that tall, blunt front end collects. At least there's an active bonnet to cushion the blow.
There's also a large selection of electronic safety aids fitted as standard, including crosswind assist and trailer stabilisation.

See the latest used Mercedes-Benz cars offers.
More On This Car
Take one for a spin or order a brochure
Request a Mercedes-Benz GLS brochure
Request a Mercedes-Benz GLS test drive