£27,310 excl VAT
Pros:
Drives superbly for a pick-up

Upmarket interior

Punchy engine choice
Cons:
Most creature comforts are optional extras

Diff lock not standard
Buy and save on quality approved and used cars
Introduction
Mercedes-Benz have long been absent from the pick-up sector, but a growing market segment calls for the first truly 'premium pick-up'.
It will only be available from Mercedes-Benz van dealerships, sitting alongside the Citan, Vito and Sprinter.
Driving nearly 400 miles through Wales in 24 hours, we put the X-Class through its paces.
On The Road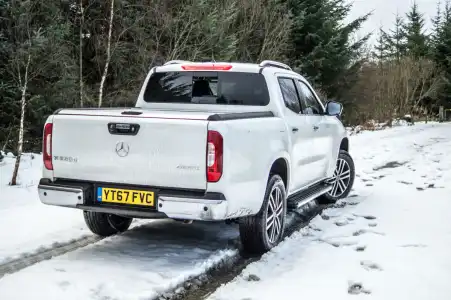 Performance
At launch, there are two engine choices, both are the same 2.3 litre diesel, one with a single turbo, the other with a twin turbo. They make 163 hp, 403Nm of torque and 190 hp, 450 Nm respectively.
A Mercedes 3.0 litre V6 lump is coming in 2018, that will push out a whopping 258 bhp, which will be more power than anything currently on the pick-up market.
We tested the X250, which is the 190 hp option. A 0-60 time of 11.8 seconds makes it feel nippy, and with an official MPG figure of 35.8 it's touted to be pretty frugal for a two-ton truck with an auto gearbox.
However, over the 400 odd miles we managed just 27.6 MPG, but that was mostly pressing on at a decent pace. Emissions are measured in at 207g/km, but the X-Class qualifies as a light commercial vehicle meaning road tax costs £240 for 12 months.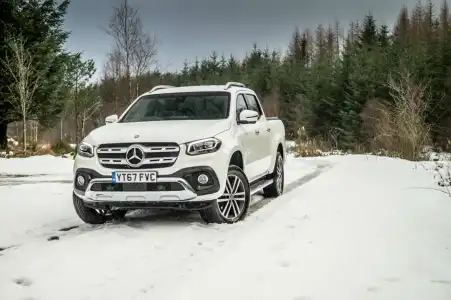 Ride Handling
Pickup-ups are renowned for their utilitarian, bumpy ride. Stiff rear leaf springs normally mean you have to have a load in the back, or the truck will jitter and wobble over any small defect in the road.
Not so in the X-Class, and it's probably the most astounding thing about the whole vehicle. The X-Class shares its chassis with the Nissan Navara; and the last time we drove the latest NP300 model it was fairly refined, but still had that tell-tale wobble from the rear end.
A late-night jaunt from Shropshire to Portmeirion proved how well composed the X-Class is. Time had to be made up, so speed was of upmost importance. Weaving through the hills and dales of deepest, darkest Wales you soon forget you're in a huge great truck.
Switching between two and four-wheel drive the grip was superb. Even in the muddy conditions the X-Class held on to the road through fast sweeping right handers, and past sheer valley drops.
Finding what was left of the quadrennial snowfall we drove up into the higher ground. Ice, snow and slush had the four-wheel drive working overtime, but we plodded on unimpeded.
There was an infrequent shudder and wobble from the back end, it only happened over rough jolts in the road, like expansion gaps or over larger cracks where the surface changes. On the whole, you'd be fooled for thinking you're in a larger crossover, rather than a burley pick-up.
Road noise is well muted, and the engine never intrudes into the cabin thanks to added sound proofing. By comparison the Navara is feeling suitably farm-like these days.
Steering is vague, it takes a hefty amount of lock to start to see the results…but that's par for the course when it comes to trucks.
The Mercedes sourced, 7 speed automatic gearbox is buttery smooth. It may be a tad on the slow side on occasion, with overtakes needing a little pre-planning, but the seamlessness of the changes just adds to the high levels of refinement felt in the X-Class.
Styling
There are three trim levels to choose from, 'PURE', 'PROGRESSIVE' and 'POWER' with the range starting at £27,310 excl VAT.
When you see the X-Class in its entry level 'PURE' trim it looks a bit utilitarian, like any other pick-up. It's only when you start to bump up the grades that the looks improve.
Our range topping 'POWER' model came standard with fog lights, full LED head and tail lights, folding mirrors, keyless entry, eight way powered front seats, a leather dash and high gloss interior trim.
It still had a fair few options though; Style Package, Comfort Package, Parking Package and Winter Package. All of those added up to nearly £4,000 excl VAT.
A locking diff will cost you an extra £495, whilst increasing the ground clearance by an extra 20mm is a modest £220.
Standard paint choices consist of Danakil red, Chisana white and Granite green. Metallic options will be an extra £510. All option costs are excluding VAT.
In The Car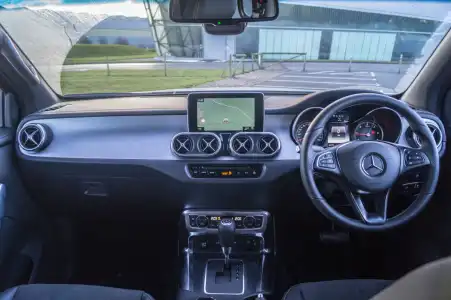 Behind the Wheel
Saying the X-Class is just a fancy Navara is just wrong. The body up is entirely Mercedes and 50mm wider than that of a Navara.
It's no Nissan clone either, inside is upmarket with a leather topped dash in our 'POWER' model. Switchgear is sturdy and whilst the lower section of the centre console is harder wearing, it still feels more premium than the rest of the market.
The central armrest is rather cavernous providing USB ports and a 12v power outlet, whilst the 7-inch infotainment system is easy to use, albeit it's not a touchscreen.
It would have been nice to have some modern, car like creature comforts, wireless charging wouldn't've gone amiss. There's also nowhere to put anything, no spaces big enough for your phone or an MP3 player. They either have to sit on the passenger seat, or move around inside the armrest.
We didn't find the seats particularly comfy on our long jaunts either. There is lumbar support, but it couldn't be adjusted enough to negate and aching lower back.
You'll also find just the one stalk behind the wheel, it's a bit odd to get used to at first, as it takes care of both the indicators and windscreen wipers.
Behind you sits a tiny little opening window, allowing you to load the cab with extra-long items with ease.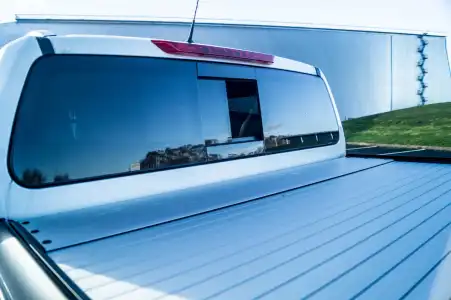 Space & Practicality
You'll find enough space in the back for a European size pallet, and the X-Class can lug 1.1 tons of load without issue. If towing is your thing then 3.5 tons is the limit.
The load bed dimensions are 1,587mm long by 1,560mm wide, totalling a load bay of 2.141 m2.
Legroom in the dual cab is on the cosy side, but would be fine for short journeys. There's also grab handles on the A pillars, signifying this is a proper pick-up.
We can't comment on the lower trim levels, but the dash inlay and air vents on the range topper are typically Mercedes and premium in feel.
Ownership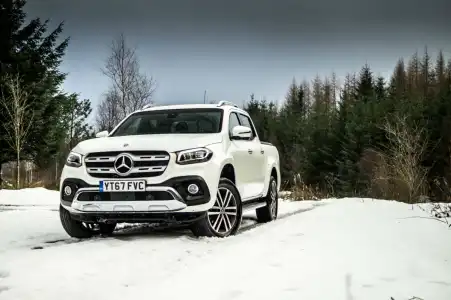 Running Costs
Mercedes say the best seller will be the 'POWER' model, which costs £34,100 excl VAT. Stick the VAT on and the price is a hefty £40,920, thankfully business users can claim that back. Benefit in Kind is also lower than a company car, making the X-Class an appealing proposition for businesses.
The entry level X220 model can only be had in 'PURE' and 'PROGRESSIVE' trim levels. These range from £27,310 to £28,510 excl VAT.
There's no word on pricing for the beefy V6 model yet, but the 190 hp twin turbo engine provides plenty of shove for the money.
Mercedes provide a 3-year warranty with all commercial vehicles, and 3 years roadside assistance with breakdown cover via their MobiloVan service.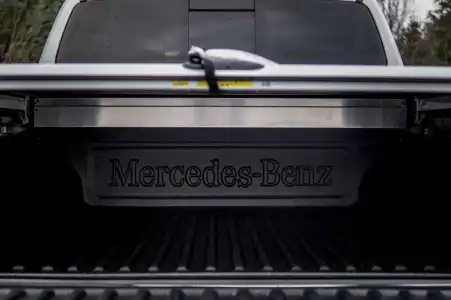 Quality & Reliability
We're pretty sure you're in safe hands, the Mercedes Sprinter has recently been announced as the most reliable van in the UK, as per the FN50 reliability study. In fact, it's the third time the Sprinter has taken the crown.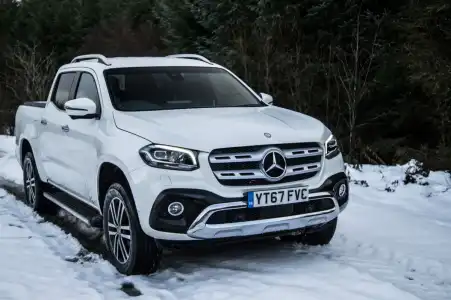 Safety & Security
Every X-Class comes with seven airbags as standard, including a driver's knee bag. Drivers aids consist of; active brake assist with radar-based autonomous emergency braking, lane keeping assist, traffic sign recognition, hill start assist, a reversing camera and ESP.
Trailer stability is an optional extra, and an anti-theft protection package is also standard across the range.
Buy and save on quality approved and used cars