From £60,410
Pros:
Beautifully styled – it's Mercedes' version of the bullet train!

One of the best interiors on offer from any premium marque

Refined driving and instant power at your disposal
Cons:
Taller drivers and passengers may notice the lack of headroom

It's a wide car and will need extra-large parking bays to protect the doors

Start button is a bit obscured by the steering wheel
More On This Car
Take one for a spin or order a brochure
Request a Mercedes-Benz CLS brochure
Request a Mercedes-Benz CLS test drive
Introduction
The all-new third generation Mercedes CLS boasts fresh styling with a more pronounced front end reminiscent of a sharks nose, distinctive air scoops and a wider grille. There are low-set headlamps, two-section tail lights and a stunning diamond-effect grille. It looks super sleek in its design and the upmarket feel is carried through into the cabin with its ultra-modern layout featuring elegant leather upholstery and two wide display screens that merge into one and stretch across more than half of the dashboard.
The original CLS was quite pioneering when it was launched as it offered the rakish good looks of a coupe with the practicality and comfort levels of a four-door saloon – it had never been done before. Now in its 13th year, the Mercedes CLS is just like a good wine – it gets better with age.
On The Road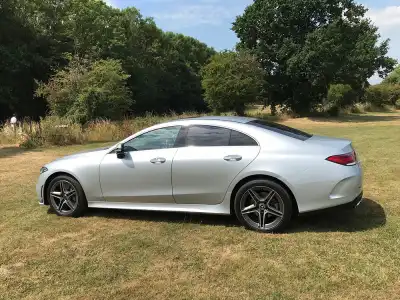 Performance
The CLS is powered by a range of completely new six-cylinder engines with customers offered the choice between diesel and mild hybrid petrol powertrains. We opted for the 400 d 4MATIC model in AMG Line trim. This diesel engine delivers 340hp and 700Nm of torque which means the CLS can blitz its way to 62mph from a standing start in 5.0 seconds and redlines at an electronically limited 155mph. Rather surprisingly, the fuel economy is pretty impressive with an official combined figure of 47.9mpg and carbon emissions of 156g/km.
But that's enough of the facts and figures, let's get down to business. How does the CLS handle? The answer is superbly well. It has a bit of a split personality. For example, if driven with a little TLC, the acceleration, ride and handling are rather refined and responsible. Open up the throttle and it goes like the wind with split-second acceleration as it fires through the nine-speed automatic transmission.
There are paddle shifts if you fancy taking control of the gear changes and the Driving Modes (or Dynamic Select as Mercedes calls it) alter the car's handling and reactions as you move through Eco, Comfort, Sport, Sport+ and Individual.
Ride Handling
Comfort levels within the CLS are sublime even when driven in a more thrilling driving mode. The road holding is outstanding meaning long sweeping bends can be attacked with confidence and the car also featured 4MATIC which is Mercedes' all-wheel drive system meaning great traction even in the wet.
The highly efficient air suspension smooths out all but the roughest of road surfaces and the direct steer speed-sensitive steering offer plenty of feedback.
While switching through the sportier driving modes is great fun the majority of miles will, in all honesty, be clocked up in Comfort mode and it's here that the CLS really excels. It feels like the interior has been made to measure and after a 150-mile test drive without any breaks, I was still feeling pretty refreshed. It's a car that will eat up the motorway miles with ease but can turn on the X factor charm when things need livening up.
Our test model was sitting on 19-inch wheels which suited the car perfectly.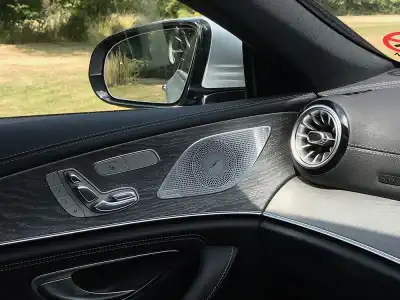 Styling
The Mercedes-Benz name is synonymous with luxury and the CLS lives up to those high expectations. The exterior design is guaranteed to stop onlookers in their tracks as it sweeps by and the interior is equally impressive with black leather upholstery, stunning grey open-pore ash wood trim, 64-colour ambient lighting and a pair of 12.3-inch display screens that spread from the centre of the dashboard to the right of the steering wheel and sit neatly behind a glass panel.
I have to mention the air vents too because they resemble jet aircraft turbines and are another elegant touch in one of the finest car interiors on the planet.
The driver and passengers feel safely cocooned inside the CLS with barely a murmur of engine, road surface or wind noise filtering through. And it will take quite a big pothole to send the car off course thanks to the agility control suspension system.
In The Car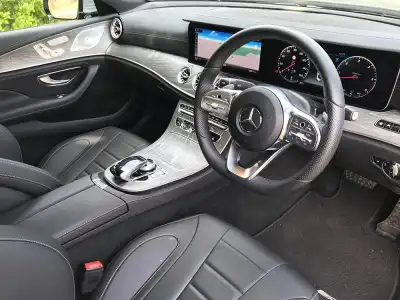 Behind the Wheel
With powered front seats and an electrically-adjustable steering wheel, it doesn't take long to find the perfect driving position in the CLS and these settings can be stored in the memory set-up. Then it's just a case of taking stock for a second, admiring the surroundings and exploring a fraction of the on-board technology. The two 12.3-inch screens merge into one long instrument cluster behind a glass panel and these can be personalised according to taste.
One of the screens is where all the infotainment settings can be located and the other is where all the car's vital signs such as speed, revs, fuel levels etc are found.
The instrument cluster behind the steering wheel can be displayed in Classic, Sport or Progressive depending on your mood.
An addition to the test car was a Premium package costing £3,895 that introduced a number of features including a pitch-perfect 13-speaker Burmester surround sound system, a 360-degree camera, an electric sliding sunroof and keyless go.
There were a few other handy options on our test car, including remote parking assist, privacy glass and wireless charging.
The only downside was the start button which is rather obscured from view by the steering wheel and took a moment to find.
Space & Practicality
Although the CLS looks like an ultra-streamlined coupe, it is in fact, a practical four-door saloon with room for a trio of passengers in the back. The low roofline does mean any particularly tall passengers may find their neatly styled coifs brushing against the headlining, but that aside, there is ample leg, head and shoulder space.
The boot is power-operated and has a capacity of 520 litres, which can be increased further with the 40:20:40 split-folding rear seats dropped flat. Within the boot, there are nets to stop items rolling around and a handy drop-down hook to keep shopping bags upright.
Elsewhere there are numerous convenient storage options scattered throughout the car, including a central box housing all the cables and outlets for smartphone connectivity, cup holders, a practically-sized glovebox, door bins that can house a decent-sized water bottle, drop down sunglasses compartment, a net in the front passenger's footwell and pockets in the back of the front seats.
The CLS is quite a low car, so anyone with any mobility issues may struggle a little. It is more than two metres wide including the door mirrors and just shy of five metres in length so when you factor in the wide opening doors, the car does require quite a large parking bay to avoid getting blocked in or bumped.
Ownership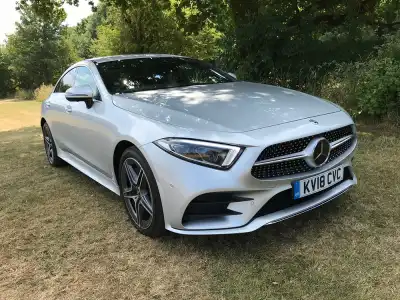 Running Costs
After a short, guided tour around the CLS, two friends of mine put their estimated asking price in excess of £75k. But they were wrong. In fact, our test car had a price-tag of £60,410 which increased to £67,240 with a range of options fitted. But if you're looking for a cheaper option, the CLS range starts from £57,640.
According to official figures, our diesel model could deliver combined fuel efficiency of 47.9mpg and we weren't too far off that mark. After completing more than 300 miles in all types of driving conditions, our official fuel economy figure was showing 41.2mpg.
The car's carbon emissions figure of 156g/km would result in a first-year Vehicle Excise Duty charge of £500 dropping to £140 for each following year.
But it's worth noting that under the recent restructuring of the tax system cars with a list price above £40,000 pay a £310 supplement for five years. After the five-year period, the vehicle is taxed at the applicable standard rate.
The insurance group rating for the test car is 49.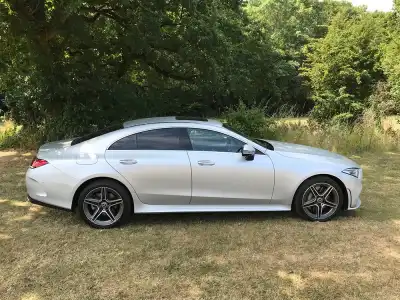 Quality & Reliability
The Mercedes CLS is very well put together with a fine array of materials and switchgear. The elegant grey ash wood trim looks upmarket but is easily wiped clean and the duo of infotainment screens are accessed via a dial or the multi-function steering wheel, so no messy fingerprints there then.
All the switchgear feels like it will last the test of time. In fact, Mercedes has an excellent reputation for building reliable cars so the CLS should not cause any issues on that front.
It comes with a three-year, unlimited mileage warranty.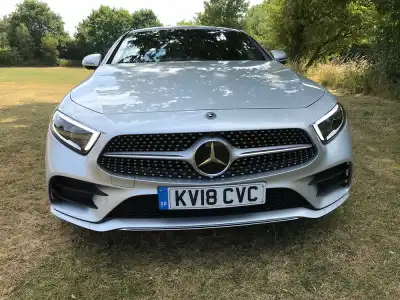 Safety & Security
Although it's unlikely that the new CLS will be tested for a Euro NCAP safety rating, it does share much of its structure with the E-Class which secured a maximum five-star rating.
Our test car featured a Driving Assistance Plus package that added £1,695 to the asking price and introduced the likes of active blind spot with evasive steering, active braking assist with cross-traffic function and tailback emergency braking, active distance assist, active steering assist, active speed limit assist, active lane keeping and lane-change assist, plus a number of other safety elements.
These were on top of the more standard safety features designed to protect occupants and pedestrians alike.
And the car is also equipped with 4MATIC permanent all-wheel drive to keep you on the move in more severe driving conditions.
More On This Car
Take one for a spin or order a brochure
Request a Mercedes-Benz CLS brochure
Request a Mercedes-Benz CLS test drive