Pros:
Loaded with equipment

Spacious all round, light & easy to drive

Seven-year warranty
Cons:
Electric range is limited

Handling and ride are so-so
More On This Car
Take one for a spin or order a brochure
Request a MG Motor UK ZS brochure
Request a MG Motor UK ZS test drive
Introduction
Since its revival a few years ago, the MG brand is still to impact on the UK car market. Its latest model, the ZS small SUV, has picked up more sales than anything before, but it's the new electric powered version that might be the right car at the right time.
Eschewing petrol or diesel power options, the ZS EV has a single 143hp electric motor providing power to the front wheels. The battery pack produces 43.5kWh of energy, which is ahead of the regular Nissan Leaf, but somewhat short of the best in class from the likes of Kia and Hyundai.
However, where the Korean firms struggle to provide enough cars to satisfy demands, MG promises that there's enough capacity to supply every customer, and it's doing that at an astonishing price. The ZS EV range starts at £28,495, but there's a government grant available to reduce that to £24,995, while MG will then match that grant with another £2,500, bringing the price down to just £22,495. With a Kia e-Niro costing an extra £11,500, there's enough difference to overlook some of the shortcomings associated with MG models, but the ZS is a decent car in its own right.
MG wants to outsell the market leader, the Nissan Leaf, with this new model. The financials seem to add up, but can the car meet expectations too? We drive the new ZS EV and find out.
On The Road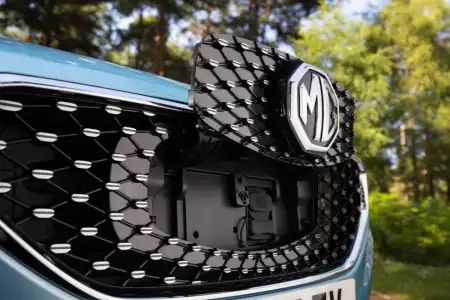 Performance
A budget-priced SUV that's been laden with batteries is unlikely to set the heart racing, but the ZS EV is surprisingly sprightly, especially off the line. The standard 0-62mph dash is dealt with in just 8.5 seconds, which is more vigorous than most drivers will ever use. Standstill to 30mph feels even more zesty, and makes fighting your way through a busy city centre quite invigorating. It tops out at just 87mph, but that's obviously well above the speed limit, and at the top end of what even brave, but law-breaking, drivers will manage on the motorway.
Braking is one area MG has stolen a march on its rivals, as it's linear and predictable. That's rarely an issue on petrol-powered cars, but electric cars use the brakes to recover energy for the battery, and that often leads to variable resistance as speeds drop.
The range is a little limited, with official figures suggesting 163 miles should be possible before needing to plug in. The reality is that around 130 miles is more likely, although that should be enough for all but those who spend each day on the motorway. Rapid charging takes just 40 minutes to add 80% charge, so a quick motorway service stop for a coffee and sandwich after two hours of driving will see you on your way again. Home chargers take seven hours to fill up the ZS, leaving you with a full battery when you get up every morning.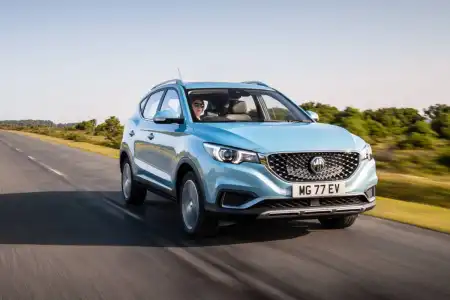 Ride Handling
Loading an SUV with batteries won't do wonders for its handling prowess, but then the ZS is more of an urban warrior than a track weapon. Certainly, there are no issues with its low speed handling, as it zips and darts around city traffic with aplomb. The steering is light, although it can be adjusted to be unnecessarily firm. There's no point in doing that though, as there's little feel through the steering wheel. Likewise, Eco, Normal and Sport modes don't really change much at all, with the suspension remaining the same and only steering and throttle response being adjusted.
It would be nice to say that the ZS handles well on the open road but, frustratingly, the launch took place in central London where time limitations meant heading out to the countryside was unfeasible. However, the regular ZS is a surprisingly engaging steer, with plenty of grip and little body roll. It would be reasonable to expect the EV version to continue that trend, seeing as there are no significant changes to the car.
The issue with stiff suspension for handling is that it affects the ride quality, and the ZS EV falls short of some rivals here. It never really settles down, jiggling around from bump to bump. Only the most severe feel like they're crashing through to the cabin, but you're always aware that the UK's roads are anything but perfectly smooth.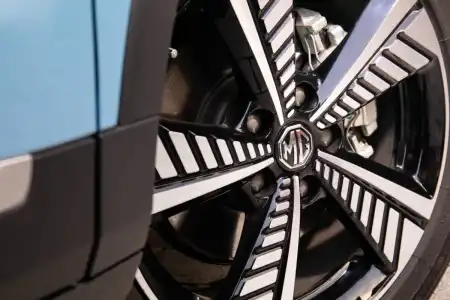 Styling
The beauty of any electrically powered vehicle is how smooth and quiet they are, and the ZS EV is no different. Urban driving is a breeze thanks to the lack of noise, vibrations and gear changes, leading to the car feeling impressively relaxed.
MG has done a good job of bolting the car together too, so there's nothing in the way of creaks or rattles to disturb the cabin environment. Likewise, wind noise is kept fairly well in check, although you do notice tyre roar - that's really because an EV is so quiet, that the sound becomes disproportionately intrusive, as the regular ZS doesn't suffer from unusually high levels of noise.
The suspension can thump through to the cabin a little at times, which momentarily upsets the calm, but on most surfaces it's like the rest of the car; smooth and quiet.
In The Car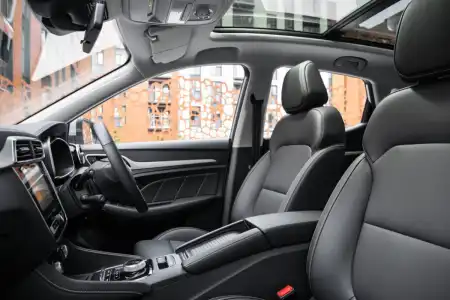 Behind the Wheel
There have been very few changes from the regular ZS, so it's still a reasonably pleasant interior with soft touch plastics and a decent fit and finish.
Instead of a gear lever, there's now a space-saving rotary dial to choose between forwards, backwards or neutral. That sits in front of a switch that adjusts regenerative braking levels – the more severe the slow down when coasting, the more power is being fed back into the batteries. Bizarrely, there's also a switch to display just how much range you have left. The figure appears on the instrument panel, and then disappears after a few seconds, leaving you guessing until you flick the switch again.
As with other MG models, equipment levels are high, with each model coming with a DAB radio, Bluetooth connectivity, satellite navigation and Apple CarPlay, all accessed through a smart looking Windows-mobile inspired eight-inch touchscreen. Android Auto was previously missing from the ZS but, happily, it's made an appearance on the EV model.
Aside from some minor ergonomic issues, there's very little to complain about inside the ZS. Only the lack of a reach-adjustable steering wheel really irks.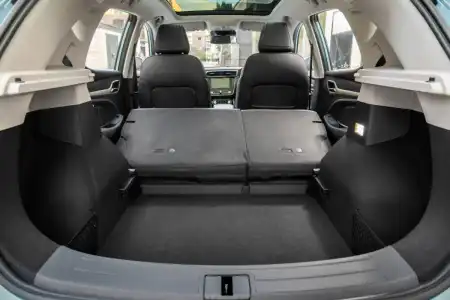 Space & Practicality
You get a lot of room for your money in the MG ZS, even in EV spec. MG says the ZS was originally designed to be switched to electric power, so there's been no compromises in battery locations or motor placement. Given that the boot remains the same size as before, and there's no loss of floor space inside, there's no reason to doubt that claim.
Up front is, as you would expect, fine for both driver and passenger, while the rear seats are surprisingly accommodating. Leg and head room is plentiful, and up there with the very best in the class - MG promises that the ZS is 55m wider and provides 80mm more headroom than the average small SUV. There's nothing clever going on though, with no sliding or reclining seats. It's just sensibly sized and useable space.
The boot measures in at 448=litres, which is slightly smaller than the boot on a Dacia Duster, about the same as the practical Renault Captur, and significantly larger than a Nissan Juke's offering. The rear seats split and fold to extend the cargo area, while the boot floor can be raised or lowered to favour ease of use or outright capacity.
Ownership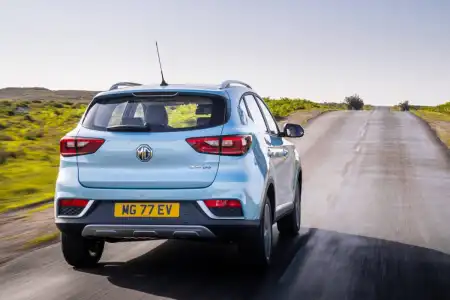 Running Costs
A low price, assuming the MG bonus £3,500 is still available, promises low monthly leasing and PCP costs, with MG able to provide finance from £279 a month on their own packages. Residual values aren't likely to be particularly high though, so ensure the future value is set at the right level to cover you at the end of your PCP term.
Running on electric power means energy costs are low, with a full charge from zero costing around £6 at home. With free chargers around, home charging and occasional expensive rapid charges, you should be able to keep on the road for around 4p per mile.
There's also no car tax to pay, while business users will benefit from a low BIK rate. Currently that's set at 16%, but drops to zero for 2020/21. Bear in mind that tax is based on the full value of the car, not the final invoice price.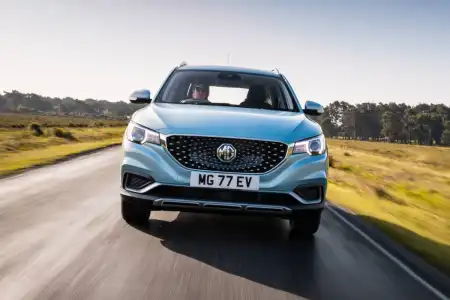 Quality & Reliability
MG's sales are still in their infancy, and on the rise so there's not enough data to get a real view of how reliable the cars are.
However, MG has added a seven-year warranty to each of its cars, covering each model for up to 80,000 miles in that time. With fewer moving parts in an electric car, hopefully, you won't be needing to visit the dealer any more frequently than the required annual service.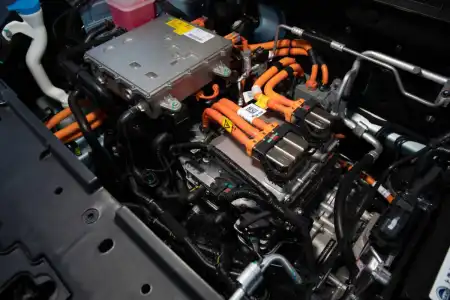 Safety & Security
The ZS EV impressed in all areas of the Euro NCAP test, including the four key test categories: Adult Occupant, Child Occupant, Vulnerable Road User and Safety Assist.
Each ZS EV being fitted with automatic emergency braking, with sensors able to detect pedestrians and cyclists as well as other cars, and both lane keeping assist and lane departure warning. There's also adaptive cruise control and traffic jam assist, to make life easier in the urban sprawl, but you'll need to ensure you buy the highest Exclusive tim level if you want blind spot detection, rear cross traffic alert, and automatic wipers.
More On This Car
Take one for a spin or order a brochure
Request a MG Motor UK ZS brochure
Request a MG Motor UK ZS test drive