From £15,905
Pros:
Go-kart style handling

Plenty of personalisation options including 3D printed parts

The option of Matrix headlights
Cons:
It has Apple CarPlay but no Android Auto

Storage options are few and far between

Prices are on a par with the German premium marques when options are included
More On This Car
Take one for a spin or order a brochure
Request a MINI Hatchback brochure
Request a MINI Hatchback test drive
Introduction
When BMW took over the reins at MINI it felt like we were losing a national treasure, but the German brand has invested heavily and the result is a fantastic line-up of cars that are packed to bursting with technology, yet still maintain their MINI character and above all, thrilling driving dynamics.
At the MINI plant in Oxford, 1,000 new cars are built every day and although 80 per cent are exported worldwide to 110 countries, we Brits still hold the brand in very high esteem.
The latest third generation hatchback line-up was launched in 2014, so it was time for a mid-life make-over.
With that in mind, this MINI hatchback has class-leading lights with Matrix high beam, a raft of on-board techno treats, three vibrant new colours, along with the option to personalise certain parts of the car thanks to 3D printing.
On The Road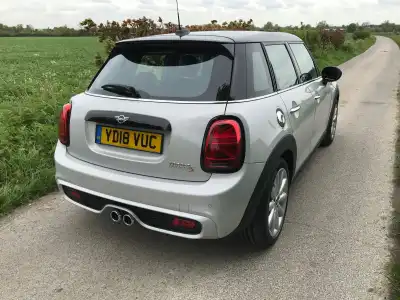 Performance
MINI customers have a wealth of choice when it comes to selecting their ideal MINI hatchback. The cars are available in three or five-door styling, there are 1.5-litre petrol engines with 102hp and 136hp, 2.0-litre petrol engines with 192hp and 231hp, plus a 1.5-litre diesel powertrain delivering 116hp.
In addition, customers are offered a 6-speed manual transmission or a 7-speed Steptronic double-clutch automatic gearbox. Trim levels are also extensive and are called MINI One, Cooper, Cooper S, Cooper D or the range-topping John Cooper Works which costs £24,435 (without options).
We tested the MINI Cooper S in five-door guise, powered by a 192hp 1.5-litre petrol engine. It could sprint from 0 to 62mph in 6.8 seconds and maxed out at 146mph. On the economy front, it can deliver combined fuel efficiency of 45.6mpg with carbon emissions of 141g/km.
While design is a vital selling point for MINI customers, performance is never far behind and the latest car delivers on all counts. It still lives up to its go-karting heritage and the road-holding is superb no matter how hard it's pushed into bends. Few cars can attack a bend as confidently as a MINI – that was true 20 years ago and is still a fact today.
The acceleration through the six-speed manual gearbox is swift and there is a constant supply of power on tap.
Ride Handling
Our test car was sitting on 17-inch alloys and they were the perfect size for the car which was beautifully composed and balanced even when faced with quite undulating road surfaces.
There is plenty of driver feedback through the direct and precise steering and that, combined with the outstanding road holding, makes the MINI hatchback a fabulous driver's car.
In congested town centres, the MINI feels like it can turn on a sixpence as it weaves its way through the traffic. And parking is made simple thanks to reversing cameras, sensors and the excellent all-round visibility. Then out on the motorways, the MINI feels very grown up as it cruises effortlessly alongside fast-moving traffic.
But in all honesty, it's out on the country lanes where most fun is to be had. The more the road twists and turns, the more the MINI shows off its true capabilities.
There are three driving modes called Green, Mid and Sport that alter the car's performance. The large circular dial in the centre of the dash has become a familiar feature in modern day MINIs. It houses many of the car's infotainment systems including the touchscreen. The outer ring changing colour with the different driving modes is a neat touch.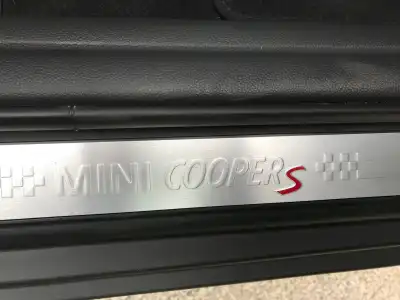 Styling
MINI interiors rarely disappoint and are always distinctive, stylish and packed with technology. The latest hatchback ups the ante even further with some backlit ambient lighting, upmarket upholstery with fine leathers, lots of soft-touch surfaces and the customary toggle switch controls along with the large circular instrument panel that houses the 8.8-inch touchscreen (it's 6.5-inch as standard).
Our test car showed off one of the options available to new customers – personalised sections thanks to 3D printing technology. This really does take personalising a car to the next level and customers can stamp their own identity on the vehicle's side scuttles, LED door sill finishers, LED door projectors and the decorative strips on the dashboard above the glovebox. Ours was called DREW according to the side scuttle. And there is good news for anyone looking to buy the car a little further down the line who is not called Drew! The parts can easily be replaced for a relatively low fee.
When it comes to driving, the MINI Cooper S is nicely refined. As it was sitting on appropriately sized wheels, there was very little road surface noise even when driven hard. There is a little wind sound from the side mirrors but it is fairly minimal. The ride was also nicely cushioned – it seems like the MINI has grown up a little without losing its thrill factor.
In The Car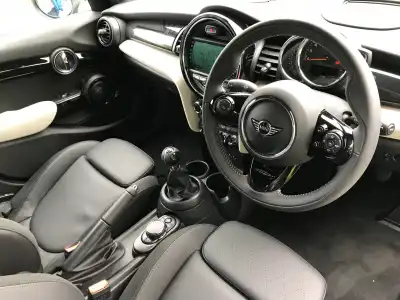 Behind the Wheel
MINI has listened to customer feedback and getting the infotainment options just right has been a priority. The test car featured an optional pack that addressed the issue. As standard all vehicles have a 6.5-inch full colour display and rotary controller. But the addition of MINI Navigation Plus, costing £2,000, added an 8.8-inch screen, wireless charging, MINI Connected Services including Real Time Traffic Information, Natural Language Understanding, MINI Concierge Service, online services and Apple CarPlay. There is no Android Auto option and no plans to introduce one apparently. It's worth noting that MINI models purchased now with the Navigation Plus pack will have a free upgrade when ALEXA is introduced in July.
One of the things that make the MINI so desirable is its quirky, yet very functionable interior layout. The toggle switches look amazing especially the red one that starts and stops the engine. And that circular dial is a key focal point too. Another feature is a freshly designed three-spoke, multi-function steering wheel as standard.
A couple of other optional extras on the test car worth a mention were the head-up display costing £490 and the Harman Kardon Hi-Fi system which added £590 to the price-tag.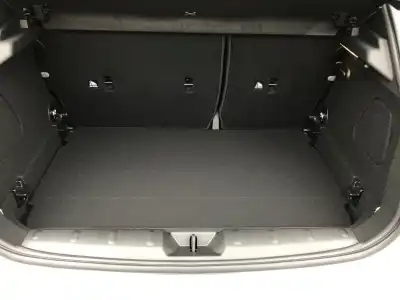 Space & Practicality
Whilst the three-door hatchback accounts for about 55 to 60 per cent of sales, there is definitely a place for the five-door version, especially if it's being used as a family car. Getting in and out of the three-door version takes a certain amount of flexibility, but that's not the case with the Cooper S five-door. There is easy access to the rear seats and passengers benefit from reasonably decent leg and headroom.
Up front there is oodles of legroom and the large windows mean lots of light floods into the cabin helping to create a bright environment for occupants.
There is also the bonus of extra storage space on the five-door models with a boot capacity that ranges from 278 to 941 litres with the rear seats dropped flat. The three-door has a maximum storage limit of 731 litres.
Elsewhere throughout the cabin are numerous cubby holes to tuck away goodies, although the door bins are quite narrow and the glovebox is not that large either. There are practical cup holders that are deep enough to safely secure a drink container though.
Ownership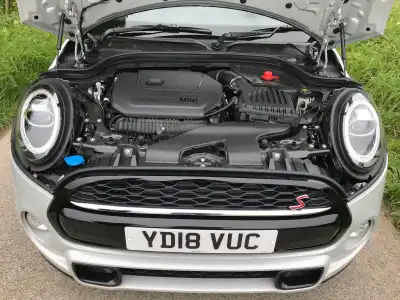 Running Costs
So, onto the real nitty gritty stuff then – how much will the MINI Cooper S in five-door guise set you back? The answer is quite a lot if you want to load it with all the optional extras and additional packs. Our test car started life costing £21,665, which is fairly reasonable, but after the Navigation Plus Pack along with a Chili Pack and numerous other add-ons were factored in, the cost had risen quite steeply to £28,585. But in fairness, the MINI is aimed at the premium end of the market so wouldn't ever be considered a budget option.
When it comes to running costs, the five-door model is not quite so efficient as its three-door sibling, but the difference is quite minimal. Our car could deliver combined fuel economy of 45.6mpg with carbon emissions of 141g/km. That would result in a Vehicle Excise Duty cost of £200 for the first year which is reduced to £140 after that.
The insurance group rating for the test car is 28.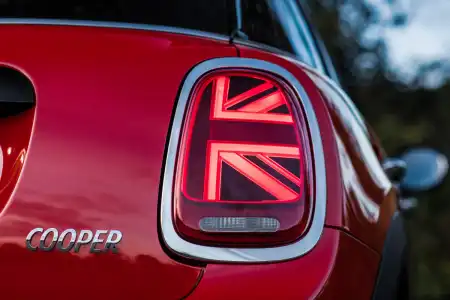 Quality & Reliability
MINI has built up an excellent reputation for reliability over the years. With considerable input from BMW, the modern-day MINIs look fabulous, are kitted out with quality materials, fixtures and fittings and are guaranteed to survive the test of time. Even features such as the 3D printed section on the dashboard has undergone extensive testing as this is an area that would be directly in line of the front seat passenger in the event of an accident.
Features such as the toggle switches not only look smart and retro, but they feel sturdy as does the leather upholstery.
The MINI Cooper S is sold with a three-year, unlimited mileage warranty. There is the option of adding the MINI TLC pack for £299 which covers all servicing requirements for three years or 36,000 miles whichever milestone is reached first.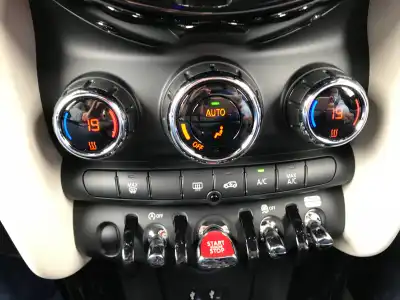 Safety & Security
When it was tested for its Euro NCAP rating in 2014, the latest MINI was awarded four out of five stars.
But this model has some fabulous additions, especially in the way of lighting. All versions of the MINI hatchback and MINI Convertible sold in the UK get the same front and rear LED lamps as standard for the first time in the segment. The LED lamps are stronger and brighter while the daytime running lights and indicators are LED based and form a new ring design around the headlights themselves. From the rear, the lights on MINI Cooper S have also been upgraded and now feature a distinctive Union Jack design.
And available as an option are Matrix adaptive LED headlights which offer far superior illumination to the side of the road in both urban and rural areas, while the high beam lights have far greater intensity at motorway speeds without dazzling oncoming motorists.
Through some rather clever camera technology working in tandem with the LED sections, the car offers an automatic selective dip function when on high beam. This means you can leave the lights on high beam and the car automatically blocks out the parts of the lamp which may dazzle other drivers, while at the same time offering maximum illumination.
Another plus point worth noting on this MINI is the driver's excellent all-round visibility.

See the latest used MINI cars offers.
More On This Car
Take one for a spin or order a brochure
Request a MINI Hatchback brochure
Request a MINI Hatchback test drive