Pros:
Distinctive styling

Proper MINI handling ability

So much character and packed with techno treats
Cons:
Rival estate cars have more space

Expensive, especially with options factored in

You will feel the bumps over poorer road surfaces
More On This Car
Take one for a spin or order a brochure
Request a MINI Clubman brochure
Request a MINI Clubman test drive
Introduction
Despite the MINI being owned by BMW these days, the latest Clubman Cooper model has a number of not-so-subtle reminders that the car is steeped in British history. There are Union Jack flags wherever you look from the seats, steering wheel, lights and even the alloy wheels.
The latest model is new for 2019 and is anything but a mild makeover. It has a fresh look with a more dynamic exterior styling along with interior design upgrades. And customers can choose from a range of powertrains and well-equipped trim levels with the fully loaded John Cooper Works topping the class.
On The Road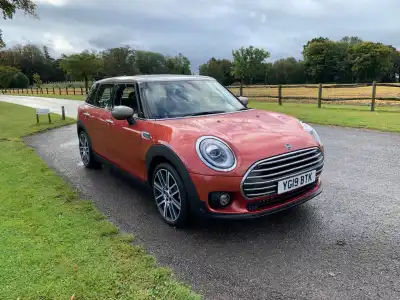 Performance
The all-new MINI Clubman is available in main trim levels called Classic, Sport or Exclusive with the mighty John Cooper Works edition adding the real firepower and dramatic looks to the mix.
And when it comes to the engine portfolio, there is ample variety there too with three and four-cylinder petrol engines along with a four-cylinder diesel unit - all of which feature the latest generation of MINI TwinPower Turbo Technology.
We opted for the MINI Clubman Cooper Exclusive powered by the 1.5-litre, three-cylinder petrol engine mated to a seven-speed dual clutch automatic transmission. The car, with its 136bhp and 220Nm of torque, could reach 62mph from a standstill in 9.2 seconds and maxed out at 127mph delivering all the fun-packed driving dynamism associated with the MINI brand - well and truly living up to its go-karting heritage.
That said, the Clubman has a longer wheelbase and is slightly heavier than the standard MINI so the handling isn't quite so sharp and exhilarating.
It can still be thrown with confidence into a bend and the acceleration through the auto gearbox is nicely responsive. - no paddles though which is a shame. The road holding is ultra grippy and body sway is non-existent even at higher speeds. This is a car that cruises effortlessly at 70mph where permitted and is as agile as they come when meandering through the busy town centre crowds.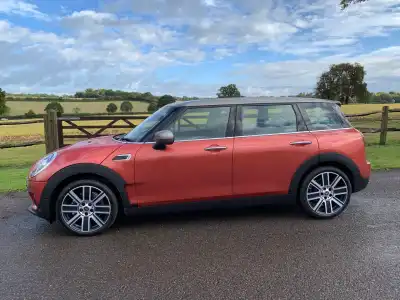 Ride Handling
The larger the MINI grows the more it compromises its original trademark go-karting handling ability and that is the case with the Clubman to a certain degree. It weighs in at 1,425kg compared to anything from 1,190kg for the standard MINI and the wheelbase also increases by almost 200mm so the Clubman is never going to boast the snap, crackle and pop of its MINI stablemates. That said though, this is a MINI that covers all the practicality bases very well and that's why its buyers are attracted, rather than its fiery driving dynamics.
And even with those extra pounds, the front-wheel drive Clubman still delivers the goods when faced with the open road. The steering offers bags of feedback and it's a car that can be pushed hard into bends without any fear of grip loss.
Our car was riding high on 18-inch wheels so the occasional bump or dip in the road sent a bit of a shimmer through the vehicle. However, there is the option of adding Adaptive Suspension with electronically controlled suspension settings and it also includes Driving Modes. This costs £700 and although our test car didn't have this option, I have driven MINI models that have featured it and it makes quite a difference.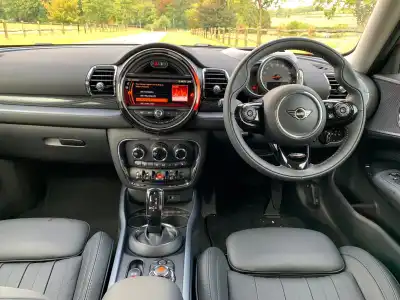 Styling
MINI designers have been busy sharpening up the styling of the latest Clubman and it certainly looks the business. It still boasts the distinctive elongated roof line and split rear doors, but the car has been brought bang up to date with MINI brand design cues.
There is a domed bonnet, a newly designed grille that extends the entire width of the bumper, a new air intake with six individual horizontal struts, modified circular headlamps, new rear LED lights and three new colours to choose from.
The interior is MINI through and through with the circular dials and toggle switches. There is leather upholstery, soft touch surfaces, lots of smart inlays and chrome finishing, along with all the on-board technology you could wish for.
Our test model was fitted with upgraded 18-inch wheels which looked amazing with their union flag hubs, but the larger wheels do bring out a slightly fidgety characteristic in the car. While the road holding is as excellent as ever, the effects of driving across poor road surfaces seems more exaggerated in this model - no doubt because of the bigger wheels. But move to smoother Tarmac (if you can find any these days) and the ride is perfectly refined.
The cabin is well insulated against any road surface, engine or wind noise and these only become noticeable when the three-pot engine is pushed particularly hard.
In The Car
Behind the Wheel
Getting a comfortable driving position within the MINI Clubman is a simple process with plenty of manual seat and steering wheel adjustment.
The all-round visibility is good apart from the thick pillar that separates the rear doors, and you immediately notice the quirky circular dials and readouts that are synonymous with the MINI Name. There is a neat touchscreen (circular) and instrument dials (circular) plus stylish toggles, including a red one to fire up the car.
Search a little harder and you will discover the Union flag on the seats and steering wheel as a gentle reminder as to what MINI was originally all about. These complement the flags on the rear lights and alloy wheels.
Our Clubman featured a Navigation Plus Pack that cost £1,300 and introduced an 8.8-inch infotainment screen, a wireless charging pad, a navigation system, MINI Connected Services including Real Time Traffic Information, new Natural Language Understanding, MINI Concierge Service, online services and Apple CarPlay. There is no Android Auto option and no plans to introduce it. However, Alexa is available for any customer who has an account and uses MINI Connected – the customer simply links their Amazon account to the MINI Connected app. To use it they then select the 'press to talk' button on the steering wheel and proceed with asking Alexa.
There is a wealth of on-board technology to explore as standard but another optional extra on our car was the Comfort Plus pack, costing £1,600. This added a rear-view camera, automatic air conditioning, heated seats, parking assistant and lots of other finer details such as upgraded floor mats and a front centre armrest.
The three-spoke steering wheel is perfectly weighted and there is a head-up display too meaning you barely need take your eyes from the road.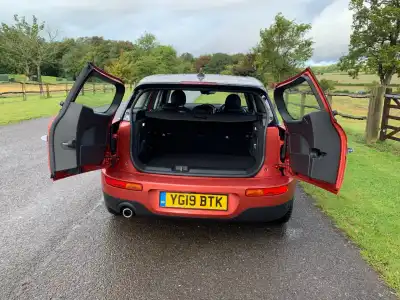 Space & Practicality
The Clubman is billed as the practical MINI so needs to tick all the right boxes when it comes to storage space. And it does this very well. The longer wheelbase means back seat passengers have extra leg room to stretch out. There is enough space for three in the back, albeit a little snug, but you wouldn't hear any complaints from two back seat adults on a longer journey.
With families in mind, there are Isofix child seat fixtures in the back, and the latest generation Clubman thankfully has traditional opening rear doors for easy access. The older cars had a single door that opened backwards on the driver's side to make it easier for rear passengers to get in and out of the car. This was aptly dubbed a 'suicide' door, but was ditched in favour of 'normal' rear doors in 2014?
The boot on the Clubman is accessed by the pair of wide opening side hinged doors and it has a capacity that ranges from 360 to 1,250 litres with the 60:40 split-folding rear seats dropped flat.
In addition, there are a number of handy storage spaces throughout the cabin. There is a central cubby box, a glovebox, cup holders, trays, seat back pockets and door compartments that can easily hold a bottle securely in place.
Ownership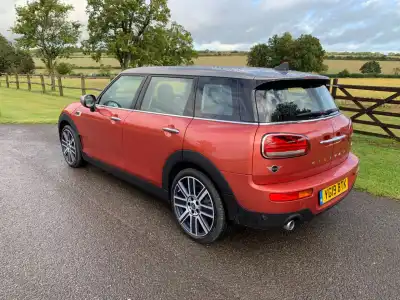 Running Costs
So, onto the running costs of the MINI Clubman and finding out if the figures really do add up.
Our three-cylinder petrol driven model began life costing £24,695 but after a number of optional packs were added, that price had crept up to £31,175 which is pretty steep for a MINI even if it does boast lots of BMW know-how these days. And with so many options available, allowing owners to truly personalise their car, few buyers will stick with the basics so costs will creep up.
According to the official figures, our test car could deliver combined fuel economy of 41.5-44.1mpg (WLTP) with carbon emissions of 122g/km. This CO2 emissions figure would result in a first year Vehicle Excise Duty charge of £170 which would drop down to £140 the following year.
The insurance group rating for the test car is 21.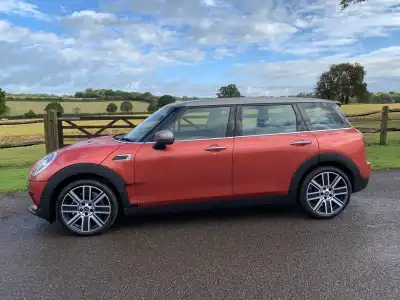 Quality & Reliability
The MINI brand benefits from all the expertise of its parent company BMW these days and the latest cars boast a solid build quality with materials, fixtures and fittings that are designed to last.
Quirky features such as the toggle switches not only look retro, they also feel sturdy along with the upmarket leather upholstery.
The MINI Clubman is sold with a standard three-year, unlimited mileage warranty. In addition, there is the option of adding the MINI care plan which costs £17,99 per month and includes two services amongst other things. Any unused credit that has been built up under this plan can be transferred to a new MINI if you sell the current model.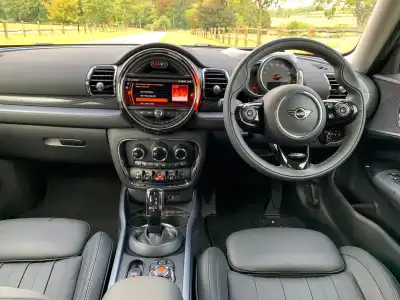 Safety & Security
When tested for its Euro NCAP safety rating the latest MINI received four out of five stars, but the car is packed with safety features and driver aids.
Our model had anti-lock brakes with cornering control, autonomous emergency braking including forward collision warning and city collision mitigation, dynamic stability control, electronic brakeforce distribution, traction control, automatic fuel cut-off in crash situation, tyre pressure warning system, Isofix child seat fixtures and eight airbags as standard.
The Clubman is also equipped with a 4G sim card which is embedded within the car. This technology enables Intelligent Emergency Call with automatic detection of the car's location and accident severity if available.
Although our car did not have it, there is an optional Driving Assistance Pack costing £800 and that adds Active Cruise Control, Forward Collision Warning, Main Beam Assistant, Rear-end Collision Warning and Traffic Sign Recognition.
Matrix lights are another option costing £500. These LED lights offer far superior illumination to the side of the road in both urban and rural areas, while the high beam lights have far greater intensity at motorway speeds without dazzling oncoming motorists
The MINI Clubman is fitted with a Thatcham Category 1 alarm and immobiliser.

See the latest used MINI cars offers.
More On This Car
Take one for a spin or order a brochure
Request a MINI Clubman brochure
Request a MINI Clubman test drive