Pros:
MINI's now-legendary drivability

Unbeatable grin-factor

Seriously impressive performance
Cons:
Divisive looks with an unconventional interior design

Can get pricey if you dip into the options
Secure your test drive today
Request a MINI Hatchback test drive
Introduction
For the last few years, we have been utterly spoiled with both the number and quality of hot hatchbacks on the car market. If these are the sort of motors that get you going, then there's never been a better time to be alive. MINI has re-released the John Cooper Works. Are you an enthusiastic driver? Well, we suggest you read on.
On The Road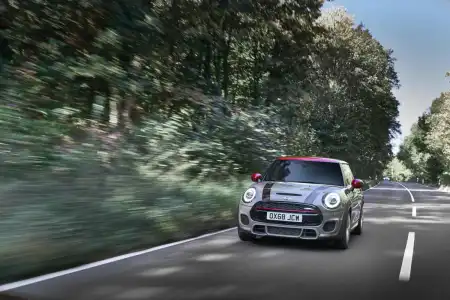 Performance
We can tell you right away that the power and performance figures have not changed. The 231PS that the JCW offers comes from a 2.0-litre turbocharged four-cylinder engine which can shoot this little car to 62mph in just a touch over six-seconds - and if you've got a road long enough, on past 150mph.
For your gearbox, there's a choice between the standard six-speed manual - a hugely fun and involving little unit - or an eight-speed automatic with flappy paddles mounted behind the steering wheel. The latter is an option, but gearboxes are always down to personal preference. Both are good, although purists will enjoy taking the manual and saving a bit of cash in the process. Whichever you choose, this engine is an absolute gem, and you're going to be driving around with a huge smile on your face. The performance is up there with the best of the cars in this class.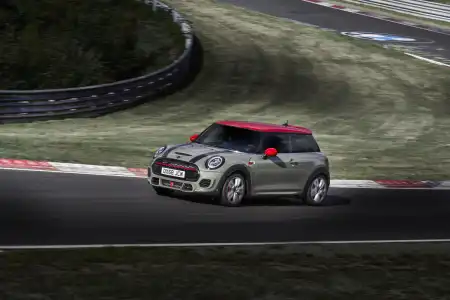 Ride Handling
Most MINIs have a firm and involving ride to provide you with a connection to both the car's behaviour and the road that you drive on. In MINI's sportier models, like the Cooper S, this is firmed up even more, and these cars aren't exactly known for being comfortable, smooth-riding little hatches. That gets turned up even further for the JCW, with a ride that is never anything other than hard. The benefit of this is that you get an accurate plethora of messages from the chassis as you motor along the twisty roads that this car calls its backyard. It does lack a little bit of comfort during everyday driving, like a commute.
As for the handling, well this is exactly what you'd hope for in a hot MINI - communicative, engaging and sharper than a surgeon's scalpel. The JCW is an unyielding car, but, boy, does it feel rewarding in the corners.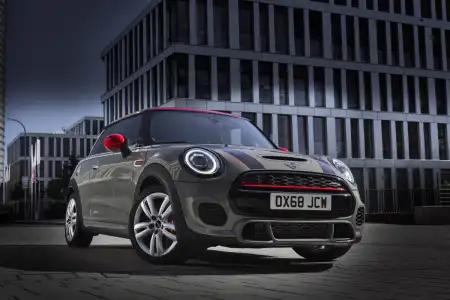 Styling
Refinement is a mixed bag if we're honest. But we can't really be too harsh on this car because it's not going out of its way to offer Rolls-Royce levels of sound dampening. It's deliberately trying to provoke a reaction from you with its sound, and key to that is the sporty exhaust mounted at the centre of the rear. We all know by now that modern four-cylinder turbo engines don't sound that great, so something has to make up for it, and a raucous exhaust system is a great way to do just that. It's not subtle, and certainly not refined, but it's seriously good fun and makes you chuckle as you rev it out.
That means noise levels are naturally higher in the cabin than they would be in a 'normal' hatch, with road noise from larger alloys and tyres also at an elevated level. But, then again, you don't buy a car like this for the refinement, do you? You buy this vehicle for the fun factor.
In The Car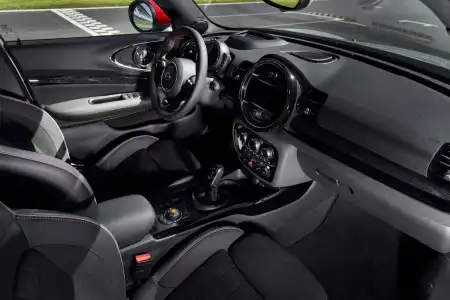 Behind the Wheel
MINI's interior design is quirky, and not everyone is a fan. It's one of those layouts that you either love or hate, so we'd recommend getting yourself behind the wheel of one before you pull a trigger on this thing. The steering wheel is small and tactile with some steering mounted controls to make switching some options around a little easier.
In terms of the operating software, this is a BMW product underneath all that British MINI branding, so you get a 'MINIfied' version of what is essentially BMW's excellent and intuitive tech. It's always been one of the easiest systems to get used to on the car market, and after a while using it, you feel perfectly at home with it.
Overall, the quality is pretty good, but there are some cheaper parts here which could be upgraded for a top-end model like this. Still, this does feel like a relative of a BMW overall, so it's a good step ahead of some of its rivals, though the pack has certainly been catching up over the last few years.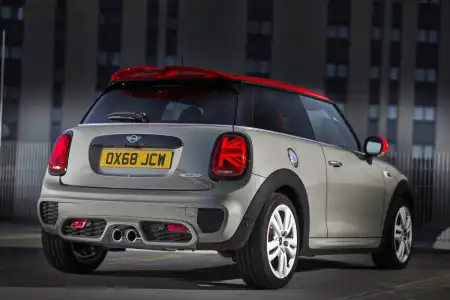 Space & Practicality
Fundamentally, this is a city car - a small hatchback initially designed with urban environments in mind when it was conceived all those years ago. Space and practicality are some of its weaker points, with limited room in the back seats and no rear doors. This means entering and exiting becomes a bit of a yoga exercise, and once in, you're unlikely to want to be there for a long drive.
The boot is also small, and you won't be packing it full of things to go on holiday with. But, for short trips away and a weekly shop you should just about manage to get everything you need in. And if you can't, well those small rear seats can double up as over-the-shoulder storage, too.
Ownership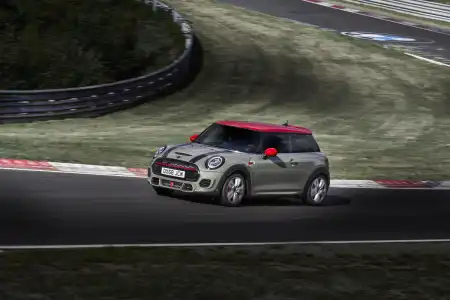 Running Costs
There's a massive disclaimer on the following figures here because, as with all cars, it's more about how you drive than the figures posted in a test. The testing suggests you could see around 40mpg with the manual gearbox, but even if you drive like a saint that's unlikely to be the case. Expect around 30mpg, because you won't be driving this anywhere near slowly enough to reach 40.
The automatic features superior CO2 emissions over the manual but uses a little more fuel over a test cycle. There's not much in it, and again we recommend ticking a box on personal preference, not the test scores.
As for servicing and running costs, well it won't be as cheap as some rivals. But you could well pick up a deal with a MINI dealership on maintenance for the first few years, cutting down the overall costs. Keep in mind that if you drive this as hard as it wants you too, you'll get through some tyres quicker than you might imagine.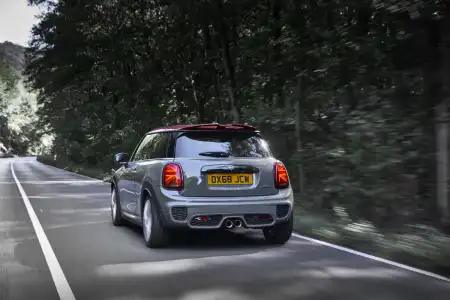 Quality & Reliability
Expectations are naturally very high for these premium brands. The MINI is based on BMW technology, which happens to be some of the better hardware on the market, but owner satisfaction levels aren't always really high. Buying this car new will bag you a warranty spanning three years, though, and, overall, you'd have to be unlucky to encounter any serious issues in the first three years of MINI ownership.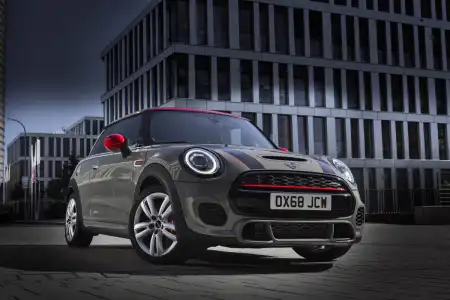 Safety & Security
The standard MINI scored 4 out of 5 stars with Euro NCAP during crash safety testing, so as small cars go, it's pretty safe in the event of a collision. As a modern motor, it also comes with a strong selection of safety equipment and electronic stability aids that help you to regain control if you've begun to lose it.
LED lights will help you see the way ahead in the dark, and there are camera and sensor-based systems available at an extra cost. You can even specify a head-up display system so you can keep your eyes on the road while still monitoring your speed and navigational directions.
Ultimately, a small hatchback like this is never going to be the safest machine you can drive. However, for what it is, it has a good set of scores and a strong selection of equipment to help prevent you from getting into an incident in the first place.

See the latest used MINI cars offers.
Secure your test drive today
Request a MINI Hatchback test drive