From £15,905
Pros:
Distinctive styling and performance to match

Class-leading headlights and stylish Union Jack tail lamps

The option to personalise your MINI through 3D printing
Cons:
Quite expensive especially with optional extras

No Android Auto

Poor storage options
More On This Car
Take one for a spin or order a brochure
Request a MINI Hatchback brochure
Request a MINI Hatchback test drive
Introduction
The MINI can certainly be described as a national treasure and despite the fact BMW took over the reins some years ago now, the marque has shown no sign of losing its all-round appeal with a new MINI rolling off the production plant in Oxford every 67 seconds.
The latest generation of hatchbacks was launched in 2014, so four years down the line it was time for an extensive spruce up.
There's a raft of new infotainment equipment, striking tail lamps with a Union Jack flag design, class-leading anti-dazzle adaptive headlights with Matrix high beam and even the chance to stamp your individual mark on the car by 3D printing certain parts.
The MINI hatchback is available in three or five-door guise, powered by a choice of 1.5-litre diesel and 1.5 or 2.0-litre petrol engines with 6-speed manual or a 7-speed Steptronic double-clutch automatic gearboxes. Trim levels are One, Cooper, Cooper S, Cooper D or the fully loaded John Cooper Works which is the priciest version weighing in at £24,435 – and that's before any optional extras have been factored in.
On The Road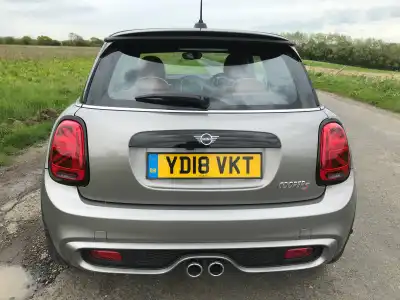 Performance
We tested the MINI Cooper S in three-door guise, powered by a 192hp 1.5-litre petrol engine. It could sprint to 62mph from a standing start in 6.8 seconds and maxed out at 146mph. According to official figures, it can deliver combined fuel economy of 47.1mpg with carbon emissions of 138g/km.
One factor that has made the MINI so desirable over the years has been its outstanding driving dynamics. In fact, in a recent survey, performance and design were the key priorities amongst existing customers. It is a car that is steeped in go-kart handling heritage and the latest version delivers on all counts.
The road-holding is ultra-grippy and it's still a fact that very few small hatchbacks can attack a corner as well as a MINI does. And the driver feedback through the precise and direct steering is another huge plus factor.
The acceleration through the six-speed manual gearbox is sharp and responsive with a seemingly endless supply of power on tap which helps make light work of overtaking slower vehicles or farm traffic on the country lanes.
I also liked the raspy sounding exhaust note that was the perfect accompaniment when fizzing through the back lanes.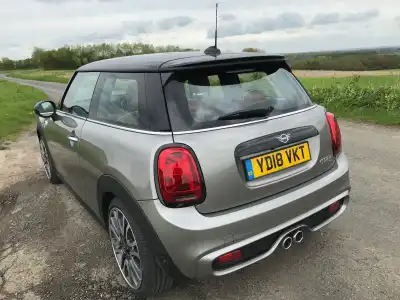 Ride Handling
Like most manufacturers, MINI has worked hard to shed the weight without compromising on performance and the latest three-door hatchback sees the clever introduction of carbon fibre reinforced plastic on the engine covers. This not only results in a reduction in weight, but also takes advantage of using recycled materials generated during the production of BMW's 'i' range of electric vehicles.
There have also been revisions to the engines and powertrains across the board which add to the car's efficiency and performance.
The test car featured an optional Chili Pack costing £2,000 which added a number of features, including 18-inch two-tone alloys. These looked fantastic but did impact slightly on the car's ride and handling. Customers often choose large wheels because they look the business, but it's worth noting they do make the ride more fidgety at times especially on uneven surfaces and they also result in slightly higher carbon emission figures and lower fuel efficiency.
That said though, the MINI hatch on test was fabulous fun to throw around and only the largest of road divots sent it slightly off course.
There are three driving modes called Green, Mid and Sport that alter the car's performance and also the appearance within the instrument cluster, which as always is dominated by the huge circular dial that houses the touchscreen.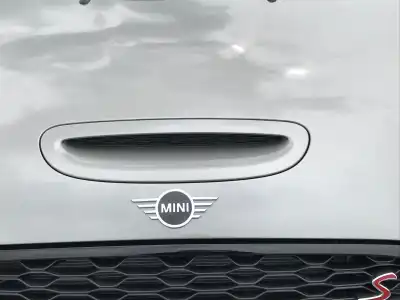 Styling
The interior of the MINI Cooper S oozes class and style with a wealth of quality upholsteries and trims completing the look. There are soft-touch surfaces, along with an extended range of leather trims, plus new backlit features. It has a very upmarket and refined feel to it with an abundance of techno treats to explore.
Another option for customers is the MINI Yours Customised program which takes personalisation to the next level. Using 3D technology, customers can select from specific designs or have their names printed on the side scuttles, decorative strips on the dashboard above the glovebox, LED door sill finishers and LED door projectors. And the good news for second hand buyers is that all this trim is simple and relatively cheap to replace if they don't want to drive around with 'Chantelle' blazoned on their car!
The cabin is well insulated against noise intrusions and it's only really during high speed motorway driving that any wind or road surface sounds filter through. There is, however a Harman Kardon sound system that quickly address that issue. Being as we tested the Cooper S, we expected a sporty engine note and we weren't disappointed.
In The Car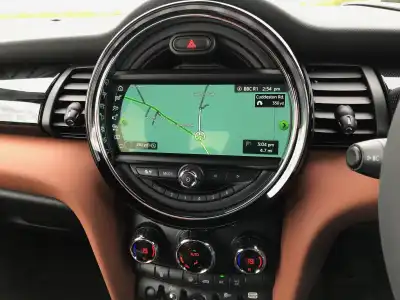 Behind the Wheel
Infotainment is a top priority for motorists these days – we don't seem to be able to function properly if we are separated from our smartphones for more than a minute. The latest MINI hatch is suitably well equipped to deal with the issue thanks to a new 6.5-inch touchscreen with USB and Bluetooth connectivity as standard.
Our test car boasted an upgraded 8.8-inch screen as part of the Navigation Plus pack, which also introduced MINI Navigation with Apple CarPlay and wireless smartphone charging. There is no Android Auto option though and MINI has no plans to introduce one.
Other on-board technology included MINI Connected Services with real time traffic information, Online search, a Concierge Service that connects you to a person 24/7 who can download directions to hotels, car parks, filling stations etc. And from July, ALEXA will also be included as an automatic upgrade to cars fitted with the Navigation Plus system.
The interior of the MINI is instantly recognisable thanks to its array of toggle switches and the large circular dial in the centre of the dashboard that houses the touchscreen. The outer ring of this dial changes colour when the car is being driven in the different modes.
There is adjustable ambient lighting to suit your mood and the MINI Cooper S has a new three-spoke multi-function steering wheel as standard.
I particularly liked the new Chester leather upholstery in a smart Malt Brown shade and getting the perfect driving position within the MINI Cooper S couldn't be easier with ample seat and steering wheel adjustment.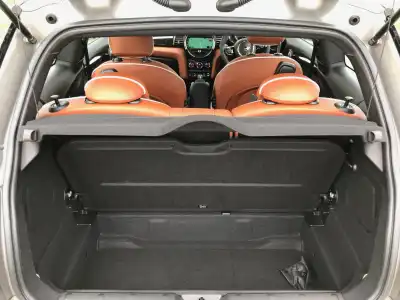 Space & Practicality
When it comes to space within the three-door MINI Hatch, those up front will have nothing to complain about with ample leg room to stretch out. Those relegated to the back seats will not fare quite so well. They will need to be relatively flexible to climb into the car in the first place and then will be praying the person sitting in front is not of the taller variety. Exiting the car from the back is not easily achieved in a dignified manner either. But this is a three-door model and the five-door variant would be more appropriate if the car is being used as a family vehicle.
When it comes to storage, the MINI's boot has a capacity ranging from 211 litres to 731 litres with the rear seats dropped flat. There are cubby holes to store bits and bobs safely away, but the door pockets are not that practical really and the glovebox is also quite compact. There are cup holders in the front and rear that are deep enough to safely carry a coffee-to-go without spillage.
Ownership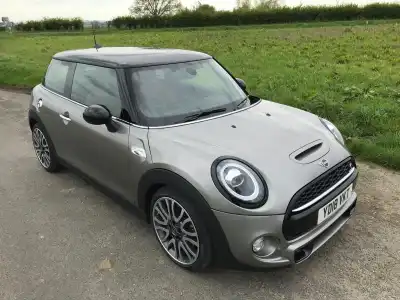 Running Costs
The MINI has never been viewed as a bargain basement car, but it is renowned for its very strong residual values thanks to the desirability factor. So, it will hold onto some if its original value.
The test car was priced at £21,115 but was fully kitted out with every imaginable optional extra and pack that bumped the cost up to £28,950. These included the Navigation Plus pack costing £2,000 that introduced all the connected systems such as Apple CarPlay, the MINI Connected services and the Concierge function. There was the Chili Pack, also costing £2,000 that added the larger wheels amongst other features, plus a list of other optional extras such as a head-up display, Harman Kardon sound system and adaptive suspension.
The MINI Cooper S in three-door format can deliver combined fuel economy of 47.1mpg with carbon emissions of 138g/km. This means owners would face a Vehicle Excise Duty cost of £200 for the first tax year and £140 after that.
The insurance group rating for the car is 28.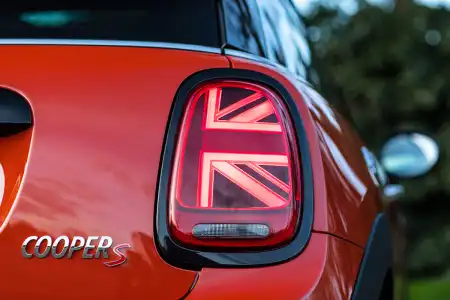 Quality & Reliability
MINI has a great reputation for building quality cars that offer excellent levels of reliability. The interior is very well put together and certain features that look quite quirky such as the toggle switches are strong and should survive the test of time. There are a number of practical wipe-clean surfaces and the leather upholstery looks beautiful and is also of the highest quality.
The MINI Cooper S comes with a three-year, unlimited mileage warranty. There is the option of adding the MINI TLC pack for £299 which covers all servicing requirements for three years or 36,000 miles whichever milestone is reached first.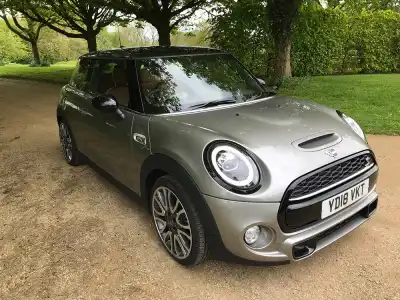 Safety & Security
The latest car has some fabulous additions, especially in the way of lighting. Of particular note is the first-in-class Matrix adaptive LED headlights which are offered as an option. These lamps offer extra illumination to the side of the road in both urban and rural areas, while the high beam lights have far greater intensity at motorway speeds without dazzling oncoming motorists. The adaptive LEDs also feature an automatic selective dip function when on high beam. You can leave the lights on high beam and the car automatically blocks out the parts of the lamp which may dazzle other drivers, while at the same time offering maximum illumination. This is achieved thanks to some rather clever camera wizardry working in tandem with the LED segments.
From the rear, the lights on the new-look MINI Cooper S have also been upgraded and now feature all LED lamps and that stand-out Union Jack design.
Another bonus point is the driver's excellent all-round visibility. And there will never be an issue of not being able to see over the car's bonnet either thanks to the MINI's compact and beautifully proportioned design.

See the latest used MINI cars offers.
More On This Car
Take one for a spin or order a brochure
Request a MINI Hatchback brochure
Request a MINI Hatchback test drive