Pros:
Legendary drivability

Unbeatable smile-factor

Impressive performance
Cons:
The range is on the stingy side

Not a lot of room

It's pricey
Secure your test drive today
Request a MINI Hatchback test drive
Introduction
Sir Alec Issigonis' original Mini came about because of the demand for inexpensive motoring. The first models came off the production line in Britain in 1959 - and six decades on, the name is still going strong. Now, as the world looks towards greener transport, it seems likely that the MINI Electric will continue the MINI success story.
But MINIs aside for a moment, it seems as though the world has been utterly inundated with new electric cars of late. And there would have been more revealed, had the Geneva Motor Show not been cancelled due to the coronavirus.
So, regardless of diseases, if electric vehicles get your happy hormones buzzing, then there's never been a better time to be on the planet. And the MINI Electric might float your boat more than others if you're an enthusiastic driver with a penchant for small hatchbacks. Then again, it might worry you with its range. Whatever the case, we suggest you read on.
On The Road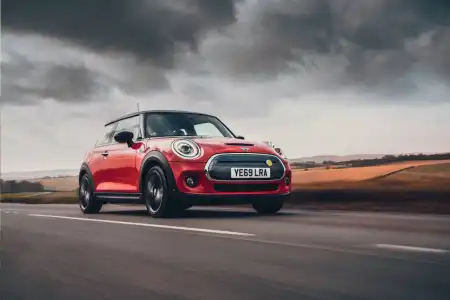 Performance
First things first, we can tell you that the MINI's power and performance figures are fantastic. Well, the zero to 62mph sprint of 7.3 seconds from the 184hp electric motor inside the MINI is impressive. The top speed of 93mph is perhaps less so. Propulsion comes from an electric motor hooked up to a 32.6 kWh battery pack. It's a brawny version of the synchronous electric motor produced by BMW - and provides a maximum torque of 270 Nm. It all makes the MINI massive fun to drive, with the acceleration genuinely pushing you back into your seat. The only thing to potentially wipe the smile off your face is range anxiety – but more on that under "Running Costs". So, range worries aside, the MINI Electric's performance is up there with the best of the vehicles in this class.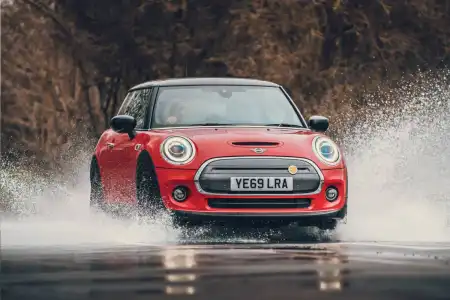 Ride Handling
Most MINIs have a stiff and engaging ride to provide you with a bond to both the car's behaviour and the road that you're on. In the MINI Electric, this feels hardened up even more, with a ride that is never anything other than firm. The advantage of this is that you get an accurate bunch of missives from the chassis as you drive along the snaking roads that this electric car calls its backyard. But the drawback is some absence of comfort during routine driving, like a commute. If you're a MINI buff, you'll put up with it, but if you're not, it'll swiftly become tiresome.
As for the handling, well this is precisely what you'd hope for in a MINI – engaging, communicative and more incisive than a plastic surgeon's scalpel. The MINI Electric is an unyielding motor, but, man, does it feel gratifying in the bends.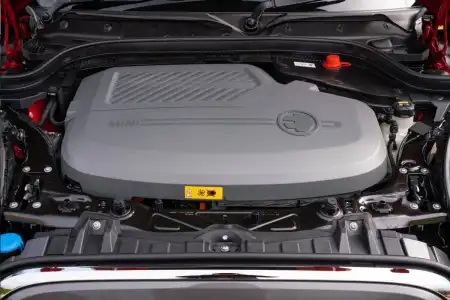 Styling
Refinement is a bit of a mixed bag to be blunt. But we can't really be too critical of the MINI Electric because it's not going out of its way to give Bentley levels of damping. It is purposefully trying to incite a reaction from you with its vigour, and key to that are the sporty, fashionable good looks. We all know by now that modern electric engines don't give off a decent sound, so something has to replace it, and a riotous ride is a great way to do just that. It's not restrained, and certainly not distinguished, but it's extremely good fun and makes you grin as you put your foot down.
Because the electric motor is silent, wind roar is naturally more noticeable in the cabin than in a MINI with an internal combustion engine. Road noise from the alloys and tyres also intrude at speed. But, then again, you don't opt for a small car like this for the refinement, do you? You buy this car for the fun factor – and for the lack of CO2 emissions, of course!
In The Car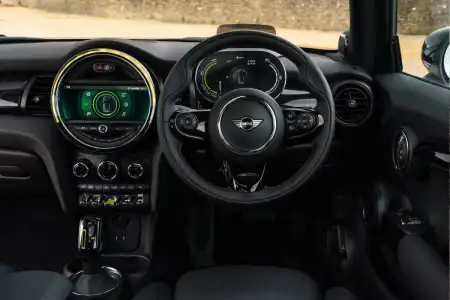 Behind the Wheel
MINI's interior design is eccentric, and not everyone is an admirer. It is one of those layouts that you either like or loathe, so we'd advocate getting yourself behind the wheel of the MINI Electric before you pull a trigger on it. The steering wheel is tactile with mounted controls to make changing some options around a bit easier.
Regarding the operating software, this is a BMW creation underneath all the British MINI labelling, so you get a "Minified" edition of what is, to all intents and purposes, BMW's exceptional and intuitive technology. After a while using it, you feel totally at ease with it.
Generally, the quality is excellent, but there are some low-cost parts here and there that could be improved for a top-end car like this. Still, this does feel like a relation of a Bimmer overall, so it's a good step ahead of some of its challengers, although the herd has undoubtedly been catching up of late.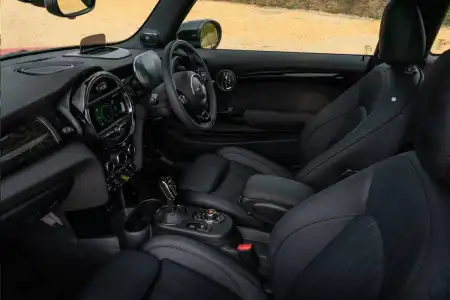 Space & Practicality
Essentially, the MINI Electric is a city car - a petite hatchback devised with urban environments in mind when it was envisaged all those years ago. Room and practicality are some of its feeblest points, with restricted room in the rear seats and no rear passenger doors. This means getting into and out of the MINI becomes like a yoga workout, and once in, you probably won't want to be there for more than an hour-long drive.
The boot is also miniature, and you won't be stuffing it full of things to go on a break with. But, for weekend trips and the weekly shopping, you should just about manage to get all you need jammed in. And if the boot can't handle it all, well those little rear seats are a handy place for storing bits and bobs, too.
Ownership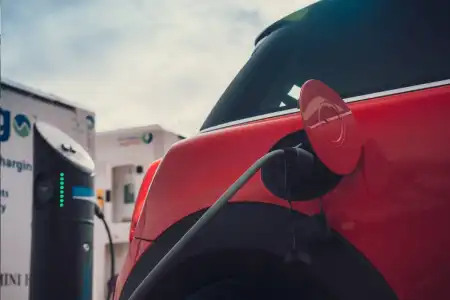 Running Costs
The car's driving range isn't its strong point, but it's okay for people who live and work in urban areas – and this is the market MINI is aiming at.
Now, there's a massive proviso on the figures here because, as with all electric cars, it's more about how you drive than the statistics published in a road test. That said, MINI reckons this car will do up to 144 miles on a full charge. That might not sound much, but analysis from the marque shows that the typical daily driving distance for a MINI motorist is 23 miles.
The automaker also says a battery any larger than its 32.6kWh offering would take the edge off the typical MINI driving experience. Furthermore, the compact battery pack means you can charge the three-door car from empty to 80 per cent at a DC 50KW charging point in a mere 35 minutes.
To get the best from the electric motor, you need to use the car's driving modes - 'Normal', 'Green' and 'Sport'. The digital dash gives you all the data you need to show you how much energy you're expending and what range you have left.
But, forget any range concerns you might have – the MINI's animated handling and quick charging ability more than make up for that.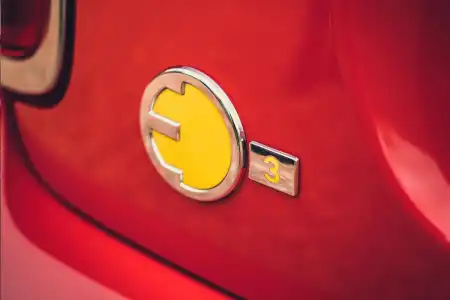 Quality & Reliability
Both BMW and MINI have taken some criticism here and there regarding reliability and quality, and expectations are of course extremely high for these premium marques. The MINI is built on BMW tech, which happens to be some of the top hardware on the market, but owner satisfaction doesn't always seem to be exceptionally high. Purchasing or leasing this car new will get you a decent warranty, though. Indeed, MINI offers an eight-year battery guarantee - or 100,000 miles, whichever you do first. So, on the whole, you'd have to be pretty unfortunate to run into any serious issues in that time.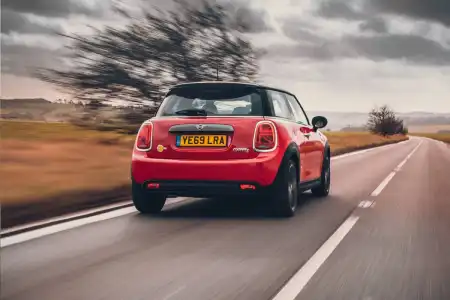 Safety & Security
The regular MINI notched up four out of five stars with Euro NCAP during crash testing, so as small motors go, it's somewhat safe in the event of an accident. As a modern car, it also comes with a robust range of safety kit and stability aids that help you to recover control if you've begun to spin out.
LED lights will help you find your way ahead at night, and there are camera and sensor-centred systems obtainable, too. Ultimately, a small car like this is never going to be the safest vehicle you can drive. However, for what the MINI Electric is, it has a good set of grades and a formidable selection of equipment to help stop you from getting into a scary incident in the first place.

See the latest used MINI cars offers.
Secure your test drive today
Request a MINI Hatchback test drive