From £16,255
Pros:
Available in 4WD or 2WD

Good choice of engines, transmissions and trim levels

Practical and versatile
Cons:
Diesel engines a bit grumbly

Some hard plastic lets down the cabin quality

4x4 is only offered on diesel models
More On This Car
Take one for a spin or order a brochure
Request a Mitsubishi ASX brochure
Request a Mitsubishi ASX test drive
Introduction
When it comes to producing cars with off-road capability the Mitsubishi name needs little introduction with the likes of the Shogun and L200 pick-up truck leading the way.
But developing a softer model that meets all the versatility demanded from a family SUV along with plenty of kit and a price-tag that doesn't break the bank is a different challenge altogether.
Yet, the ASX - it stands for Active Sports Crossover - ticks all the boxes. It looks athletic and has been restyled to offer improved ground clearance. Other eye-catching features include chunky alloys, smart light clusters and plenty of on-board technology as standard.
On The Road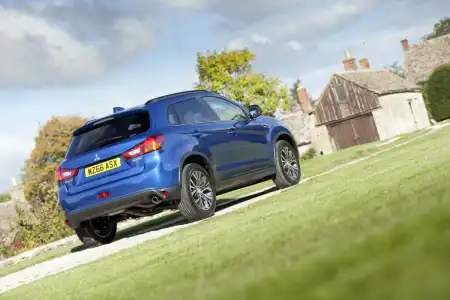 Performance
The Mitsubishi ASX is available with a broad choice of engines, transmissions, trims and, of course in two or four-wheel drive.
Getting your head round the grading system is easy with trim levels 2, 3, 4 and 5 to choose from. There are three dynamic engines - a 1.6-litre 117PS petrol available on ASX 2 and 3, a 1.6-litre 114PS diesel engine available on ASX 3, 4 and 5 and finally a 2.2-litre 150PS diesel powertrain on ASX 4 and 5 models.
We tested the 1.6-litre diesel ASX in 3 grade with a six-speed manual gearbox and 2WD priced at £20,349. It could reach 62mph from a standing start in 11.2 seconds and topped out at 113mph. According to official figures, the car can deliver combined fuel economy of 61.4mpg with carbon emissions of 119g/km.
When it comes to driving dynamics, the ASX is good enough, but doesn't exactly set the world alight. The acceleration through the gears is smooth and responsive and there is ample power on tap to overtake. The road-holding proved confident and assured and there was next-to-no body roll when pushed hard into corners.
The problem is the competition in this segment is fierce and there are more dynamic options out there and the choice is growing constantly so it's easy for a model to get left behind.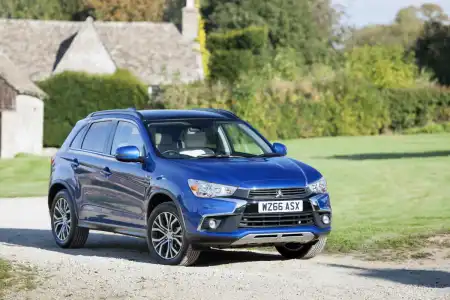 Ride Handling
Whilst the Mitsubishi ASX may lack a little firepower compared to some rival models, it is a very good all-rounder with plenty of plus points.
The ride is balanced and the suspension effectively irons out any bumps and dips along the way. The car is well insulated against outside noise, but the diesel engine on the test car did get a little grumbly when pushed along at motorway speeds.
I also found that when tackling steeper hills, a considerable amount of gear changing was needed to maintain any decent momentum and once again that cranked up the engine volume.
However, in busy town centres the car weaved its way with ease through the traffic and the driver benefits from excellent all-round visibility thanks to the elevated driving position and narrow pillars. This is a 'must' on any family car where safety has to be a number one priority.
The ASX was happy being driven enthusiastically along country lanes and the precise, responsive steering was another bonus factor.
Styling
All Mitsubishi ASX models are generously-equipped with even the entry-level ASX 2 featuring air conditioning, privacy glass, a high contrast LCD display and a chrome exhaust finisher.
Step up a trim level to ASX 3 and you will see the addition of 18-inch alloys, cruise control, climate control, a six-speaker sound system, DAB radio, Bluetooth with music streaming and front fog lamps. This model also gets rain sensors, automatic lights, a reversing camera plus extra infotainment kit.
ASX 4 introduces the Mitsubishi Multi Communication System with seven-inch HD touchscreen, DAB radio, a CD player, sat nav, along with leather upholstery, 4WD and the option of an automatic transmission and a panoramic sunroof.
Finally, the range-topping ASX 5 car boasts Nappa leather upholstery with a choice of three shades, LED mood lighting, heated rear seats, twin rear USB charging ports and plenty more besides.
The car has a modern, clutter-free feel to it and the hooded binnacle makes it easy to see all the instruments even in bright sunshine.
The ASX 3 which sits on 18-inch alloys, has a fairly refined manner when driven in a respectful manner but can become a little rough around the edges if pushed especially hard. But it's worth remembering that these days there is an SUV to suit all tastes from soft roaders to hard core all-terrain cars. Buyers really are spoilt for choice.
In The Car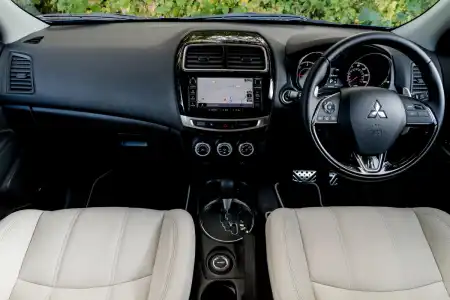 Behind the Wheel
Despite opting to drive one of the more basic models, the ASX 3 offered an impressive all-round performance. It's easy to get a good, comfortable driving position and the car offers excellent all-round visibility thanks to the raised driving position and narrow pillars.
All the instrumentation is simple to operate and although the test car didn't have any sat nav, I did check out the system on a higher specced car and it worked very well.
The cruise control system was simple to set-up and, with the extra leather trim on the steering wheel and gear knob, the car actually feels pretty upmarket.
The ASX is a really easy car to drive and is one of those models that you can get in and drive away within seconds of setting the mirrors and seat. Then, after a few miles it all feels very familiar.
I particularly liked the way nothing is over-complicated - too many models these days have become so advanced with an obsession in infotainment systems that make simple functions such as increasing the temperature a difficult process. I don't want to access a touchscreen menu and scroll to the required feature to increase the air con speed – a dial is all that's needed. Fancy touchscreens may look the business, but can be a real distraction - thankfully the ASX offers easy access to any systems.
Space & Practicality
Being an SUV you would expect the ASX to deliver on the versatility front and it does. Once again, there are competitors out there that offer more storage space, but the ASX seating configurations can be adjusted to prioritise between passenger or cargo space as required.
The car measures 4.35 metres in length and has a boot capacity of 419 litres. This capacity can be increased to 1,219 litres with the 60:40 split-folding seats dropped flat. The small lip and wide boot access makes loading awkward shaped items a doddle. And, elsewhere there is a practical bin under the centre armrest, cup holders and a glovebox to store goodies away from prying eyes.
Although the likes of the Nissan Qashqai are bigger than the ASX, there is ample room within the car and a couple of six footers can sit comfortably in the back with enough head, leg and elbow space. There is even room to fit three abreast in the back although they will be rubbing shoulders.
Although we tested the 2WD model, there is a 4WD option and this version lives up to Mitsubishi's excellent reputation for developing off-road vehicles than can tackle most terrains. The ASX 4x4 model can wade up to 400mm and has a ground clearance of 180mm.
Ownership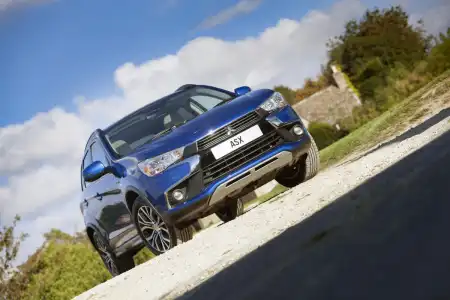 Running Costs
When it comes to buying and running the ASX, then the cheaper versions do undercut some of its rivals. It also has plenty of kit as standard so there are no hidden extras that see the price-tag creep up unexpectedly.
The car we tested – the 1.6-litre diesel model in 2WD – is a popular choice because it offers combined fuel efficiency up to 61.4mpg on a combined run and the CO2 emissions figure of 119g/km means that it would have a Vehicle Excise Duty cost of £160 for the first tax year and £140 after that. The test car had an insurance rating of 18.
It's worth weighing up whether 4WD is really essential to everyday lifestyles as it does impact on the car's efficiency. For example, the range-topping ASX 5 with 2.2-litre 150PS diesel engine, an auto gearbox and 4WD is priced at £28,999, delivers combined fuel efficiency of 48.7mpg with carbon emissions of 152g/km. This would see a Vehicle Excise Duty cost of £500 for the first tax year and £140 after that.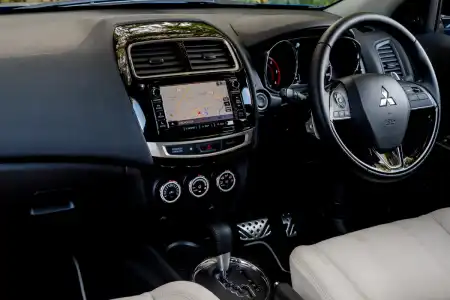 Quality & Reliability
One fact that needs to be stressed about Mitsubishi is that the Japanese company certainly builds vehicles that are designed to survive the test of time and the ASX is a fine example of that strategy.
The build quality is excellent with plenty of smart, wipe-clean and durable surfaces and the seats are of a high standard too in a hard-wearing cloth material or high quality leather. All the switchgear feels sturdy and the car doors close with quite a reassuring thud – although not like a VW!
Mitsubishi models are covered by an impressive 5-year/62,500-mile warranty.
Safety & Security
The Mitsubishi ASX is loaded with safety features and has secured a maximum five stars in the Euro NCAP safety tests so provides a very high level of protection in the event of a crash.
On-board technology includes anti-lock brakes with electronic brakeforce distribution, Xenon HID headlights, hill start assist, seven airbags, active stability control, traction control, emergency stop signaling and a brake override system – this comes in action if the brake and accelerator are accidently pressed at the same time in which case priority is given to the braking operation.
In addition, all models boast a Thatcham-approved alarm system and deadlocks.
More On This Car
Take one for a spin or order a brochure
Request a Mitsubishi ASX brochure
Request a Mitsubishi ASX test drive