From £21,290
Pros:
Stand out design

Available with 4WD

Spacious interior with plenty of seat adjustment
Cons:
No sat nav on any model

No diesel engine (yet)

Stiff opposition from Kia, Nissan and many more
More On This Car
Take one for a spin or order a brochure
Request a Mitsubishi Eclipse Cross brochure
Request a Mitsubishi Eclipse Cross test drive
Introduction
The Mitsubishi marque has been flexing its off-roading muscles since the mid-1930s when it produced its first 4WD model. Since then it has recorded 12 Dakar rally victories and the likes of the Shogun has proved a popular and dependable workhorse.
Now, the Japanese marque has launched the Eclipse Cross - a mid-sized compact SUV that sits neatly between the ASX and Outlander in the company's line-up.
Boasting competitive pricing, a good choice of well-equipped trim levels, the option of manual or CVT gearboxes plus two or four-wheel drive, there is plenty of choice in the Eclipse Cross range.
Stand-out styling cues include SUV-coupe lines with a tapered roofline, muscular flared wheel arches, a panoramic sunroof, privacy glass, sweeping light clusters with LED lights, smart alloys, a sculpted bonnet and a split-tailgate.
On The Road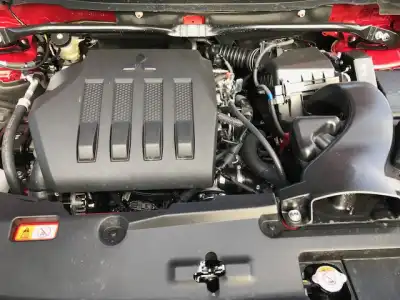 Performance
We tested the Eclipse Cross First Edition 4WD model with eight-speed automatic gearbox costing £29,765.
At launch the Eclipse Cross is only available with one engine – a punchy 1.5-litre 163hp petrol unit, but Mitsubishi is quick to point out that there are already plans to introduce a hybrid version and it has not ruled out following up with a diesel powertrain.
Trim levels are called Eclipse Cross 2, 3 and 4 along with a First Edition model that is limited to just 250 cars. We tested the Eclipse Cross First Edition 4WD model with eight-speed automatic gearbox costing £29,750.
This car has identical performance figures to the Eclipse Cross 4 and can reach 62mph from a standing start in 9.8 seconds maxing out at 124mph. According to official figures, it can achieve combined fuel efficiency of 40.4mpg with CO2 emissions of 159g/km.
Despite being fitted with a CVT gearbox, there was no sign of screeching under heavy acceleration and the Steplogic system feels similar to a traditional automatic box. A sport mode is accessed via the steering wheel-mounted paddle shifts which offers more control and the chance to spice up the dynamics and reactions.
The engine provides instant throttle response and the Eclipse Cross is beautifully planted meaning bends can be attacked with a degree of confidence.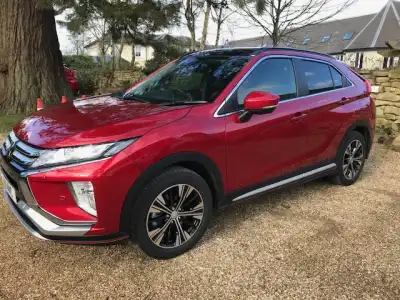 Ride Handling
In order to achieve handling capabilities to match its SUV-coupe tag, the Eclipse Cross features a highly rigid, yet lightweight bodyshell, with 55 per cent made from high tensile strength steel. With some clever engineering the vehicle delivers direct steering feel along with straight line stability at faster speeds. The rigid shell also contributes to improved ride quality and better cornering capabilities.
The electric power steering system has been developed for less noise and improved road feel. And a key factor in the Eclipse Cross's all-round handling is the Super-All Wheel Control (S-AWC) which manages the driving and braking of all four wheels.
The S-AWC system offers three driving modes – Auto manages the torque feed to achieve efficiency and the best fuel economy. If there is a hint of slip then extra torque is sent to the rear wheels for better stability. The second mode is called Snow which is ideal in slippery, slushy or snow driving. And finally, the Gravel setting delivers full 4WD for tricky terrain or to help free the car if stuck in mud or snow.
Some motorists will have little need for AWD technology, but it is reassuring to have it at your disposal.
The Eclipse Cross made light work of busy town centre driving proving agile and easy to manoeuvre. Then out on the faster motorways and country lanes the acceleration through the gears proved silky smooth and responsive.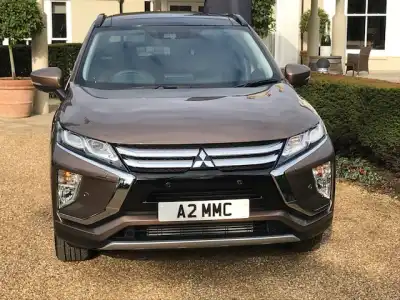 Styling
The interior of the Eclipse Cross has a modern, upmarket feel with plenty of on-board techno treats to explore. The dashboard is rather cleverly split into two by a horizontal bar. Above this line are all the features and controls needed to access the vehicle's infotainment system. And below the line, the more practical and operational functions such as climate control can be found.
The interior is beautifully crafted with smart leather upholstery, high quality materials and the likes of piano black and satin accents, plus soft touch surfaces. Mitsubishi claims it is their most upmarket interior to date and it certainly has plenty of premium touches.
On-board technology on the range-topper is high with full smartphone connectivity via Apple CarPlay or Android Auto, a seven-inch touchscreen, up-to-date mapping with live traffic services and a premium Rockford nine-speaker sound system.
Refinement within the cabin is enhanced through the rear suspension set-up which features a noise-damping design which helps to keep road surface noise to a minimum even at higher speeds. The car also boasts a soundproof windscreen.
In addition, the car's highly effective suspension system makes light work of bumpy road surfaces.
In The Car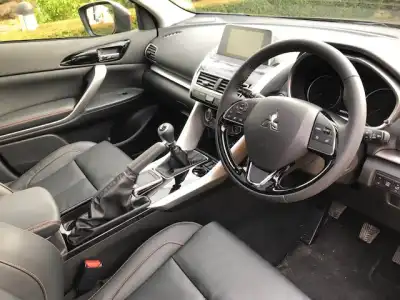 Behind the Wheel
There is ample seat and steering wheel adjustment so it's quick and easy to get comfortable behind the wheel of the Eclipse Cross. The all-round visibility is excellent and the slightly elevated driving position is also a bonus.
Smartphones can be connected effortlessly via Apple CarPlay or Android Auto but there is no sat nav system on any trim level which is rather disappointing.
However, there is lots of other kit to get your teeth into, including the excellent sound system, head-up display and a rather snazzy touchpad controller. This touchpad, which does take a little getting used to, provides a more intuitive operation of the infotainment system than more traditional controls. For example, the music volume can be increased by swiping the controller pad up or down with two fingers. It can operate systems such as the radio, an iPod, or Apple CarPlay. As I mentioned it does take a little while to get to grips with, but it is a good feature.
Elsewhere, Mitsubishi has given plenty of consideration to the positioning of dials, controls and instrumentation. They are all ideally placed which means less driver distraction.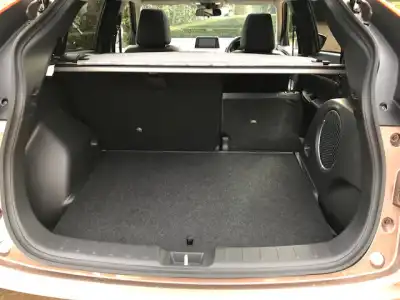 Space & Practicality
With competition rife in the compact SUV sector, new arrivals have to prove they are worthy contenders. And while the Eclipse Cross does not have the biggest boot in its class it does excel in rear seat passenger versatility. That's because the rear seats can be moved forwards or backwards up to 20cms and they have eight recline settings. This may sound fairly insignificant, but if you are six feet tall the extra legroom is of great importance to comfort levels.
When it comes to boot space, the Eclipse Cross can accommodate 448 litres of luggage with the rear seats in a forward position reduced to 341 litres when maximum rear leg space has been freed up. I rather like the way the Japanese designers refer to the boot space – room for four sets of golf clubs or three with the seats back!
In addition, extra space is freed up by dropping the 60:40 split-folding rear seats and there are lots of handy storage compartments scattered throughout the car, including a glovebox with partition shelf, cup holders, door bins and a deep central box.
If the car does not feature a sunroof, then it has a twin bubble roof design which offers excellent levels of head room in the car.
Ownership
Running Costs
The top-of-the-range test car was priced at £29,765 although the entry level Eclipse Cross costs £21,290 and there are cars to suit all tastes and budgets in-between.
According to official figures, it can deliver combined fuel economy of 40.4mpg with carbon emissions of 159g/km. It's worth remembering that a hybrid model is on its way if fuel economy is a high priority and don't rule out the introduction of a diesel once all the scaremongering is over!
The test car would have a Vehicle Excise Duty cost of £500 for the first year which is reduced to £140 after that. Once again, these charges would be reduced on a hybrid model with lower carbon emission figures.
The insurance group rating for the test car was 21.
If you are looking to snap up a First Edition model, then you will need to act fast because the run has been limited to just 250 cars and they are in high demand.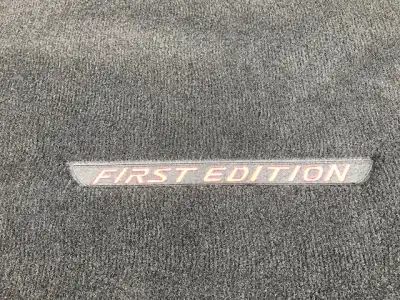 Quality & Reliability
Mitsubishi has an incredibly loyal fan base and part of that is down to the reliability of its long-established vehicles such as the Shogun. Farmers have seen their cars go round the clock and still come back for more heavy-duty activities. So there has never been any questions regarding the company's reliability.
The Eclipse Cross may not be up to the rough and tumble lifestyle that the Shogun is put through, but it feels solid and sturdy in its build quality.
The seats featured high quality leather upholstery and many of the vehicle's surfaces would wipe clean in the event of an accidental spillage.
The car comes with a five year, 62,500-mile warranty.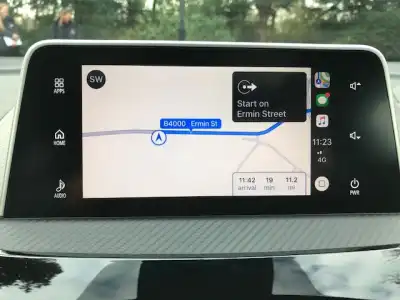 Safety & Security
The Eclipse Cross has been awarded the maximum five stars when it was tested for its Euro NCAP safety rating and is packed with technology to protect occupants, pedestrians and help prevent accidents from happening in the first place. In fact, the car scored highly in the 'small off-roader' class achieving a 97 percent rating for adult protection and an 80 percent pedestrian protection rating.
Features include forward collision mitigation system, lane departure warning system, automatic lights and high beam, rain-sensing wipers and seven airbags.
Other safety features available on the range-toppers are adaptive cruise control, a 360-degree camera and rear cross traffic alert, plus blind spot warning with lane change assist.
The head-up display is also a useful tool providing the driver with plenty of information without them having to take their eyes off the road. This system can show details regarding speed, adaptive cruise control, forward collision mitigation, adjustable speed limitation, lane departure warning, shift indicator, seat belt reminder and a door ajar warning. The height and brightness of the display can be adjusted or it can be turned off completely when not required.
More On This Car
Take one for a spin or order a brochure
Request a Mitsubishi Eclipse Cross brochure
Request a Mitsubishi Eclipse Cross test drive