Pros:
Modern interior with all the latest on-board technology

Excellent carrying and towing capabilities on or off road

It's easy to switch between two and four-wheel drive at speeds up to 62mph
Cons:
Quite costly - our range-topper was priced at £32,885 excluding VAT

Touchscreen controls can be fiddly to operate on the move

Ride can be unsettling, particularly on uneven surfaces
More On This Car
Take one for a spin or order a brochure
Request a Mitsubishi L200 brochure
Request a Mitsubishi L200 test drive
Introduction
The new Mitsubishi L200 Series 6 builds on 40 years of heritage and know-how to deliver a vehicle with classic pick-up styling, combined with all the creature comforts we demand these days.
It looks awesome from any angle and can certainly put in full days work carrying more than a tonne in weight and towing a trailer up to 3.5 tonnes. Switching from 2WD to 4WD is simple and can be achieved at relatively high speeds without the need for stopping.
There is a good choice of trim levels with high-end versions loaded with technology. New L200 also boasts a wealth of safety features and driver aids to help protect occupants and help prevent accidents.
On The Road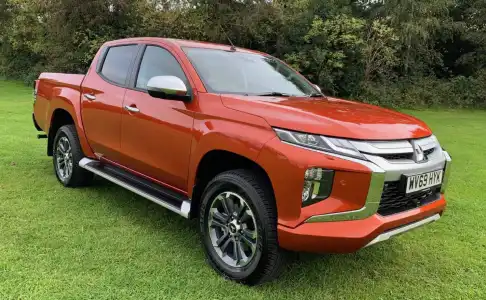 Performance
There were rumours that the L200 had gone a little bit soft with less aggressive styling. Well, Mitsubishi has laid those suggestions to bed with its freshly designed model that features a new front end that is bold, muscular and raring to tackle any challenge. There is a new 2,268cc turbo diesel powertrain with AdBlue along with an automatic gearbox with six speeds as an alternative to the six-speed manual transmission.
Customers can choose from trim levels called 4Life Club Cab, Double Cab, Warrior, Barbarian and Barbarian X. The entry-level 4Life Club Cab has two doors but all other versions have four.
We opted for the range-topping Barbarian X with automatic gearbox delivering 150PS and 400Nm of torque. This vehicle boasted performance to match its powerful strong styling.
The acceleration through the gears was smooth with plenty of power on tap. It's a vehicle that can effortlessly eat up motorway miles as well as fire along the country lanes. And there are paddles if you fancy taking control of the gear changes yourself.
The road-holding is sure-footed and if bends are given a degree of respect, then body movement is kept to a minimum. With its 11.8 metre turning circle, the L200 is also fairly easy to manoeuvre and the high seated driving position results in excellent all-round visibility.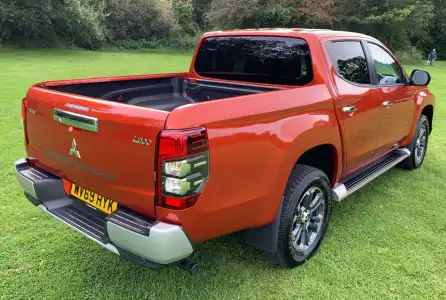 Ride Handling
A simple glance in the direction of the mighty L200 Barbarian X would suggest that the ride and handling are not going to be that comforting. It has imposing styling and, although Mitsubishi has done plenty to improve the comfort levels, it still drives like a pick-up. This is a vehicle that's designed to march across a ploughed field without missing a beat, so don't expect premium SUV handling.
But that's not to say it can't cope with day-to-day chores like a school run or a weekend away. It has a softer side and when driving on smooth Tarmac it can be easy to forget that it's a pick-up. This has been achieved thanks to strengthening the chassis for improved torsion rigidity and fitting new springs and dampers all round.
Factor in larger brakes along with the revised suspension and they not only enable increased payload capabilities, but offer improved ride quality with a reduction in body roll.
That said though, hit any bumps, dips or potholes at pace and the L200 seems to bounce away in protest.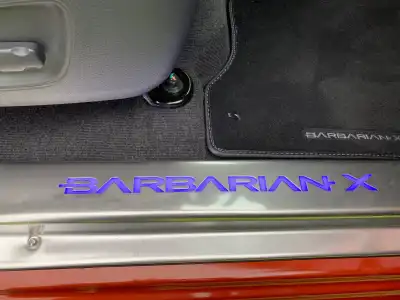 Styling
There's no denying the fact that the designers at Mitsubishi have pulled out all the stops when it comes to the latest L200 model. It boasts a commanding road presence and looks impressive from any angle with the likes of a new clamshell bonnet raised by 40mm, new 18-inch alloys (except entry model), slim LED headlights and LED daytime running lights, a new rear end with fresh metalwork, bumpers and LED taillights. There are squared off wheel arches and Mitsubishi's Dynamic Shield grille design to complete the look.
Move inside and the Barbarian X features bespoke upholstery and also new to L200 is a chunkier heated steering wheel, touchscreen infotainment instrumentation and a full-colour LCD display.
The new all-aluminium 2,268cc turbo-diesel engine offers improved refinement and rumbles away very gently in the background as the vehicle is ticking over. You do have to listen hard to notice it and the cabin is well insulated against road surface, engine and wind noise.
Our test model featured the new six-speed automatic transmission which was nice and smooth as it moved through the gears. Compared to the former five-speed box, it is lighter and engineered to ensure the powertrain is operating at its most efficient when cruising or operating under a light load.
In The Car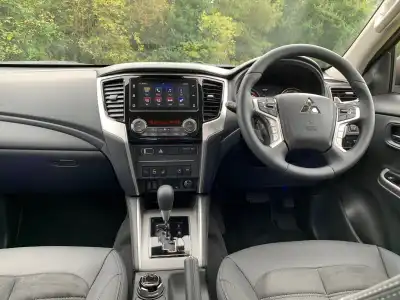 Behind the Wheel
You climb into the high driver's seat on the Mitsubishi L200 with the aid of grab handles and a side step if necessary. Once aboard, the seat can be power adjusted to find a comfortable driving position and the steering wheel also has plenty of adjustment. The front passenger seat can also be moved but via manual levers.
The elevated driving position results in superb all-round visibility and all the controls are well placed for ease of use. Mitsubishi appears to have got its interior spot on with enough practical wipe-clean, sturdy surfaces combined with plenty of on-board technology.
And our range-topping Barbarian X was loaded with kit, including full smartphone connectivity via Apple CarPlay or Android Auto, a touchscreen entertainment system with DAB radio, Bluetooth, front and rear USB ports, front and rear mood lighting, Barbarian X leather seats, front and rear parking sensors, a 360-degree camera system, air conditioning, a heated steering wheel, all-round electric windows, plus Barbarian X mats and tailgate decal.
In addition, the front seats have been upgraded and are more supportive with improved side bolstering, and the steering wheel is chunkier on the Series 6 too.
My only complaint was the touchscreen with quite small icons to press which proved quite difficult on more uneven roads. I invariably changed the map settings rather than finding Spotify!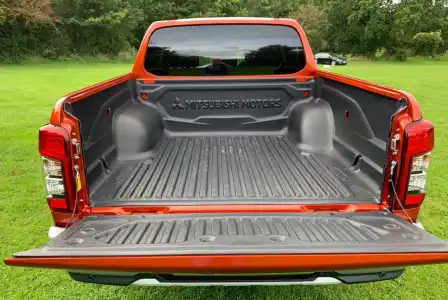 Space & Practicality
The race for sales in the pick-up arena is fiercely competitive with the likes of the Toyota Hilux, Nissan Navara, Isuzu D-Max and a host of other worthy models vying for the top spot.
But the Mitsubishi has 40 years of experience under its belt and seems to improve with the launch of every new generation of face-lifted model.
The double cab test model (only the entry-level 4Life Club Cab has two doors) offers ample room for a couple of adults to sit in the back and they benefit from their own USB ports to plug in mobile devices.
There are plenty of storage compartments scattered throughout the vehicle with front and rear cupholders and door pockets, a decent-sized glovebox, central cubby and some handy trays upfront.
Our open-backed vehicle could also transport a maximum payload of 1,075kgs and tow a trailer weighing up to 3.5 tonnes. The tailgates on these types of vehicles can be quite heavy, but on the Barbarian X it is soft opening and spring assisted which makes life easier.
And in true 'proper' workhorse fashion, the L200 can wade through water up to 600mm deep, has ground clearance of 205mm, an approach angle of 30 degrees, departure angle of 22 degrees. Plus, switching between 2WD and 4WD can be achieved on the fly at speeds up to 62mph.
Ownership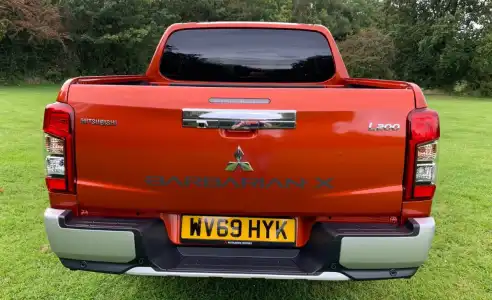 Running Costs
The L200 line-up is priced from £21,515 for the entry-level 4Life Club Cab and rises to £32,200 for our test model - the Barbarian X. However, our vehicle also featured a couple of optional extras which saw the final cost reach £32,885. All prices are excluding VAT.
According to official WLTP figures, the 2.2-litre diesel model with 150PS and 400Nm of torque can deliver a combined fuel economy of 29.1mpg with carbon emissions of 206g/km. As the L200 is classed as a light commercial vehicle, it is taxed at a flat rate and owners would incur a first-year tax payment of £260.
The Club Cab and Double Cab manual models have a lower CO2 output of 199g/km, although the same fixed tax fee would apply.
In order to ensure the L200 is amongst the cleanest pick-ups on offer in today's market, it is now equipped with Auto Stop and Go plus AdBlue to help neutralise harmful pollutants and minimise its impact on the environment.
Insurance ratings for the 2019 L200 Series 6 range from group 37 to 42.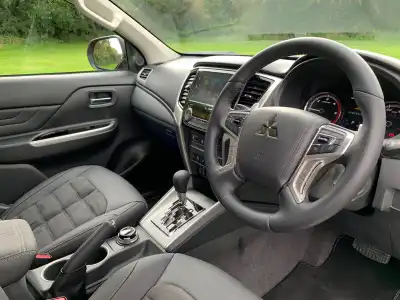 Quality & Reliability
The Mitsubishi L200 is a tough, go-anywhere, no-nonsense pick-up truck that has excellent off-road capabilities. Since it debuted back in 1978 more than 4.7 million models have been sold and many of those are still rumbling around on farms and building yards.
The L200, which accounts for a third of Mitsubishi sales in the UK, has long been renowned for its durability and dependability. The latest model has been honed to exceed customer expectations by listening to feedback and the company confidently believes that this latest incarnation is the most capable L200 yet.
The exterior is designed to withstand a rough and testing lifestyle and the interior is well thought out too. There are lots of hard plastic surfaces that would be both durable and easy to wipe clean. In addition, the switchgear and touchscreen feel solid and well put together.
Only time will tell whether or not Mitsubishi's new 'Engineered Beyond Tough' strapline for the L200 will prove appropriately suitable.
The L200 comes with a five-year, 62,500-mile warranty, along with 12-year anti-corrosion perforation and three years of Pan-European roadside assistance including Home Start.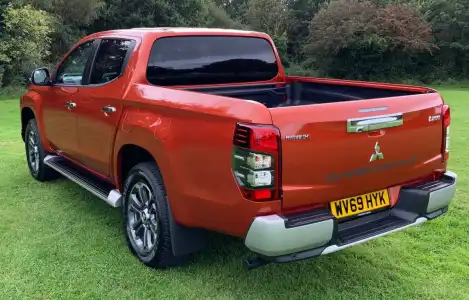 Safety & Security
When tested back in 2105, the Mitsubishi L200 was awarded a four-star Euro NCAP safety rating. There are no plans to get the latest model re-tested so it will keep that grading.
The L200 Series 6 is packed with safety kit to protect occupants and help prevent collisions from happening in the first place. The features on the entry-level 4Life and Double Cab models are a tad sparse, but move on up through the range and you will see lots more spec.
For example, The L200 Warrior, priced from £26,400, gains Forward Collision Mitigation, Lane Departure Warning, front fog lamps and a reversing camera.
Move up to the Barbarian, costing from £29,300, and you will see the introduction of Hill Descent Control and Off-Road Mode.
Our range-topping Barbarian X added a 360-degree camera system, Blind Spot Warning, Rear Cross Traffic Alert, Ultrasonic Mis-acceleration System, Auto High Beam, LED front fog lights, plus front and rear parking sensors.
So when it comes to safety, you really do get what you pay for on the L200 and you must splash out on the top model to gain all the top tech.
All versions are fitted with an alarm to deter thieves or any uninvited attention.
More On This Car
Take one for a spin or order a brochure
Request a Mitsubishi L200 brochure
Request a Mitsubishi L200 test drive