From £25,255
Pros:
Practical seven-seater

Capable off-roader

Scores highly in safety tests
Cons:
Interior looks a bit dated

Not a great drive

Lack of rear headroom
Buy and save on quality approved and used cars
Introduction
Mitsubishi are known for their heritage when it comes to producing capable off-road vehicles, and with over a million sold of their Outlander model since it hit the road in 2001, it's no surprise as to why it's their best-selling SUV.
So we spent a week with the diesel version to see what it's like to use as an everyday runaround.
On The Road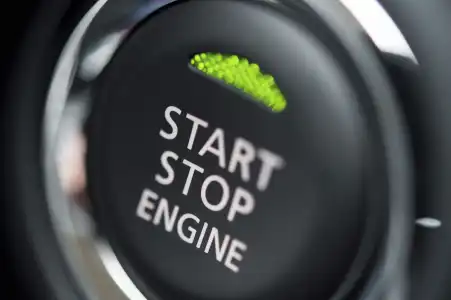 Performance
The Mitsubishi Outlander comes with a 2.2 litre diesel which delivers 150PS with 380Nm of torque. We drove it with a really smooth six-speed automatic transmission which also comes with paddle shifts if you really want to push it through the rev range and there's also a six-speed manual gearbox.
The very capable, four cylinder, turbocharged diesel has a top speed of 118mph, gets from 0 - 62mph in 11.6 seconds and the automatic emits 154g/km so will cost £500 for the first year in road tax.
Mitsubishi have only one alternative to the diesel and that is the Plug-in PHEV hybrid which has been a huge success for the manufacturer as it has low emissions and running costs, high MPG figures and a 33 mile electric range too.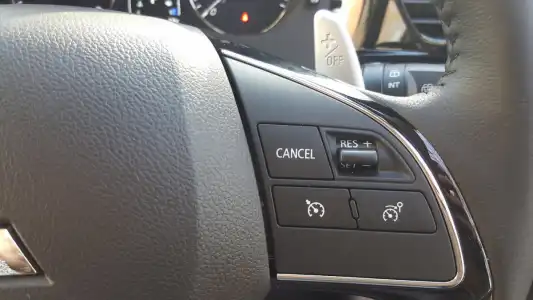 Ride Handling
What really lets the Outlander down is the drive, as a driver you never really feel at one with the car.
The ride has been improved to feel more stable, but any slight hole in the road and it totally unsettles the car and there's also a lot of body roll too. The lighter steering offers good handling, but you're so disconnected from the drive that as an overall experience it's really disappointing.
There is a four-wheel drive system should you really want it to tackle tough terrain, at the touch of a button you can engage 4WD Eco mode which will power the front wheels for day to day driving, but once it senses tougher conditions it will engage four-wheel drive to assist with plenty of grip.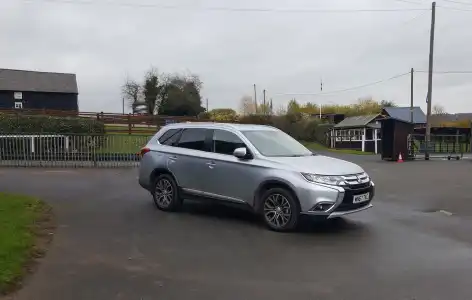 Styling
The Mitsubishi Outlander is a large car with a stance to match, it has a black grille flanked by LED headlights, sweeping lines to the rear, but one thing we couldn't take our eyes off was the body bumpers along the bottom of the doors which don't run fluid across the side of the car, so from certain angles does look odd.
Since its inception sixteen years ago it has gone from being quite estate like in looks to quite angular in stance and the new, smaller Eclipse Cross has taken styling cues from the Outlander.
There's a good choice of colours for the model including Orient Red, Atlantic Grey and Tanzanite Blue, and Mitsubishi have made sure to improve the noise levels seeping into the car from the outside and have used thicker glass and insulation materials to keep it to a minimum.
In The Car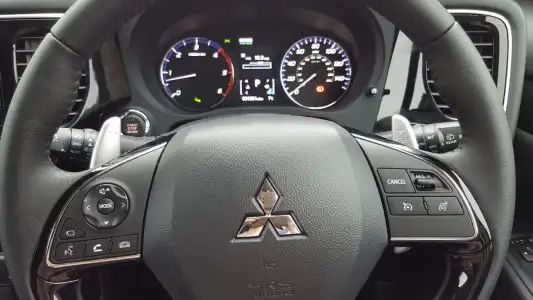 Behind the Wheel
When you get the behind the wheel it's noticeable how dated the cabin is, the heated seat switches look old, the Multi Communication System touchscreen display, although easy to use lacks any sort of modern design, yet it's an area that Mitsubishi have updated visually with a transparent appearance and larger buttons.
Drivers sit really high in the Outlander which is a good thing when you live in the countryside and need to see over hedges and all-round visibility is good.
The instrument panel is informative yet simple, Eco mode will test you on your driving skills and show a leaf you must build on the driver's information screen, it's certainly tricky but will test your economy driving credentials.
There is a USB and 12V sockets in the centre armrest for smartphone charging and connectivity, while DAB radio came with the '4' trim version we tested.
That trim also came with heated seats and steering wheel (nice addition as temperatures dropped to -2), climate control, an electric sunroof and a full black leather interior.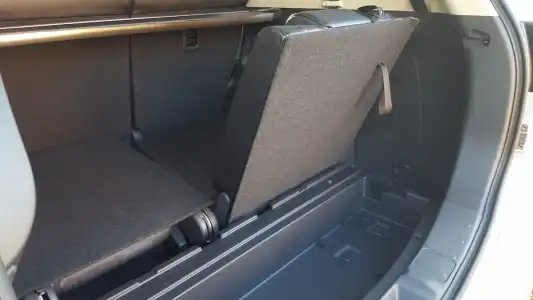 Space & Practicality
The Outlander we tested came with seven seats, but it can also come as a five-seater.
These extra two rear seats in the third row can be folded flat into the floor so don't take anything away from the boot space, but as with a lot of seven seaters you can't have long legs to sit in them. There is also cup holders and a 12V socket for the third row passengers and while middle row passengers have decent legroom, tall adults will struggle due to the lack of headroom.
With the middle row seats being able to be slid forward up to 250mm, with all seats down it becomes a huge 1,608 litre boot with a 1.71m-long floor, with Mitsubishi claiming that you can fit in a couple of mountain bikes.
Ownership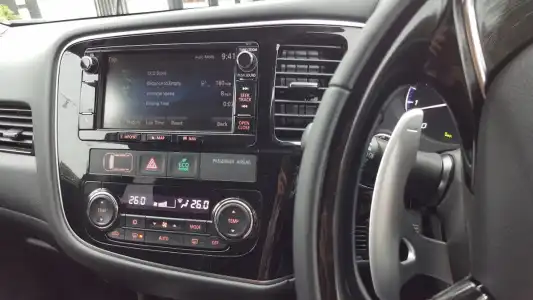 Running Costs
The Mitsubishi Outlander costs from £25,255 for the diesel and although the PHEV garners a lot of the model sales now, there will be those that don't opt for hybrid technology.
Mitsubishi's line up does consist mainly of SUVs, large and small, but going forward the Outlander could do with a more up to date interior to keep up with the competition, but on the plus side it has great practicality and off-roading capability.
The Outlander comes with a five-year/62,500-mile warranty, three-year recovery service, a twelve-year anti-corrosion warranty and also available for £700 is a Service Plan.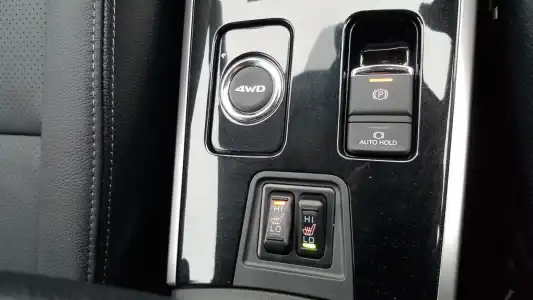 Quality & Reliability
Mitsubishi tend to build reliable models, look at the L200 pick up as an example and what use that gets agriculturally, it needs to be tough to deal with all conditions and that's what most buyers look for, it's the drive though that owners want to see improvements on the Outlander along with the technology on board, which we both can agree on.
But in the What Car? reliability survey, it was named the most reliable large SUV in 2017 which is quite an achievement for the Japanese brand.
Although it seems well finished in the cabin; the soft touch steering wheel, black gloss and chrome trim and full leather do enhance the interior, it does seem to sway more to how practical it is rather than how luxurious it could be.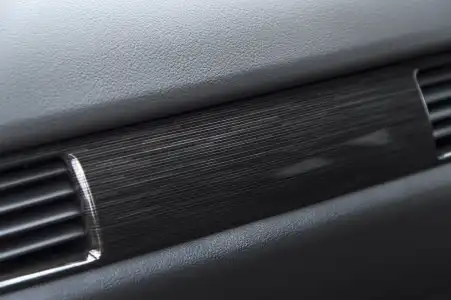 Safety & Security
The Mitsubishi Outlander took the top honours in the Euro NCAP safety tests with five stars, it scored 94% for adult occupant protection and a highly impressive 100% for safety assist.
Their RISE (Reinforced Impact Safety Evolution) system helps in a crash with safety performance protecting occupants and elements of the car, while it also comes with seven airbags, hill start assist, an emergency stop signal system, city crash provision, rear cross traffic alert, blind spot warning and Isofix points for a child car seat.
With an impressive 360 degree camera which can also see down the side of the car, (ideal if you're trying to parallel park and not hit a kerb), or from the front as you come up to a junction, it helps with any blind spot issues you may have when manoeuvring.
The Mitsubishi Outlander also comes with a Thatcham alarm and an immobiliser.
Buy and save on quality approved and used cars