From £29,634
Pros:
Extremely functional

Certainly spacious enough

7 usable seats
Cons:
Body roll, lots

Daft boot door

Laboured engine
Buy and save on quality approved and used cars
Introduction
The Shogun has been a niche car for quite some time now. Very much designed for rural and practical purposes, the Shogun is most comfortable when towing - up to 3,500kg - or when it's off road, where the low range gearbox comes into its own. This model continues the Shogun family into a market where SUVs and 4x4s have gotten an awful lot more popular. How will it compare to these new offerings from alternative manufacturers? Is it even fair to judge them alongside one another? I found out.
On The Road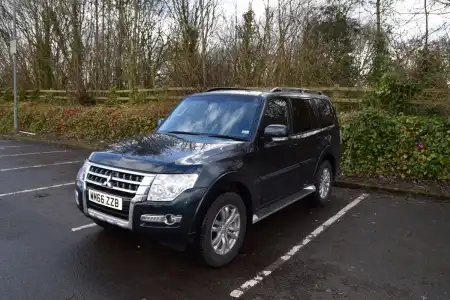 Performance
The 3.2-litre diesel is desperately slow and feels laboured when dragging itself back up to speed when someone pulls out in front of you on the motorway. I've driven pretty much all of the most popular SUVs on the market at the moment and not one of them has felt this tiresome under normal driving conditions. There is literally no encouragement offered to the driver to make good pace and it's actually tiresome to exceed the speed limit… But that might be the beauty of it. I also spend the occasional weekend tackling green-lanes in my friends old Discovery TD5. The Shogun feels like a modern interpretation of that car, except a damn sight more reliable and a tiny bit more luxurious - this is almost the Discovery that the current Land Rover model was meant to be.
What the engine lacks in power it makes up for in torque. 440Nm of torque is bucket-loads from a car that weighs 2 and a half tonnes. Pulling speedboats, caravans, jet skis, carnival rides, whatever else - this is the metric that the Shogun should be measured upon. A metric whereby it is a roaring success. Just don't take this thing anywhere near a race circuit, unless you've got your weekend track-car in tow...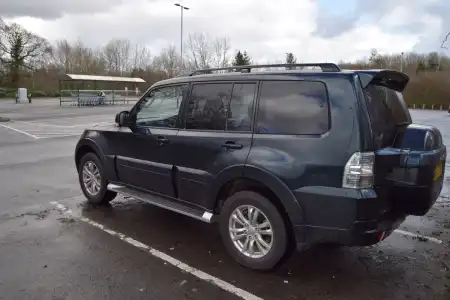 Ride Handling
As you would expect from a 4x4 of this size and stature, the Shogun has no trouble whatsoever climbing over speed bumps and potholes. Even the roughest of road surfaces are ironed out without any struggle. That's just about where the compliments end, though. The amount of lean you get in the corners can only be likened to that tower in Italy. The suspension just has far too much travel. All well and good for dragging itself across a field, not very good for driving down B roads.
Then there's the steering. Zumba classes? 'Body pump'? Try and do a 7 point turn on a country lane in the Shogun, that will put you through your paces. Apparently, the car has power steering - I barely noticed. It takes as good as 5 full rotations of the wheel to get from one full-lock to the other. Forgive me for using the misogynistic cliché, but this is a real 'mans car'. Perfect for the hamfisted, burly men who are lucky enough to spend their days outdoors, labouring. Not perfect, however, for weedy men who spend their days behind a desk - like me.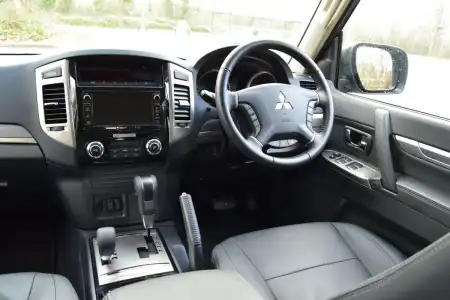 Styling
Happily, we can report that the Shogun does a good job of keeping out road noise and wind noise - the latter being a real achievement considering the awful aerodynamics of the Shoguns design.
The problem comes again from the 3.2 diesel engine. It's by far the loudest diesel unit I have ever come across. It does get quietened down a bit once you're inside the car, but it's still very much noticeable. I mentioned that you wouldn't want to creep over the speed limit in this thing, which is largely because it feels as if you strangling the life out of the motor.
In The Car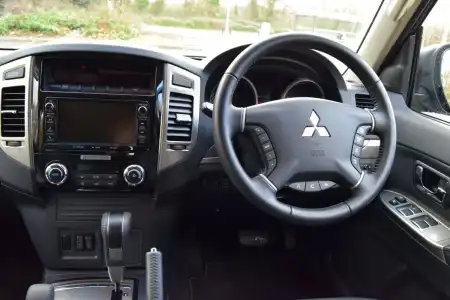 Behind the Wheel
All in all, the drivers seat is a pretty relaxed place to be. You've got a commanding position over other road users and excellent all round visibility - with a reversing camera helping out. This is very much a car you feel like you're on, and not in, as the seats are raised and as comfortable as an armchair. The dials are very basic and don't really offer much assistance when you're trying to figure out how cruise control works, but I quickly got used to it. In the centre you've got a touch screen which is surprisingly responsive and intuitive.
One qualm would be that to open the sunroof from your driving position you'll have to have freakishly long arms, as it's a good reach away, almost over the passengers seats. I'd imagine this is because the parts are intended for left hand drive cars, but don't quote me on that.
The steering wheel is festooned with clunky, plastic buttons which can easily be operated with gloves on, probably even boxing gloves. Yes they're cheap, Japanese and plastic-y, but I soon grew to adore the simplicity of them. They're clearly buttons that will never snap off and will forever be easy to access.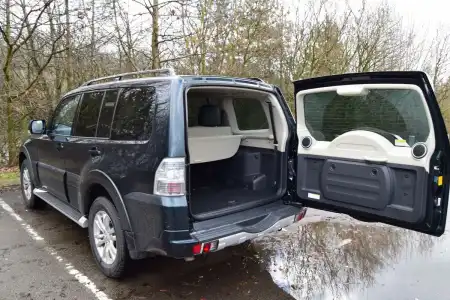 Space & Practicality
You do have plenty of space in the Shogun, the driver and front passenger have acres of leg and headroom. Similarly, in the back theres no transmission tunnel impeding the floor of the middle rear seat, and 3 adults can comfortably sit abreast even for long journeys. Then, in the boot, you've got a final row of 2 extra seats which fold up from the ground. These are surprisingly hospitable too. You wouldn't want to be there for too long if you're over 6 foot, but for children the extra 2 seats are certainly adequate.
The tailgate of the Shogun is hinged at the side and swings open (with a bit of muscle) to expose a massive 1,080 litres of luggage room. Turn the Shogun into a 2 seater and luggage space soars up to a massive 1,790 litres, but when it's a 7 seater then it plummets back down to under 140 litres. This is fantastic for transporting items around, but the boot mechanism means you can never reverse into a parking bay at the supermarket because of how far it swings out.
Ownership
Running Costs
In my week of ownership I managed to average 26mpg. Not horrific, but this included a trip from Manchester to Gloucester and back sitting at 70 in cruise control. Around town and on B-roads you're looking at just north of 20mpg, but not near the 31mpg quoted by Mitsubishi. Road tax is £500 a year under the current rates - there's just no glossing over that, sorry.
Insurance isn't looking too cheap either as the Shogun falls into insurance groups ranging from 30 to 37. Luckily, Mitsubishi does offer a 5 year/ 62,500 miles warranty as standard.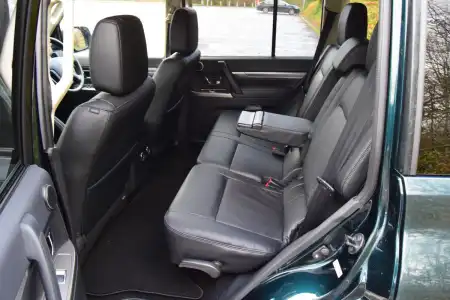 Quality & Reliability
Quality, low. Reliability, high.
Mitsubishi won't mind me saying that they've used very basic materials across the dash board and the interior panels. It's almost all scratchy plastics, with a few bits of metal here and there, but nothing incredible. That's fine though, if you throw your muddy wellies in the back seats, on the leather and door cards, it will just wipe off. No problem. Compare this Shogun to the luxurious new Peugeot 5008 and you may as well be comparing the London Underground to Business Class on an A380, but which one would be best suited to getting you from Leicester Square to Covent Garden? You do very much have to put this car into perspective. If you're just thinking of jumping on the SUV bandwagon to take the kids to and from school, look elsewhere, but if you're after a rough and ready 4x4 - get a test drive booked in.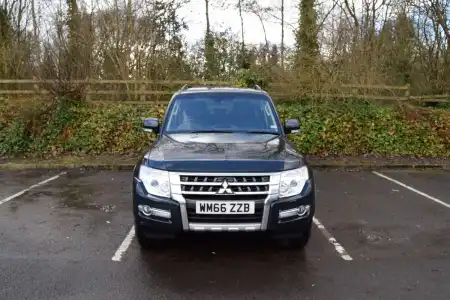 Safety & Security
The Shogun is yet to be put through an NCAP crash test, but we reckon it would do alright thanks to the massive crumple zone, an abundance of airbags, strong exterior build quality and - obviously - the sheer mass of the thing. Not so certain it would fare as well in the pedestrian safety tests, though...
Buy and save on quality approved and used cars