Pros:
Decent room

Pleasing looks

Refined and comfortable
Cons:
Battery range is on the miserly side

Not as sporty as its looks suggest

Expensive to buy
More On This Car
Need more information?
Request Dealer Contact
Introduction
The new Citroen e-C4 and new C4 (yes, there are non-electric petrol or diesel models too) represent the French automaker's latest-generation compact hatchback. Pure-electric, diesel or petrol powered, the e-C4 and C4 have all the talents needed to stir up benchmarks in a segment that's already in the middle of reinventing itself.
For this review, we're concentrating on the e-C4, so If electric vehicles (EVs) intrigue you, then there's never been a better time to get to know them better. After all, the internal combustion engine isn't going to be much of a thing in the UK after 2030.
What's more, the Citroen e-C4 might tickle your pickle more than other EVs if you appreciate a refined drive over outright performance. Then again, the French ride might concern you with its limited range. Whatever the case, we recommend you read on.
On The Road
Performance
The new e-C4 houses an electric powertrain with no CO2 emissions and an official range of 350 km – that's 217 miles to you and me. As well as the enjoyment of driving 100 per cent electric, with zero CO2 emissions and efficiency in daily use, the e-C4 enables admission to the low-emission zones in some urban areas, which are, little by little, off-limits to established vehicles.
The pure electric motor is energetic and relatively powerful, whatever the conditions. It has 136PS, 260 Nm of torque that is instantaneously available, a zero to 62 mph time of 9.0 seconds when Power mode is selected, and a maximum speed of 93mph. The e-C4's 50 kWh battery pack is ranked as a high-voltage 400 V Li-ion.
The Citroen has a "Brake" system to strengthen its deceleration without touching the brake pedal. The feature allows for the recuperation of energy when slowing the e-C4, unlike regular diesel and petrol versions. This action lets you partly revitalise the battery and boost range.
Various driving modes are offered: Eco, Normal or Power. These are triggered by the selector on the Citroen's centre console. The system enables you to pick between performance and optimum eco-driving. To be fair, the Citroen is no slouch – it's almost fun - but even in Power mode, it can't be described as athletic – so if it's a sporty car you're after, you may want to look elsewhere.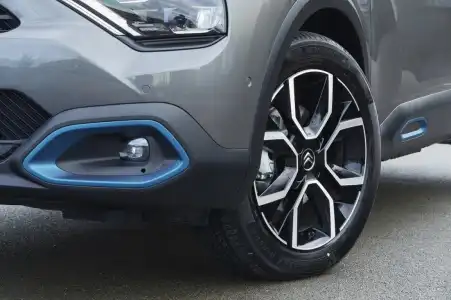 Ride Handling
French cars have always been known for comfort, and this Citroen doesn't stick a pin in that bubble. For a vehicle that's so into delivering comfort, the electric car's silky and direct delivery of power is not to be faulted.
We drove the e-C4 around Coventry – not as exotic as some places we've tested vehicles, granted, but we still managed to get up to speed (well, 60mph) on the A45 out of town towards the NEC. During this little excursion, we were impressed by the French car's refinement – and even though it was a miserable day, wind noise kept a low profile. Come to think of it, road noise did, too.
Ride quality is bang on the money; indeed, the pothole-ridden streets of Lady Godiva's city didn't impact us in any way – that's how well the e-C4 puts up with scarred tarmac.
Handling isn't quite as perfect - the Citroen lollops a little bit in corners, and the steering could be sharper. However, the car has decent enough traction, so you never feel anything other than confident behind the wheel.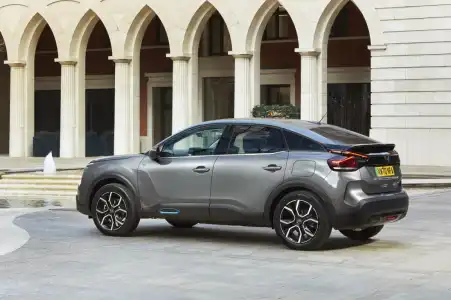 Styling
The new e-C4 is refinement personified. For the money, it's hard to think of a better compact hatch if finesse is what you're after. The Citroen is focused on every facet of onboard wellbeing. The e-C4's suspension and seats deliver driving contentment, and this is enhanced by plentiful interior room.
Furthermore, you can't help but feel soothed by the electric car's radiant atmosphere and warm materials. Then there are loads of assistance features to make your time at the wheel as chilled as possible. Tech includes Highway Driver Assist – a partially-autonomous driving system. The serenity is strengthened further with the hushed drive an electric car brings to the table.
In The Car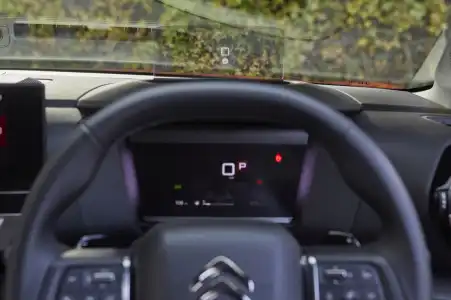 Behind the Wheel
The Citroen's steering wheel has a broad bottom spoke that includes driver assistance switches and infotainment buttons. The Human Machine Interfaces (HMIs) bring avant-gardism and tech into the cabin, and the HD digital instrument panel has an easily readable Citroen identity graphic. It is emphasised with mood lighting for a hovering effect. The big head-up display is simple to use and keeps you focused on what's upfront by showing important driving data in a decipherable and natural way.
In the middle, at the top of the car's dash, the borderless touchscreen is the heart of the car's controls, then there's the metal gear lever. It has the usual trio of positions (R, N and D) that are lit up for clarity. There are also a couple of illuminated buttons: P to initiate Parking mode, and B to start the "Brake" energy recapture mode. The console includes an electric parking brake and a driving mode selector with the Eco, Normal and Power settings we commented on earlier.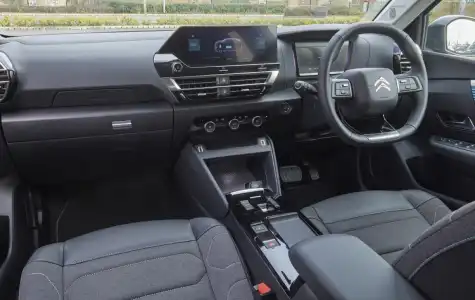 Space & Practicality
Considering this is a compact hatchback, there's oodles of room for people and their things. You'll get four adults in the e-C4, but a fifth will squeeze in at a push.
The cargo capacity is generous, too – boasting 380-litres with the back seats in position. Fold them down, though, and you're looking at 1,250 litres. That's a tip-run car you've got right there. Mind you; you probably won't want to dirty your brand-new e-C4 going to the recycling centre just yet.
There's more; you can also change the height of the boot floor. This means you won't have a lip to lug any weighty items over.
Back in the cabin, there are lots of practical cubbies and compartments. For example, there are sizeable storage bins sandwiched between the seats – and there's ample room in the centre console.
Ownership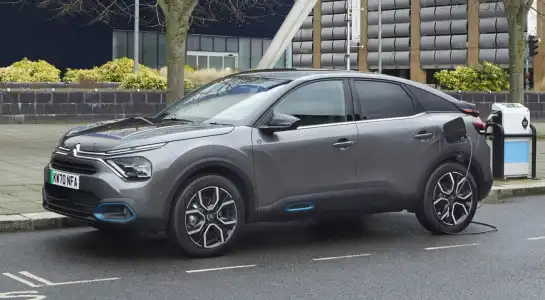 Running Costs
Electric cars are getting better at going further, however, they're not really where we want them to be yet. So, we can't say that the e-C4's driving range is its strong point. But it's brilliant if you live and work in urban areas – and fine for longer trips – if you plan your journey and don't drive too quickly. Why? Well, the faster you drive, the more sparkly juice you'll use. Even if you move like a snail you'll need to know where those electric charging stations are - because you can't assume any electric car will do the range it promises.
All sort of other things can impact range – the weather being the main culprit. If it's cold, your car's battery pack will drain more quickly – and if it's raining, your windscreen wipers and demister or air conditioning will have an effect.
All that said, Citroen reckons this car will do up to 217 miles on a full charge - and it supports 100kW rapid charging. This enables 80 per cent of the battery to be recharged in just half an hour. For basic home charging, a Type 2 cable is thrown in when you buy the car, allowing a 7.4kW wall box charger to get the e-C4 to a full charge in around seven and a half hours.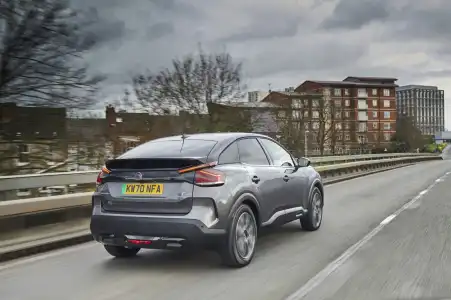 Quality & Reliability
The e-C4 is too new for us to assess its reliability, but there are no questions concerning the quality as far as we can see. The interior looks like it'll stand the test of time - certainly as well as any other family-focused compact hatch.
The three-year warranty that Citroen offers will bring peace of mind, but it's not as generous as, say, Kia's seven-year warranty or Hyundai's five-year guarantee.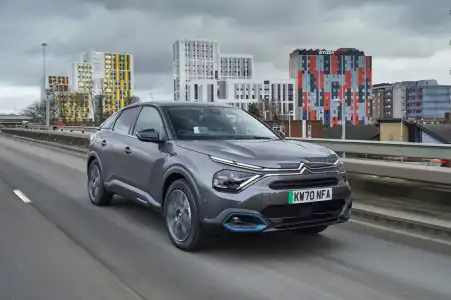 Safety & Security
There's a catalogue of safety kit that's factory fitted across the C4 and e-C4 line-up. This includes things like speed limit info, lane-keeping assist and auto emergency braking.
The e-C4 hasn't been crash-tested by Euro NCAP yet, but we've every faith in the French automaker's products – so expect a high score.
As for security, you're in good hands, with everything from alloy wheels with anti-theft locking wheel nuts included. Citroen doesn't want you to have your car pinched – it's after more sales – not a bad reputation.
More On This Car
Need more information?
Request Dealer Contact