Pros:
Stunning, minimalist exterior

Very luxurious and comfortable

Superb off-roading capability
Cons:
Very expensive

None of the PHEVs has seven seats

Other SUVs have sharper handling
More On This Car
Need more information?
Request More Information
Introduction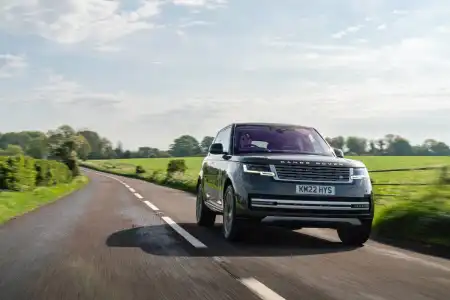 Whenever a new version of the Range Rover rolls off the production line, it's a very special moment. It has happened only five times now in the past half-century.
Parent company Jaguar Land Rover hopes to bring it into the modern-day, a decade after the outgoing model was first launched. For 2022, it's adding new technology and safety systems which are now commonplace elsewhere.
The new one looks like a modernised version of the old one, but it's still obviously a Range Rover, even from a glance. Nevertheless, every panel is new, and it's built on a strengthened aluminium chassis called MLA-Flex.
Four trims are offered, with the entry-level SE being fitted with 21-inch alloys, a 13.1-inch Pivi Pro touchscreen (which includes Apple CarPlay/Android Auto and Amazon Alexa integration), wireless phone charging, a 3D surround camera, and heated electric front seats. You also get heated electric reclining rear seats, a panoramic sunroof, pixel LED headlights and three-zone climate control.
The HSE carries a similar spec but upgrades the alloys to 22-inches and adds a 3D surround sound system, a head-up display and digital LED headlights.
The Autobiography trim adds a sliding mechanism to the panoramic roof, a solar attenuating windscreen, laminated front and rear side glass, and Autobiography badges and styling tweaks.
The top-of-the-range SV trim gets sports styling, metal-plated elements and exterior badges. There's also a limited run of a special commemorative First Edition trim.
The new SUV comes in two lengths – standard-wheelbase and long-wheelbase – the latter of which provides seven seats for the first time in a Range Rover.
The standard-wheelbase is available in all grades, but the long-wheelbase five-seater isn't available in the SE or HSE trim. Meanwhile, the seven-seater isn't available in the First Edition or SV trim.
Many powertrains are offered – one of which is a thumping 530PS twin-turbo 4.4-litre V8. The others are turbocharged 3.0-litre six-cylinders, producing 400PS with a mild hybrid in the petrol, 300 or 350PS in the two diesels, and 440 and 510PS in the petrol-based plug-in hybrids.
All models also include all-wheel steering, which shortens the turning circle, plus electronic air suspension.
On The Road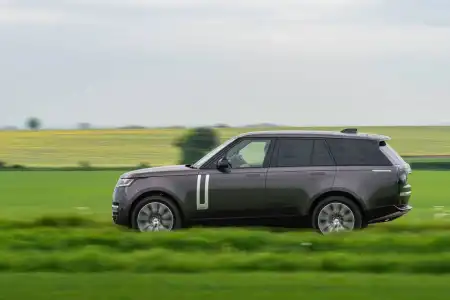 Performance
So far, we've tested the mighty V6 in Autobiography Ingenium 3.0 litre 350PS twin-turbocharged diesel MHEV.
This Range Rover variant gets from 0-62mph in 5.8 seconds and, as the figure suggests, provides chest-thumping amounts of power. It is entertaining to drive, and the engine note is lovely.
In some ways, though, it's overkill in a car whose elegance should preclude drag racing at the traffic lights.
However, the sheer refinement of the diesel engine can't be ignored. Our test car didn't even sound like an oil-burner most of the time.
Ride Handling
The air suspension makes for an exceptionally comfortable ride. It is helped by a camera system that scans the road ahead to ready the vehicle for less than smooth tarmac.
Thankfully, despite the absorbent suspension, it's never so excessive that it limits the feedback it gives you through the steering wheel.
Likewise, the steering is light. But those who want to try and test the Range Rover's limits in bends might be disappointed that it doesn't firm up more when the road gets quicker and twistier.
Nevertheless, it handles well for a vehicle of its size, especially in Dynamic driving mode, which stiffens things up, limiting the body lean in the bends. There is a lot of grip, too, and it's a step forward on the old Range Rover's handling. But those who want the sporty driving characteristics are best off looking towards an Audi Q7 or, if your budget will stretch, a Lamborghini Urus.
The gearbox, an eight-speed automatic, changes smoothly and helps quickly get the power down.
Off-road, the new Range Rover performs brilliantly, especially so if you are an off-roading expert and can tweak the car's Terrain Response system to perfection. If you're not, it automatically sets itself up once you engage the low-range gearbox. This should suffice for all but the swamp-driving aficionado.
Overall, it's not the best handling SUV out there, but it isn't meant to be. Instead, 2022's Range Rover is an improvement on its predecessor, and, to drive or be driven in, it's sublime.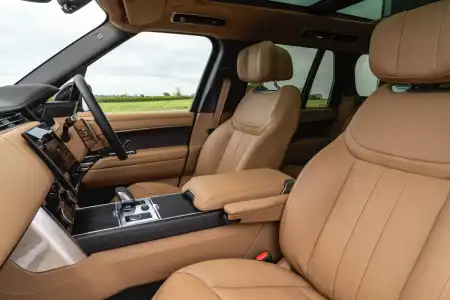 Styling
Although the vehicle looks unmistakeably like a Range Rover, its changes are subtle yet substantial.
The car looks flush and smoothed out, with barely a crease or bump visible, apart from the slightly protruding wheel arches. Even the chain-style grille, which has never been everyone's cup of tea, now sits nicely against the rest of the design.
The door handles pop out, but they sit flush against the doors the rest of the time.
The new Range Rover looks fantastic, modern and with a hint of minimalism. Yet, paradoxically, it's precisely because of the minimalism that results in it giving off so much more character.

In The Car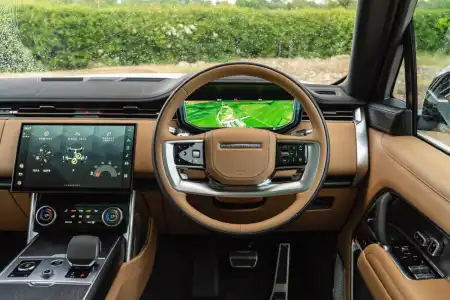 Behind the Wheel
The interior is less cluttered than before, with a straightforward dashboard. The infotainment screen sits just to the left of the steering wheel, and the system is reasonably user friendly, clear, and responsive to the touch.
Physical controls remain in place for the climate control system, while the gear selector is so small you might need to search for it.
Finding a comfortable driving position is simple as the seats move in directions you didn't know existed. Meanwhile, voice control enables you to operate just about anything via Amazon Alexa. The driver's door can shut automatically, too.
It is a lovely place to be, and we've seen very few interiors from other manufacturers, including JLR, that match its luxury and quality.
In terms of splendour, the only step up from this is undoubtedly a Bentley or Rolls-Royce.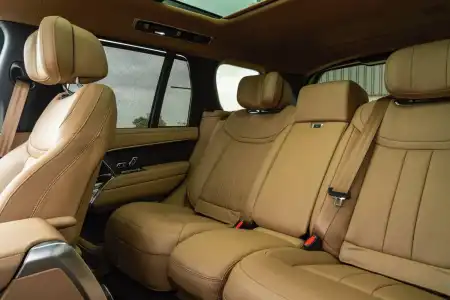 Space & Practicality
As if stating the obvious, space is plentiful inside. And even those sitting in the far rear seats of the now seven-seater Range Rover (in the long-wheelbase version, at least) will find they've got a generous amount of room.
There is a lot of storage space in the cabin, too, including capacious door bins and a large centre console cubby.
The standard five-seater has 1,050-litres of boot space, expanding to 2,335-litres with the back seats folded down.
By comparison, the seven-seater only has 312-litres with all seven seats in place. But fold the rear two seats away, and you'll get 1,061-litres, which then expands to 2,601-litres with the middle seats put down.

Ownership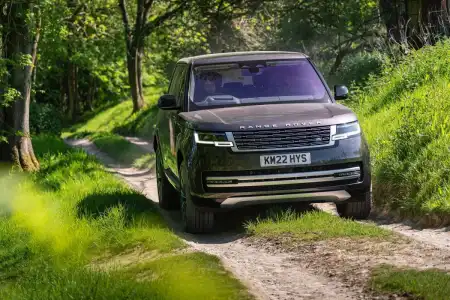 Running Costs
There are no prizes for guessing that the big 4.4-litre V8 P530 engine is the least economical, producing 24.3mpg and releasing 264g/km of CO2.
By comparison, the 3.0-litre petrol manages 29.3mpg (218g/km CO2) while, as expected, the diesels do better, with the 300PS (D300) managing 36.7mpg (202g/km CO2) and the 350PS (D350) measuring in with 35.6mpg (208g/km CO2).
Of course, none of these is close to the plug-in hybrids, with the P510e managing 321.1mpg (20g/km CO2) and the P440e claiming 333.8mpg (19g/km CO2).
Road tax and benefit in kind (BIK) will be expensive for company car users unless you opt for the PHEV versions, while maintenance costs won't be cheap.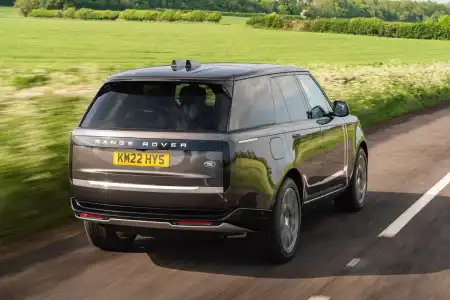 Quality & Reliability
The entire Land Rover range has suffered from a poor reputation for reliability over the years. However, JLR has said it's determined to turn this around. Only time will tell.
The new Range Rover certainly feels well built, but that's not necessarily an indicator of a trouble-free life.
A three-year unlimited mileage warranty comes with all new Range Rovers, extendable up to ten years if you're willing to pay extra.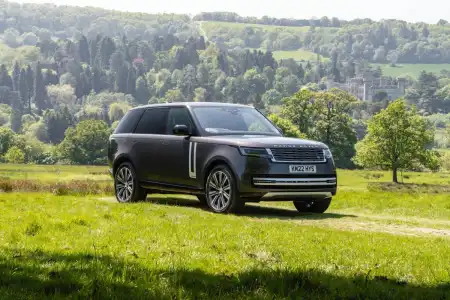 Safety & Security
There is no Euro NCAP safety rating for the new car, but Land Rovers generally score five stars, so there should be no concerns.
You get adaptive cruise control with steering assist, emergency braking, front and rear parking sensors, a 3D surround camera, blind spot assist and driver attention alert. Other kit includes lane-keep assist, traffic sign recognition with adaptive speed limiting, plus a rear traffic and collision monitor.

Summary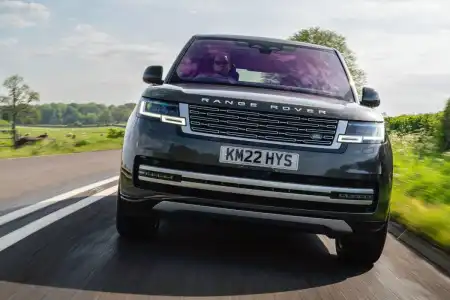 The new Range Rover is a joy to drive.
It doesn't compare with any of its rivals; an Audi Q7 or BMW X5 are excellent, but they're just not Range Rovers. Instead, it's unique, rather like a Rolls-Royce.
In fact, you might need to be looking towards a Rolls-Royce Cullinan to find a more covetable car.
The Range Rover has never been cheap, and it's monumentally expensive nowadays, with the entry-level SE the only model that creeps under six figures if you're buying outright.
It is a significant step up on its predecessor that combines everything great about a car – style, power, drivability, luxury, attention to detail, and build quality.
Hopefully, we can also add reliability to that list, but we'll see.
Nevertheless, this new Range Rover will take some beating.

More On This Car
Need more information?
Request More Information