Pros:
The Juke's all grown up!

The new 1.0 litre petrol engine

More desirable than ever
Cons:
Not all that refined

It's nearly 2020 and manufacturers still struggle with infotainment

Could be more comfortable
More On This Car
Take one for a spin or order a brochure
Request a Nissan Juke brochure
Request a Nissan Juke test drive
Introduction
As the new Nissan Juke proudly takes to the road here in Catalunya, let us take a moment to remember its predecessor. You might love it, you might hate it, but the outgoing Juke is responsible for all the other small crossovers that now run around on our road network. Because, rather remarkably for a somewhat unimpressive machine, the old Juke managed to sell more than 1.5-million units – and everyone else wanted a piece of that action.
On The Road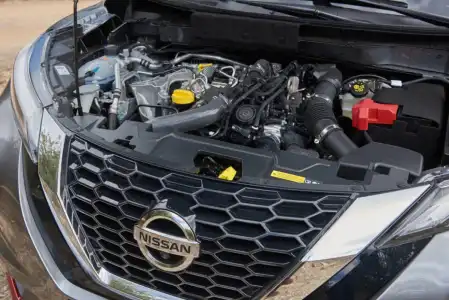 Performance
Read any Nissan literature on the new Juke and you'll find plenty of marketing speak that'll try to convince you of the new car's entertaining driving dynamics. It's not all that sporty, though. There's just one engine for you to pick from for now, and while it's not that exciting, it's a good unit. The 1.0-litre three-cylinder turbo petrol produces 117PS and will help you reach 62mph in 10-and a bit seconds.
Nissan has already told us that there won't be any diesel options offered in the new Juke, but a hybrid is likely to be seen at some point. So, if the three-cylinder isn't doing anything for you right now, then at least you've got something else to look forward to. Can we give you any details on that yet? No. So, for the time being, it's the 1.0-litre or nothing.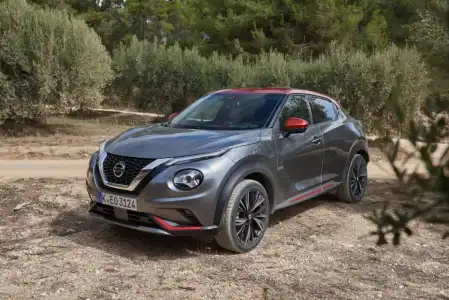 Ride Handling
One of the great frustrations of modern cars is the constant push to be sporty. Not every vehicle has to be athletic and entertaining. When we think about it - really think about it - should a car like a Nissan Juke be sporty anyway?
What the Juke really is, is a small hatchback on stilts. It will never drive as well as its stablemate the Nissan Micra because you can't defy physics. Nevertheless, the new Juke drives well and isn't uncomfortable on the roads we tested it on in and around Barcelona. Those roads are smooth compared with the crumble-like toppings of UK tarmac, so the real test will be back home, particularly as this car comes with 19-inch wheels.
In the corners, the Juke is good, with nice progressive steering and a lack of body roll, which is decent for a car that sits higher up than the hatchbacks. The Juke is built on a new platform, and it certainly performs with more maturity than the last model. Having said that, the outgoing Juke was an old car, so it really should be quite a distance better than that, and it is.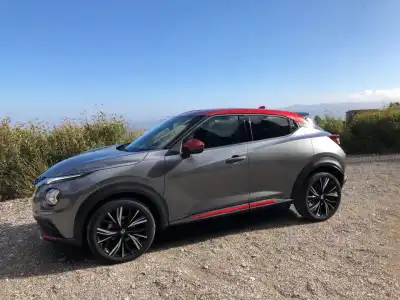 Styling
This is another area where the Juke blows the outgoing car out of the water. Maturity is the word here. The Nissan looks and feels far more of an accomplished product that the last generation of the vehicle, without setting the segment on fire. This part of the market has come on hugely since the early days of the Juke, and more is expected of cars of this class now. Finally, the Juke feels like it is on even competitive ground with some of the latest motors, particularly when it comes to the refinement. Better materials, improved noise insulation and higher levels of comfort are all together here to make a superior overall product.
In The Car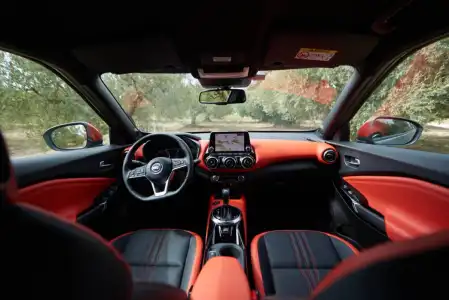 Behind the Wheel
On the outside, the new Juke is far less aggressive with its styling than the old one, so it's less likely to divide opinion like it used to. We happen to think that this is a big step forward. Nobody could accuse the last car of being a looker, but this one is nicely done. However, the biggest step forward is inside.
The cockpit features a minimalist design with the dashboard keeping everything simple and putting as much information as possible in front of the driver. There is an infotainment screen protruding from the top of the dash, but it's smartly integrated, and we're a big fan of the air vents that sit underneath it.
Nissan has made a big effort here - and it shows, particularly with the choice of materials and little touches across the cabin. The chic circular air vents we mentioned make a satisfying clicking noise when opened or closed, there's ambient lighting in the doors, and you can even get Alcantara for the seating. This new Juke has quite a lovely interior, but why can we still not get slick infotainment systems in 2019? Is it too much to ask for a system that looks, feels and runs something like a mid-range phone?
Space & Practicality
Despite selling more than one and a half million of the previous generation of Juke, it was an impractical car with a tiny boot and a lack of passenger space. Nissan would have had to be both deaf and blind to ignore the criticisms of the last car, as practically every critic said the same things about it.
The new Juke has been made more spacious for passengers and belongings, with rear-seat knee room boosted by a fraction under 6cm. There's also more space for your head and a significant increase in boot space to 422-litres – that's 20% better than the last model.
Ownership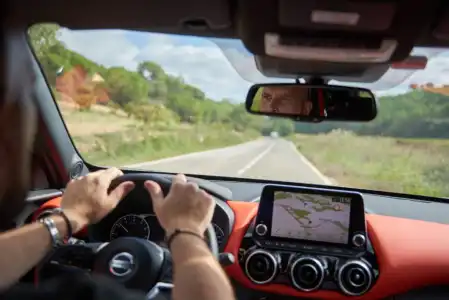 Running Costs
It's not going to cost you all that much to run the new Nissan Juke. Its cylinders are roughly three coke cans in size, and Nissan says that it should be able to deliver you mid-40's in fuel efficiency. Now, that isn't much better than the mpg you'd get from a larger four-cylinder, and that engine would probably come with the extra chunk of clout that this car is lacking in.
There will come a point where that won't matter anymore, though. The powers that be have decided cars are evil, and therefore little engines like this are about the best we can ask for. Emissions testing revealed this 1.0-litre pumps around 112g/km of CO2 into the atmosphere, which isn't that bad - but it's more than some larger diesel engines put out. Diesel is now apparently pure evil, though, so, perhaps it's for the best that we pollute just a little bit more with this smaller, less potent engine.
Traditionally, Nissans haven't cost customers much to look after, and we're expecting more of the same here. That said, large 19-inch alloy wheels will mean more tyre money to put aside, and probably more punctures and alloy wheel repair jobs being carried out, too.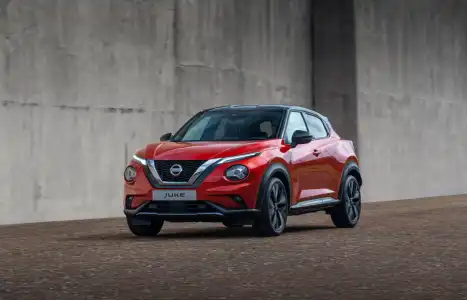 Quality & Reliability
You're not going to find Bentley levels of quality here, however, the Nissan Juke feels lovely to be in. The fresh materials that have been used in the cabin go a long way in making the Juke feel like a product that is cared for. What's more, the Sunderland plant where this car will be made puts out some good cars, as evidenced by the work it has done with other Nissan models over the last few years. Let's hope the Japanese firm decides to stay here in the UK, whatever happens over the next six months or so.
We've no concerns with reliability either, and there's nothing overly complicated about this car or anything that is unproven. The engine is new, but there are tons of these little three-pots out on the market now - and they seem to hold up just fine, by and large.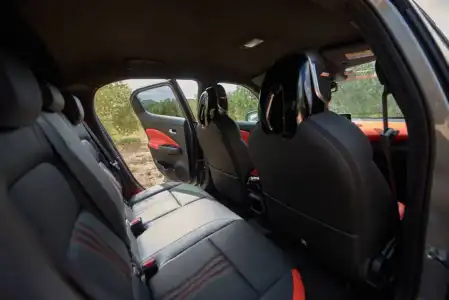 Safety & Security
Nissan is one of the better manufacturers when it comes to offering nice packages full of safety technology. As well as powerful new headlights and a Blind Spot Intervention system, the new Juke also features Intelligent Emergency Braking, Pedestrian and Cyclist Recognition, Intelligent Speed Assistance, a Traffic Sign Recognition system, Intelligent Lane Intervention, Rear Cross Traffic Alert, and Blind Spot Intervention. By writing each word in capitals here, we've done you a favour, too, as Nissan and much of the industry usually abbreviate these technologies.
Technologies like this have the power to save lives. More manufacturers need to make them standard features, and we'll leave it at that.

See the latest used Nissan Juke offers.
More On This Car
Take one for a spin or order a brochure
Request a Nissan Juke brochure
Request a Nissan Juke test drive