From £11,995
Pros:
Vastly improved interior

Very cheap to run and own

Highly customisable
Cons:
No electric rear windows

Uninspiring petrol engines

Tyre roar and wind noise
More On This Car
Take one for a spin or order a brochure
Request a Nissan Micra brochure
Request a Nissan Micra test drive
Introduction
Nissan are back with the latest Micra, a substantial revision to one of the most popular small cars ever built. This all-new Micra embodies the new Nissan design cues that modernise the car and aim to rid the marque of unflattering Micra connotations. Over 3 million Nissan Micras have been sold in Europe since 1983, with around a third of those making their way to our shores. With this latest model, the only thing that remains is the name.
The Micra is available with a 1.0-litre naturally aspirated petrol engine, a 0.9-litre 'TCe' turbo petrol engine and a 1.5-litre dCi diesel engine. The latter two both have 90PS while the former has just 71PS. We drove the 0.9tCe engine, which also exists in the Renault Clio, Twingo and Captur, as well as number of cars in the Dacia range.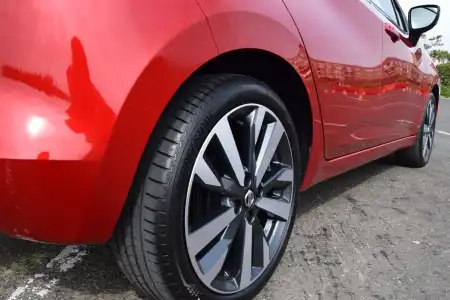 Ride Handling
The car now sits lower and wider than the outgoing model. Meaning it holds the road better, which is certainly noticeable. Through town, the car feels nice and small, so it is easy to navigate amongst traffic. Then when you're out on the B-roads you are filled with confidence as the Micra seems to have a platform that could be adapted into a great hot-hatch, but whether that's in the pipeline, we don't know. The car will grip the tarmac well when thrown into corners and the steering offers a pleasant amount of feedback.
Over tricky surfaces the Micra does reasonably well to dampen down potholes and blemishes but, as you'd expect from a car of this size, you still feel the imperfections quite a bit. No more so than you would in a comparable Ibiza, Swift or Fiesta, though.
On The Road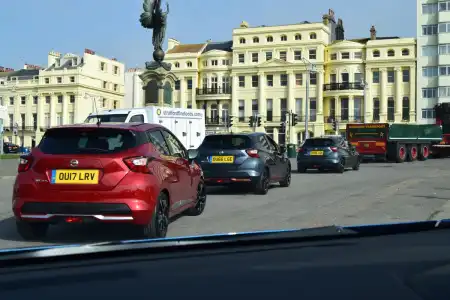 Performance
Performance probably isn't the best place to start with this new Micra, and particularly this 0.9tCe engine. It's not got an awful lot of grunt to offer and after 4,500rpm the engine is just wheezing mercilessly, begging you to change up a gear. If you do want to crack on at a good pace the turbo is quite eager, albeit not that powerful, and you can have a bit of fun stirring the through the gearbox. I daren't think what the lesser powered 1.0litre petrol feels like, though.
You'd be better off going for the 1.5dCi engine, which is just as powerful as the 0.9tCe but has a bit more torque. This will do the 0-60mph dash in a modest but progressive 11.9 seconds. We weren't able to drive the diesel model on the launch, though, which is a shame, but we've tested the 1.5dCi engine in a number of other cars and it's a pleasure to drive and own. This is also the most economical model as it will offer you up to 88 mpg in return - according to the manufacturer.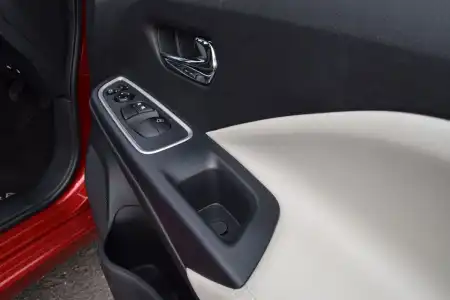 Styling
I was surprised at just how silent the 0.9litre engine was while sitting at motorway speed. For the general population, this would be a real gem for smooth, composed commuting. When accelerating, like most 3 cylinder units, the engine becomes rather vocal, but it's not an unpleasant sound at all really, in fact, it sounds quite excitable. You do notice that while Nissan claims to have put a lot of effort into creating a silent cabin; tyre roar and wind noise is still very pronounced once you're settled at 70mph. This is compounded by the fact that the engine doesn't really muffle out the surroundings, which is an odd catch 22.
In The Car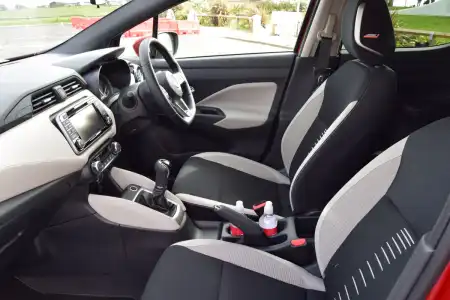 Behind the Wheel
Now, this is where the Micra shines. Typically, we've come to expect functional, plastic interiors from Japanese manufacturers. They tend to just do what you want and not much more. This Micra is a refreshingly good effort at creating a more upmarket cabin. The dashboard is layered with a squidgy padding which is pleasingly coloured and mirrors the trim on the seats. This contrasted colour also exists on the door cards and the padding either side the gear stick. Nissan say there are over 100 colour combinations available for the Nissan Micra, so there is bound to be one that suits your tastes.
I need to be careful not to get carried away, but other than perhaps the Peugeot 208, this might just be the most pleasant and well-designed interior in its class, but that of course is subjective.
I should also mention that the centrally mounted 7 inch touch screen is standard on the Micra, and it's nice and easy to use. It's a shame that Sat-Nav and DAB radio are included as a £700 optional extra package which also adds parking sensors and the rear view camera.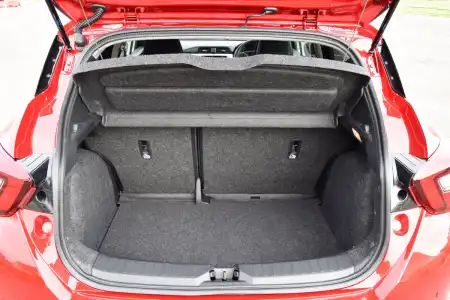 Space & Practicality
In the front of the car you've got ample space for driver and passenger, with the glovebox and door bins big enough for 1.5litre bottles of water, our favourite unit of measurement. Then in the back, Nissan claim to have class leading head and knee room, but I just can't quite see how they came to this conclusion. The small, tinted windows make the car feel rather claustrophobic and I'm just shy of 6 foot, but there wasn't much room to spare for my head. One final peeve in the is that the windows in the rear are operated using a rotating plastic lever thing, haven't seen one of them in a while, and there's no option to spec an electrically operated mechanism - odd.
Boot space is good though, 300 litres, which is 35 litres more than the Swift we tested last week, 10 litres more than the Fiesta and 20 more than the Polo. Not bad at all...
Ownership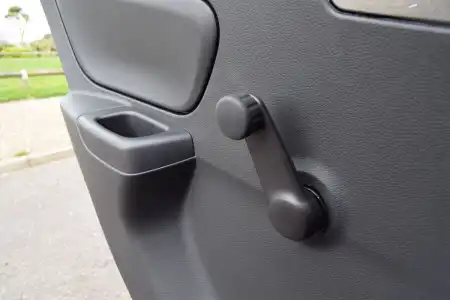 Running Costs
At the very worst, you're going to get 40mpg out of this 0.9tCe engine - that's what I achieved and I wasn't being very nice to it. Treated with care you can expect above 60mpg, with the manufacturer claiming 64.2 as the official combined economy.We'll be under the new VED rates by the time these are on the road, so road tax will be £140 a year despite the Micra emitting just 99 grams of CO2 per kilometre.
Insurance will be a breeze. This class of cars is popular for young buyers and Nissan has brought themselves to the top of the list by making the Micra the cheapest insure out of the whole segment. We'll touch on how they've achieved this in the safety section.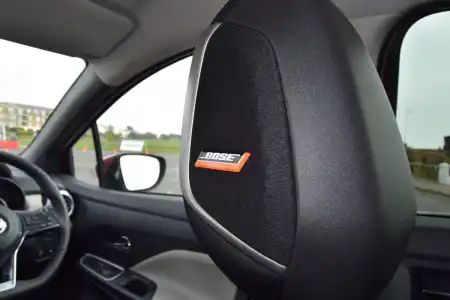 Quality & Reliability
Generally, Nissan have got a pretty sturdy reliability record and this looks to continue with the new Micra, which is still yet to stand the test of time but it is likely to fare well. The quality is a huge improvement, though, and something which must be commended. The interior materials are far superior to those of previous generations and seem to be ahead of the competition.
Top Spec cars include a Bose sound system like no other in its class. Nissan acknowledges that most owners will be on their own while driving their Micras around, whether that's on the commute or on the way to the shops. Accordingly, the driver's headrest houses BOSE surround sound '360-degree' audio which pumps out the audio at an impressive quality. I quite liked this feature, which I can't remember seeing since the early Mazda MX-5s, but it's only standard equipment in the Tekna models which command a steep £17,435 starting price.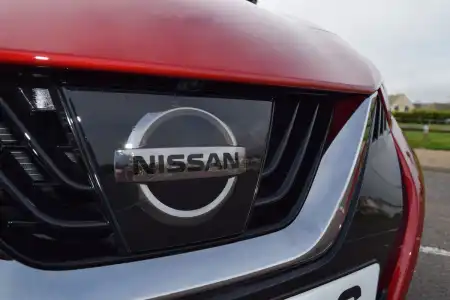 Safety & Security
Nissan has loaded their Micra with safety kit that vastly reduces the insurance group. As mentioned, the Micra will be the easiest to insure in its class due to the intelligent braking system, the intelligent lane intervention, high beam assist and traffic sign recognition systems - all of these are standard across the trim levels. Go for the top-level Tekna and you also get blind spot warning, intelligent around view monitor, rear camera and parking sensors included too. That's plenty of safety kit and more than any other direct competitors are offering.
More On This Car
Take one for a spin or order a brochure
Request a Nissan Micra brochure
Request a Nissan Micra test drive