Pros:
Practical and sensible alternative to an SUV

Surprisingly frugal when cruising and a huge payload and towing capability

Massive tax benefits for company drivers
Cons:
Low speed ride not great

Material lacks premium feel

Engine can be vocal
More On This Car
Take one for a spin or order a brochure
Request a Nissan Navara brochure
Request a Nissan Navara test drive
Introduction
The Navara is one of the best-selling pickup trucks around, so when it came to giving the truck a mid-life refresh, Nissan has chosen not to fiddle too hard with a winning formula. In fact, you'd need more than a quick glance to spot any changes, but they're there.
The wheels that are an inch larger, LED headlights with a gloss-clack inner shell frame the chrome grille, and the rear suspension rides 25mm higher. Study the changes carefully and the Navara looks a little more purposeful, but it doesn't venture far from the tough but trendy design that went before.
Under the skin come many more changes, most designed to improve performance or efficiency, while some technology upgrades in the cabin promise a more car-like experience.
Keen to test the claims that this mildest of facelifts has made a disproportionately big difference, we headed to Iceland to put the new Navara to the test.
On The Road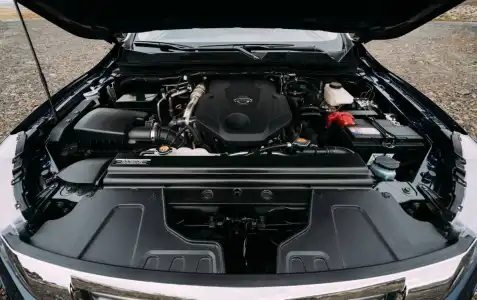 Performance
The previous 2.3-litre turbocharged diesel engine is still in place upfront, but Nissan has spent quite some time improving the motor. To get slightly technical, there's steel pistons and diamond-like coatings, higher pressure fuel injection, new cooling systems, and revised AdBlue and particulate filter installations. While the old version had a single turbo on the lower power model, both now get twin turbos.
The result is the entry-level 163hp engine still has 163hp, but torque has been increased from an already impressive 403Nm to 425Nm. The more powerful 190hp option (the one most buyers will go for) still has the same 190hp, and the same 450Nm as before. If that doesn't sound like progress, you might be right - the 0-62mph dash takes 10.8 seconds in the seven-speed automatic model tested here, which is identical to previous incarnations.
But let's be honest for a moment. Nobody buys a huge truck for performance reasons, and the Navara is right up amongst the best in class. More importantly, while outright speed remains the same, the improvements mean the Navara can now carry a heavier load in the back - as much as 1,180kg, which is 40kg clear of the Mercedes X-Class. Likewise, it'll tow a 3,500kg trailer without breaking a sweat, which is a best in class capability.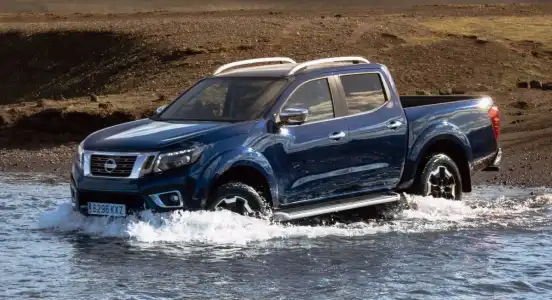 Ride Handling
Nobody would expect a working truck like the Navara to be the last word in handling prowess, but buyers also use vehicles like these as regular family cars so ride quality is increasingly important.
The Navara utilises a five-point multi-link suspension at the back, rather than the more rudimentary leaf springs many of its competitors have, which makes the car feel more settled on tarmac. It rides larger undulations well, smoothly absorbing significant changes in surface height. However, it doesn't seal as well with those constant tiny imperfections in the road, leaving the cabin jostling around slightly. In fairness, it's no worse than any other pickup truck, but those expecting SUV-levels of comfort might be surprised.
Driving the vehicle with 600kg of hay bales in the back transforms the ride to something smoother, but it also obviously impacts performance significantly. That's the compromise you must make when considering a pickup, as the suspension has to cope with a high-speed motorway run as well as carrying a tonne or more of detritus across a muddy field.
As far as muddy fields go, the Navara feels unstoppable. Previous experience on boggy Yorkshire ground showed the car will tackle almost anything, while this recent Icelandic experience demonstrated that it'll cope with seriously tough punishment from uncompromising terrain. Switchable from rear-wheel to four-wheel drive, and with a dedicated low-range option, it'll take a lot to stop the Nissan.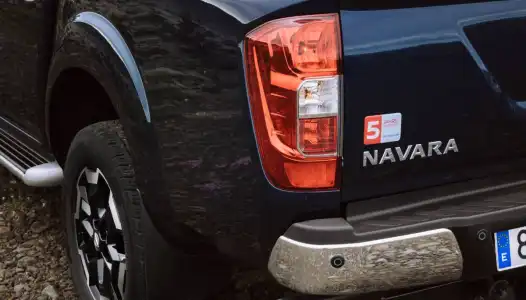 Styling
Despite the changes to the engine, Nissan hasn't managed to isolate the rather agricultural engine note or the significant diesel clatter that vibrates through the car at idle. In fairness though, it settles down at speed and is quiet enough not to require either turning up the stereo or having to shout at your passenger.
Progress is smooth enough too, thanks to a reasonably slick seven-speed automatic gearbox. However, those opting for the six-speed manual will see the biggest change from the outgoing model - a new gearbox has been fitted to the Navara, and it's so much better than before. Car-like is a stretch perhaps, but it's as smooth and light as any SUV.
What isn't quite SUV-like is the interior. Material quality is a step down from the norm, looking hard and shiny. It's best described as hard-wearing, which suits the commercial possibilities of the Navara well, but might not impress your neighbours quite so much. It's well built though, and free from rattles or squeaks despite some serious abuse on the volcanic rocks of Iceland.
In The Car
Behind the Wheel
The biggest change inside is the switch from a seven-inch infotainment system to a slightly larger eight-inch system. However, as well as a larger screen there's a more powerful processor and some software updates. The result is that, while the Navara's system isn't up with the best in the industry, it's no longer frustratingly poor. The inclusion of Android Auto and Apple CarPlay means you can even bypass the system entirely and mirror your own smartphone, but you might find the presence of just one single USB port in the car a limiting factor.
The rest of the cabin is fairly conventional, with traditional twin dials in the instrument binnacle surrounded by fake chrome rings, and a centre stack that has physical controls for the heating and ventilation. That's surrounded by piano black plastic trim, lending the car a slightly more upmarket ambience, at the expense of a darker, gloomier interior.
Each seat on this Tekna model is covered in a lovely leather, and each is heated. There's a lengthy list of other equipment too, but even the lower Acenta models come wanting for very little.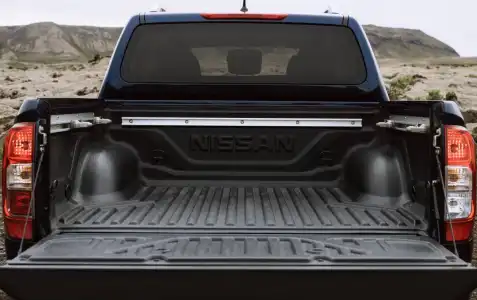 Space & Practicality
If there's one area the Navara must excel in, it's here. Fortunately, that load bay at the back can carry a class-leading 1,180kg payload, while there are enough hooks, slats and ridges to make handling materials easy.
Inside the cabin, there's a spacious rear bench seat, that will allow two adults to sit in comfort, with more than enough leg, shoulder and head room. Three could fit for a short journey, but you'd need to be good friends.
Front passengers get the best deal, with an airy and spacious area to sit in. The obviously high seating position adds to the sense of space, while there's plenty of space for storage of phones, cables, bottles of water and so on.
Ownership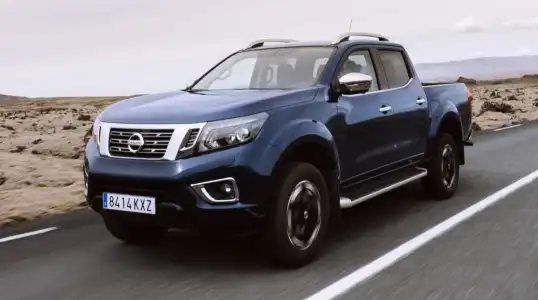 Running Costs
A vehicle weighing north of two tonnes will never produce the best economy, but the 2.3-litre twin-turbo diesel engine in the Navara promises just over 40mpg. On a cruise, that's probably just about achievable, but put the big Nissan to work and that could halve.
Emissions of 195g/km sound high but, thanks to the Navara technically being a commercial vehicle, car tax is at the fixed rate of £260. For business users, that also translates to a fixed Benefit in Kind rate that offers some serious financial savings over a similar SUV. An employee paying income tax at 20% will face a company car tax bill of just £686 a year, or less than £60 a month.
Servicing is required just once every two years, or at 25,000 miles, which could help to keep maintenance costs low, too. Even then, fixed price servicing is available from Nissan service centres.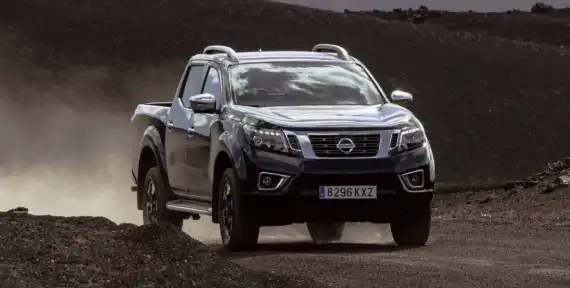 Quality & Reliability
A rugged vehicle like the Navara should stand up to most punishment, and anecdotal evidence suggests it'll be rock solid for years. The engine has seen service in hundreds of thousands of Renault and Nissan vehicles without major issues. Nissan's 11th place finish in the Auto Express Driver Power survey is a reasonable result, although that will be measured mostly on the brand's everyday cars.
Likewise, while the JD Power Vehicle Dependability Study placed Nissan in an impressive fourth place, that's representative of the regular cars and SUVs. Still, the Spanish-built Navara is clearly from good stock.
That's demonstrated by the inclusion of a five-year warranty, even where the vehicle has been used for commercial purposes. A 100,000-mile limit will also be enough for all but the most enthusiastic owner.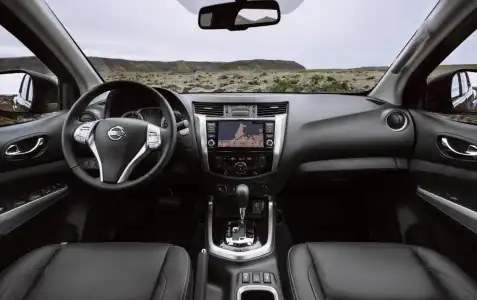 Safety & Security
Crash safety testing by EuroNCAP at the Navara's launch in 2015 resulted in a decent four-star result, which was as good as pickups got then. That score has since been surpassed by the Mercedes X-Class, a truck that shares much with the Navara, but the Nissan was still praised for its strong front passenger and pedestrian protection.
Other notable new features for this year's model include Trailer Sway Assist that anticipates a trailer swaying around and making minute corrections in individual wheel braking to bring the vehicle and trailer back under control. Automatic emergency braking, hill start assist, hill descent control and a 360-degree camera system are also fitted. However, no models are specified with Nissan's Pro-Pilot system that brings together adaptive cruise control and lane-keeping assist.
More On This Car
Take one for a spin or order a brochure
Request a Nissan Navara brochure
Request a Nissan Navara test drive