Pros:
Spacious

Low running costs

Decent to drive
Cons:
Expensive to buy

Rivals have better interiors

Competitors are even more practical
Secure your test drive today
Request a Nissan Qashqai test drive
Introduction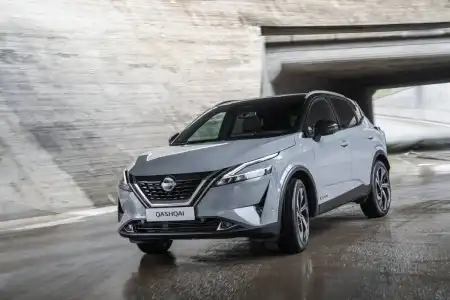 If we told you that a manufacturer was skipping plug-in hybrids in this day and age, you'd probably be flabbergasted.
But that's what Nissan is doing. The automaker says drivers pay the premium for them, enjoy the lower taxation, but generally don't bother plugging them in.
So now it's launched the e-Power.
And what makes the e-Power unique is that it's, theoretically, an all-electric car - but with a petrol engine. And if you're now wondering how that's not a contradiction, then let us explain.
The car is, at all times, driven along by just an electric motor. But what's keeping the batteries of the electric motor charged up is a 1.5-litre three-cylinder petrol engine which doesn't, at any point, drive the wheels.
Effectively, it's a petrol generator that keeps the electric motor powered. And Nissan believes it's the ideal 'half-way house' – an all-electric car for people who don't want to keep plugging them in.
If that doesn't meet your definition of an electric car, you could equally argue it's a self-charging hybrid, but it isn't by any conventional use of the term.
What we can be sure of is that Nissan launching an alternative is a good thing, as its traditional mild-hybrid Qashqais have felt underpowered and restrained.
This one is very different.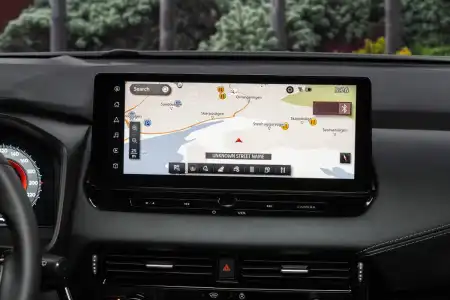 On the outside, the Qashqai retains looks that won't be to everyone's liking. But it appears more upmarket than ever, keeping its v-shaped front grille, which is black on the e-Power version, and also getting razor-thin headlights.
Besides the black grille and some e-Power badging, there's little to differentiate it from the standard Qashqai.
On the inside, the vehicle has had a makeover compared with its predecessor, sporting a much posher design and vastly improved quality.
While it still lacks the luxuriousness of more premium rivals, it's nevertheless a big step forward, with bits of silver trim garnishing part of the doors, steering wheel, centre console and dashboard.
The 12.3-inch infotainment screen, which only features on the higher-trimmed conventional engined versions, is clear and relatively easy to use. However, some rivals still have better systems which are sharper and more responsive.
Nissan has resisted the urge to entomb all the controls within the touchscreen, so there are still plenty of physical dials and buttons, which makes things easier.
On The Road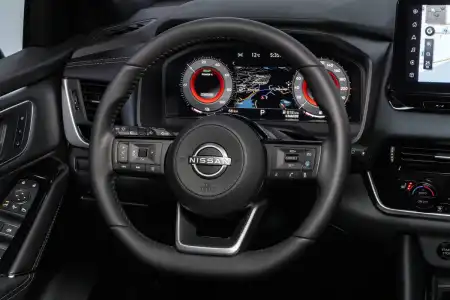 Handling & Performance
The electric motor produces 190PS, a 32PS increase over the current top-of-the-range Qashqai.
Although it's only for short distances, the motor can operate without the engine for that authentic all-electric experience. But when the engine is on, it's barely noticeable as it's fitted with an anti-noise system which limits the sound as much as possible.
Acceleration is smooth, and 0-62mph is dealt with in 7.9-seconds, which isn't lightning-bolt quick but perfectly adequate for the sort of car the Qashqai is. However, the power delivery doesn't feel as instantaneous as most electric cars.
Despite weighing around 200kg more than the standard Qashqai, it doesn't seem to affect the handling much. This will come as pleasing news to Qashqai fans, who are no doubt delighted by the latest generation's much-improved agility – and a relief to know the extra weight hasn't spoiled it.
Although the Qashqai has never been the most exciting car to drive, the new one is a big step forward, with keener handling and cornering ability.
It has very absorbing suspension, too, smoothing out potholes in the road. However, the ride can feel slightly unsettled at times, and the steering is too light to have fun in the bends.
Nevertheless, as a comfortable cruiser or an around-town runabout, it serves its purpose very well.
There are three driving settings – Eco, Normal and Sport. But they make little difference to the overall behaviour of the car in terms of acceleration and steering response.
The e-Power also features Nissan's E-Pedal – the regenerative braking system which enables one-pedal driving. It is powerful and takes some getting used to, but at least it's consistent.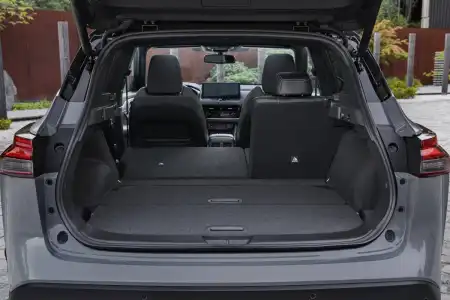 Space & Practicality
There is decent space up front to find a comfortable driving position in the Qashqai, with absorbing seats, helped by the adjustable lumbar support. Even taller drivers won't grapple for leg or headroom, and the car provides a slightly raised seating position.
It is a similar story in the back, too, which has ample leg room, while it's easy to get in and out of. Three adults in the back might not be hugely relaxing on long journeys, but it's certainly doable.
The visibility out of the front and rear isn't bad, although the pillars obstruct your view a bit, especially at the back, where they're pretty thick. This is due to the sloping roofline, which angles the rear pillars somewhat.
There are decent-sized door bins and plenty of other storage spaces inside the cabin. Meanwhile, boot space is 504 litres, expanding to 1,447 with the rear seats folded down.
No cargo capacity is lost as a result of the additional electric motor, which is quite a rare feat.

Ownership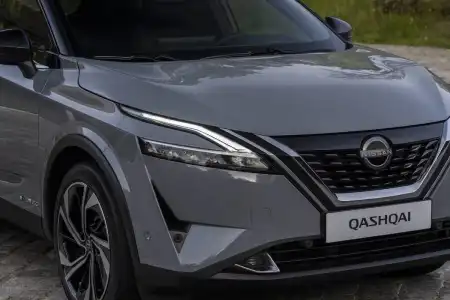 Running Costs
Whether you consider the Qashqai e-Power to be economical depends on what angle you're looking at it from.
Nissan claims the e-Power will do 52.3 to 53.3mpg, which is impressive when you factor in the 1.5-litre petrol engine under the bonnet.
On the other hand, plug-in hybrids typically manage well over 200mpg, so, by that measurement, it's not incredibly economical.
It is roughly on a par with what you'd expect in a self-charging hybrid, but it beats the rest of the Qashqai range by some margin.
Speaking of range, it can do one to two miles of all-electric driving with the engine turned off. But we didn't get anywhere near that – the engine fires itself up when needed, which is most of the time.
It produces just 119g/km of CO2, which is notable. However, its appeal to company car drivers will still be limited given the extent of the savings offered for plug-in hybrids and all-electric zero-emission vehicles.
Verdict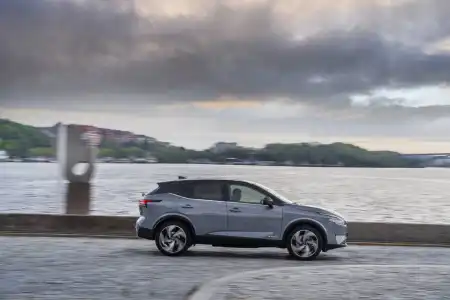 The e-Power is innovative, different, but also very impressive.
Its engine is quiet and barely noticeable, while it gives the Qashqai the power that the rest of the range lacks.
It is also decent to drive, which compliments the increased grunt of the e-Power nicely. And its practicality, along with the improved interior of the latest generation of Qashqais, will only draw more admirers.

Secure your test drive today
Request a Nissan Qashqai test drive