Pros:
Very nice interior and exterior

Generous equipment list

Great driver assistance and safety
Cons:
The boot is tiny

Some rivals are more comfy

Will it be taken credibly?
Secure your test drive today
Request a Gwm ora Funky cat test drive
Introduction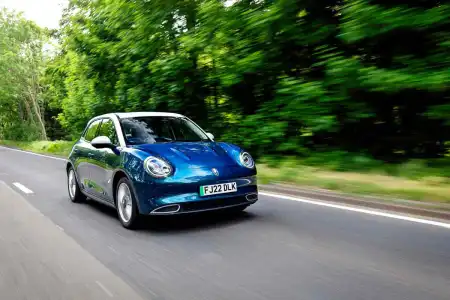 Your first impression is probably like ours: any car called the Funky Cat cannot be taken seriously.
But let's not be hasty – as everything about this car suggests it could be the exception.
Great Wall Motors might be a company you've never heard of. Still, it's been in business for nearly 40 years. And although it mainly makes SUVs under several brand names, it's produced several feline-themed all-electric cars under its ORA marque.
The Funky Cat is the only one heading to Great Britain – and, believe it or not, it looks fantastic.
For now, there's one trim, called 'First Edition', but this will be a limited supply before it's replaced, likely with three new grades called Pro, Pro+ and GT.
The edition on sale now comes with 18-inch alloys, a 10.25-inch infotainment screen with Apple CarPlay, Android Auto and SatNav, and a 10.25-inch digital instrument cluster. It also gets LED headlights, a wireless charger, leatherette seats, keyless entry and start, plus electric front seats.
ORA is taking orders on its website and setting up shop within several UK dealerships.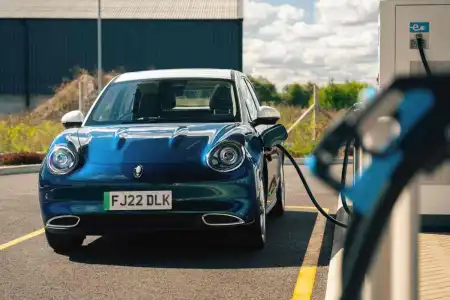 The front, with its slightly oval headlights, looks like it's taken inspiration from a Porsche, creating two humps which are synonymous with the German brand.
There is a small grille running along the bottom, with silver-surround air intakes. And, at the sides, it's profiled in a similar way to a Mini.
A unique feature at the rear sees the brake lights, indicators and a horizontal light bar buried into the black periphery of the back window.
The Funky Cat also has a relatively large bottom, which gives the rear end a diagonal shape when viewed from the sides.
It is trendy with family-friendly inviting looks and bags of personality. And it's a similar story inside, where you'll find a fashionable, well-designed cabin.
Our test car features a dual-coloured interior, with the top half of the dashboard, steering wheel and seats covered in dark blue and the rest in creamy white.
The infotainment touchscreen is accommodated next to the same-sized digital instrument cluster in a single unit, which looks like one vast tablet bolted onto the dashboard.
The system surprised us with its responsiveness and the clarity of the display, with a vivid use of colours providing a welcome break from the toned-down designs offered by some opponents.
It is simple to use, and most of the text is large enough to see without taking your eyes off the road for too long, although some buttons on the screen could be a bit larger.
Even the switches look well-designed, while silver trim is scattered about the interior, including on the attractive centre console, which features a silver rotary dial.
There are also physical switches for the climate control, which adds to the convenience.

On The Road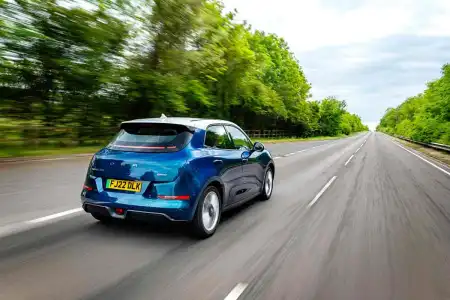 Handling & Performance
The electric motor in the Funky Cat drives the front wheels with 171PS, enough for a 0-62mph time of 8.3-seconds and a limited top speed of 99mph.
Powering off the line generates a dash of wheel spin, especially in damp conditions. However, if you're careful, it feels like there's plenty of clout on tap, even though it lacks the ferocity of a performance motor.
There is a good deal of acceleration at all speeds, too, and although wind noise is noticeable at motorway speeds, it isn't a deal breaker.
The suspension is firm compared with its foes, although most electric cars have stiffer setups. But it's by no means uncomfortable, and it limits body roll in the corners, which helps with the handling.
It is no hot-hatch going around a bend, but it feels settled, and the steering precision is on key.
The wheel doesn't weight up very much, but you can adjust this within the car's settings via the infotainment screen.
You can also put some charge back into the batteries under deceleration by turning on the regenerative braking system. But, although the hatchback slows down to a crawl, it won't come to a stop unless you push the brake pedal.
Overall, the Funky Cat is engaging to drive without being mind-bogglingly exciting, but it's enough for it to be a viable rival to competitors.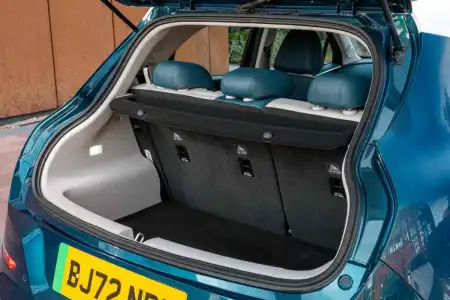 Space & Practicality
There is a heap of space in the front, and the cabin feels wide for a small car, so drivers should have no problem making themselves comfortable.
There is a bountiful amount of rear legroom for a small car, much more than in the Mini Electric, with only a combination of a tall driver and tall rear-seat passenger causing any problems.
Loftier passengers will find the rear headroom a bit limited, though, while the seating position in the back isn't the best as the floor is quite high, hampering under-thigh support.
The Funky Cat gets 228 litres of boot space, slightly more than some of its competition but significantly less than the 385-litre Volkswagen ID.3. So there's a price to pay for the generous rear legroom, plus the boot lip is quite large.
You get 858 litres with the rear seats folded down.

Ownership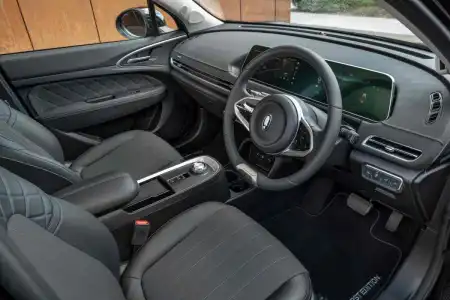 Running Costs
Thanks to its zero emissions, ongoing running costs will be very cheap as you'll pay no road tax until 2025.
It also makes it very attractive to company car drivers, as it's in the bottom band for Benefit In Kind tax.
Servicing only needs to occur every two years. But it will need a check-up every 18,000 miles, so longer-distance drivers may find they need a service more often in practice.
The ORA Funky Cat comes with a 48kWh battery with a claimed 193-mile range, which is significantly more than the Mini Electric. Although the Renault Zoe E-Tech and Vauxhall e-Corsa can do well over 200 miles.
It charges up at a speed of 64kW, taking around 45 minutes to get from 10 to 80%, while a home wall box will do the same at a 6.6kW charging rate in approximately seven hours.
Reliability could be a concern, with ORA being new to the United Kingdom's auto market. But it's backed up by a five-year warranty with no mileage limit, with the batteries covered by a separate eight-year warranty limited to 100,000 miles.

Verdict
Overall, we're impressed by the ORA Funky Cat.
The unknown reliability is a concern, but ORA backs it up with a generous warranty that exceeds most of its challengers. At the same time, it's very well-equipped with a substantial dollop of safety and driver assistance systems.
The Cat looks the part, too, with an interior as stylish as you could ask for. And although the Chinese EV isn't the most practical in terms of boot space, it has a range that competes well.
It is obedient when driven and, despite not having lightning levels of pace, it's all you need in a small electric family car.
While our initial expectations were low, we never thought they'd be exceeded by such a huge margin.

Secure your test drive today
Request a Gwm ora Funky cat test drive