From £28,335
Pros:
Very easy to live with

Joyous 1.6litre engine

Much improved touch screen
Cons:
Underpowered compared to some competitors

Gearbox is a little too numb

Doesn't feel as fast as it is
Buy and save on quality approved and used cars
Introduction
Have you seen Civic Type R? You'll know if you have, it's impossible to miss thanks to copious amounts of aero and an outrageous rear wing. To a lesser extent, the same is true of Focus ST, and the Megane RS (which is no longer in production.) Hot-hatches have gotten very loud in their appearance, and even louder in their exhaust note. Not the 308, though. Here comes a sensible looking GTi that can slip by unnoticed, if you skip the two tone paintwork, but has this lion been given too many sedatives? We found out on-track at the Ascari race resort in Spain...
On The Road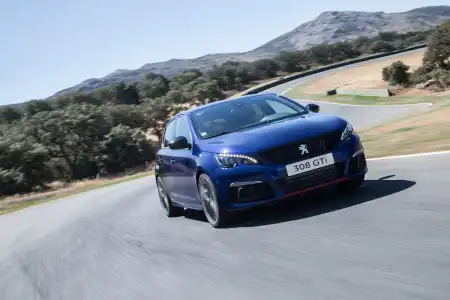 Performance
With the previous 308 GTi, which was as-good-as mechanically identical to this one, you could get two levels of power output, 250 horsepower or 270. Not anymore. Peugeot have ditched the 250, which makes sense considering pretty much everyone buys their car through some form of payment plan, and nobody has ever said: 'oh look, I could save myself about £13 a month if I pick a slower one - and it doesn't have a diff either, so it will drive worse, what a saving!'
So you're left with a highly strung 1.6litre turbo-petrol engine which pushes out a lovely 270 horsepower through the front wheels, with a Torsen limited-slip differential spinning around in between.
Torque figures look good as they often do with turbocharged cars, so you're gifted 243 lbs/ft of whooshing power to blow you from corner to corner, meaning you don't have to stir the gearbox too proactively. The turbo does suffer from some lag if you aren't in the mood for dropping gears, but the car regains its momentum up quick enough.
All in all, an enthusiastic engine with plenty of power and eagerness but also friendly enough for when you just want to get to your destination in a civilised manner.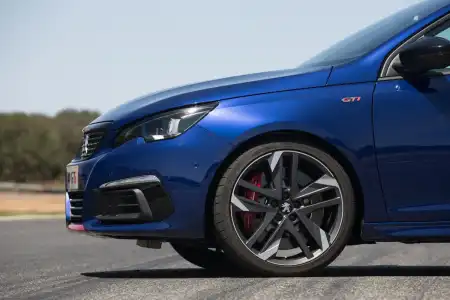 Ride Handling
If you're going to be buying a brand new 308 GTi exclusively for track use then you're part of a very, very small section of the market - and you'd be better off looking at something like the Type R. If, however, you fancy a hot-hatch that is comfortable Monday to Friday but can transform into a little riot on the weekend, the 308 is a great shout. The suspension is nice and forgiving, without being wallowy, while the steering is precise and predictable, although it could do with offering a touch more feedback through the wheel.
The 19 inch wheels don't turn your spine into dust, which is always a bonus. It feels as though PeugeotSport are trying to sneak through the back door of the hot-hatch segment by purposely not trying to compete with the stiffer, more aggressive competitors and instead just mastering and exploiting their fantastic chassis. This 308 is dampened enough to balance the duties between fast driving and comfort driving far better than any others on the market.
In truth, the 308 GTi composes itself really well on track - perhaps a little too well. Even when driven hard the 308 remains under control and doesn't fully engage the occasion as intensely as competitors do, however this is also a reason to choose the 308... if you're daily driving scarcely involves a spell on a race circuit.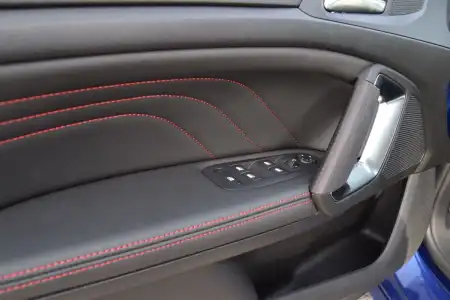 Styling
The exhaust note of the 308 GTi certainly likes to make itself known, but its aurally pleasurable and not at all raucous. Pops and bangs are simply too crass for a hot-hatch with this level of maturity.
As mentioned, the suspension and tyres do a good job of taking the bumps out of the road which means the 308 GTi is probably the most comfortable hot-hatch to drive and own on a daily basis. Inside, the cabin feels really well screwed together and the interior feels pleasingly premium. This i-cockpit seems to be going down really well with consumers and motoring journalists alike.
Tyre roar and wind noise are still present but nothing worth complaining about whatsoever.
In The Car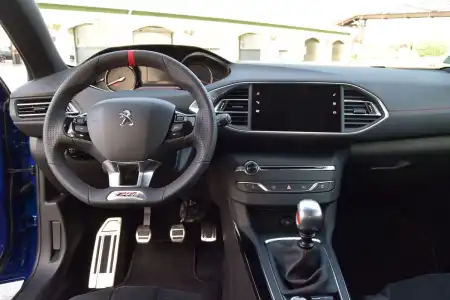 Behind the Wheel
The 308 GTi uses the i-cockpit cabin which exists in pretty much every Peugeot model now. This means you get a small leather-wrapped wheel which sits lower down than usual so you look over the brim of the wheel to read the dials - which are set slightly further up the dashboard. The idea is your elbows are tucked into your sides meaning the driver feels more in control and this position is less tiring, apparently. This abnormal seating position takes a bit of getting used to but in a performance car like the 308 GTi it really is a stroke of genius. You immediately feel more involved with the drive and more confident in the bends.
In the centre console you've got a lovely touch screen headunit which is pleasantly responsive and does a good job of evading fingerprints. The screen is easier on the eye and pretty much every finger-tap registers.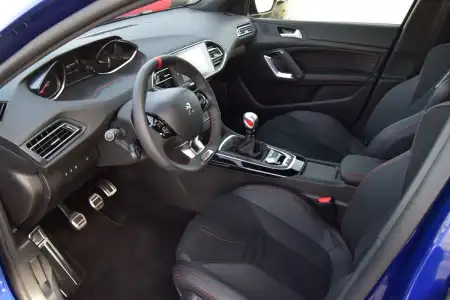 Space & Practicality
The 308 prides itself as a solid all-rounder. All 5 seats are perfectly useable for adults and, although the bucket seats of the GTi eat a bit of leg room away in the rear, the back row is still fit for purpose. Headroom will be fine for anyone under 6 foot 8 - so most people.
Boot space is capacious. A massive 470 litres is well ahead of the VW Golf (380 litres) and the Ford Focus (316 litres) so owners will have very few complaints about loading capacity.
Ownership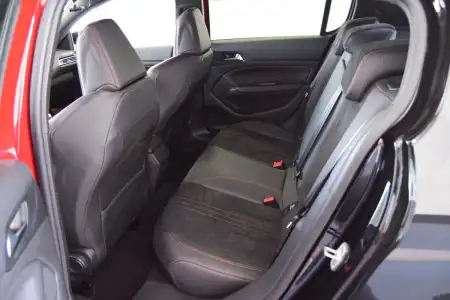 Running Costs
Remember the days when performance cars would rarely break through the 30mpg mark? Thankfully, those days are well behind us in the hot-hatch market. This 308 GTi is going to return just under 50mpg when being orchestrated by a sensible right-foot. This will require superhuman levels of restraint though, because this car is constantly encouraging you to get your skates on.
Interestingly, only 139g/km of CO2 are emitted, which is as impressive as the rest of the Peugeot lineup (including their diesel engines) when it comes to keeping the environmental impact low. This no longer has any reflection on the tax rates of course, but it will certainly help the car stand out to business users.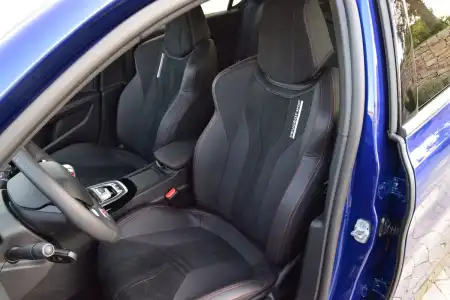 Quality & Reliability
I've said it before and I'll say it again; along with Volvo, Peugeot are my 'most-improved' manufacturer over the last 5 years. The 3008 is best in class, the 208 GTi offers more smiles than any other small-hot-hatch and this 308 hits all the right notes too. The material selection and interior design is lightyears ahead of where the company was 10 years ago, their engines are all award winning and well thought through for the Bbritish market.
I've sang my praises to whichever boffin came up with the 'i-cockpit' because it really works. My advice for anyone in the market is to get down to your local dealership and take one for a test drive - you won't regret it.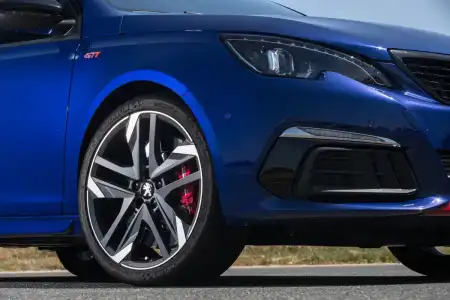 Safety & Security
You've now got the option to slap a £500 safety pack onto your 308 GTi, which is an offer posing real value for money. In this pack you're looking at adaptive cruise control, autonomous braking and lane keep assist. Yes - it would have been nice if these were standard, but they're not, and at least you aren't paying well over the odds for it.
Elsewhere, you're getting a 5 star NCAP safety rating thanks to comprehensive airbags and a strong chassis. No safety concerns.
Buy and save on quality approved and used cars