From £73,509
Pros:
All-round excellence

Surprisingly practical

Sublime drive
Cons:
Rather ubiquitous

Not exactly cheap

New engines are on the way…
Buy and save on quality approved and used cars
Introduction
The Porsche 911 is the world's best selling top-level sports car, by far. For very good reason - in many ways, it's the world's best top-level sports car, full stop. Porsche sells tens of thousands every year and if you're in the market for a high-performance coupe, it simply has to be on your shortlist. You'd be doing incomplete buying research if it wasn't.
It was first introduced back in 1964, as a rear-engine, rear-wheel drive sports car to help push Porsche upmarket. Handling of those early cars could be tricky in the wrong hands but it's long since lost a reputation for biting on the limit – even Jeremy Clarkson is now a convert.
For years, Porsche continued with the same basic air-cooled design, only launching an all-new 911 with air-cooled engines in 1998. This car was codenamed 996: the 997 followed in the 2000s and, in 2011, the current 991-series 911 was launched. Available in coupe, convertible and Targa guise, it's a thoroughly modern 911 that still retains the spirit of the original. No wonder rivals still can't touch it…
On The Road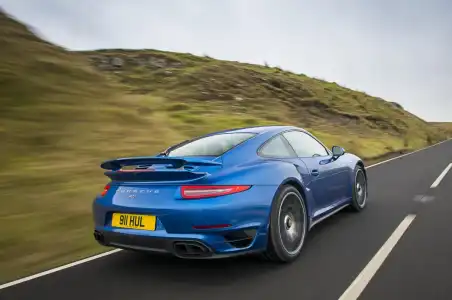 Performance
The Porsche 911 offers a broad range of engines for a supposed specialist sports car, ranging from 350hp to more than half that power again. Even the standard 911 Carrera can do 0-62mph in 4.8 seconds and reach a top speed of 179mph: the simple addition of a PDK dual-clutch gearbox cuts this to as little as 4.4 seconds, which illustrates the level of performance we're talking about here.
There are three core model lines of 911: Carrera, Turbo and GT3. You can have the Carrera as a rear-drive car or the four-wheel drive Carrera 4, plus as a standard 3.4-litre, a 400hp 3.8-litre Carrera S and a 430hp Carrera GTS. The Turbo comes in standard 520hp and 560hpo Turbo S guise; the latter does 0-62mph in just 3.1 seconds.
Then there's the racecar-like GT3, in regular 475hp guise or even faster and rawer 500hp GT3 RS form. This really is a track car for the road, with intense and thrilling manners plus all the sound effects and sensations that make it a genuine Porsche. In contrast, the Turbo 911s are more sophisticated and urbane, but ferociously powerful and, thanks to four-wheel drive and the 911's relatively compact nature, among the world's fastest cross-country cars.
Most 911s are the more accessible Carrera cars though. Their non-turbo flat-six engines sound wonderful, have creamy performance and are genuinely satisfying to use. Any 911 is plenty fast enough for most and the engagement you get from such commanding performance is deeply rewarding. There's a reason why people buy 911 after 911, and engine performance from the rear-mounted powerplants is a big part of it.
A word on gearboxes: there are two options, either a manual or PDK twin-clutch automatic – and, unusually, both have seven speeds. The manual has an extra plane next to fifth for selecting the long-striding seventh. Ever-growing numbers choose the optional PDK to do the work for them – and, as it's an absolutely brilliant gearbox with ultra-fast shifts and a totally seamless nature, we really don't blame them.
There's just the one proviso with performance: Porsche is soon to phase out the 'regular' Carrera engines, and replace them with turbocharged motors. Hard to believe, but an even stronger-performing 911 range may be on the horizon…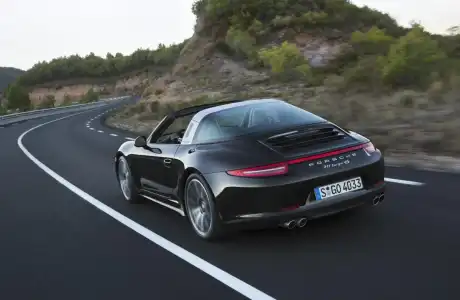 Ride Handling
All modern Porsche 911s handle brilliantly. The rear-engine layout has been perfected to give brilliant traction, particularly away from the line, but with none of the drama in extremis that period models suffered.
Traces of the characteristic 911 bobbing nose and light front end remain, but it's generally thoroughly reassuring in the confidence it gives you; it's not an intimidating sports-supercar, unlike some, and feels like it's always on your side. The grippy, four-square four-wheel drive models are particularly reassuring in this respect (this is why you can only get the monstrously powerful Turbos as four-wheel drive versions…).
The one area some enthusiasts quibble slightly is the steering, because Porsche now uses an electric power assistance setup that does trade some of the engagement you got with older cars for a more efficient, more precise setup. It was a slight disappointment in early cars but Porsche has now perfected it and the precision and satisfying feel from the steering is reassuring.
Ride quality? Firm, sure, particularly with ultra-large alloy wheels, but generally acceptable. At speed on undulating surfaces, it remains brilliantly in control and, with time, you learn the initial firmness is only on the surface. It rides much better htan you first think.
Styling
You may not look to a high-performance sports car for good levels of refinement but Porsche knows the 911 is so good, most owners use it as a daily driver for everyday trips as well as weekend blasts. So refinement is a priority – and the 911 delivers.
Having the engine mounted out back helps keep engine noise at bay (what comes into the cabin is the right sort of flat-six growl, and it's wonderful) while good noise insulation mean road and wind noise are not intrusive.
It's not quite as refined as an executive car, of course, but it's not far off and the Turbo models in particular are very relaxing high-speed cruisers. Again, in terms of refinement, the 911 is probably better than any rival.
In The Car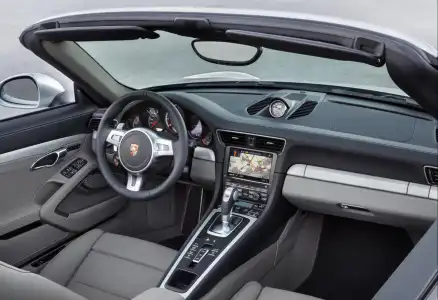 Behind the Wheel
Since the 1960s, Porsche 911s have had an iconic five-dial instrument layout. This remains in the current cars, with the rev counter large and prominent in the centre, and lots of auxiliary dials spread around it. In the latest cars though, there's an additional modern touch – a multi-configurable colour display screen, that can show sat nav directions, trip computer info, even audio track listings. It's just about perfect.
The rest of the interior is as high quality as you'd expect of a car wearing the Porsche badge. It's more complex and saloon car-like than it was – the centre console is modeled on the Panamera luxury four-door – but this upmarket lift suits the 911's growing status and, besides, its low seats, perfect control placement and sporty driving position still feel purposeful.
Another sports car rarity is another long-standing 911 tradition: excellent visibility. It's easy to see out and place on the road, and the fact it's a bit more compact than rivals also helps the feeling of agility. Indeed, the only grumble you may have inside is the amount of money you have to spend on optional extras – it's well equipped as standard but there are still plenty of essential must-haves that you have to pay extra for…
Space & Practicality
The 911 is also one of the more practical performance sports cars on the road. OK, there's no boot at the back, because that's where the engine lives, but the alternative front trunk (accessed by lifting up the 'bonnet') is deep and practical. It's certainly both big and easily accessible enough for weekend trips and a decent weekly shop.
Another key USP of the 911 is the fact it has four seats. Not four adult-sized seats, but the rear pews are still perfectly accessible for children – and, if they're desperate for a lift back, adults seeking short hops on the way back from the pub.
The very single fact 911s do have four seats is the reason why some buyers choose them over any other sports car. If you have a growing family, it's a perfect solution. The rear seat backs also fold down to create a flat additional load space so you can pack even more luggage in.
Ownership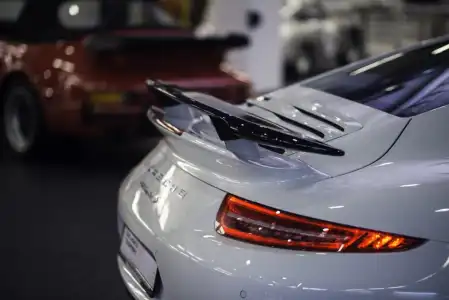 Running Costs
All Porsche 911s are disarmingly fuel efficient, both according to official fuel consumption figures and in real-world use. The fact both manual and PDK twin-clutch automatics have a seven-speed gearbox helps here; left to its own devices, the PDK will select as tall a ratio as possible as quickly as possible, totally imperceptibly. The effect on fuel range is striking.
This means that using a 911 even on a daily basis won't be quite as expensive a proposition as you may imagine. Yes, servicing can be pricier, but Porsche has extended intervals, and peerless reliability means it won't break down or go expensively wrong – such confidence is rare for a performance car.
Porsche 911s are also much in demand so retained values remain high, even for those that have been used a bit more than the norm (the market knows 911s can take high mileages, that many people take advantage of this and doesn't punish prices for it).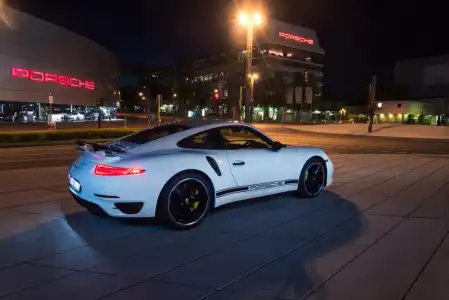 Quality & Reliability
The 911 feels like a genuine premium car. Fit and finish is impeccable, particularly exterior panel fit and paint quality. A 911 is a pleasure to behold and certainly a treat for the hand car wash people; we'd do it ourselves, simply to enjoy the paint finish and tight panel fit.
This carries through to the inside where the press of every button and tweak of every dial feels upmarket, a cut above the mainstream. As Porsche has the reliability record to back it up, it means you have no doubts as to the substance of the 911.
All those endurance race victories have certainly helped create the necessary longevity that the 911 now thrives upon.
Safety & Security
As a lowish volume sports car, 911s are generally not tested by Euro NCAP, but we don't doubt Porsche's thoroughness in safety. Indeed, as the engine is at the back, it may even be better than a regular car in a front-end impact. For years, all 911s have also had stability control as standard and constant tuning by racers means it's one of the best, most intelligent systems out there.
The 911 uses an electronic key and enjoys access to the Volkswagen Group security experts: it's a highly desirable car but there's plenty of engineering built in to keep thieves at bay.
Buy and save on quality approved and used cars