Pros:
Superb power from the flat-six, mid-range engine that pops and crackles as it fires along

Beautiful styling and performance to match

One of the best two-seater sports cars
Cons:
Limited to just 1,250 models worldwide

Expensive to buy and to run (but who cares?)

British summertime weather!
More On This Car
Need more information?
Request More Information
Introduction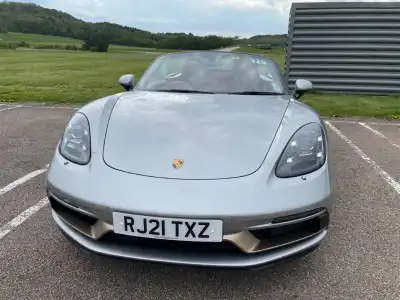 The Boxster has been credited with being the car that transformed Porsche's fortunes. Things were not going so well, but they came up with an ingenious idea to create a more affordable model using some existing parts from another model - namely the 996 generation 911. And so the Boxster was born and it has gone on to be a resounding success selling more than 357,000 models. Fast forward 25 years and the special anniversary model is based on the 718 Boxster GTS 4.0-litre. With the ban on pure petrol models drawing ever closer, these powerhouse vehicles will soon become few and far between and the price-tag of £70k-plus reflects and desirability of this car.
On The Road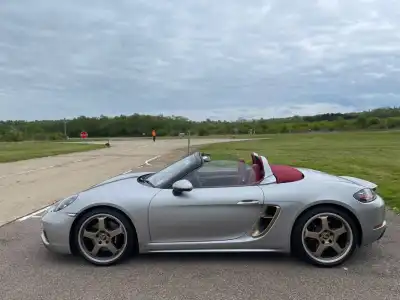 Performance
Powering the Porsche Boxster 25 Years is a 4.0-litre 400hp six-cylinder naturally aspirated petrol engine with 420Nm torque. It can blast its way up to 62mph from a standing start in just 4.5 seconds and tops out at 182mph. There is a six-speed manual gearbox and drive modes called Normal, Sport, Sport+ and Individual - little surprise as to which modes are the most fun then. The Boxster starts up with a roar that wouldn't be out of place in a lion's den at feeding time. Put it in first and then brace yourself as the acceleration is instant and not that forgiving. The engine offers seemingly unlimited levels of power and this Boxster can overtake slower moving vehicles in the blink of an eye. With its low centre of gravity, the two-door, two-seater is perfectly poised through sharp corners and the grip is flawless even when curves are attacked at pace. Then, for added enjoyment, switch across to Sport for even more throttle response along with an increase in exhaust volume too. More money will get you a car with more power, but this model is a true reflection of the legacy that is the Boxster.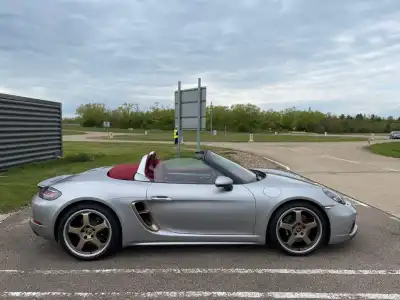 Ride Handling
Anyone who has ever driven a Porsche knows they handle superbly well and this mid-engined, rear-wheel drive, limited-edition easily lives up to that hype. Features to ensure a safe and comfortable ride include Porsche Active Suspension Management sports suspension which is 10mm lower, and Porsche Torque Vectoring with mechanical limited-slip differential. The car is beautifully balanced with perfectly-weighted steering and this is a car you will never tire of driving. It can be driven aggressively with every confidence and then, in busier settings, it feels agile enough to turn on a sixpence. I particularly liked the manual gearbox. So many models have auto boxes there days (and this limited-run model is also available with a seven-speed PDK one too). But it's so rewarding to have the control of a 'proper' gear lever rather than paddles if you want to enjoy manual shifting. the balance and chassis set-up are ideal and any uneven surfaces are smoothed out by the excellent suspension system. Out Boxster 25 Years was riding on 20-inch alloy wheels which were the perfect match.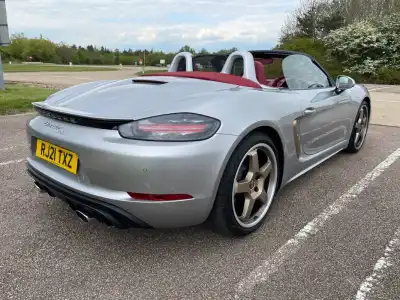 Styling
The Porsche Boxster 25 Years takes its inspiration from the concept model that debuted in 1933 at the Detriot Motor Show and there are plenty of design elements that reflect that era. There are specialist copper-coloured trimmings on the side air intakes, front apron and two-tone 20-inch alloy wheels and there is Porsche script on the shiny filler car. High-gloss tailpipes, a black windscreen surround, sweeping light clusters and a Bordeaux Red fabric roof complete the beautiful styling. there is an automatically-extending rear spoiler, wind deflector and heat insulating green tinted glass. Moving inside, the Boxster 25 Years boasts Bordeaux Red leather at every turn with 14-way power adjustable sports seats, door sills with Boxster 25 lettering and a heated GT multifunction leather sports steering wheel. There are sports pedals, a Limited Edition 'Boxster 25' badge above the glovebox that also includes an individual production number and the Boxster logo on the gear lever. With the roof lowered, occupants are well protected from outside noise but drop that roof and the noise levels are elevated considerably. It does help to raise the powered windows and the BOSE sound system also makes it more tolerable!
In The Car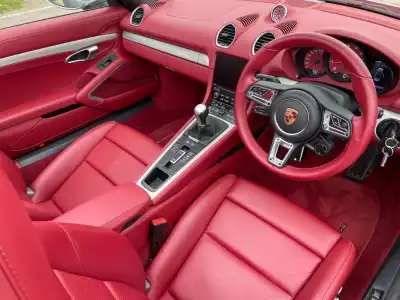 Behind the Wheel
Getting in and out of the Boxster 25 Years (with any sense of elegance) will take a little practice as it sits so low to the ground. But despite this, the powered sports seats and exceptionally comfortable and offer all the support you could wish for - even on bumper road surfaces. The GT sports steering wheel is also electrically-adjustable so finding the ideal driving position is a simple process. Then it's just a case of taking a moment to explore the array of tech at your disposal. There is a fairly simplistic layout with a real focus on driver-usability. The trio of instrument dials in the tft cluster are clear to see which means, most importantly, you can keep a watchful eye on your speed. The infotainment features are impressive too with a small screen and practical buttons for the air conditioning, navigation, map, radio, phone and media. Apple CarPlay smartphone connection is available but there is no Android Auto. As is generally the case with any two-seater soft-tops, the visibility out the tiny rear window is quite poor and the over-the-shoulder view isn't any better either unless the roof is down. However, all the park assist systems with sensors and a rearview camera are of great use. These are a £463 option, but well worth the extra cash.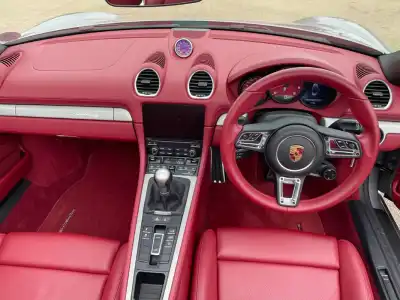 Space & Practicality
The Porsche Boxster 25 Years is a two-seat convertible sports car that stretches 4,391mm in length, is 1,994mm wide (including mirrors) and just 1,273mm high, It has an unladen weight of 1.4 tonnes and has been designed for performance rather than practicality. That said; Porsche has made very clever use of the limited space available. Both occupants sit snuggly in the sports seats but there is ample room to stretch out and, with the roof closed, taller people will not find any height issues. The boot can swallow 120 litres of kit with a front luggage compartment that can hold a further 150 litres of goodies. There is a lockable glovebox, a compact central cubby box, small door pockets, clothes hooks on seat backs, two cup holders that pop out the dashboard and a tray for coins etc. The fully powered convertible fabric roof can be operated at speeds up to 31mph which is ideal for unpredictable weather patterns.
Ownership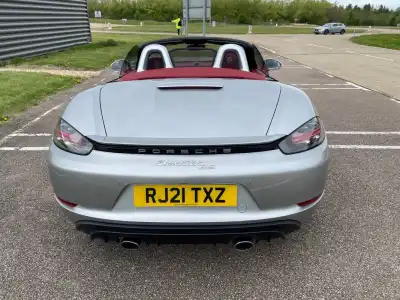 Running Costs
Mention the name 'Porsche' and you just know the car will come with a hefty price-tag. But in the grander scheme of things, this limited-edition model is very reasonably priced. Especially as it will hold its value and become quite a sought-after vehicle in time. The Boxster 25 Years costs £72,760, but a number of options pushed the price on our test car up to £76,993. These included an upgraded BOSE surround sound system (£834), two-zone automatic climate control (£539), cruise control (£228) and lots of Bordeaux Red trimmings. When it comes to day-to-day running costs, the official WLTP-tested combined fuel efficiency figure is 25.9mpg with carbon emissions of 247g/km. This CO2 figure would result in quite a hefty Vehicle Excise Duty (otherwise known as road tax) charge with a first year bill of £2,015. This would drop to the standard fee of £165 the following year. However, there is more bad news on the bills front, as owners of vehicles with a list price above £40,000 pay an additional premium car levy tax of £355 for the first five years. The insurance group rating for the test car is 49.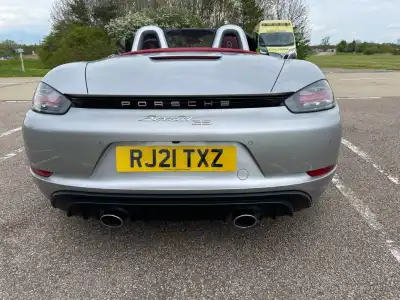 Quality & Reliability
Porsche has an excellent reputation for designing and developing high-performance cars that can be driven hard without proving too problematic along the way. All the mechanics on this car have been tried and tested for durability and reliability. The high-end and upholstery on the limited-edition Boxster both look and feel top quality and they should survive the test of time, as should the sturdy switchgear. It comes and Porsche's three-year, unlimited-mileage warranty for added peace of mind.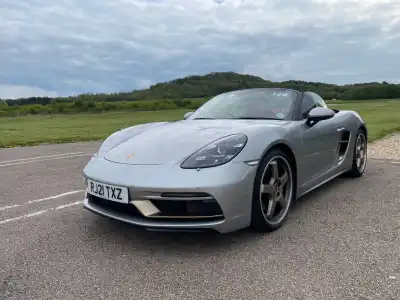 Safety & Security
The Porsche Boxster is a performance car so occupants and other road users need to be kept as safe as possible, and, although the car has not been tested for a Euro NCAP safety rating due to low sales volumes, it does offer plenty of high-end safety tech. for starters, there is the Porsche Stability Management with ABS and advanced brake functions, which helps maintain full stability at the car's highest driving limits, And, of course, the brakes are top drawer too. The driver and passengers benefit from gull-sized airbags and there are fixed roll-over bars and Porsche Side Impact Protection - this introduces strengthened elements in each door, a thorax airbag in each outer backrest side bolster and head airbags for both occupants in each door panel. the test model also featured Isofix child seat mounting points on the passenger seat as an optional extra costing £126 and Park Assist that introduced front and rear sensors and a reversing camera. This added £464 to the final price-tag. Remote central locking, an immobiliser and alarm system with interior surveillance is included for added security.
Summary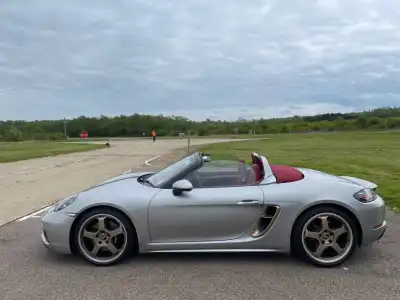 The Porsche Boxster has long been viewed as the model that transformed the German carmaker's fortunes. And it's still going strong, although this limited edition will certainly become a collector's model - if you can get your hands on one that is.
More On This Car
Need more information?
Request More Information