From £50,266
Pros:
The sportiest large SUV to drive

Very powerful engines

Comfortable and refined
Cons:
Pricey to buy – especially after options


High running costs

No seven-seat option
Buy and save on quality approved and used cars
Introduction
The Cayenne caused a lot of consternation when it was first launched in 2002. Journalists scratched their heads and wondered: 'Had Porsche lost its way by building a 4x4?' Then we drove it, and any doubts dissipated. Quite simply, this was a large SUV that handled like a sports car.
Now into its second generation, the Cayenne has become established part of the Porsche line-up that outsells the iconic 911. It has even spawned a little brother: the smaller Macan SUV. With prices starting north of £50,000, the Cayenne's main rivals are the BMW X5, Mercedes ML and Range Rover Sport – plus the forthcoming Jaguar F-Pace.
On The Road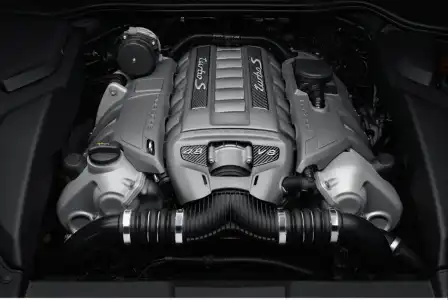 Performance
Buyers have a choice of petrol, hybrid and diesel powertrains. The petrol line-up starts with the 304hp S, then 440hp GTS, 520hp Turbo and 570hp Turbo S.
Alternatively, there's the 262hp diesel V6 and 385hp S diesel V8, plus the 416hp petrol/electric plug-in S E-Hybrid. Needless to say, none are slow, but the diesels are the most sensible option for most drivers.
We sampled the S diesel, a 4.1-litre V8 that is defined less by its power output than its monstrous 627lb ft of torque. Forget towing a caravan or horsebox, this thing feels like it could pull Trafalgar Square's lions from their plinths. It also sounds great; its sporty snarl under full throttle is light years away from the rattly diesels of old.
The S diesel hits 62mph in 5.4 seconds – quicker than Porsche's own (petrol-powered) Boxster. The Cayenne Turbo and Turbo S need less than five seconds. That's indecently fast for a car weighing more than two tonnes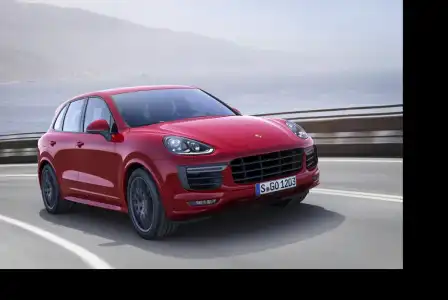 Ride Handling
Fortunately, the Cayenne isn't only fast in a straight line. Porsche staked its hard-won reputation on getting this car to handle well, and it succeeded. Where other 4x4s wobble, lean and run wide, the Cayenne clings onto corners like, well... like a Porsche.
On a winding country road, the car rewards keen drivers with talkative steering, tight body control and plenty of grip. But it's also at home on the motorway (or indeed the unrestricted Autobahn), where it feels stable and safe at speed.
Key to the Cayenne's prowess are the different driving modes, from Comfort to Sport Plus. These adjust the steering, throttle response, gearbox and suspension settings to suit the road and/or the mood of the driver. In Comfort it wafts along, soaking up bumps without fuss (although the ride is still stiffer than some rivals). In Sport Plus, it feels hunkered down and raring to go. It's like owning several cars in one.
The car we tried had optional air suspension, which helps keep the body level if you are hauling heavy loads. In the unlikely event you want to take your Cayenne off-road, it also allows you to adjust the ride height.
Styling
The Cayenne may sound sporty when you put your foot down, but in normal driving it's very quiet. Most of the noise comes from the wide tyres and – as your speed increases – from wind around the windscreen pillars and mirrors.
Opt for the S E-Hybrid and you can drive around town in near-silence, using electric power only. Conversely, spend around £2,000 on the optional sports exhaust (as many owners surely do) and you can make the tailpipes louder at the touch of a button (as many owners certainly do).
In The Car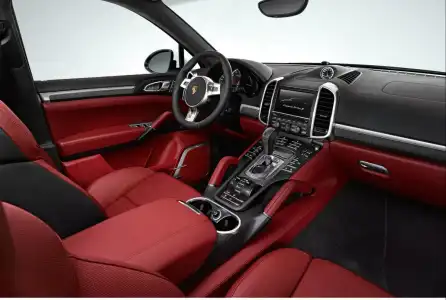 Behind the Wheel
Some 4x4s feel like you're sitting 'on' them rather than in them. Not so the Cayenne. Its driving position is relatively low, and the high centre console and wraparound dashboard make its interior feel like a cockpit.
It has as many buttons as some aeroplanes, too. While some rivals, such as the Volvo XC90, have moved to a clean, uncluttered look (with the majority of functions controlled via a touchscreen), the Porsche is a little more old-school. That's not necessarily a bad thing – touchscreens can be tricky to use on the move – but it doesn't do the aesthetics any favours. Porsche's media system feels a bit dated, too.
From the driver's seat, the large central rev counter screams 'sports car'. But it does seem like overkill in the S diesel, which is redlined just short of a modest 5,000rpm.
Space & Practicality
Curvaceous styling and wide wheels mean the Cayenne isn't as big inside as it looks. Unlike some competitors, such as the Audi Q7 and BMW X5, there's no seven-seat option either. Nonetheless, there's ample space for five adults to stretch out – unlike in the more compact Macan.
The front seats offer a wide range of electric adjustment, making it easy to get comfortable. The rears slide back and forth to increase legroom or luggage space as required. However, they don't fold completely flat, which makes it hard to slide in bulky objects such as a bicycle or chest of drawers. The boot holds 670 litres with the rear seats in their normal position, or 1,780 litres with them folded. That compares to 650/1,870 litres in the X5 and 784/1,761 litres in the Range Rover Sport.
Porsche doesn't offer traditional trim levels, such as SE or Sport. Instead, buyers can take their pick from a long – and potentially very expensive – options list. Climate control air con, leather upholstery and parking sensors come as standard, but you'll have to fork out more for sat nav and Bluetooth phone connectivity.
Ownership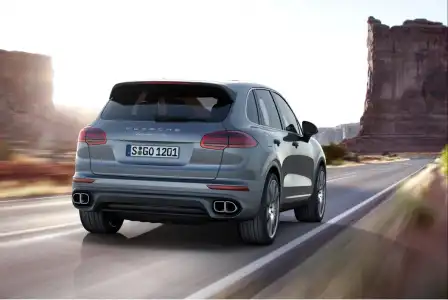 Running Costs
No Porsche is cheap to run, and the Cayenne certainly doesn't buck the trend. Insurance, maintenance and tax are all wallet-wiltingly expensive, while petrol versions guzzle fuel at an alarming rate. You'll get through a gallon every 24.6 miles in the Turbo – and that's if you're careful.
The S diesel is a little more parsimonious. It averages 35.3mpg, with CO2 emissions of 209g/km. At 2015 rates, that means car tax (VED) of £290 a year. The standard diesel is better still, at 41.5mpg and 173g/km (£205 car tax).
Remarkably, the Cayenne S E-Hybrid avoids the attention of the taxman altogether; thank theoretical CO2 emissions of 79g/km. We say 'theoretical' because that figure depends on your ability to charge the car's batteries before you drive it. If you live in a city and have a parking space where you can plug it in, the E-Hybrid could be remarkably efficient. However, on longer runs the hybrid will revert to petrol power once its batteries are depleted, so a diesel is likely to work out cheaper.
Quality & Reliability
Flick through any car magazine and it won't be long before you come across a reference to 'Teutonic build quality'. Porsche epitomises this trait – hence its sports cars' reputation as the 'sensible' alternative to temperamental Ferraris and Lamborghinis.
So the Cayenne feels like a quality product. Its doors shut with a reassuring thud and we couldn't fault the finish inside or out. Porsche's three-year/unlimited mileage warranty is more generous than the three-year/60,000-mile deals offered by some of its rivals, too. Nonetheless, you'll find much longer warranties are offered by Kia, Toyota and many other mainstream marques.
Any Cayenne will be expensive when it goes wrong and even replacing consumables, such as brake discs or tyres, could land you a bill well into four figures. If you're buying a used example, consider having it professionally inspected first.
Safety & Security
Euro NCAP hasn't tested the Cayenne – or indeed any Porsche – but the car's sheer size, coupled with its arsenal of active and passive safety systems, mean it's likely to perform well in a crash. Front, front-side and curtain airbags come as standard, along with stability control, traction control, hill-hold control (to stop you rolling backwards) and a tyre-pressure monitoring system.
It's worth noting, however, that rear side airbags cost extra, so make sure you tick that box if you have kids. They'll probably insist on the optional bright red seatbelts as well – although don't expect any benefit in terms of safety.
Buy and save on quality approved and used cars