Pros:
Superb handling that fully lives up to the Porsche name

Impressive driving range between charges

Beautifully styled and packed with high-end kit
Cons:
Some alternatives have more impressive range

Storage options are not that great

Sloping roof design means restricted rear headroom for passengers
More On This Car
Need more information?
Request More Information
Introduction
The electric sports car sector is brimming with exciting models right now and the latest arrival from Porsche has really raised the bar. The fully-electric Taycan 4S is priced from £83,580 but for anyone with extra cash to splash, there are the higher-specced Taycan Turbo and Turbo S models that cost up to £138,830. And that's before any options are factored in.
The four-door coupe is a four or five-seater car that's been billed as the game-changer in the EV segment. That's because the Taycan 4S is very competitively priced for a model that can power its way from 0-62mph in just 4.0 seconds and has a top speed that is limited to 155mph.
Perhaps, more importantly, is the driving range between charges. This is a claimed combined range of 257 miles, but if the car is used for lots of city driving that limit increases to 300 miles and beyond.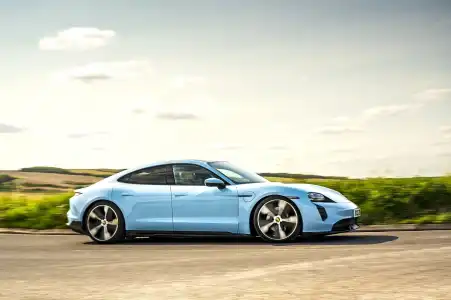 Ride Handling
One fact that needs to be made unmistakably clear from the off is that the Taycan 4S is a Porsche through and through. It may be an EV with electric motors on the front and rear axles resulting in four-wheel drive, and a battery pack buried beneath the seats for an extremely low centre of gravity, but it boasts outstanding handling, cornering and agility.
Basically, it drives exactly how you would expect a high-performance sports car to. It simply goes about its business in a quieter manner. Unless, of course, you opt for the optional Porsche Electric Sport Sound (£354 extra) that gives the car a suitable vocal accompaniment. This can be heard both inside and outside the car and the volume adjusts according to the drive mode selected. Put the Taycan in Sport mode and it roars like feeding time at the Serengeti. Crank up the volume on the Bose surround sound system, a £956 option, and way you go.
The road-holding is ultra-grippy meaning tight corners can be attacked with full confidence and, with its beautifully assured balance and poise, this car feels unshakable as it fires through the twisting country lanes with perfectly weighted steering.
Out on the motorways, it hits 70mph before you can think about it, so it's definitely worth keeping a watchful eye on the speedo and then it proves agile as it manoeuvres through busier town centres.
The all-round visibility is quite typical of a sports car as in the pillars are wide and the rear screen quite small, but there are sensors as standard and Park Assist including Surround View as a £1,002 optional extra.
The twin electric motors, one on each axle, results in four-wheel-drive which offers added grip in poorer driving conditions.
On The Road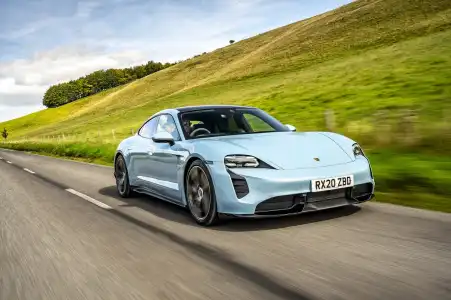 Performance
The Taycan 4S comes fitted as standard with a 79.2kWh battery, but customers can opt to upgrade to a 93.4kWh battery by adding a Performance Battery Plus option costing £4,613. This battery, which is standard on the more expensive Taycan Turbo and Turbo S, increases the power output from 530hp to 571hp.
And in turn, the upgrade also improves the car's performance, driving range and the speed of re-charging.
One of the greatest issues faced by engineers when developing an EV is the weight. That's because batteries capable of delivering a decent range are not light and as a result, the electric models tend to weigh several hundred kilos more than a traditionally powered car.
However, Porsche technicians came up with the ideal solution. They positioned the bulk of that additional load low down in the car therefore ensuring that the Taycan 4S has an incredibly low centre of gravity. That means the handling and agility easily matches that of the competition from rival carmakers.
The acceleration is blisteringly quick through the two-speed automatic gearbox and the power at your disposal seems endless as the car powers its way to national speed limits in the blink of an eye.
A dial conveniently positioned on the steering wheel means it's possible to quickly flick through the various drive mode options which are named Range, which is best for maximising the most miles between charges, Normal, Sport, Sport Plus and Individual.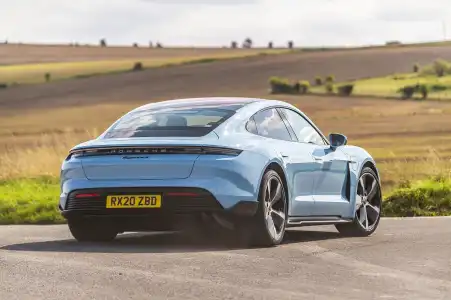 Styling
When it comes to styling, few carmakers come close to producing models with the dynamic looks of a Porsche and the Taycan is no exception. It looks fabulous from any angle and our test car was supplied in a beautiful Frozen Blue colour shade that left onlookers frozen to the spot as it passed by.
It features curvaceous streamlining with four-point LED headlights, door handles that are flush to the body, a three-stage rear spoiler system, a panoramic fixed glass roof, air intakes to improve the aerodynamics, privacy glass, neat alloys and black high-gloss brake callipers.
Rarely will you find a car that boasts such exhilarating driving dynamics, but feels so controlled and comfortable in the process. And it is also possible to adapt the likes of the air suspension, dampers, torque vectoring control and other set-ups to suit your driving requirements.
I may sound like I'm gushing a little, but the Taycan delivers outstanding balance and grip with perfectly weighted steering. The added weight from the batteries means the lower centre of gravity makes the car feel nimbler and the comfort levels are exceptional even on large 21-inch alloy wheels which are yet another optional upgrade at £5,636.
In The Car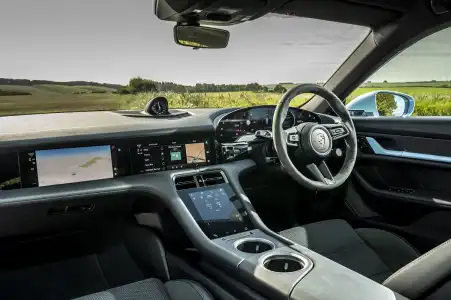 Behind the Wheel
The interior of the Porsche Taycan is beautifully crafted with the finest leather upholstery, carbon trimmings and a modern, minimalist cockpit.
It oozes quality from the second you take your position behind the sports steering wheel. The driving position, that is derived from the 911, is simply perfect and feels like its been made to measure with every readout and control perfectly located for ease of use.
Both the seats and steering wheel are power-adjustable, with memory settings to store your favourite driving position. Porsche designers have introduced a new innovative digital cockpit that almost rids the car of physical switches and gives the cabin a cleaner, modern appearance.
You feel like you are surrounded by information screens with a 16.8-inch fully customisable digital display screen behind the steering wheel that is curved to perfectly fit the space. This can show lots of vital data and fun facts such as the G-force into bends.
Many of the car's on-board features are accessed via 8.4-inch and 10.9-inch central touchscreens with haptic feedback. And there is an optional Passenger Display screen costing £725 that allows the front seat passenger access to the sat nav and music systems etc.
The cabin may be clutter-free, but the level of on-board kit is impressive with the likes of four-zone climate control (£581), ambient lighting (£299), navigation and Apple CarPlay as standard - there is no Android Auto facility and a BOSE surround sound system (£956 extra). In all honesty, the sound system and standard air conditioning would be more than adequate without the need to upgrade, but our car was the fully loaded version.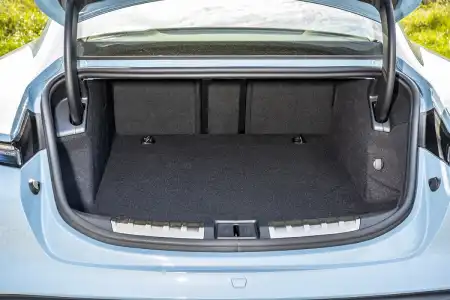 Space & Practicality
If practicality is high on the priority list, then a coupe-styled sports car is not exactly going to fit the bill. That said; the Taycan is a four-door car, it does have Isofix child seat fixtures for the outer rear seats and there is the option to convert the four seater into a five-seat model via a 2+1 rear seat system costing £336 extra.
However, it won't be too long before the person sat in the middle seat starts moaning about a lack of space. And any passengers over six feet in the back will notice their hair brushing against the headlining – this is due to the Taycan's dynamic sloping roof design.
But Porsche has been clever with utilising the space within the Taycan. There is a small area beneath the bonnet – as there is no engine – and this can hold 81 litres of kit. The boot has a 407-litre capacity and there are also door pockets, a glovebox and cup holders for anyone brave enough to drive the Taycan while holding a hot coffee!
The car is low slung so you do sit just inches from the floor. With that in mind it's worth remembering it may not be the best option for anyone with mobility issues
Ownership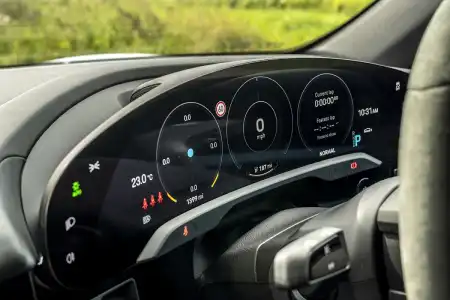 Running Costs
As with most premium brands the amount you spend on a car depends very much on the number of options you add. For example, our Taycan 4S started out costing £83,580 which would make it a perfect rival for the Tesla Model S. But a lengthy list of optional equipment saw the price climb to £119,082.
The running costs are where you will claw back some of the savings though thanks to the Taycan's all-electric technology. If you have a 7.4kW home wallbox, then charging the car from empty to full takes about 11 hours. This time can be reduced considerably to just 20 minutes from 20 to 80 per cent on a 150kW fast charger.
Obviously, as with any EV, the exact driving range between charges will very much depend on the manner in which the vehicle is driven and the terrain. If you are clocking up lots of fast motorway and country lane miles, then the range will be less than in busier city centres with lots of stop start motoring, with regenerative braking to recoup some of the energy along the way.
And if you are very lucky to be offered the Taycan as a company car option, then the Benefit in Kind tax will be very attractive thanks to the vehicle's zero carbon emissions figure.
The insurance group rating for the test car is 50.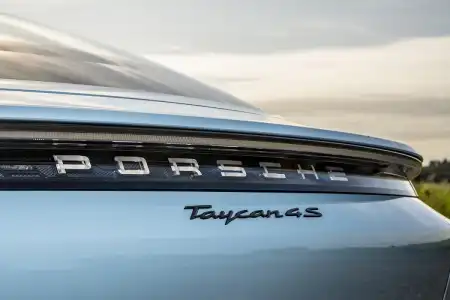 Quality & Reliability
Porsche has a great reputation for developing reliable cars and that's quite an achievement because owners rarely drive their vehicles with the level of respect they deserve. So, it's fair to say, most Porsche models are driven pretty hard. But they are resilient with reliability issues few and far between.
That said; the Taycan's battery-powered engineering is all quite new to the brand so it's difficult to say with any real certainty how they will fare. However, the car does come with a three-year warranty which is extended to eight years for the battery with the guarantee that it will not fall below 70 per cent of its original capacity. That is a clear indication that Porsche has full confidence in the technology and its longevity.
The interior looks and feels like it will survive the test of time with the finest upholstery and materials incorporated into the sporty cockpit. Switches are kept to a minimum, but the build quality feels incredibly upmarket.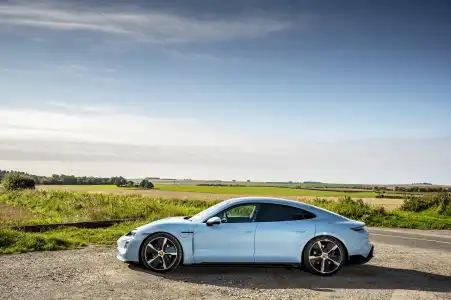 Safety & Security
With such a powerful vehicle, Porsche needed to ensure occupants and other road users were kept as safe as possible and they have done just that. In fact, the Taycan was awarded a maximum five stars when tested for its Euro NCAP safety rating.
The list of safety features is impressive with the likes of an active bonnet system, doors with integrated side impact protection, high strength bumpers, full-size airbags for the driver and front passenger plus side, knee and curtain airbags. There is roll-over detection for the activation of curtain airbags and seatbelt pretensioners, plus Isofix mountings for child seats on the outer rear seats.
Driver assistance aids include lane keeping assist with traffic sign recognition, cruise control with adaptive speed limiter, collision and brake assist.
There are LED Matrix headlights which deliver excellent lighting at night and the car is fitted with an immobiliser with remote central locking, an alarm system with radar-based interior surveillance and even a Porsche Vehicle Tracking System which requires a subscription to be fully activated.
More On This Car
Need more information?
Request More Information