Pros:
Outstanding handling that fully lives up to the Porsche badging

Spacious interior that is beautifully stylish

Decent driving range between charges
Cons:
Costs rise steeply as options are added

Storage space is good, but not great

Some rivals offer a better driving range between charges
Speak with our Concierge team to discuss your car buying options
Request a free call back
Introduction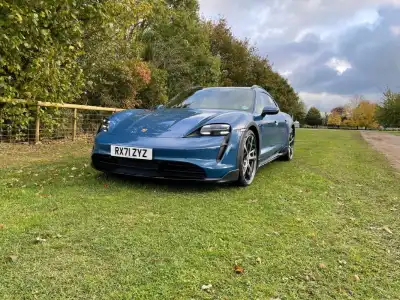 Take the stunning Taycan coupe-styled saloon model and announcing you are going to bulk it up to sports estate proportions could be viewed as a risky move. But Porsche have got this car's design spot on.
While the Taycan is still, in my opinion, the better looking of the two models, anyone with families or needing a little more practicality in their day-to-day vehicle, will be delighted with the versatility the Taycan Cross Turismo brings to the mix.
It's also competitively priced until you start venturing into the options list by which time the cost can easily creep above the £100k mark.
On The Road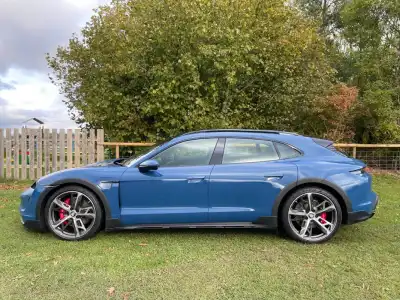 Performance
The entry-level Taycan Cross Turismo comes with a 79.2kWh battery delivering 280kW, 380PS (476PS with Launch Control) and 500Nm of torque. However, we opted for the next model up the range – the Taycan 4S Cross Turismo. And this model boasted a 93.4kWh battery with 360kW, 490hPS (571PS with Launch Control) and 650 Nm of torque.
And those figures translate into interesting reading when it comes to performance with the test car able to sprint from 0-62mph in 4.1 seconds and onto a top speed of 149mph. If that's not quite powerful enough there is a Turbo version with 761PS that fires to 62mph from a standstill in just 2.9 seconds.
Our car had a combined driving range between charges of 255 miles. There are competitors that offer a longer range these days, but few can put in the same level of performance the Porsche can.
There is a dial that is conveniently positioned on the steering wheel so it's easy to switch through the various drive mode options which are called Range, which is best for maximising the most miles between charges, Normal, Sport, Sport Plus and Individual. There is also a Gravel mode for rougher surfaces.
The car cruised on motorways and with the slightest hint of pressure to the accelerator you will be pinned to the back of your seat. Overtaking is completed in one swift manoeuvre with outstanding levels of power on tap. And with the higher driving position, navigating through the busier city centres is easier too with improved all-round visibility.
As with all EVs, you will see the driving range drop quite quickly if you are driving aggressively, but the car does recoup energy along the way through regenerative braking.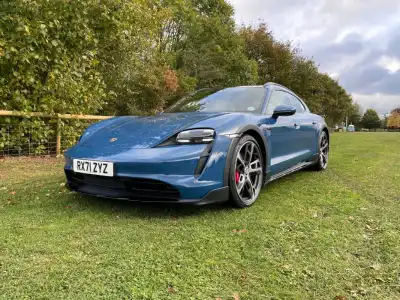 Ride Handling
The 2.2-tonne Taycan Cross Turismo sits 20mm higher than the Taycan so you would expect the ride quality to be affected by that growth spurt. But to be fair, it isn't that noticeable at all and whichever mode you select, the car is beautifully balanced in and out of tight bends.
The grip is confidence-building with next-to-no sign of any body sway no matter how hard you push into tight corners.
And when you consider the appalling state of our roads, you can drive this car knowing it won't be scratching the underneath as it skips across bumps and dips along the way.
There is a two-speed transmission on the rear axle and a single-speed one on the front axle and the ride is complemented by the adaptive air suspension set-up. It's nice that comfort has not been compromised at all for the sake of dynamic handling.
If you opt for the optional Porsche Electric Sport Sound costing £354 extra, the Taycan Cross Turismo gets the perfect vocal accompaniment. This can be heard both inside and outside the car and the volume increases and decreases depending on the drive mode selected.
Special mention to the perfectly weighted steering too which offers ample amounts of driver feedback for added confidence on the open road.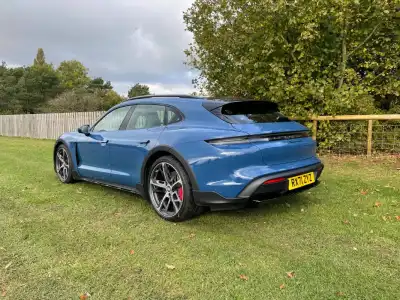 Styling
Porsche cars always have plenty of road presence and the five-door Taycan 4S Cross Turismo is no exception to that tradition. It may not be quite so dynamically-styled as the Taycan sports coupe but it still commands attention wherever it goes proving estate-type cars can look the business too.
Our test model was supplied in a Neptune Blue shade which added £1,683 to the cost, but really looked the part. There are numerous options that can be added, but the price really does start to stack up. For example, our car featured black roof rails (£413), an off-road design package in black (£1,406), 21-inch Cross Turismo Design wheels (£2,997), black side window trims (£245), a rear light strip with the PORSCHE logo in black and a fixed panoramic roof (£1,137).
The interior is really upmarket and once again featured some add-ons, including two-tone leather upholstery (£2,874), 4-zone climate control (£581) with ioniser (£203) and lots more besides. Little wonder the options listed on our car added more than £23,000 to the final price.
The fixtures and fittings are supreme quality and the car is finished to an exceptionally high standard.
But we need to remember this is a Porsche and they don't cut corners when it comes to refinement. And there is nothing to say buyers can't stick to the basic model and avoid the optional costs. After all, let's face it – a basic Porsche is going to be anything but basic.
In The Car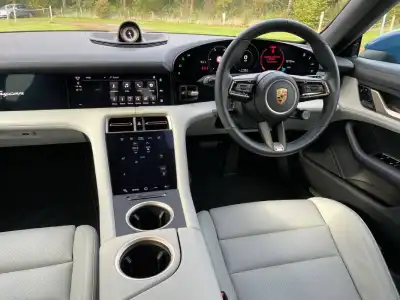 Behind the Wheel
Finding the perfect driving position inside the Porsche Taycan 4S Cross Turismo is a simple process with powered seats and a power-adjustable steering well. There are memory settings to store your favourite position too.
The interior is pure class throughout with the finest materials and trimmings creating a premium and sport-focused cockpit.
Within seconds of sitting behind the wheel, it feels like this Porsche has been personally made to measure. It is that comfortable with all controls, dials and readouts perfectly positioned for ease of use.
And the higher seating position within the Cross Turismo results in improved all-round driver visibility compared to the Taycan.
A new innovative digital cockpit almost rids the car of physical switches and gives the cabin a cleaner, modern appearance. The main focal point is the 16.8-inch fully customisable curved digital display screen behind the steering wheel. This can show lots of vital data such as speed and sat nav directions as well as more fun facts including the G-force into bends.
Many of the on-board features are accessed via 8.4-inch and 10.9-inch central touchscreens with haptic feedback. And there is an optional Passenger Display screen costing £725 that allows the front seat passenger access to the sat nav, music systems and lots more.
There is a lot of features to get accustomed to – many of which were optional extras on our test car. These included a BOSE surround sound system (£956), ambient lighting (£299), four-zone climate control (£581), a heated GT Sports steering wheel (£189) and front and rear seat heating (£308).
Porsche models come with Apple CarPlay connectivity, but there is no facility for Android Auto systems.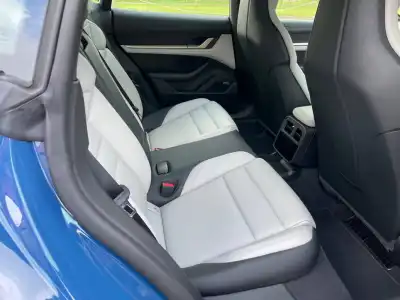 Space & Practicality
The Taycan 4S Cross Turismo stretches almost five metres in length, it is a few centimetres short of two metres across and is 1.4 metres high with a 2.9-metre wheelbase.
There is oodles of space up front and back seat passengers get ample leg and head space too. There are two dedicated rear seats, but as an optional extra you can add '4 +1 seating' costing £336. This adds a middle seat in the back, which is not particularly comfortable, but is fine for children.
This option also results in 40:20:40 split-folding rear seats rather than the 60:40 split that is standard. The boot can swallow 446 litres of kit which can be increased to 1,212 litres by dropping the rear seats. However, there is extra space beneath the bonnet for 84 litres of goodies.
The boot is accessed via a powered tailgate and has a wide square-shaped aperture which makes loading items easier. In addition, there are a number of storage compartments scattered throughout the car, including a narrow lockable glovebox, central cubby with mobile phone holder, seat back pockets, door bins, plus front and rear cup holders.
The 93.4kWh battery has a 270kW DC charging capabilities and boosts from five to 80 per cent in 23 minutes.
Ownership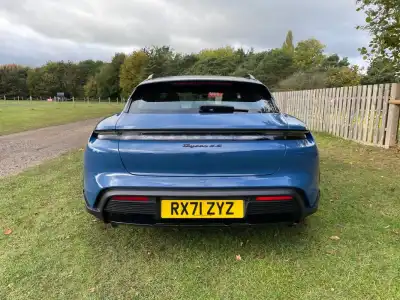 Running Costs
The line-up is priced from £81,500 for the entry-level Taycan 4 Cross Turismo car and rises to £140,360 for the Turbo S Cross version. And those prices are before any optional extras have been added to the mix.
Our test car – the Taycan 4S Cross Turismo – was priced at £88,270 but the final price-tag was £111,947 with options.
Recently the Government announced cutbacks to its Plug-in Car Grant but any payout would be void in the case of this Porsche anyway as vehicles costing above £32k are not eligible.
However, with zero carbon emissions, there would be no road tax charge and despite the car having a list price above £40k, owners will not have to pay the luxury car tax fee of £335 for five years that owners of petrol or diesel cars do. This ruling applies until 2025.
And if you are very lucky to be offered the Taycan Cross Turismo as a company car option, then the Benefit in Kind tax will be very attractive thanks to the vehicle's zero carbon emissions figure.
The day-to-day running costs are an area where you will see financial rewards too. While the car can be charged rapidly on fast chargers when out and about, overnight boosts on a home wallbox will be lots cheaper than any petrol model.
The insurance group rating for the Porsche Taycan 4S Cross Turismo is 50.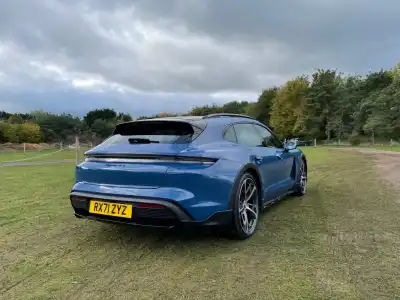 Quality & Reliability
Porsche has a good reputation for producing cars that are renowned for not only their performance but also reliability. And considering these cars are often driven in a fairly aggressive manner, that is quite an achievement.
The company regularly scores well in customer satisfaction surveys and while the Taycan's battery-powered engineering is still fairly new, there have been no major issues to date.
The interior is beautifully crafted with fine leather upholstery and a real quality about the fixtures and fittings. It has a minimalist appearance but has been developed with ease of use and practicality in mind.
The Taycan Cross Turismo comes with Porsche's three-year warranty which is extended to eight years for the battery with the guarantee that it will not fall below 70 per cent of its original capacity. That is proof that Porsche has every confidence in the new technology and its reliability.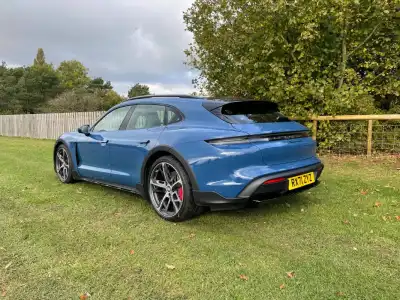 Safety & Security
With so much power on tap Porsche engineers needed to ensure the Taycan Cross Turismo benefitted from all the safety technology available to protect occupants, other road users and also help prevent accidents from happening in the first place.
The Taycan was awarded the maximum five stars when tested for its Euro NCAP safety rating and although the Taycan Cross Turismo has not been tested it features all the same tech.
The car boasts a comprehensive list of safety kit, including a number of driver assist aids such as lane keeping assist with traffic sign recognition, collision and brake assist, park assist and cruise control with adaptive speed limiter.
There is an active bonnet system, doors with side impact protection, full-size front passenger and driver airbags plus side, knee and curtain airbags, Isofix fittings, roll-over detection and plenty more besides.
With regards to security, the Taycan Cross Turismo is fitted with an immobiliser with remote central locking, plus alarm system with radar-based interior surveillance. There is also a Porsche Vehicle Tracking System which is subscription-based.
Summary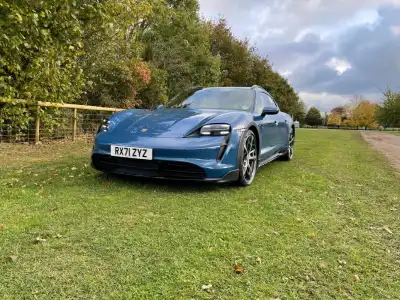 The Porsche Taycan was the ultimate proof that driving electric vehicles can be just as thrilling, if not more so, than traditionally-powered cars. Now, with the introduction of the Cross Turismo, Porsche has added all-round practicality to the mix.
Speak with our Concierge team to discuss your car buying options
Request a free call back