From £31,505
Pros:
Still bang on trend after seven years

Engaging ride and handling

Torquey diesel engines make driving smooth and easy
Cons:
Models get expensive

Surprisingly small so not as practical
Buy and save on quality approved and used cars
Introduction
It's seven years since Victoria Beckham revealed the Evoque to the world, highlighting that this baby Range Rover would be more of a fashion icon than a true mud-plugger. Originally available as a five-door SUV and a three-door 'coupe', the latter was dropped as a convertible model was introduced.
Regardless of the model, some well considered updates have kept the Evoque fresh and, despite ever changing trends, fashionable; it's as sharp looking now as it was when it was first shown back in 2011.
Form even leads function, as it's possible to find yourself in an Evoque with just front-wheel drive, so off-road shenanigans would be unwise. Spend a little more and four-wheel drive is available, so it remains a proper Range Rover.
On The Road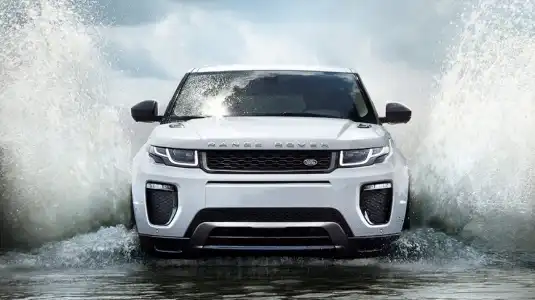 Performance
When it comes to engines, there's a 2.0-litre or another 2.0-litre. There are actually three engines, and they're all 2.0-litre, with two diesel options and one petrol unit to choose from.
The diesel engines offer 148 or 178bhp, which is just about enough to carry the Evoque, but it's the prodigious amounts of torque that make the difference. With as much as 430Nm on tap, the Evoque feels like it's capable of dragging trees clean from the ground, but it's instead used to get the car to 62mph in as little as 9.1 seconds.
Opt for the petrol engine and there's an extra 59bhp to add to the total, with the zestier performance you'd expect as a result. The standing start sprint is despatched in 7.2 seconds, but it's all done rather raucously.
The Evoque is far better when driven at a more relaxed pace, where the 180bhp diesel option comes into its own. The extra torque offers flexibility and, when required, performance, while the nine-speed automatic gearbox should ensure it's always in the right ratio.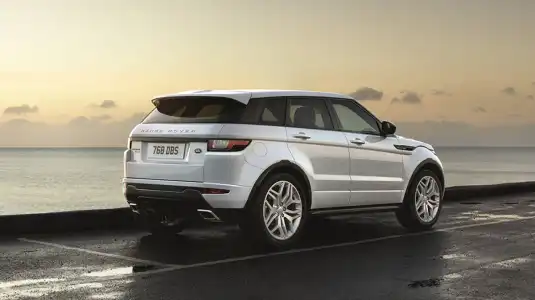 Ride Handling
Push the Evoque to its limits around a corner and it protests by simply letting the front end wash wide, with nothing to do but wait for the speed to drop and grip to return. That happens a little too early for most, but is explained by the combination of the car weighing more than 1.6 tonnes and sharp steering that encourages a little more enthusiasm than the car can cope with.
Relax and it's far better, even when on massive 20-inch wheels. These can send quite a thump to the cabin over sharp bumps, but it's mostly fine. On smaller wheels it's a little more comfortable, without sacrificing road feel.
Optional adaptive suspension, called MagnaRide in Range Rover speak, keeps the Evoque flatter in corners and feels softer on the straights. Venture off-road and it'll raise the car above most rocks, saving the underside from damage.
If you must off-road, then Hill Descent Control will keep you from running away downhill, while Terrain Response adjusts the power, gearbox and throttle settings to make sure you get over most obstacles. Progress Control is an option; it acts as a super-slow cruise control, allowing you to focus on manoeuvering around trees, rocks and steep drops while the car creeps forward on its own.
Interestingly, all of these technologies, bar the MagnaRide, are available on the convertible model.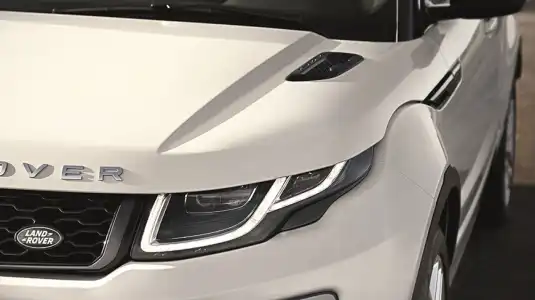 Styling
That nine-speed gearbox is remarkably keen to change up a ratio or two as early as possible, which leads to low-revs cruising speeds, and with it a degree of quietness from the engine. The downside is that, with nine ratios to choose from, the gearbox can get a little lost at times, leaving you a number of gears away from where you might like to be. That can also upset the ride, as the car jerks forwards as the right option is picked.
Noise is kept at bay reasonably well, although tyre roar increases noticeably when those 20-inch wheels are specified. The SUV style can also lead to a bit of wind noise, but it's not too intrusive.
Opt for the convertible model and there's a fabric roof rather than the more popular folding hard-top. Despite that, there are so many layers that you can barely tell the difference between the convertible and the five-door when the roof is up; the copious amounts of insulation keeps the outside world at bay. With the roof down there's a fair bit of wind that whips around the cabin, and that brings with it some discomfort. Before tackling a long motorway journey, stop to put the roof up!
In The Car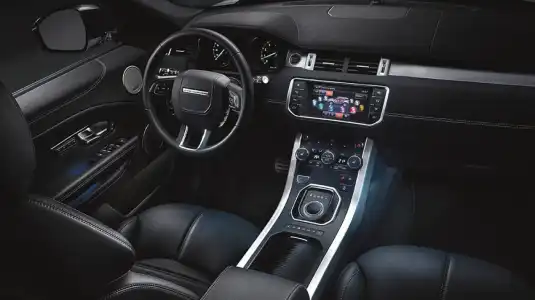 Behind the Wheel
Last updated in 2017, the Evoque's cabin is actually a very pleasant space. It follows the standard Land Rover design prescription, with a steeply raked centre stack topped with a touchscreen infotainment centre. This eight-inch screen is as good as it gets at Land Rover, but it still lags behind its rivals a bit - the graphics are bright, but the resolution is lower, and useability and reactions are quite slow.
Elsewhere, the design and quality is top notch and oozes class. Chunky rotary controls compliment the rotary gear selector, and solid-feeling switches add the feeling of heft.
Equipment levels are high, too, with even the SE entry-level model manoeuvring with heated leather seats, dual-zone climate control, and a DAB radio. However, there's no sign of Android Auto or Apple CarPlay, and it's easy to go wild with the options list. An uprated stereo and navigation, with a 10-inch touchscreen, adds almost £4,000 to the price, while even the adaptci suspension (£850), adaptive cruise control with queue assist (£1,245) and head-up display (£1,060) are optional on the range-topping HSE Dynamic Lux model.
The convertible's cabin is exactly the same, bar an extra button for raising and lowering the roof, something that takes just 18 seconds.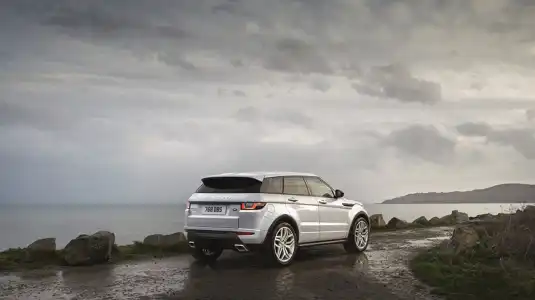 Space & Practicality
The Evoque is more compact than it initially looks, something you realise as you walk up to it. It's barely as long as a Ford Focus, with a low roof and long bonnet.
The headroom is a bit limited for taller passengers, and the tapered body makes it tight for elbow room in the back. Those high and narrow windows also make it feel more enclosed. The optional panoramic roof lets in manoeuvring light.
At 420 litres, the luggage capacity of the boot is smaller than some of the Evoque's rivals.
Opting for the convertible adds headroom (if the roof's down!) but sucks space from both the rear seats and the boot.
Ownership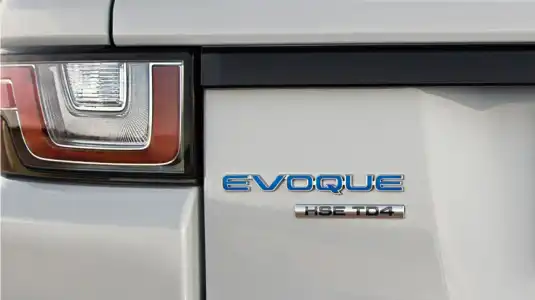 Running Costs
Stick with the diesel engines and the Evoque doesn't need to cost too much to run. Officially, the lower power unit with front-wheel drive will return 48.7mpg, while there's little penalty for opting for the more powerful options. Real world behaviour is a different matter though, and none of them will make it easy to hit even 40mpg.
CO2 emissions are adequate, rather than great, which makes company car tax a little steep. With a BIK rate that starts at 35%, tax bills will be rather steep, especially given the high list prices of the car.
The flip side is impressively strong residual values, which makes leasing and PCP rates extremely competitive. There's also the option of a servicing pack for around £500 that offers five years of routine maintenance.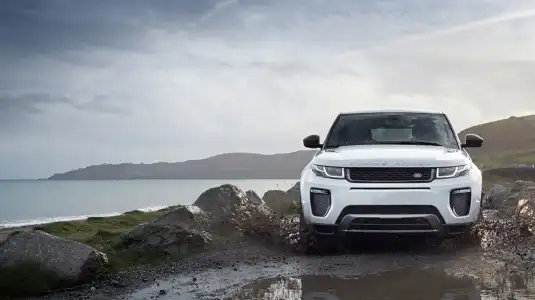 Quality & Reliability
There's a three-year unlimited-mileage warranty for when things do go wrong, which offers some reassurance. There's also roadside assistance included, while Land Rover will happily extend the warranty for a fee.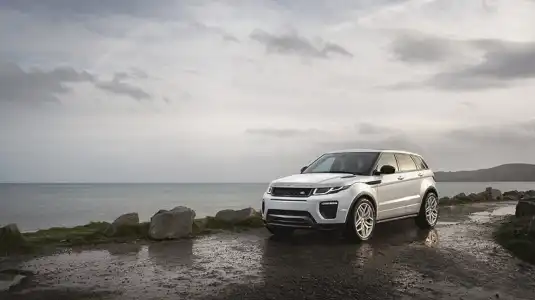 Safety & Security
Euro NCAP awarded the Evoque the full five stars when tested in back in 2011, but standards have moved on since.
However, the SUV does come with some impressive safety equipment, but only at the top of the range. Go for the entry-level £31,000+ SE spec model and you'll have to pay extra for blind spot monitoring, cross traffic alert, lane keep assist, traffic sign recognition and a reversing camera.
Buy and save on quality approved and used cars