Pros:
Beautifully styled with generous kit levels

Excellent blend of off-road ability and on-road handling

More refined driving experience and improved comfort levels
Cons:
No longer a three-door coupe or cabriolet option

No steering wheel paddles to change gears manually

Pricey when options are factored in
More On This Car
Take one for a spin
Request a Land Rover Range Rover Evoque test drive
Introduction
There's no denying the fact that the Range Rover Evoque was a game changer in the motoring industry. It transformed Land Rover's fortunes and even lead to 24/7 production lines being created to keep up with demand. Since 2011 almost 800,000 units have been shipped around the world and the car has claimed 217 international awards.
So, quite a challenge for the engineers and designers to come up with a winning formula for the second generation Evoque. But they have succeeded on all counts. Only the door hinges remain from the original model, yet new Evoque keeps that distinctive sports coupe styling along with some ultra-clever new technology.
And, as well as looking very easy on the eye, it boasts all the off-roading know-how associated with the Land Rover name.
On The Road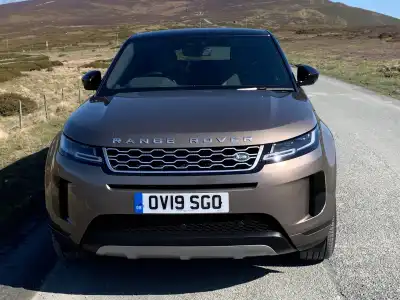 Performance
New Evoque comes with plenty of choice when it comes to engines with a range of Ingenium diesel and petrol units and the promise of a plug-in hybrid variant by the end of the year. But the real headline news is that all but the entry level model feature 48-volt mild hybrid technology which is a first for Land Rover.
This clever system works by harvesting energy that is usually lost during deceleration and storing it in an under-floor battery. When the driver accelerates again, the stored energy is redeployed to assist the engine so reducing fuel consumption, and that in turn results in some impressive running costs with combined fuel economy as high as 50.4mpg and carbon emissions as low as 149g/km.
Only the entry-level car has just front-wheel-drive and this also gets a six-speed manual gearbox. All the others are all-wheel-drive with a super slick nine-speed transmission.
Trim levels are called Evoque, S, SE, HSE along with a limited-run First Edition version that will run until the beginning of 2020 and prices range from £31,600 to £50,400. For an additional £1,500 R-Dynamic trimmings can be added to any spec level for a sportier character.
We tested the Evoque HSE powered by a 2.0-litre 240hp, 500Nm diesel engine and it proved very able both on the road and while tackling a challenging off-road course. The acceleration through the gearbox is swift and smooth and the car is beautifully balanced and controlled into tight bends at pace. The gears can be changed manually using the gear lever and switching across to Sport, but there are no steering wheel mounted paddles.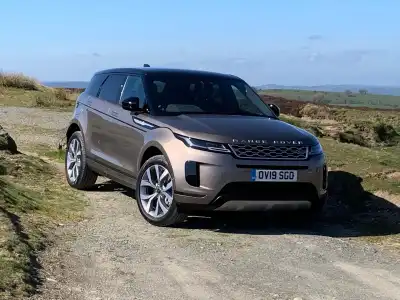 Ride Handling
Our test car was sitting on 20-inch alloys and they perfectly suited the vehicle. The road grip was assured and there was no sign of body sway not matter how enthusiastically a corner was attacked. The steering is fine-tuned with ample driver feedback making this a car that is happy eating up motorway miles or firing through the country lanes.
I'm not sure how many owners will realistically consider taking a £50k car off road, but if they do, then the Evoque is up to any challenge. The Terrain Response 2 system is available as standard on all models except the entry-level car and this set-up allows the driver to choose from four modes called Comfort, Sand, Grass-Gravel-Snow, and Mud and Ruts, as well as an Auto option that will select the most suitable mode for the conditions and terrain.
Without any adjustments to the car or tyres, we headed to a demanding off-road course and once again the Evoque's performance was flawless as it waded through flooded ditches, climbed steep muddy banks, clambered over rocks and edged its way over what seemed like near-vertical drops.
It delivered on every count and serious off-roading enthusiasts will be pleased to learn the car's wading depth has increased by 100mm to 600mm and the car's ground clearance is now 212mm.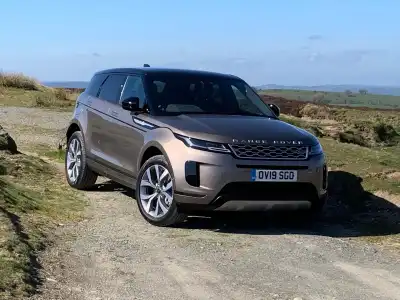 Styling
The Evoque is based on an all-new mixed-metal Premium Transverse Architecture which has been designed for the hybrid-electric power. But in addition, the new body is 13 per cent stiffer, which together with rigidly-mounted subframes reduces the noise and vibration in the cabin.
This may all sound a little technical but refinement was one of the main areas that Land Rover focused on when developing the new Evoque. As a result, it is far more composed and balanced when cornering. It is also much quieter within the cabin where barely a sound from the road or engine filters through. Finally, the highly efficient suspension set-up irons out the uneven surfaces along the way.
And that refinement extends to styling too. The new Evoque has taken on some of the Range Rover Velar's exquisite design cues, including the door handles that are flush to the body and pop out as you stroll towards the vehicle, along with super-slim Matrix LED headlamps.
Another area that Land Rover is keen on exploring is sustainability. And the Evoque gives us a little glimpse into how seriously the company is working on this issue. Customers can choose seats that are upholstered in a premium alternative to leather that have been developed by Danish textile experts. This high-quality material combines a durable wool blend paired with technical suede-cloth made from 53 recycled plastic bottles per vehicle. Our car featured this upholstery and it looked and felt amazing. There is also a new Eucalyptus textile available grown from natural fibres.
In The Car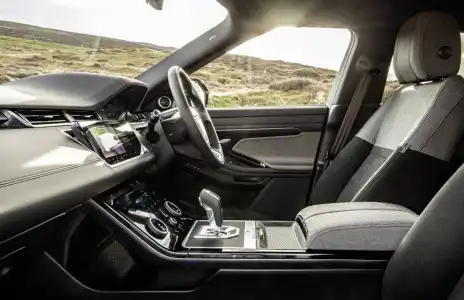 Behind the Wheel
Getting comfortable in new Evoque is a simple process with ample seat and steering wheel adjustment. And to make life easier, there is another new feature called Smart Settings technology which uses advanced artificial intelligence algorithms to learn the driver's habits over time. The self-learning system recognises the driver from their key fob or phone and adjusts the seat and steering column position as the owner approaches. This can be set up for eight individual profiles. Then after a few journeys, the car remembers preferred temperature settings, media choices and commonly dialled numbers. It will even remember seat massage settings. It's all a bit Big Brother, but nonetheless very clever.
The driver benefits from quite an elevated driving position so has an excellent view of the road ahead and out the side windows. The over-the-shoulder vision is a little restricted and the rear view is fine unless there are tall passengers in the back seats. Once again, there is a solution to this issue as Land Rover has developed ClearSight rearview mirror technology. This, at the push of a button, transforms the rearview mirror into an HD display with camera quality vision of what's going on behind you.
Another welcome addition to new Evoque is Apple CarPlay. It seems a little late getting to the party, but has finally caught up and joins the Android Auto system along with 4G WiFi hotspot for up to eight devices and six USB slots throughout the cabin.
The display set-up is ultra-modern with two 10-inch high definition glass touchscreens plus a 12.3-inch interactive driver display.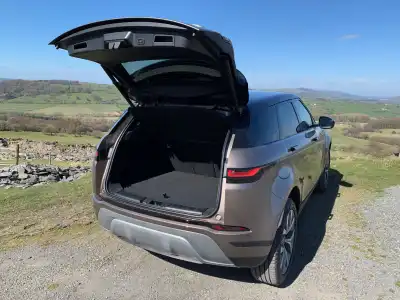 Space & Practicality
The wheelbase on the new Evoque has increased by 20mm and that has made a real difference within the car. Back seat passengers get extra legroom along with more space for their feet and the boot capacity has also risen by 10 per cent. It now has a capacity of 591 litres that rises to 1,383 litres with the 40:20:40 split-folding rear seats dropped down. Elsewhere there is a wider glovebox and centre cubby, doors bins that can hold 1.5-litre water bottles, front and rear cup holders, a sunglasses compartment, plus extra storage behind the lower touchscreen.
The powered gestured tailgate is a great feature when approaching the car fully laden with shopping and the wide opening rear doors mean gaining access to a child seat is a simple process.
Our test car featured a panoramic sunroof as a £1,100 optional extra, but this didn't seem to impact on headspace within the car. The Evoque offers a very inviting environment for four adults to travel in absolute comfort or two adults up front and a trio of youngsters in the back.
And there is yet another clever system to help if manoeuvring into a tight parking space. It's another ClearSight innovation called 'ground view' that stitches images from the lower grille and door mirrors to create one 'almost live' image on the screen. This effectively makes the bonnet invisible so you can see ahead and beneath the car when you are approaching a high kerb or when tackling off-road obstacles.
Ownership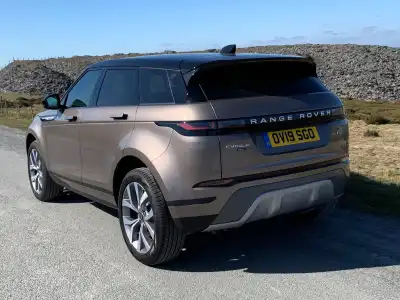 Running Costs
In fairness, the new Evoque was never going to be a cheap option. It's a premium car with a price-tag to match. The entry-level Evoque model with 150hp diesel engine is the only FWD model with a manual gearbox and costs £31,600. At the other end of the scale, the 249hp petrol driven models cost from £50,400. Start adding all the bells and whistles and that price creeps up considerably.
Our test car started life at £47,800 although the extras saw the final price reaching £50,665. This car had combined fuel economy of 40.4-37.7mpg (WLTP) with carbon emissions of 163g/km. That would result in a first year Vehicle Excise Duty charge of £530 for the first year reducing to £145 the following year. But there is an additional £320 to be paid for the first five years because the car costs more than £40k.
However, there is good news. The Range Rover Evoque will hold onto its value with very low depreciation levels. And there are some attractive PCP deals at launch too with monthly payments from £245 with a £7,500 deposit or £349 with a £4,120 deposit over 37 months. This is for the entry level car so expect higher payments as you move through the scale.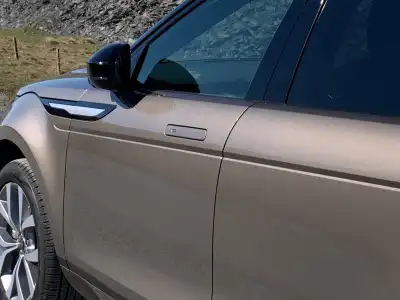 Quality & Reliability
When it comes to reliability league tables, Land Rover has starting creeping away from the relegation zone. It was once plagued by issues, but many of these have been resolved on more up-to-date vehicles. And hopefully the new Evoque will continue that upwards trend.
The car certainly feels very well put together and that environmentally-friendly upholstery looks and feels like it will last the test of time.
The updated front and rear suspension, along with the car's new architecture give the vehicle a new feeling of stability and strength which, once again, is another step in the right direction.
The Evoque comes with a three-year, unlimited mileage warranty.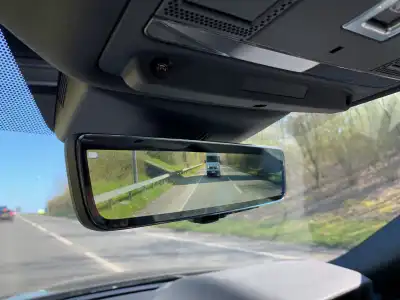 Safety & Security
Although the new Evoque has not been tested for a Euro NCAP safety rating, it is expected to score well. The original Evoque was awarded the maximum rating and more recent Land Rover models such as the Velar and Discovery Sport have also been given five stars apiece.
All models get the likes of a tyre pressure monitoring system, hill launch assist, dynamic stability control, electronic traction control, roll stability control, lane keep assist, driver condition monitor, brake pad wear warning, emergency brake assist, anti-lock brakes, electronic brakeforce distribution and six airbags.
Our HSE car also featured auto high beam assist, traffic sign recognition and adaptive speed limiter, a Park Pack (consisting of clear exit monitor, park assist, a 360-degree parking aid and rear traffic monitor), plus a Drive Pack that adds blind spot assist, adaptive cruise control with high speed emergency braking.
And there is, of course, all the impressive off-road settings to complement these features.
More On This Car
Take one for a spin
Request a Land Rover Range Rover Evoque test drive