Pros:
Dynamic styling with performance to match

Exquisite interior with all the latest gadgets

New straight six-cylinder 400hp petrol engine
Cons:
You'll need shares in BP to cover the fuel costs

Touchscreens prone to fingerprint smudging

Some of the infotainment systems are difficult to use on the move
More On This Car
Take one for a spin
Request a Land Rover Range Rover Sport test drive
Introduction
The Range Rover Sport HST is pretty special on two counts. Firstly, it boasts distinctive and somewhat aggressive styling with lots of carbon fibre trim to the bonnet, front grille, side vents and tailgate along with gloss black alloys and a gloss black roof.
Secondly, it is powered by Land Rover's new 3.0-litre, straight-six-cylinder Ingenium engine that combines an electric supercharger powered by a 48v system along with mild hybrid electric power.
This newly badged P400 model replaces the outgoing 3.0-litre V6 in the range and the straight-six engine will be introduced across the JLR model line-up in the next few years.
It's not cheap, it's not particularly economical to run, especially when compared to the hybrid model, but the Range Rover Sport HST is very fast and can power its way from 0-60mph in just 5.6 seconds. That's not bad for a fully-blown 4x4 SUV.
On The Road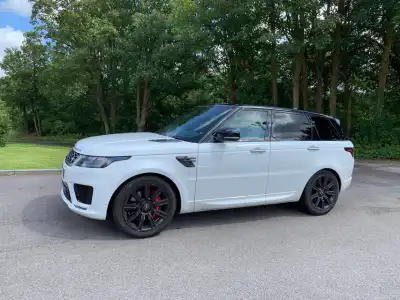 Performance
This Range Rover Sport HST special edition looks pretty menacing especially with all the black trim and carbon fibre effects. The red brake calipers complete the dynamic styling. Thankfully, the performance perfectly complements the apperance with the new 3.0-litre petrol engine delivering 400hp of power and a whopping 550Nm of torque.
And while the car features mild hybrid, turbocharger and supercharger technology, it all seems to tick along very smoothly. The acceleration is as rapid as you want it to be and that 48v system does an excellent job of combating any turbo lag.
This five-door SUV can sprint from 0-60mph in 5.6 seconds and maxes out at 140mph. The eight-speed automatic transmission is ultra-smooth and the Range Rover Sport feels beautifully poised and balanced as it fires through the country lanes. The road holding is assured and there is minimal sign of any body movement even when driven hard into sweeping bends.
It's also content weaving through busy town centres or eating up the motorway miles and then onto more challenging terrain should the mood take you. The Auto Terrain Response system will guide you through the toughest courses and the car can wade through water up to 850mm deep, has off-road obstacle clearance of 278mm and can lean at nerve-wracking angles in the process.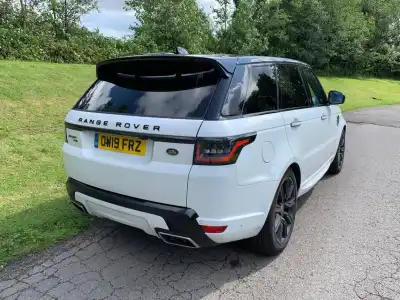 Ride Handling
Few full-sized SUVs feel quite as comfortable as this latest Range Rover Sport. It is far more agile than its big brother – the fully blown Range Rover – and certainly doesn't feel like a vehicle that weighs in at 2.4 tonnes. The steering offers excellent feel and feedback and the handling is deceptively lively and agile.
Steering wheel mounted paddles offer extra control through the gear switching and the sporty dynamic mode adds even more oomph to the performance. Finally, that high level of torque means you will run out of steam long before the car does!
Although it is great fun to throw a car like the Range Rover Sport around and yes, it's very able off road, the place where it really excels is on the motorway. It effortlessly cruises at 70mph, so keep a watchful eye on the speedo or set the cruise control. The comfort levels are sublime and even after a six-and-a-half-hour journey caused by lots of motorway jams, I still didn't feel the need for a break. Rival models would have me desperately seeking out a coffee stop.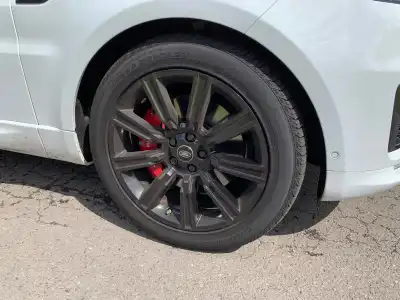 Styling
The Range Rover Sport HST is as refined as they come with all the stand-out design cues you could wish for complimented by a wealth of on-board technology and creature comforts.
It's a real head-turner thanks to the bold carbon fibre trim, along with the shiny black roof, pillars, wheels, mirror caps and door handles. Add in some HST badging, Matrix LED headlights with signature daytime running lights, a fixed panoramic roof and 21-inch, nine-spoke, gloss black wheels and this car definitely has the wow factor.
The interior oozes class with 16-way power adjusted front seats, duo-tone perforated Windsor leather seats that can be heated or cooled, a suede-cloth steering wheel and headlining and yet more HST badging. The sporty nature of the vehicle is accentuated with satin chrome gear shift paddles, bright metal pedals and aluminium treadplates carrying the Range Rover script.
It's quite noticeable in an age where so many cars are ditching any references to make or model, that the Range Rover Sport has hints to its identity all over the place. For example, take a little time to look around the car and the Range Rover name is on the door sills, steering wheel, air vents, front of the bonnet, boot and windscreen and windows. The Land Rover tag appears on the red brake callipers, boot, wheel hubs and front of the gear lever. No mistaking this car's heritage then.
When it comes to driving refinement, the Range Rover Sport HST really surpasses expectations. It starts up with quite an angry sounding rumble but soon calms down to a more sedate hum.
In The Car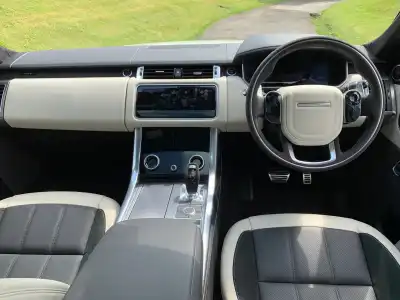 Behind the Wheel
Getting a comfortable driving position is a simple process with plenty of steering wheel adjustment along with front seats that have 16-way power adjustment. These seats can also be heated or cooled as required.
The elevated driving position results in excellent all-round visibility which is a 'must' for the Range Rover Sport as they are so often spotted on the school run with cars and children darting out unexpectedly.
There is a wealth of on-board technology to explore and all buttons, controls and readouts are perfectly positioned for ease of use. The Range Rover Sport HST features the company's Touch Pro Duo infotainment screens with two 10-inch screens sitting one above the other. The top half is where all the entertainment, navigation and car configurations can be found and the bottom houses the climate control along with Terrain Response etc.
Two independent dials can control the temperature, seat heating and massage settings amongst other functions. The set-up looks amazing, but it can be distracting when driving and also, both screens quickly get covered in smudges and fingerprints.
But there is lots to get your teeth into with full smartphone connectivity via Apple CarPlay or Android Auto, a pitch perfect Meridian sound system, navigation system, head up display and a CD/DVD player.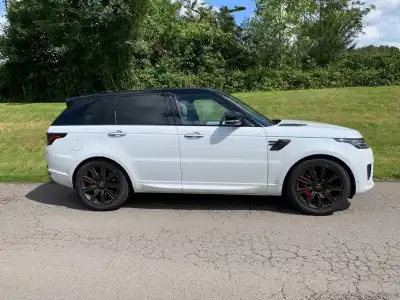 Space & Practicality
Splash out more than £80k on a Range Rover Sport and you would expect the five-door SUV to be a practical investment and it is just that with room for five occupants and no luggage restrictions either. The trio of back seat passengers will sit quite snuggly but will have ample head room and leg space provided the front seats are not pushed too far back.
The boot can swallow 522 litres of kit, a limit that increases to 1,686 litres with the 60:40 split folding rear seats dropped flat. Another clever feature is the gesture, powered tailgate that is really handy when approaching the car laden down with boxes or shopping.
Elsewhere, there are lots of convenient storage compartments scattered throughout the vehicle, including a twin glovebox, door bins, covered cup holders and a central storage box. Back seat passengers have a central armrest, their own climate control and a pair of cup holders.
Getting in and out of the Range Rover Sport HST is easy enough and the elevated seats offer easy access for anyone with mobility issues – the front and rear grab handles would also assist in this matter.
As well as it's unquestionable off-road ability, the vehicle can tow a trailer, caravan or horsebox weighing up to 3.5 tonnes.
Ownership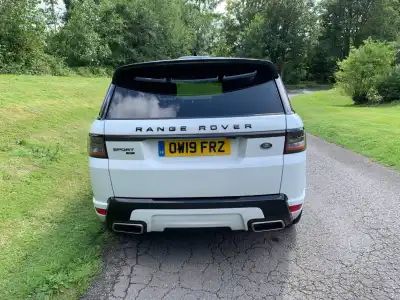 Running Costs
The Range Rover Sport HST costs £81,250 although the optional extras on our test car saw that final price-tag rise to £89,455. There are cheaper models out there such as the HSE and more economically-viable versions too such as the plug-in hybrid model, but the HST still has its very own unique appeal – mainly because of the bold styling and excellent handling.
The clever mild hybrid and regeneration technology do help maximise the fuel efficiency while enhancing performance, but this is never going to be a car for someone on a strict budget.
According to official WLTP figures our car could deliver combined fuel economy of 24.90-27.4mpg with carbon emissions of 209g/km. This would result in a first year Vehicle Excise Duty charge of £1,280 which would drop down to £145 the following year. But the costs don't stop there as all cars costing more than £40k incur an extra charge of £310 a year for the first five years.
The Range Rover Sport HST is listed in insurance group 50.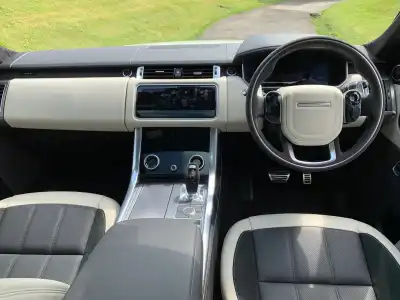 Quality & Reliability
The Range Rover Sport is billed as a go-anywhere vehicle that can conquer the toughest of terrains so it should have a good lifespan. Whenever Land Rover introduces a brand new model it is put through the most gruelling testing rituals at some of the planet's most unforgiving destinations with dessert temperatures soaring above a hundred degrees or ice-packed locations plummeting to unimaginable lows in the Arctic Circle. So, it would be fair to say their vehicles should keep going no matter what Mother Nature throws at them.
However, the company has had some criticism in the past for its reliability at times and the HST features some fresh technology with its straight six engine, mild hybrid technology and electric supercharger, so it's impossible to say how well these will perform at this early stage. But the Land Rover company as a whole has certainly improved its reputation for reliability in recent years.
The Range Rover Sport looks and feels robust with doors that close with a reassuring thud, tough switchgear and quality materials used throughout.
The vehicle comes with a three-year, unlimited mileage warranty.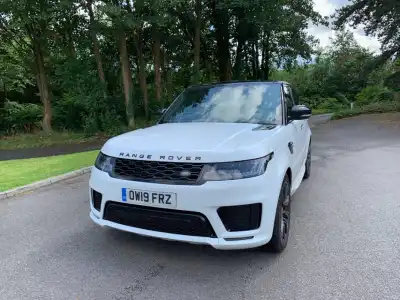 Safety & Security
The Range Rover Sport has been awarded the maximum five stars for safety by Euro NCAP and it features a generous array of kit to help protect occupants and pedestrians alike, as well as helping to prevent accidents occurring in the first place.
Our car was kitted out with dynamic stability control, lane departure warning, anti-lock brakes, emergency brake assist, low traction launch, electronic traction control, roll stability control, hill descent control, electronic brakeforce distribution, tyre pressure monitoring, Isofix fixtures and a full collection of airbags.
An optional extra on the test car was the Driver Assist Pack, costing £3,330, that added a 360-degree parking aid, park assist, clear exit monitor and rear traffic monitor, blind spot assist, adaptive cruise control with steering assist, a driver condition monitor, high speed emergency braking, lane keep assist, traffic sign recognition and adaptive speed limiter.
In addition, the Matrix LED headlights offer outstanding illumination and the Terrain Response system makes light work of crossing grass, gravel, snow, sand or mud.
More On This Car
Take one for a spin
Request a Land Rover Range Rover Sport test drive