From £70,800
Pros:
Good financial benefits for business drivers

Full Range Rover off-road ability even when driven in EV mode

Can drive 31 miles in EV-only mode up to speeds of 85mph – perfect for short commutes
Cons:
It's only a viable option if the EV-mode is used to its full potential – not the car for long daily commutes

It costs about £5k more than standard Range Rover Sport so it needs regular EV use to recoup that cost especially as it doesn't qualify for the Government's Plug-in Grant of £2,500

Apple CarPlay and Android Auto are not available even as an option
More On This Car
Take one for a spin
Request a Land Rover Range Rover Sport test drive
Introduction
If you're driving around town and spot a Range Rover Sport in front of you with some unfamiliar badging, it's quite possibly a hybrid model. The P400e moniker refers to the mix of petrol and electric power and the 404hp of power.
The car offers all the driving capabilities associated with the Range Rover Sport – both on and off road – and it can also travel for 31 miles in pure electric mode at speeds up to 85mph which makes it perfect for short commutes where the car can be charged at home and work.
The Range Rover Sport P400e also features all the latest design tweaks along with a fabulous interior that oozes class and is packed with all the latest technology (apart from Apple CarPlay and Android Auto that is!)
On The Road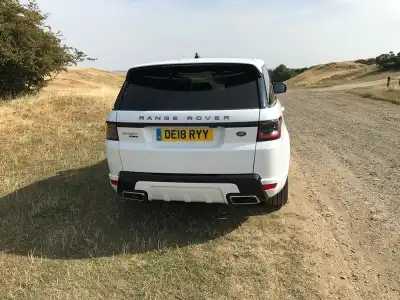 Performance
The Range Rover Sport P400e PHEV is available in HSE, HSE Dynamic, and Autobiography Dynamic trim levels and we opted for the mid-range HSE Dynamic. It is powered by Land Rover's own 1,997cc Ingenium petrol engine that works in tandem with an 85kW electric motor to produce a combined 404hp and 640Nm of torque. It is mated to a super slick eight-speed automatic gearbox with steering wheel-mounted paddles for manual gear changing.
Our car could sprint from 0-60mph in 6.3 seconds and maxed out at 137mph. According to official figures, it can deliver combined mileage of 101mpg which is nonsense – just like all hybrid estimations. In reality expect to see low to mid 30s if driven carefully. But one figure that is beyond question is the carbon emissions rating of 64g/km and that will result in huge financial rewards.
When it comes to performance, the Range Rover Sport P400e PHEV is as exciting and accomplished as ever. The acceleration through the gears is smooth and responsive and the car feels beautifully planted with ample grip into tight bends.
The way the car pulls away in complete silence seems a little eerie, but it's barely noticeable when the combustion engine joins in.
Although we stayed firmly on the Tarmac on this occasion, the P400e PHEV is a go-anywhere SUV. It boasts AWD and the company's Terrain Response system that means it can cope with the most extreme conditions even in EV mode. For example, it can wade through water up to a depth of 850mm and can clear obstacles of 213mm as well as lean at precariously dangerous side angles.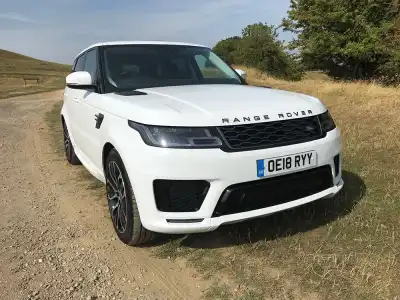 Ride Handling
Sometimes when you get behind the wheel of a hybrid model, it can be disappointing with poor transition from EV to combustion power. It can be noisy, jittery and somewhat underwhelming. The Range Rover Sport PHEV is the complete opposite. It delivers on all counts and is comfortable at motorway speeds, along twisting country lanes, as well as weaving through congested traffic in busy town centres. There is plenty of driver feedback through the steering too.
The road holding is confident and there is minimal body roll even when driven with a heavy right boot into tight bends. The highly efficient suspension makes light work of smoothing out the ride quality and despite being heavier than the standard Range Rover Sport due to the hybrid technology, it still delivers great acceleration and driving capabilities.
The car can be driven in EV-only mode and although the range is listed at 31 miles it's more realistically around the mid-20s. This would be ideal if you have a short commute to work where the car could be put on charge ready for the journey home. There is also a Save function which means the EV charge can be stored. And there are no range anxiety fears as the petrol engine is there when needed.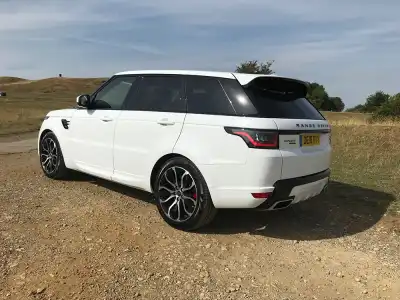 Styling
This is an area that the Range Rover Sport PHEV excels in. The car lives up to its premium marque billing with classy styling both inside and out. It's a model that grabs the attention of bystanders thanks to its muscular styling, black grille and vents, 21-inch alloys, red brake calipers, privacy glass, Matrix headlights with signature daytime running lights and panoramic roof.
Move inside and the car oozes class with Windsor leather seats that have 16-way power adjustment and can be heated. There is the Touch Pro Duo set-up that offers two 10-inch touchscreens and a wealth of on-board technology.
The leather multi-function steering wheel can be heated and there are satin chrome gearshift paddles. The bright metal pedals are a reminder that this is a sporty model.
The car is as refined to drive as it is to look at. Comfort levels are sublime (front and back) and it seems to glide across the Tarmac. But crank up the power and it delivers all the strength associated with the Land Rover name.
The cabin is well insulated against any engine, road surface and wind noise, and only the most severe pothole will cause it to stray off course.
The transition between EV mode and petrol power is smooth unless you really floor the accelerator where you will feel a slight jolt, but driven 'normally' it's beautifully refined.
In The Car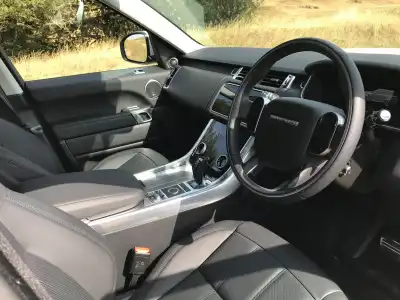 Behind the Wheel
Comfort levels within the Range Rover Sport PHEV are excellent whether you sit up front or in the back. With the 16-way power adjustable seats and the electrically-adjustable steering wheel, it's simple to find the perfect driving position and the car has been ergonomically designed with the driver in mind. All buttons, controls and readouts are perfectly positioned for ease of use and there are plenty of techno treats to explore.
Thanks to the elevated seating position, the driver benefits from excellent all-round visibility which is a bonus on any family car.
The Range Rover Sport PHEV features the latest on-board technology from the Land Rover stable and that means it gets the twin 10-inch screens that are elegant to look at and very simple to operate. Creature comforts include the likes of a navigation system, Bluetooth connectivity, Pro Services with 4G Wi-Fi hotspot, two-zone climate control, a pitch perfect sound system, rear view camera, a 12.3-inch driver interactive display and lots more besides. Noticeable by its absence these days though, there is no Apple CarPlay or Android Auto built in or available as an option.
The fixed panoramic sunroof means light floods into the cabin creating a bright environment for all occupants, and that combined with the luxuriously comfortable seats makes the Range Rover Sport PHEV a real treat to drive.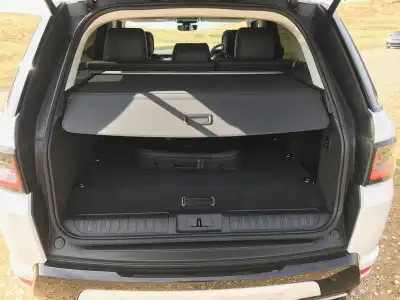 Space & Practicality
So, the Range Rover Sport PHEV is perfect for day-to-day commutes, but what about family away days or weekend breaks in the countryside? Well, that's the real beauty of this hybrid model. It copes with the EV driving and then relishes a longer journey when the 2.0-litre Ingenium petrol engine will be doing most of the work.
There is ample space for three adults in the back of the car and the high roofline means there is plenty of head room. Up front the seat controls have been moved to the doors so there is more width for the driver and passenger.
When it comes to storage, the hybrid technology does eat into the overall capacity a little, but the boot is still generously-sized. With all the seats in an upright position, it can accommodate 446 litres of luggage (522 litres on the standard Range Rover Sport) and with the 60:40 split-folding rear seats dropped that limit increases to 1,236 litres – compared to 1,313 litres on a standard car. The other compromise is the full-sized spare wheel which is replaced by a repair kit to free up extra space. The boot is power-gesture operated which is handy when returning to the car laden down with shopping bags or luggage. And there are numerous convenient storage places throughout the cabin, including a double glovebox, door bins and a central storage compartment.
There are numerous USB points to stay connected on the move along with a domestic plug socket.
The plug-in charge point is discreetly hidden behind a panel on the grille and the vehicle can be charged in 7.5 hours using a domestic plug socket or 2.45 hours on a fast charger.
Ownership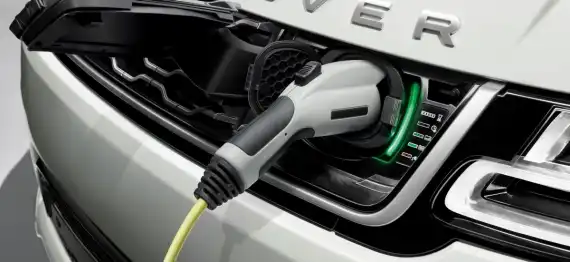 Running Costs
The Range Rover Sport P400e PHEV will make a considerable dent in your savings with the line-up starting from £70,800. Our test car in mid-grade HSE Dynamic trim started life at £73,800 but a few optional extras bumped up the cost to £74,860.
The other factor that can almost be brushed aside is the claimed fuel efficiency figure of a combined 101mpg. This would only be achievable if the car was driven a very high percentage of the time in EV-only mode. In reality, expect around the low to mid-30s mark.
It's also a shame that the car is not eligible for the Government's Plug-In Grant of £2,500 which is limited to cars costing up to £60,000 – the Range Rover Sport PHEV falls about £10k short of that limit.
However, it's not all doom and gloom. On the plus side, the P400e PHEV has a carbon emissions figure of just 64g/km and that is rewarded generously. It would have a Vehicle Excise Duty cost of just £25 for the first tax year and £140 after that. It also delivers a Benefit in Kind rate of 13 per cent.
However, it seems the Government gives with one hand and takes away with the other because cars with a list price above £40,000 pay a £310 supplement for five years. After the five-year period the vehicle will be taxed at the applicable standard rate.
The test car falls into insurance group category 49.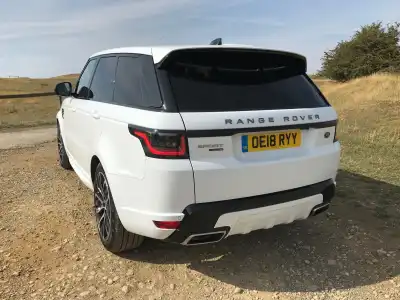 Quality & Reliability
The latest Range Rover Sport PHEV has a few new styling cues with a fresh-looking grille that houses the charging point. There's new lights and exhaust but the real changes are within the cabin itself. It has gone completely upmarket with flashy infotainment screens and an ultra-modern multi-function steering wheel. The screens look awesome and would be easy to wipe clean from mucky fingerprints.
The Windsor leather seats felt supportive and very well made. They feel robust enough to survive the test of time as does all the switchgear.
The car comes with a three-year, unlimited mileage warranty.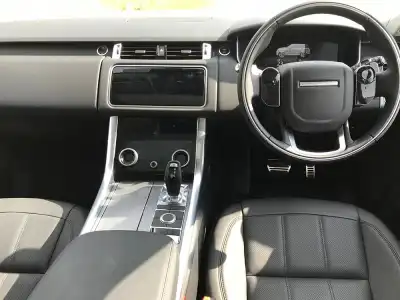 Safety & Security
The most recent Euro NCAP testing of the Range Rover Sport resulted in a maximum five-star score and that rating would also apply to the PHEV model.
The Range Rover Sport PHEV boasts a comprehensive list of safety features and driver assist aids. These include anti-lock brakes, emergency brake assist, lane departure warning, cruise control with speed limiter, rear and front parking aid, trailer stability assist, traction control, roll stability control, rear ISOFIX fittings on outer seats, numerous airbags and all-wheel drive to keep you moving no matter how testing the driving conditions are.
The addition of Matrix LED headlights is a bonus as they deliver exceptional illumination and, of course, the Range Rover Sport P400e features the company's Terrain Response system allowing the driver to easily adjust the vehicle settings according to the driving conditions and surfaces with a choice of Eco, Comfort, Grass-Gravel-Snow, Mud-Ruts and Sand.
More On This Car
Take one for a spin
Request a Land Rover Range Rover Sport test drive