From £44,830
Pros:
Beautifully styled

Generously equipped

Refined driving and world class off-road capabilities
Cons:
Pricey compared to rivals

No Apple CarPlay or Android Auto

Limited headroom in the back
More On This Car
Take one for a spin
Request a Land Rover Range Rover Velar test drive
Introduction
The Velar name goes right back to the 1960s when it was the codename for the original Range Rover prototype model. But now Land Rover has brought the title right up to date and if sales are anywhere near as successful as the Evoque the company will be laughing all the way to the bank.
From the outside, the Velar looks imposing with a robust, striking design. Move inside and there is a wealth of technology to explore in luxurious surroundings.
There is a wide choice of engines and trims so customers can dress their Velar to suit their needs and requirements.
On The Road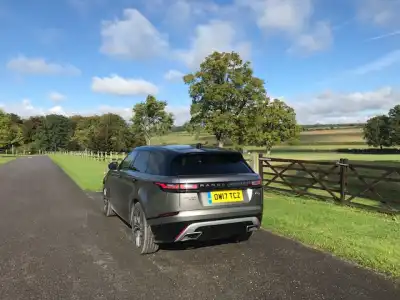 Performance
The Range Rover Velar is available with a broad range of the company's Ingenium engines. There are six in total all mated to a smooth-shifting eight speed automatic gearbox and all-wheel drive. The 2.0-litre diesel models have power outputs of 180bhp and 240bhp with a 3.0-litre V6 version pumping 300bhp. Petrol versions are a 2.0-litre 250bhp or 3.0-litre powertrains with 300bhp or 380bhp.
We tested out the all-singing, all-dancing powerhouse of the pack - the potent supercharged 3.0-litre 380bhp model in range-topping First Edition grade. This trim level is only available for the first 12 months of production.
With a price-tag of £85,450 - increased to £86,175 with options fitted - this Velar could blast its way to 60mph from a standing start in just 5.3 seconds and maxed out at 155mph. It can deliver combined fuel efficiency of 30.1mpg with carbon emissions of 214g/km.
The car is based on the aluminium platform from the Jaguar F-Pace and shares a lot of its chemistry. But from the off, there's no denying the Velar has its very own character and carries forward the Land Rover name with a sense of pride.
The elevated seating position means the driver benefits from excellent all-round visibility and the car has a sense of invincibility about it as it moves rapidly through the gears. It cruises effortlessly at motorway speeds, yet handles in a gentle and agile manner when tackling city centre congestion.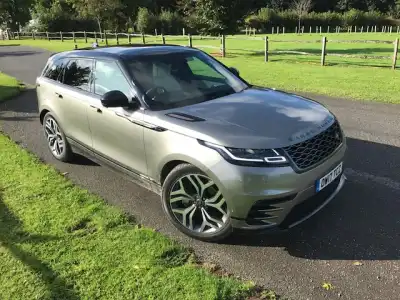 Ride Handling
The thing about the Range Rover line-up is the unrivalled levels of elegance, sophistication and, in a way, opulence. After all, most royals and dignitaries can be spotted being chauffeured in a Range Rover these days.
But that said; whilst the Velar is an exceptionally competent vehicle when it comes to driving dynamics it does lack some of the exhilarating fire-power of some rivals - the Porsche Macan is one example that immediately springs to mind. A Dynamic mode does sharpen up the experience and responses if you fancy a livelier driving session and the steering wheel-mounted paddles are fun to dabble with too.
However, the Velar is a real beauty to drive. On twisting country lanes, it gripped the road like glue and any bend could be attacked with a degree of confidence without any sign of body roll. The steering is fine tuned and well balanced with ample driver feedback and the suspension is exceptional ironing out all the bumps, dips and unexpected potholes along the way.
Although the Velar looks more striking on larger wheels (the test car was riding high on 22-inch alloys), the smaller alloys will provide a more comfortable experience, so it really is a case of prioritising according to taste.
Although we didn't test the vehicle's off-road ability on this occasion, the Velar boasts all the class-leading Terrain Response 2 technology of its siblings - the Range Rover Evoque, Range Rover Sport and Range Rover, so it is guaranteed to be undeterred by any of Mother Nature's mood swings.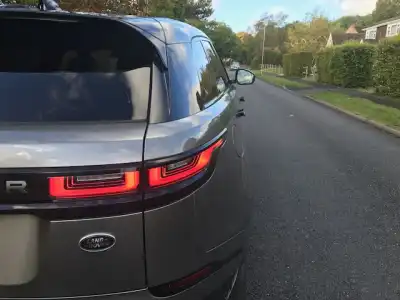 Styling
The Range Rover Velar has some stunning new features that help it stand out including the Touch Pro Duo system which boasts twin 10-inch high definition touchscreens. They are integrated beautifully into the car and burst into life the second the ignition is switched on offering full access to the vast array of on-board techno treats. The Velar is also a Wi-Fi hotspot for up to eight devices.
The most exclusive First Edition model features a wealth of extras as standard including full leather interior trim to complement the perforated Windsor leather seats. There is a Meridian sound system, Matrix-Laser headlights and even specific paintwork that has been hand-sprayed.
One feature that may sound quite insignificant but seemed to sum up the exquisite nature of the Velar were the door handles that are flush to the body and pop out as you stroll towards the vehicle. They feature subtle LED illumination and retract seamlessly into the doors again when the car is locked or at speeds above 5mph.
All models boast adaptive suspension which is apparent as the car almost glides across the Tarmac and the highly-efficient insulation means the cabin is protected from any road surface, engine or wind noise. It's like being in your own little bubble protected from annoyances of the outside world.
In The Car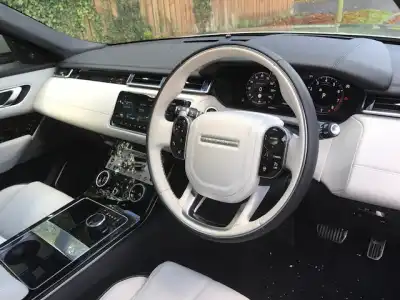 Behind the Wheel
Comfort levels within the Velar are exceptionally high, especially up front where it's very easy to get comfortable with ample seat and steering wheel adjustment available. In fact, there is 20-way adjustment, along with heating, cooling and massage functions.
The minimalist styling in no way reflects on the amount of technology at your disposal and the instrumentation layout with the large high-definition touchscreens along with the virtual instrument cluster are the best I have come across to date. The list of on-board creature comforts is endless and the beauty is how simple it is to access and operate functions such as the off-road settings, sat nav instructions, climate control and multi-media systems.
A colour head-up display also offers feedback such as speed, navigation directions and information about active safety systems. I must also mention the touch-sensitive controls on the steering wheel which are beautifully refined.
There are two downsides though to a seemingly flawless car. Firstly, the absence of Apple CarPlay and Android Auto. And secondly, the restricted space for back seat passengers due to the Velar's sloping roof design.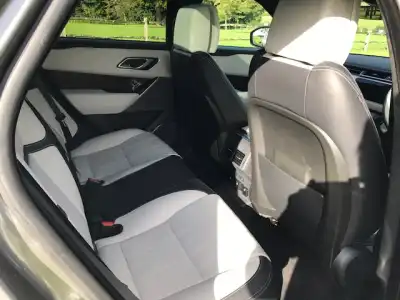 Space & Practicality
The Range Rover Velar is competing for sales in a fiercely challenging segment where new SUV models seem to be flooding the market from all angles. After all, who would have imagined sister company Jaguar would have created a beefy off-roader in the shape of the F-Pace?
With than in mind, the Velar needs to be exceptionally versatile and practical and it certainly achieves that goal. The boot's capacity ranges from 632 litres to 1,731 litres depending on the 40:20:40 split-folding seating configuration.
The gesture controlled powered tailgate helps to make light work of loading bulky or heavy items. In addition to the boot, there is 7.5-litre glovebox that can be cooled, deep wide door bins that have been designed to hold large drinks bottles, a practical storage bin under the central armrest and cup holders. But it's worth looking a little closer because behind the 10-inch touchscreen is another storage space plus there is a further cupholder which is only revealed when the Land Rover badge near the rotary transmission controller is pressed.
Ownership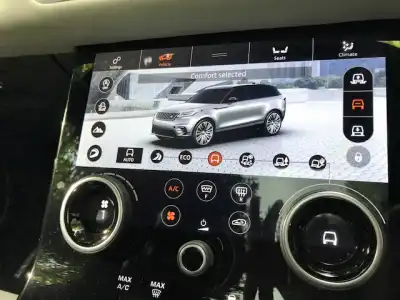 Running Costs
So onto the facts and figures then - how much of a dent in your saving will the Range Rover Velar make? Well, that rather depends on the model selected as prices range from a respectable £44,830 up to £85,450 and with some optional extras piled on the price-tag could quickly top the £100k mark.
The most efficient model is the 2.0-litre 180bhp diesel-powered version which can deliver combined fuel economy of 52.5mpg with carbon emissions of 142g/km. This would have a Vehicle Excise Duty cost of £200 for the first tax year and £140 after that.
However, the test car with its powerful 3.0-litre V6 380bhp petrol engine that kicks out CO2 emissions of 214g/km would prove much pricier in the first year with a VED charge of £1,200 and reduced to a more respectable £140 thereafter.
Insurance costs range from 31 to 48.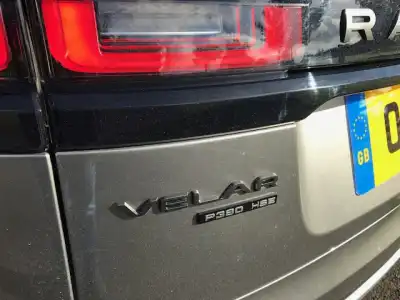 Quality & Reliability
The Velar's build quality is exceptionally high with a perfect mix of robust and softer elegant materials throughout. There is an abundance of soft-touch materials and the minimalist feel suits the car. The touchscreens do show up fingerprints but are easily wiped clean and elsewhere the seats look like they will survive the test of time as does the visible switchgear.
The Range Rover Velar does feature many tried and tested build qualities and technologies from other JLR vehicles that have fared well, so we can expect the car to do well on all fronts.
There have been some issues with reliability in the past and some surveys suggested that other JLR models have suffered some infotainment problems. However, the Velar is not offered with Apple CarPlay or Android Auto so should avoid some of those teething problems.
All models come with a three-year unlimited mileage warranty for peace of mind.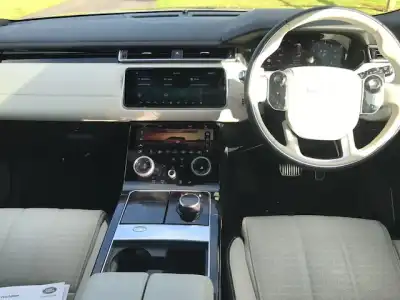 Safety & Security
Although the NCAP safety rating is not expected until early next month the Velar is jam-packed with innovative safety systems which help make it one of the finest off-road vehicles on the planet.
The car boasts autonomous emergency braking, lane departure warning, lane keep assist, a driver condition monitor that tests for driver fatigue (a coffee cup is shown in the instrument display to encourage a refreshment break if necessary). There is traffic sign recognition function, reverse traffic detection, adaptive cruise control with queue assist and intelligent emergency braking and a whole lot more.
And it's worth remembering that this is a Land Rover and so will be able to tackle any terrain or obstacle put in its path. It can wade through water 650mm deep, has ground clearance of 213mm, an approach angle of 24.3 degrees and departure angle of 26.5 degrees.
The Terrain Response system allows the driver to easily adjust the vehicle settings according to the driving conditions and surfaces with a choice of Eco, Comfort, Grass-Gravel-Snow, Mud-Ruts, Sand and, on R-Dynamic models, a Dynamic mode.
All these highly advanced systems are designed to protect occupants and pedestrians and also help prevent accidents before they happen.
More On This Car
Take one for a spin
Request a Land Rover Range Rover Velar test drive