Pros:
That 5.0-litre supercharged V8 engine

One of the best SUV designs on the market

Not as showy as the full-blown SVR Range Rover
Cons:
Feeding that 5.0-litre supercharged V8 engine

Not particularly innovative or different

Around £20,000 more than the rest of the Velar range
More On This Car
Take one for a spin
Request a Land Rover Range Rover Velar test drive
Introduction
In many ways, the Range Rover Velar SVAutobiography Dynamic Edition is a bit too much. There's no need for the Velar to have a supercharged 5.0-litre V8; no need for it to be so expensive and certainly no need for it to have such a mouthful of a name. Then again, there's no need for many of the things we enjoy in life. This is a car to enjoy and appreciate, and those who will be able to get their hands on one almost certainly will. Here's what they can expect from the spiciest of the Velar family – one designed and engineered by Land Rover's Special Vehicle Operations (SVO) team.
On The Road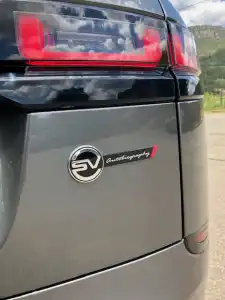 Performance
We may have mentioned it once or twice already, but the Velar SVAutobiography Dynamic Edition squeezes Jaguar Land Rover's largest and most charismatic engine under its clamshell bonnet – the famous 5.0-litre supercharged V8. You've probably heard all about it after its stints within the likes of the Jaguar F-Type and Range Rover SVR, but just in case you haven't, here's what to expect – 550PS; 0-62mph in 4.5-seconds, a top speed of 170mph and a big throaty, gargling of thunder for a soundtrack. One might say it's an assertive engine.
To help get this powerful car down from the high-speeds that it is comfortably capable of, big brakes have been fitted – 395mm at the front and 396mm at the rear. Land Rover says these big speed scrubbers have been engineered to help deal with the larger amounts of excess heat brakes like this can build up, and when you have the power that this new Velar does they're worth their weight in gold.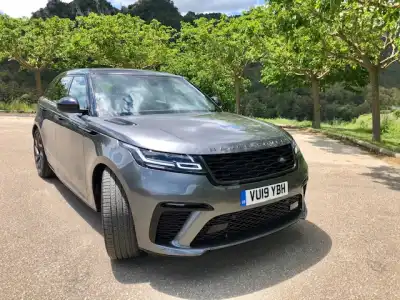 Ride Handling
The Velar is the mid-size luxury SUV underneath the Range Rover umbrella and so switching its heart around for the big V8 has a drastic impact on its character. But its engineers have decided not to go all-out; this isn't a full-fat shirt-ripping 'SVR', so it has retained a high level of the refinement it had before.
As such, this particular Velar feels like a Grand Tourer, with its weight, large wheels and potent engine giving it a firm but comforting ride. When cruising, the air suspension helps it feel rather sedate and calm, but when you apply the right foot out of corners, it squats down at the rear a little and sends you out with a real punch. It's a happy medium between the realms of all-out lap-time chasing performance and everyday usability and refinement.
Upgraded brakes help give you a sense of confidence about using this car's performance, and although it is quite evident that this car carries a lot of weight when you get into corners, it doesn't feel unwieldy when doing so.
Overall, this is a very nicely judged package that should satisfy a broad spectrum of customers, but perhaps not the hardcore enthusiasts – should they even look twice at a juiced-up Velar.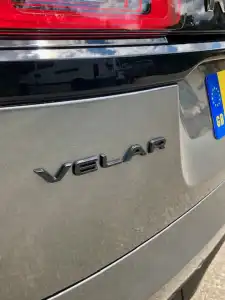 Styling
You just can't have a Range Rover without the type of refinement levels that can take on the world's leading marques. It would be utterly sinful if this new 'Dynamic' Velar wasn't comfortable, classy and controlled, but it is, so there's going to be no shock reveals in this segment of the review.
Obviously, the addition of the dominant powerplant has taken away some of the refinement as there's now a lot more engine noise, but nobody would really buy this car if they didn't fancy a nice big slice of V8 grunt in their life - so we're not sure this is an issue.
The Velar SVAutobiography Dynamic Edition is best driven as a cruiser, a testament to the refinement that this car has despite many significant additions for performance. You can let the 8-speed automatic get on with dealing with most of the work, and if you want to go somewhere a bit faster, you just squeeze that right foot and off you go. It's part muscle car and part Grand Tourer, but it's still 100% Range Rover.
In The Car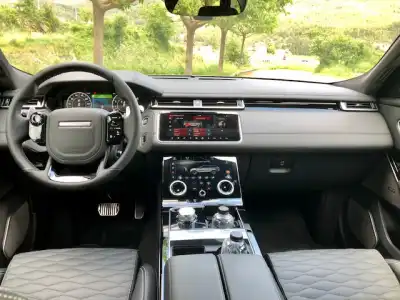 Behind the Wheel
The interior of the Velar feels quite minimalistic now, and it reminds us a little of what Volvo is doing with its interior design, decluttering the cabin and making everything simple and easy. It helps clear the mind because we always feel very relaxed when driving these cars, even with the performance on hand in this particular model.
There's a nice use of rich quality materials once again here, and everything feels just right to touch. The leather in this version of the Velar is exclusive to the car and feels lovely to the touch. What's more, the seating that they cover is heated and cooled in the front seats and features memory and massage functions as standard. Getting the right seating position shouldn't be too difficult either, as they are also 20-way electrically adjustable.
Overall, we'd still take the Volvo's interior over this one if we had a say in it, but then again, Volvo doesn't drop big 550PS V8s into its SUVs.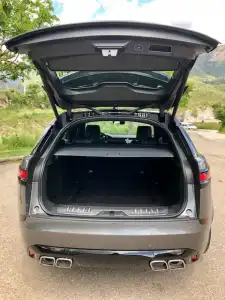 Space & Practicality
Well, it's still a Velar, so there's no penalty to the overall practicality and space offered by the standard car. There's good head and leg room for adult passengers and plenty of little areas to store things like drinks bottles and snacks, while the boot offers 558-litres worth of load potential with the rear seats up. This expands to 1,731-litres with the rear seats folded down. They also fold 40:20:40, so you've got some flexibility there with regards to shape.
Overall, you've nothing to worry about here in terms of space and practicality. If you need more room, then the Range Rover SVR or perhaps a Porsche Cayenne Turbo S will be able to offer a little extra.
Ownership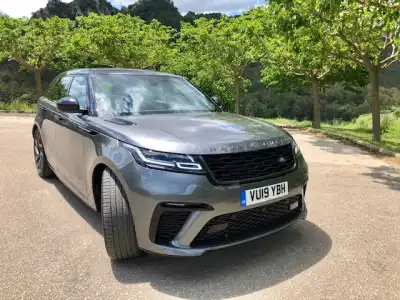 Running Costs
This is where the drawbacks to this car really start to come into play. There is just no getting around the fact that this Dynamic Edition of the Velar is expensive to run. Most of the buyers interested in this car probably won't be worried about this whatsoever, but for those who are, here's what you can expect.
The official fuel efficiency figure is around 23mpg, but if you manage to achieve over 18, you're going to be doing pretty well (or not enjoying yourself quite as much as you should). The fuel tank is 82-litres in size, meaning you have a range of over 300-miles, but it's going to cost you over £100 a pop to fill it up. What can we say? All-wheel drive V8-powered luxury SUVs aren't cheap to run.
Add longer-term concerns, such as replacing the huge brakes and tyres, and you've got yourself a motor that's going to significantly impact your finances just to enjoy and keep healthy.
Quality & Reliability
We can't predict how these cars are going to behave in the future, but we can tell you that they feel like they've gone up a level in terms of quality. Land Rover is simply not going to be able to fail to improve in this crucial area, and the firm will be working hard to ensure both this car and future generations of products match up the perception and strength of the brand.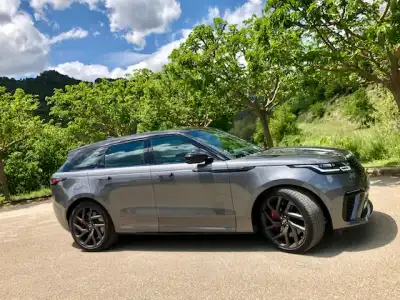 Safety & Security
The Range Rover Velar has a 5-star safety rating from Euro NCAP testing, meaning it's among the safest of machines you can go out and buy.
Found across the Velar range are systems such as dynamic stability control, roll stability control, autonomous emergency braking, front and rear parking sensors, a reversing camera, rear traffic monitoring - and more. Together with the construction and airbag system, it altogether makes for a very safe vehicle.
A useful additional extra piece of technology is the ability to control the car via your smartphone or even a smartwatch. It allows you to do things like start the engine, adjust the climate control, lock and unlock the vehicle, locate the Velar on a map and track the journeys you've undertaken with it.
More On This Car
Take one for a spin
Request a Land Rover Range Rover Velar test drive