Pros:
Good looking and practical

Well equipped with a strong infotainment system

Safety kit is exemplary
Cons:
Space in the rear is tight

Looks just like the old one
More On This Car
Take one for a spin or order a brochure
Request a Renault Clio brochure
Request a Renault Clio test drive
Introduction
Honestly, the picture above really is the new Clio. Fortunately, it's still as pretty as ever, but you really do need to have both old and new side by side to see what's changed. The headlights incorporate a sabre-tooth-style daytime running light, there's a more pronounced grille and larger Renault badge, and new contouring over the front gives a bit more definition and shape to the car. The rear changes slightly too, with new lights and a less obvious undertray, but they're all changes you might miss initially.
Despite that, the new Clio really is an all-new car and, subconsciously at least, looks and feels more grown-up than ever before. It's also good value, and good to drive, although there's no sign of any sporty versions yet.
Still, that makes it better for review, as it's this, the 1.0-litre Iconic version, that most buyers will choose. Is it still good enough for Nicole, now she's 48? We find out...
On The Road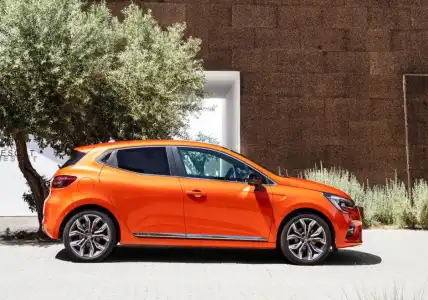 Performance
We've not had a chance to try the entry-level model with its 1.0-litre 75hp engine, but it's the 100hp version we're testing here that will be the biggest seller. The engine is the same, but Renault has bolted on a turbocharger to add the extra power, and that translates to a 0-62mph sprint of 11.8 seconds. If you think that's a little slow, avoid the lower power option, as that takes a ponderous 16.4 seconds.
Despite the low figures on paper, 100hp is enough to have some fun with. Rev the engine hard and it certainly feels like progress is quicker than the figures suggest, while a pleasingly quick and smooth gearbox allows for rapid gear changes to keep the momentum going.
Opt for the 1.3-litre model and you'll get an automatic gearbox and an extra 30hp. This is noticeably quicker and feels more alert, although it's still a long way from being a hot hatch. Of course, an RS version is bound to follow, so boy racers will eventually be catered for.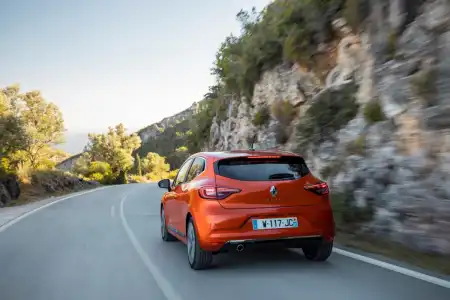 Ride Handling
There's a fluidity to the Clio that makes you smile. With little power to push you along, the focus changes to smooth and precise driving, and the Clio allows you to make the most of its chassis. There's little body roll, giving confidence in corners, although the light steering lacks much feel.
It's almost as sharp as the Fiesta, which is high praise indeed, but doesn't feedback and engage in quite the same way.
There have been the same compromises made on ride quality too. It's good, although not quite as good as the best in class such as the Volkswagen Polo. Long undulations are dealt with superbly, but the smaller ridges jiggle their way through the cabin, while potholes and surface cracks bump through instead.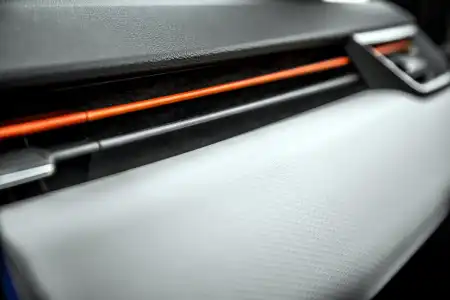 Styling
If the Clio is refined enough for Nicole, then it's refined enough for anyone. It's not perfect though, with vibrations making their way through the steering wheel at low revs, especially when pulling away. The engine is nice and quiet though and rarely interferes with the calm of the cabin.
Even the speedier 130hp model is hushed, although there's an odd whistle at higher revs - it's probably the turbocharger spinning a bit quicker, but doesn't really impact too much. Calm down a bit and it disappears entirely. It's also a smoother engine, with those vibrations from the 100hp model being entirely absent here.
All models have a bit of wind noise at speed, but tyre noise is kept at bay so it shouldn't be too tiring to take on a long motorway drive.
In The Car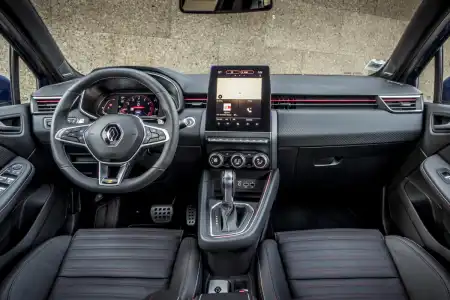 Behind the Wheel
Renault is making a big deal about the interior of the new Clio, and it's light years ahead of what's gone before. This mid-range Iconic model strikes a fine balance in terms of value and equipment, with a seven-inch infotainment screen allowing easy access to most functions. It's not the slickest of systems, but it's a very long way from the worst and is easy enough to operate. For those that want to go their own way, Android Auto and Apple CarPlay are included as well.
The DAB radio and navigation are operated through the screen on all models, but the higher-spec cars get a portrait-style 9.3-inch screen to play with. This uses the same software, just rotated a little, making it slightly easier to use on the road, but the physical design jars a little thanks to standing proud of the dashboard.
All versions of the screen sit above traditional rotary heating and ventilation controls, and a brace of USB sockets, all housed in a dashboard that follows a wave-like path across the width of the car. It all feels solid, too, with some interesting textures and contrasting materials to add a sense of style and panache to the cabin. Nicole would like it.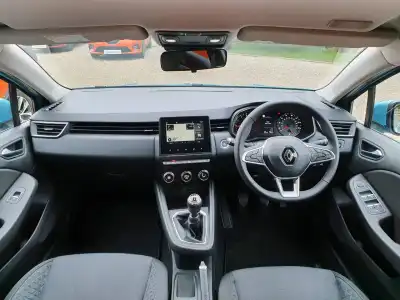 Space & Practicality
The new Clio is marginally smaller than the old car, although slightly wider at the same time, so there have been no huge gains in interior space. The front seats are fine for most, but the rear feels a little compact; there's enough headroom, but knee room is in short supply.
The boot is, however, huge. There's more room in there than you'll find in a Volkswagen Golf, but there is a high lip to lug heavy items over.
The rear seats fold down and split 60/40 as you would expect, allowing long loads and passengers to share the same space. The front passenger seat doesn't fold forward too much through, so very long loads are out of the running.
Ownership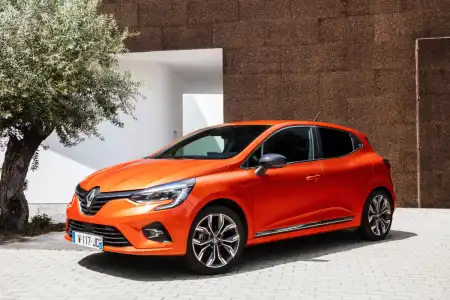 Running Costs
Those wanting to save the most money will be pleased to find an 85hp diesel model available, but it does attract a near-£2,000 premium over the 100hp petrol. Even with economy of 67mpg, you'll need to be covering a huge amount of miles to make that back.
The range starts from just £14,695, with this well-equipped Iconic model being just £1,000 extra. The petrol engine is almost as frugal as the diesel, promising 54.3mpg and CO2 emissions of 99g/km. Insurance costs are low, too, while service plans can be purchased for just £9 a month.
Residual values may be a little lower than some rivals, and the top-spec RS Line models demand a higher price of £17,795, but the core of the range is good value.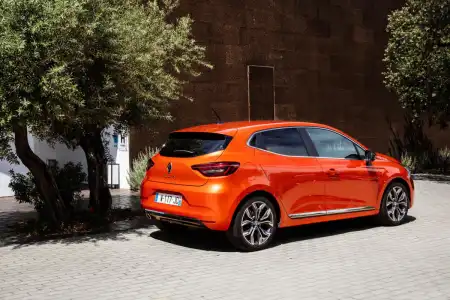 Quality & Reliability
The new Clio is too new to have any reliability data, but Renault as a whole finished up around two-thirds of the way down the Auto Express Driver Power survey results.
However, there's confidence in the new Clio as it is the safest car in its class, and comes with a five-year or 100,000-mile warranty, which matches what Toyota offers on its new cars. Renault also provides three years of breakdown cover, which is limited to 60,000 miles.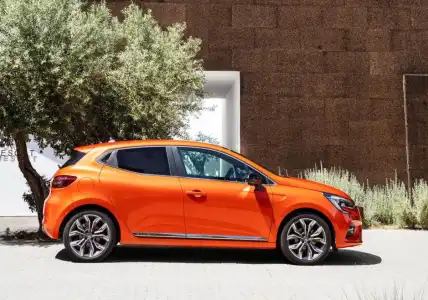 Safety & Security
Renault has been building a reputation for safety for some years now, and the latest Clio will enhance that further. In EuroNCAP testing, the Clio scored the full five stars, but drill down to the individual scores and it ended up being the safest car in its class. Particular praise was given to the protection offered to both adult and child occupants.
Automatic emergency braking is fitted as standard, helping to avoid an accident in the first place, while lane-keeping assistance and traffic sign recognition are also included. Combined with adaptive cruise control, it allows for safe and secure assisted driving along regular roads with clear white lines.

See the latest used Renault Clio offers.
More On This Car
Take one for a spin or order a brochure
Request a Renault Clio brochure
Request a Renault Clio test drive