Pros:
Huge cargo volume that you could use to move home

Simple to drive with agile handling

Clever rear-view camera to see what's going on behind the vehicle
Cons:
Quite pricey compared to rivals

Limited driving range, especially in winter

A bit sluggish on the open road
Introduction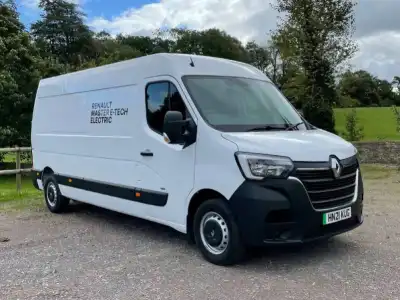 The Master E-Tech Electric is a van that is based on the diesel model but features the same full electrification system as the smaller Kangoo E-Tech. And Renault PRO+, which is the arm of the company responsible for business and fleet partnerships, has just improved the line-up.
The Master ZE Business was previously only available weighing in at 3.1 tonnes (with payload), but the new model boasts a gross weight of 3.5-tonne which includes an increase of 375kg in payload capabilities.
Factor in the decent range between charges, along with fast charging ability, and the Master E-Tech Electric is certainly moving with the times for any forward-thinking business owner looking to do their bit for the planet.
On The Road
Performance
The latest Master Z.E 3.5T Business vehicle uses the same battery as the 3.1T model – a 33kWh unit. It is also the same unit fitted to the much smaller Kangoo van. It provides an all-electric driving range of up to 75 miles, making it ideal for lots of short trips between deliveries.
The vehicle weighs in at 2.2 tonnes and that's before any payload is added, so it's never going to be that dynamic to drive.
It features a battery delivering 76hp and 225Nm of torque and while there are no official 0-62mph sprint times, for comparison sake, the Kangoo E-Tech completes that challenge in 14 seconds. The Master E-Tech tops out at 62mph.
When it comes to performance, the vehicle is fairly quick off the mark and builds up speed gradually. It's not that quick on faster dual carriageways, but for its size is deceptively nimble.
I was pleasantly surprised at the van's agility and there is a clever rear-view mirror feature that shows a camera-view of what's going on behind the vehicle. This is essential as there is a blocked out bulkhead section between the load area and driving cab to protect occupants.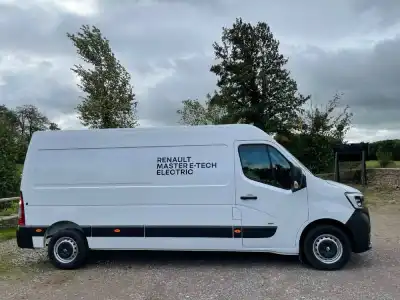 Ride Handling
The Master E-Tech feels nicely grounded out on the open road with the additional weight of the battery pack adding to its stability.
The silent running takes a little getting used to as most vans this size are quite noisy to drive. However, Renault has fitted a noise generator so the vehicle can be heard by other drivers and pedestrians at speeds up to 20mph. It makes enough natural sound via tyre rumble and wind noise at higher speeds so can easily be heard.
The suspension set-up does a decent enough job of smoothing out any bumps and dips along the way, and the road holding is fine provided any tight curves are given a degree of respect.
The automatic gearbox is certainly smooth enough and delivers constant acceleration levels through the front-wheel drive vehicle, so long as you don't switch across to Eco. Do that and it's like you're treading water in a bad dream. The vehicle becomes truly sluggish.
On a positive note, the Eco mode does assist with preserving range as it restricts abrupt acceleration and also limits the top speed to 50mph so is ideal around town.
The range can also be maximised via regenerative braking which will prove most beneficial if used for lots of city centre deliveries with plenty of stop/start driving.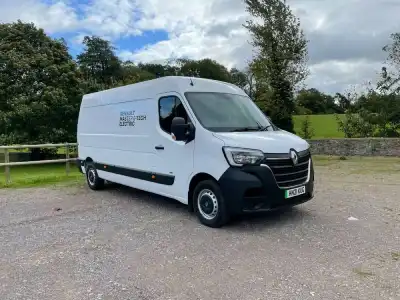 Styling
When viewed from any angle, there's no denying the Renault Master looks quite a big piece of equipment. It's long, wide and high making it ideal for transporting large, bulky items.
It is fitted with 16-inch steel wheels and there are hard plastic wheel arch mouldings and a deep front bumper for added protection.
The interior is neatly laid out with practical dark grey upholstered seats. It looks very similar to the diesel model inside although there is no manual gearstick to speak of. This is replaced by a gear selector.
There are lots of hard-wearing plastic surfaces. While these may look a tad unappealing and would come under fire in a conventional car, they are ideal for a van such as the Master that will be expected to put in a full shift and needs a rough, tough interior to stand up to the rigours of the day-to-day grind.
In The Car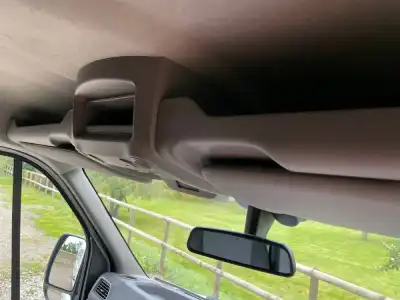 Behind the Wheel
The driver sits high up inside the Renault Master with plenty of manual seat adjustment and a height adjustable steering wheel to help find a comfortable position.
There are no windows in the rear doors so visibility would be a real issue, especially if reversing. However, the test vehicle featured a rear parking camera with rear parking sensors as a £660 option. This is an essential choice when kitting out the van as it displays a wide-angled camera image of exactly what is behind the vehicle.
The information readouts are clear and easy to read with three main dials. The centre one shows the speed, while the others offer information related to the charge and range of the van, plus the power output, gear selected and warnings about any doors being open.
On-board technology includes a DAB radio with CD player, Bluetooth and USB connectivity, a climate control system with pollen filter and that's about it.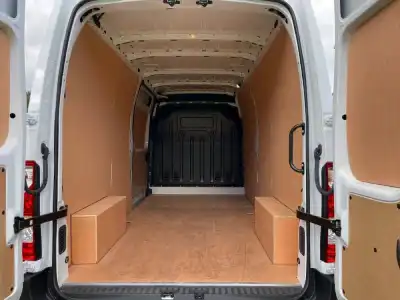 Space & Practicality
The Renault Master E-Tech Electric LM35 i measures just over 6.2 metres in length, is 2.0 metres wide and 2.5 metres high. The loading area can carry goods up to 3.7 metres long, 1.7 metres wide and 1.9 metres high. The overall capacity of the payload can be up to 13,000 litres and the maximum weight is 1.3 tonnes which would bring the combined weight of the model to 3.5 tonnes.
Access is via the double opening rear doors or a left side loading door. The rear doors are unglazed, as is the side door, so nobody can see what is being carried inside the van.
In addition, there are bundles of handy storage compartments inside the cabin. These include a closed glovebox, two cup holders, an overhead parcel shelf, some handy trays and 10 anchorage points to help secure loads.
As the vehicle comes with the same 33kWh battery as the smaller 3.1T model, the electric range of up to 75 miles stays the same and if powered by a 7kW wallbox, a full charge is possible in about six hours.
The increase in gross vehicle weight is available across the entire Master line-up and the addition of a new chassis cab makes it available for a whole range of conversions such as tippers, drop-sides and Luton box vans.
Ownership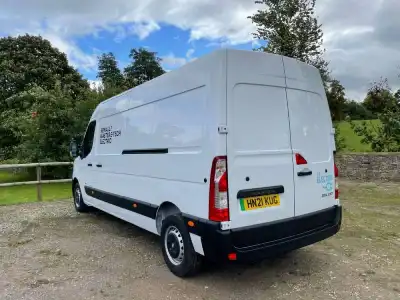 Running Costs
The Renault Master line-up is priced from £35,706 (including VAT) for the dci 110 diesel version. Our range-topping model cost £68,851, including VAT. However, the cost was elevated slightly with the optional rearview camera. This cost £660 and, in my opinion, is worth every extra penny.
With an all-electric set-up, there are many financial benefits especially to business drivers. The road tax for plug-in vans is free for the first year and the plug-in grant offered by the Government is also far higher than that for cars with owners able to claim £6k back – the prices above include that deduction.
The other cash saving to consider is that charging will be a lot less expensive than filling up at the pumps.
Insurance ratings for the vehicle is set at group 48.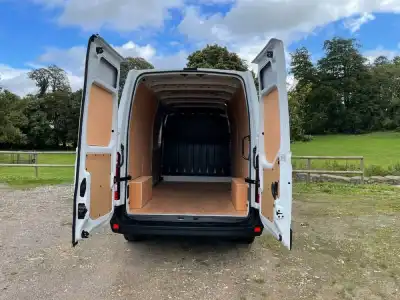 Quality & Reliability
With the existing Master van, on which much of the Master ZE is based, having been around for more than a decade now and the electrical technology based on the tried and tested Kangoo E-Tech, the Master E-Tech should prove a reliable van to own.
In addition, an electric vehicle has fewer moving parts than a standard combustion engine-driven vehicle, so in theory, there is less to go wrong.
The interior is well constructed with hours of working miles in mind. The upholstered seats feel durable and there are lots of practical surfaces and storage places up front.
And for peace of mind, Renault offers a 3-year, 100,000-mile warranty as standard which extends to five years and 62,000 for the battery. There is also three years of Renault Assistance included.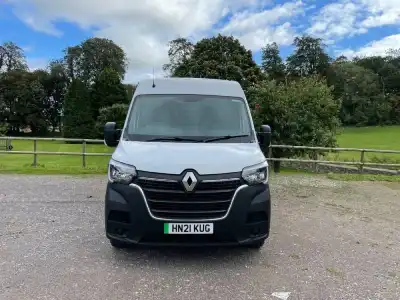 Safety & Security

The latest Master E-Tech is fitted with the same amount of safety kit as its diesel-powered sibling.
There is a full steel bulkhead to protect occupants from the load, along with side wind assist, anti-lock brakes with electronic brakeforce distribution, electronic stability control with Grip Xtend to offer extra traction on slippery roads surfaces or in more adverse driving conditions.
There is also hill start assist and trailer swing assist, a driver's airbag plus front and rear disc brakes.
The sound generator is needed to let other road users know you are there and there is remote central locking with an electronic immobiliser for added security.
Summary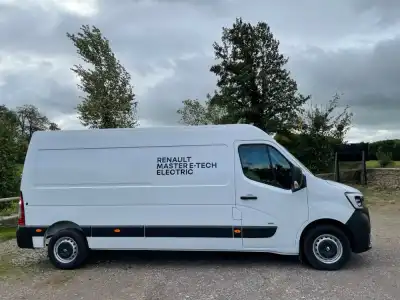 Due to its size, the Renault Master E-Tech is one of the largest fully electric vans on the market at the moment. But it's a fast growing sector as more companies look to clean up their businesses and reap the financial rewards in the process. It's not that dynamic to drive but is practical, quick to charge and quite agile.