From £22,425
Pros:
Exceptional handling

Plenty powerful enough

Formidable smiles-per-gallon
Cons:
I suppose a manual option would be nice

Interior still needs some work

£2,700 is a steep premium
More On This Car
Take one for a spin or order a brochure
Request a Renault Clio brochure
Request a Renault Clio test drive
Introduction
Originally a limited edition model, the 220 Trophy edition now positions itself as a permanent member of the Clio range. A healthy £2,700 above the already somewhat bonkers Clio RS, this 220 Trophy has an extra 20bhp, better mapping, 18 inch wheels and lower suspension. It looks a promising package, but there is one potential drawback. Will it be enough to take on the likes of the Peugeot 208 GTi and Ford Fiesta ST? Read on to find out...
On The Road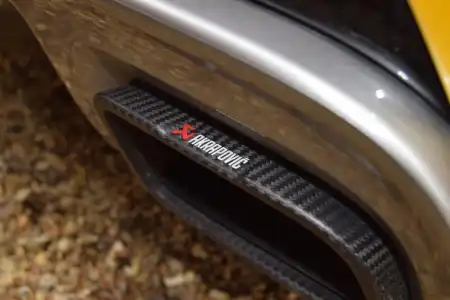 Performance
Automatic gearbox only. Good, I'm glad we got that out the way. Purists, who have probably clicked the red 'X' after that opening sentence, need to give this thing a go. 220bhp is proper power in a package like this, and the Clio really knows how to use it. The column-mounted shifters mean you can keep your hands on the wheel more of the time, which is no bad thing. You can drive harder, go faster and - ultimately - satisfy your inner hooligan. Dropping gears eliminates any turbo-lag and power output is truly exponential throughout the rev range. The Clio RS 200 model did receive criticism for its engine, which some classed as non characterful, but the extra 20bhp combined with the Akropovic exhaust (a £900 option) really helps set the car alight.
Now, the gearbox. The elephant in the room is a fairly well-executed 'EDC' Dual Clutch gearbox. Gearshifts are certainly quick and smooth enough, in auto and semi-auto mode, but I do have one qualm... There should be a clear and defined 'click' at the bottom of the paddle shift motion to announce: 'yep, gear changed!' In the Clio this doesn't happen, the bottom of the paddle-shift motion is squidgy and uncertain. Not a massive issue but it could have easily been addressed. Other than that, love it. As hot-hatches get more and more powerful, it's recommended to keep your hands on the wheel as often as possible. I wouldn't take an auto in all hot hatches, but certainly in this Clio.
The industry standard figures are a 0-62mph time of just 6.6 seconds and a top speed of 146mph. Plenty quick enough.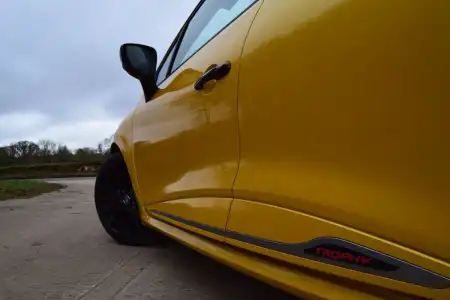 Ride Handling
The Renaultsport brand have built their reputation on making their cars handle like they're on rails. This model? More of the same. The 220 possesses an absolutely breath-taking ability to hurl itself around corners at irresponsible speeds with barely a hint of understeer. You've got to be a proper moron to bin one of these on public roads. Part of the beauty is certainly the suspension which holds the car flat despite how many G's you throw at it in the twisties. What an animal.
As mentioned, this 220 trophy does boast 18inch alloys and lower suspension, but while the ride is firm it's far from uncomfortable. Taking on town centres with the usual potholes and speed bumps, you're not rattled around, and impacts are well dampened. Staying true to the concept that a hot hatch should be easy to live with, few will have gripes with how this thing composes itself when it's not being pushed. Even fewer will moan when it is being pushed.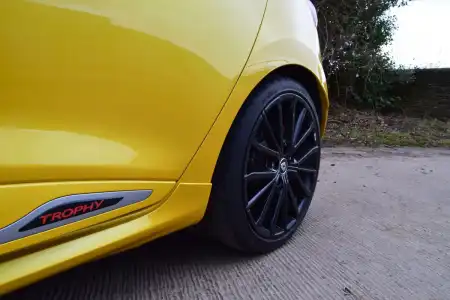 Styling
The refinement levels do enough to satisfy your senses while on the go. It's only when you park up that you are let down slightly. When driving, wind noise is kept nice and low and there's very little in the way of tyre roar - certainly nothing you'd complain about. The seats are of a comfortable and firm quality, as is the leather on the steering wheel. The on-wheel functions work with a reassuring click too.
It's only when you explore a bit wider around the cabin that refinement levels drop a little. The centre console extends between the front two seats with some terrible scratchy plastic. The front passenger also has some dreary materials in front.
In The Car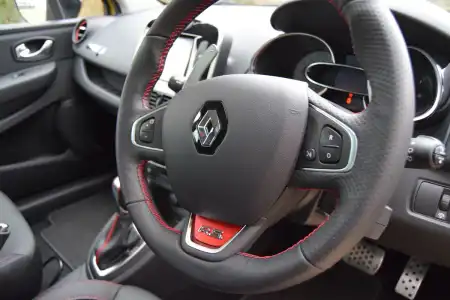 Behind the Wheel
The interior of the Clio RS is very simple and plain - in a good way. The piano black centre console doesn't host too many unnecessary functions. Just the heating controls are managed by physical buttons, the rest is operated from within the pleasantly responsive touch screen.
Elsewhere you've got some exceptional bucket seats which are supportive in the corners with bolstering that holds you firmly in place.
I'd say the Interior of the Clio 220 Trophy is on-par with the likes of the Fiesta ST but doesn't really come close to the benchmark set by Peugeot with their 208 GTi.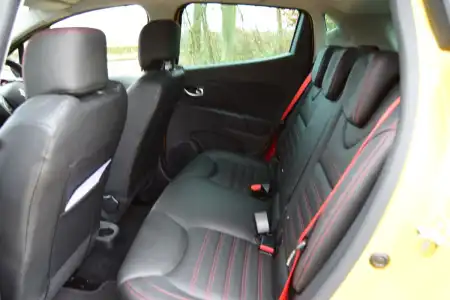 Space & Practicality
Front passengers will have no problems at all with space. Loads of leg room, plenty of headroom. Nothing to report here. In the rear though, it's a different story. The Clio suffers from a problem all of these hot hatches suffer, whereby fitting thicker, more cushioned bucket seats, legroom in the rear is severely damaged. It's not as bad as in the Peugeot 208 GTi, for example, but if you're carrying adults, it's likely you'll have to deal with a compromised seating position as the driver. Renault have softened this negative by making the Clio RS a 5 door, so getting in and out of the back is infinitely more convenient than doing so in the Cupra GTi, Polo GTi, Fiesta ST or 208 GTi - which are all exclusively 3 door models.
Ownership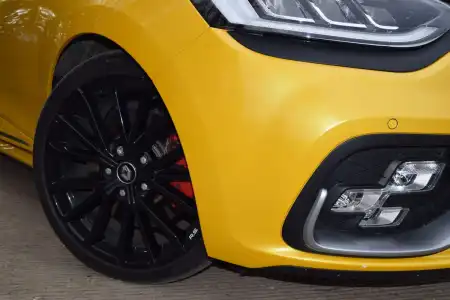 Running Costs
A core value of the hot hatch is to be useable under a normal and balanced lifestyle. Running costs are therefore a massive issue. The Clio RS can achieve a (manufacturer quoted) 47.9 mpg if you are sensible with your right foot, which you won't be. I managed a bit of self restraint and saw 38mpg, which is actually pretty impressive and I'm sure you'll achieve more on a long motorway jaunt.
You do also need to factor in consumables, like tyres and brakes, which are going to be chewed through respective to your driving style.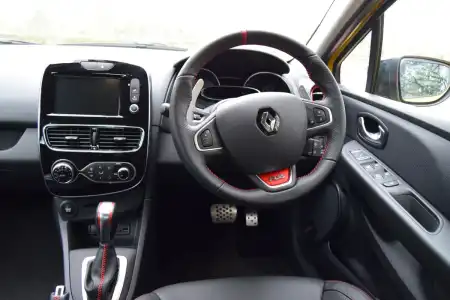 Quality & Reliability
The driving quality is fantastic, the interior quality… not so much. It's not hard nowadays to source lightweight, plastic materials which aren't reminiscent of an early 2000's Corsa. Putting the Clio 220 trophy into 'R.S. Mode' means triggering a button which is embedded in a wheelie bin-like surround. Then the bottom half of the dash is all unpleasant plastics too. I get that it serves a lightweight purpose, but take a note out of Peugeots book and use your imagination in future, Renault.
This carries over to reliability. Fragile, thin plastics don't last forever and fast french cars already have a pretty damaged reliability record, not to mention the troublesome electronics.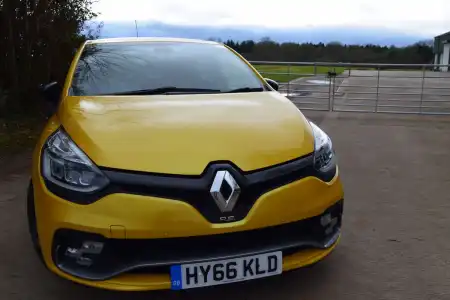 Safety & Security
The Clio, which the RS is based on- obviously - scored a full 5 stars on the Euro NCAP test, with 89% for child occupant protection and 88% for adult occupant protection. A pretty safe bet… (sorry.)

See the latest used Renault Clio offers.
More On This Car
Take one for a spin or order a brochure
Request a Renault Clio brochure
Request a Renault Clio test drive