Pros:
Striking looks

Ultra-luxurious interior

Powerful and good to drive
Cons:
Minimal boot

Very high running costs

Requires huge garage
Introduction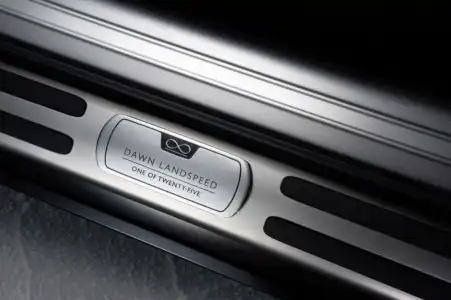 If the standard Rolls-Royce Dawn is the pinnacle of luxury, the Black Badge is the identical but slightly evil twin.
A bit like a gravelly-voiced baddie in a Bond movie, there's an aura of well-roundedness and sophistication, but you know you're playing with fire if you go near.
Black Badge, as the name suggests, replaces much of the chrome with black. As a result, it looks more imposing than the standard Dawn and will likely appear in more pop music videos than its more modest sibling - but it's not just about the looks.
It's still the same 6.6-litre V12 engine underneath the bonnet developed by BMW, but there's now 600PS instead of 570.
Underneath, the suspension gets an upgrade, along with a more responsive throttle and a different steering rack. The brakes are bigger than the standard Dawn, too.
Nevertheless, despite the colour scheme adding some menace to the Dawn, Rolls-Royce always ensures that its cars stay true to its brand values, describing opening the automatic roof as a "Silent Ballet".
On The Road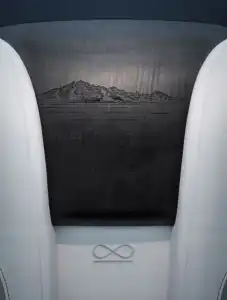 Performance
The Black Badge will do 0-62mph in 4.9-seconds – and you'll know about it.
The engine noise is delightful as you put your foot down, and it accelerates very quickly, but not in a boisterous or ungainly way.
Performance cars always have a feeling of mischief to them, but the Rolls-Royce manages to achieve ferocious acceleration while still reminding you how grown up it is.
It feels as massive as its appeal is, but it does little to dent its enthusiasm to get going, despite the perceived weight and apparent size.
This being a Rolls-Royce, you won't get something as common as a rev counter, which is left to cars driven by mere mortals. You get a power reserve instead, so you always know how much clout the engine has got tucked away, just in case you feel the need to rest your right foot on the accelerator pedal, all the way up to 155mph.
Likewise, there's nothing as working class as a 'Sports' button. On Rolls-Royces, it's called 'Low' mode. When enabled, it shifts gears much faster, making the acceleration feel like it's been given a hurry-up by the butler. The exhaust flaps open, giving you an enhanced engine note, too. Very nice.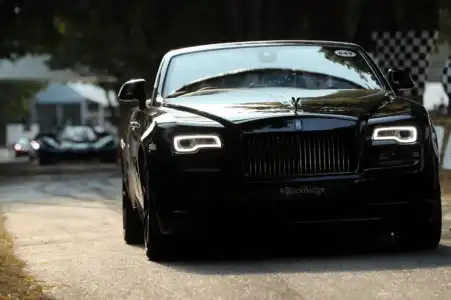 Ride Handling
Despite its size, the steering on the Dawn feels very light indeed.
The long-wheelbase makes for superbly smooth ride comfort, flattening out any harsh terrain it might typically encounter.
Other cars may have adaptive suspension and a thousand sensors to try and achieve ride comfort through technology, but these are bolt-ons – a bit like cosmetic surgery for your standard production car. With Rolls-Royce, it doesn't need any of it because it's already in its DNA.
The model feels incredibly well-planted, no doubt helped by the weight, but it's also not shy around corners, and it's got enough agility to be enjoyed as a car to drive.
This is important, as the typical Rolls-Royce customer is no longer of retirement age or older. People in their 40s are typically buying Rollers now. And, while they always had a reputation as being cars to be driven in rather than drive yourself, this is no longer true in all cases. More and more owners are purchasing them, intending to get behind the wheel.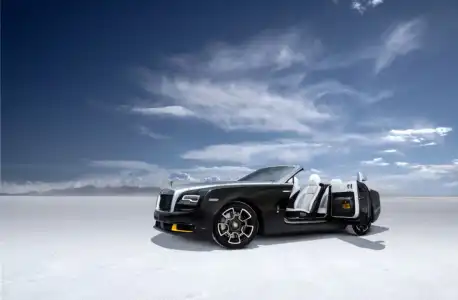 Styling
As the name suggests, Black Badge adds quite a bit of black to the car. The grille and the famous Spirit of Ecstasy are also dark, and there are shadowy accents elsewhere at the front.
The chrome strip above the registration plate is blacked out at the back, while two very wide exhaust tips are also coloured in - you guessed it - black.
Those who might be disappointed at the lack of a quad exhaust might be pleased to know that, if you look inside the single exhaust surrounds, there's actually a total of six tailpipes.
Other than that, it retains a more modest look at the rear, with the lights housed on the top corners of the boot in a now-traditional diagonal shape.
Even the Black Badge variant of the Dawn is still more of a civilised design than the Wraith coupe, whose looks are more aggressive with its sloping roofline in comparison.
There's not much we can add, really - this is a Rolls-Royce, after all. It will always speak for itself when it comes to looks.
In The Car
Behind the Wheel
Inside, you will wonder if there's a car manufacturer in the world that can do better. It's phenomenally luxurious, filled with exceptionally comfortable leather seats and touches of red on our test model.
The doors open the opposite way, too, so the hinges are just in front of the rear wheels – and they close automatically.
The infotainment system is heavily based on BMW's, but it has still been given the Rolls-Royce treatment and is as lovely as it is simple. Although, if you long for the days where we didn't have screens in cars, it can be hidden away by pressing a button.
There's no stress in finding your way around the system. Sub-menus-off-a-menu-off-a-main-button-via-a-shortcut to adjust 45 different aspects of the throttle response, suspension and handling? No. There's none of that nonsense.
Rolls-Royce obsesses with the tiniest of details, sourcing the best wood from all over the world. If that's how much it cares about the interior trim, then you can have all the confidence in the world in the rest of the car.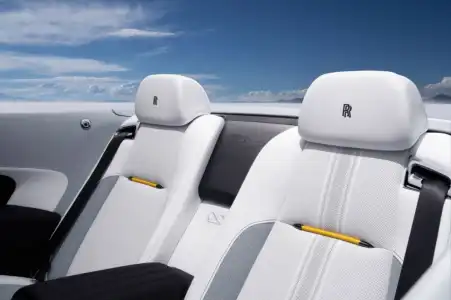 Space & Practicality
In the front, there is a lot of space, and you won't be left wanting when it comes to comfort.
The Dawn is a soft-top convertible, so you'd imagine that it's a requirement to have tiny legs to get into the back. But you'd be wrong.
Thanks to the car being almost 5.3-metres long, you could be nearly as comfortable in the rear seats as you would a four-door Phantom.
There's 295-litres of space in the boot, too, although this reduces with the roof down.
Ownership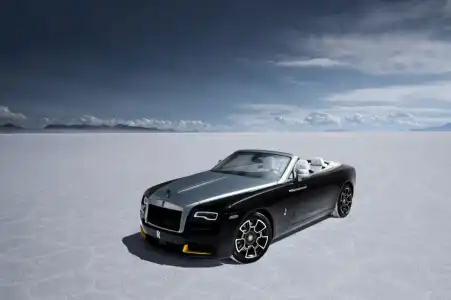 Running Costs
Being a Rolls-Royce, you should expect running costs to be as high as they come.
Luxury trumps all in the world of the Dawn, and it manages a claimed 17.3mpg along with 380g/km CO2. But, if you can afford one of these, then fuel and high road tax costs won't be bothering you.
You will get an unlimited mileage warranty for the first four years, though, so that should save you some cash if you have any problems.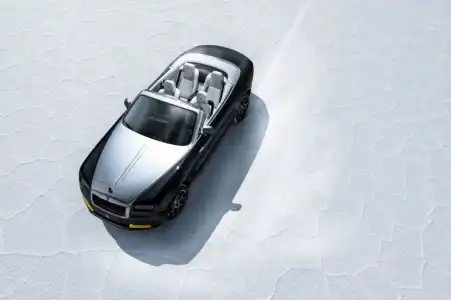 Quality & Reliability
Build quality is not an issue here. It's stunningly luxurious, and you'll struggle to find a car that oozes quality more so than the Dawn Black Badge.
Due to its exclusivity, reliability data is, well, unreliable. Rolls-Royce has a reputation for only using components that it knows will stand the test of time, though, so you shouldn't be running into any severe problems.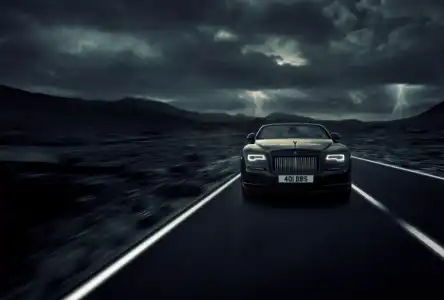 Safety & Security
It won't surprise you to know that Euro NCAP hasn't crashed any Rolls-Royces into a concrete block.
Nevertheless, given its size and the fact that BMW owns the company, you shouldn't have an issue with safety, especially given most Bimmers are getting five-star ratings.
If you see the size of the Dawn, you'll agree that anything it comes into contact with is likely to end up the worse off of the two.
As for safety tech, forget semi-autonomous driving modes. Such things are not really Rolls-Royce. Instead, its view is that, if you've bought it, you should do all the driving. And, if you don't want to, you should be employing a chauffeur to do it for you, rather than relying on inanimate sensors and gadgets.
You do get forward collision warning, adaptive cruise control and lane-departure warning, though.
Summary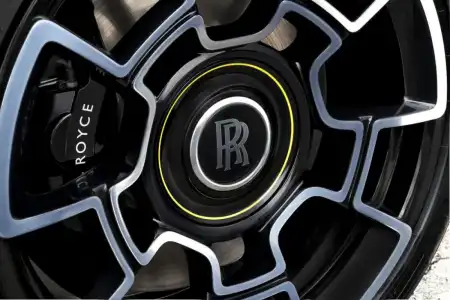 The Rolls-Royce Dawn Black Badge is a joy to behold.
Whether it's worth the extra dosh over the standard Dawn is probably a pointless argument to have. Rolls-Royces are all about personalisation, so it's a case of which one you want, rather than factoring in mundane things like budgets.
If you do want an aggressively styled Roller, then the Wraith Black Badge might be one to look at, as the Dawn's more modest shape means it's probably a halfway house between the standard Dawn and the Wraith.
Mind you, the Wraith is a hard-top, whereas you can flaunt your wealth to the masses with all the visibility in the world if you have the Dawn and put the roof down.
It's rapid for such a hefty car and, for something not built for sporty handling, it's not bad around the bends either.
All you need to do is find that £400,000.
Now, did we remember to look down the back of the sofa and down the sides?