Pros:
Fun to drive

Roomy, given its small size

Plenty of kit as standard
Cons:
Firm ride

Cheap plastics in the interior

Higher trims are expensive
More On This Car
Take one for a spin or order a brochure
Request a SEAT Arona brochure
Request a SEAT Arona test drive
Introduction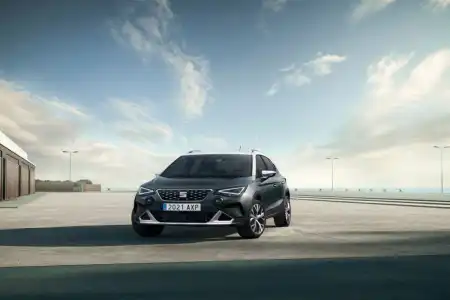 If you've always liked the SEAT Ibiza but wanted a more rugged ruralised version of it for some reason, then the Arona is the car for you.
It's a small, compact SUV that's here to tick all the boxes, with something of a sportier focus than your average supermini-hatchback.
The significant features of the new facelifted version are to be found on the inside. You see, the previous interior, lamented for its monotonal blandness, has been given a rework with brighter colours, making it more desirable.
In terms of trims, there are six to choose from.
Entry-level is SE, which includes 17-inch alloys, an 8.2-inch touchscreen with wireless Android Auto/Apple CarPlay, automatic LED headlights and electric door mirrors. The car also gets electronic stability control, a DAB radio, SEAT Connect, a leather steering wheel, electric windows and cruise control.
SE Technology upgrades the touchscreen to 9.2-inches and adds SatNav, plus Wireless Full Link for phone calls, messaging, music streaming and social media connectivity, along with a wireless phone charger.
FR adds dark tinted windows, sports seats, and a choice of driving settings, including Sport and Individual (customisable mode).
FR Sport ups the alloys to 18-inches and adds twin exhaust pipes and a digital cockpit.
There's also XPERIENCE and XPERIENCE Lux, which are the two luxury trims. These add adaptive cruise control, plus keyless entry and go, while the latter also adds park assist and includes the digital cockpit.
In terms of engines, there are three petrols on offer. Two of them are 1.0-litre three-cylinders, producing 95 and 110PS. The third is a 1.5-litre, four-cylinder churning out 150PS, which gets from 0-62mph in 8.2-seconds, although it's only available on FR and FR Sport.
On The Road
Performance
We tested an Arona in FR trim with the seven-speed DSG automatic gearbox. It's fitted with the 110PS 1.0-litre engine, as it's the best balance between around-town runabout and motorway cruiser.
The 95PS engine is likely to be best if you need to do the former, but it'll scream a bit on faster roads. Meanwhile, the 150PS engine will better suit the latter but will be overkill for town driving, so we're taking the middle ground.
Heading around town, the model is animated enough, while higher speeds don't leave you feeling like it's over-exerting itself.
It accelerates briskly, albeit not in a hair-raising way (zero to 62mph takes 10.1 seconds) and is more than adequate for getting up to speed without feeling like you're trying to lug a wardrobe up a staircase.
The seven-speed automatic in our car changes smoothly and is certainly preferable for stop-start traffic.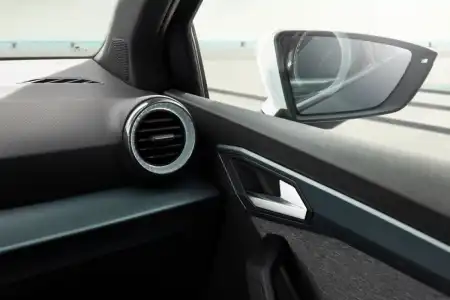 Ride Handling
The Arona is engaging to drive and quite a lot of fun. You couldn't call it performance-focused, but it's got a decent amount of agility. It can certainly be thrown around a corner, more so than many of its rivals.
The steering is light and responsive, which helps make it easy to drive. But you'll have the confidence to test the limits in the bends thanks to a more sports-optimised suspension setup, which minimises the body roll.
This comes at the expense of comfort, though, which means it's not as relaxing as some competitors, particular on bumpier roads and especially in the FR trims. It isn't back-breaking or deal-breaking, though, and you can opt for smaller wheels.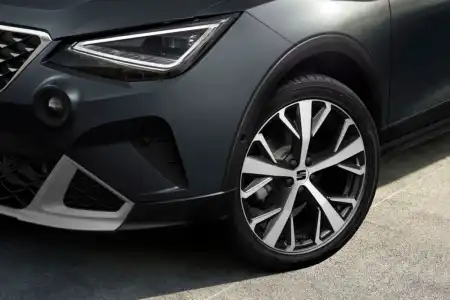 Styling
The Arona has had some minor exterior cosmetic tweaks as part of its facelift, but none that are significant enough to notice.
Some LED headlights and new day running lights have been added. But it still looks about the same - like a jacked-up Ibiza with a few off-roady bits added.
There's a U-shaped lower grille with a front-end spoiler that's a different colour from the rest of the body on our test car. This adds an aggressive sporty effect. It appears chiselled, with mean-looking triangular headlights and air intakes looking like sharpened cheekbones.
Down the side, creases just above the door handles and at the bottom of the doors add to the athletic appearance. And, at the back, it looks more rugged, with a thickened rear bumper, rear lights which point into the centre, with the number plate in the middle above spaced-out 'ARONA' lettering.
In The Car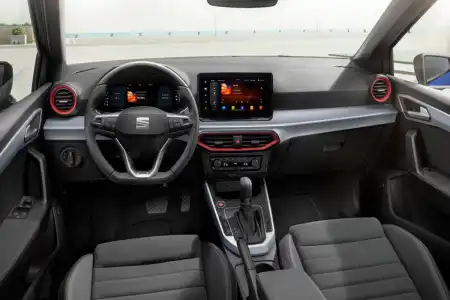 Behind the Wheel
There are numerous improvements to the interior, which has coloured trims around the air vents. SEAT has also added in more chrome to act as a contrast to the dull interior of the previous model.
The dashboard has a more premium look, too, with the chrome sections having an angled shape. While the touchscreen – which houses an updated infotainment system – is now higher up than before, so it's easier to see.
Sadly, the infotainment system loses the physical shortcut buttons that existed before, which is a puzzling omission. Nevertheless, it's still a decent system, though it can be a bit laggy at times.
New ambient lighting offers more pleasant limelight in which to view the interior, too.
Physical controls remain for the climate control, making it simple to adjust the temperature on the move.
There are still plenty of cheap plastics, but it certainly looks much nicer than before.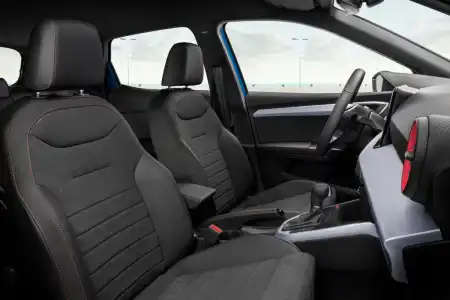 Space & Practicality
In the front, there's plenty of headroom, which will satisfy taller drivers. And, despite the car's small size, there's a surprising amount of space, so you don't feel claustrophobic.
Three grown people in the rear will be a bit of a squeeze, mind. But a couple of taller adults will be surprised at the amount of headroom in the back. Why? Well, the roofline doesn't slope downwards much, while a good amount of legroom also helps with stretching out a bit.
The passenger seat has height adjustment included, too, while there's a decent amount of storage space. You get large door bins in the front, a good-sized glovebox, two cupholders in the centre console and various other cubby holes and storage spaces around the cabin.
There's a 400-litre boot, which is in the same ballpark as many rival SUVs, and the height of its floor can be raised to get rid of the boot lip. Fold the rear seats down, and the space expands to 1,280-litres.
Ownership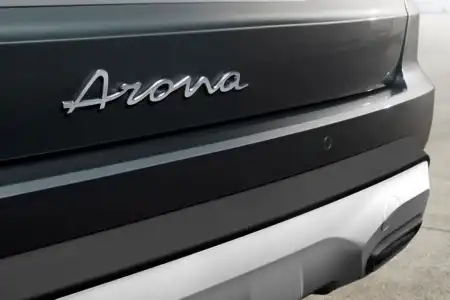 Running Costs
The 110PS engine that we tested achieves a claimed 47mpg with the seven-speed automatic gearbox. Mind you, our test route of town driving, a motorway cruise and some twisty B-roads suggested about 41mpg is more realistic.
It produces 135-138g/km CO2 depending on which trim you choose (it's 52mpg and 121-124g/km CO2 with the six-speed manual).
The lower-powered 95PS engine, only available with a five-speed manual, claims a figure of 51.9mpg and 124g/km CO2.
The top-of-the-line 150PS engine, only available with a seven-speed auto, manages around 45mpg, producing 140-142g/km CO2 depending on trim.
All Aronas come with a standard three-year, 60,000-mile warranty (although it's unlimited mileage for the first two years).
If you sign up to SEAT's servicing plan for just under £1,600, you'll get two years of services, MOTs and roadside assistance, plus a two-year warranty on repairs.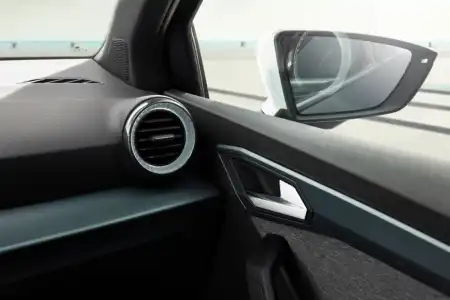 Quality & Reliability
SEAT has a good reputation for build quality, although it still lags behind East Asian rivals, such as Hyundai and Kia, in terms of reliability.
The Arona itself, however, is about average when it comes to reliability ratings over the years. It's performed well in customer satisfaction surveys, though.
Certainly, the Arona feels well-built and bar one or two annoyances with the infotainment system (notably the lack of physical shortcut buttons), it looks like plenty of thought has gone into its design, with admirable attention to detail.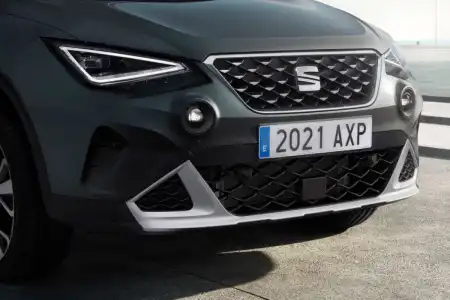 Safety & Security
The Arona was tested by Euro NCAP back in 2017 and earned a five-star rating, scoring 95% for adults, 80% for children, but only 60% for safety assists.
As this is merely a facelifted version, it would perform just as well now (though it should be noted the safety criteria was changed in 2020, so the exact scores might differ if it was re-tested today).
In terms of safety kit, automatic emergency braking and driver tiredness detection are included across the range as standard. But only XCELLENCE trim and above get blind-spot detection and rear-cross traffic alert.
Summary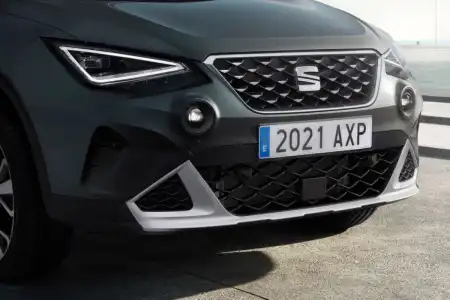 The Arona is a solid contender. It's small but feels bigger inside, although some cheaper materials let the interior down. Nevertheless, it has a good amount of kit as standard.
Although we tested the FR version, we recommend the SE Technology trim with the mid-range 110PS engine.
Certainly, the four FR and XCELLENCE trims are tempting, but they're too big a jump in price to justify. The same can be said of the 150PS engine, which you won't need unless you're going to be spending nearly all your time on 60-70mph roads.
The automatic gearbox is worth having, though.
Overall, it handles well and is good fun to drive. But there are more comfortable cars out there.
There are many more cars that are far worse, though. And, although the Arona doesn't set the world alight, it's a loveable underdog that comes with plenty of character.
More On This Car
Take one for a spin or order a brochure
Request a SEAT Arona brochure
Request a SEAT Arona test drive