Pros:
Huge amounts of space

Good looking, by bulky SUV standards
Cons:
Suspension is a tad stiff

Popular 1.5-litre engine is only just powerful enough
Secure your test drive today
Request a SEAT Tarraco test drive
Introduction
SEAT has quickly been able to establish itself as a key player in the SUV market. There's the small Arona, the medium-sized Ateca and the full-size Tarraco.
You might initially think it's another piece of Volkswagen Group badge engineering, especially as the basic silhouette of the Tarraco looks remarkably similar to the well-liked Skoda Kodiaq, but SEAT assures us that it's done enough to the new car to stand out in its own right.
That means the SUV is styled a little more energetically, with a large chrome-clad grille dominating the front end, sharp lines and creases abound, and a new interior that's a step above its budget brethren.
There's front- and four-wheel drive available, and engines ranging from 1.5-litre or 2.0-litre turbocharged petrol options, to a 2.0-litre diesel unit in two states of tune. There's also just two core trim levels, SE and Excellence, each available with additional packs.
On The Road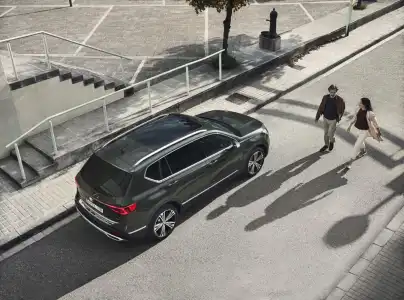 Performance
As a more youthful brand, you might expect performance to be brisker than its rivals, but it's smallest engined, lowest powered model that SEAT expects to be the best seller. Fitted with a 1.5-litre petrol engine that produces a reasonable 148bhp, it's powerful enough to drag the behemoth to 62mph in just under ten seconds.
You have to work it hard though, as there's more than 1.6 tonnes of Tarraco to pull along by the front wheels. Despite that, it's the nicest engine in the range, offering just enough performance - this is a large SUV so how fast are you really expecting to go? - without compromising on refinement and economy.
The larger petrol engine will get you there quicker, but the jump from 148bhp to 187bhp only knocks 1.7 seconds of the sprint time. In-gear acceleration, such as you need when overtaking, is reasonable in both, but it's the diesel engines that offer most flexibility. With huge reserves of torque, they can pull along at will, while using less fuel.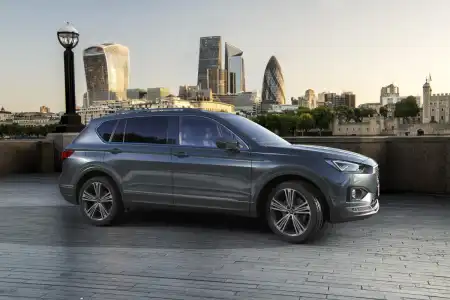 Ride Handling
Nothing that measures almost five metres long and carries seven passengers is ever going to set handling records, but the Tarraco is easy to drive and puts a smile on your face.
The engineers have stiffened the suspension and tweaked the steering a tad, resulting in something that feels fun when faced with twisty bits. The brakes are strong too, which is handy in something weighing as much as this does.
It only works to a point though, where inertia eventually takes over and you soon realise you're in a large SUV. You won't be rivalling any similarly sized saloon cars, that's for sure.
And you sacrifice a fair amount of ride comfort in return for that extra edge to the SUV. That stiff suspension drives over potholes and ensures you're aware of surface cracks, but it does ride over crest and undulations nicely.
Four-wheel drive models are actually surprisingly capable. We scrambled up a 40-degree muddy slope on regular road tyres without too much drama, but it's not a true off-roader. Venture too far off the beaten path and you'll be defeated, but it's good to know that you shouldn't get stranded in a damp field and, let's face it, how many of us with an SUV ever wade through metre high streams anyway?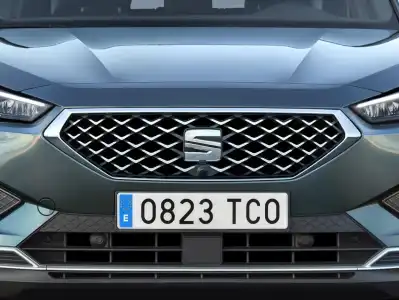 Styling
Order a Tarraco with the petrol engine and it's a thoroughly pleasant vehicle to drive. It's quiet, seems to be free of vibrations, and doesn't get too raucous when pushed hard. The same can't be said about the diesel options, but they're no worse than rival offerings.
The manual gearbox is slick enough to be almost unnoticeable, being both smooth and precise. A light clutch also makes manoeuvring in town easy, unlike the automatic gearbox that can be quite jerky at low speeds.
There's little road noise from any model, even when tested with mammoth 21-inch wheels, but a number of the cars tested experienced some wind noise around the windscreen. Confusingly, some models didn't suffer in the same way, so perhaps we can be generous and put that down to the pre-production status of the test cars.
In The Car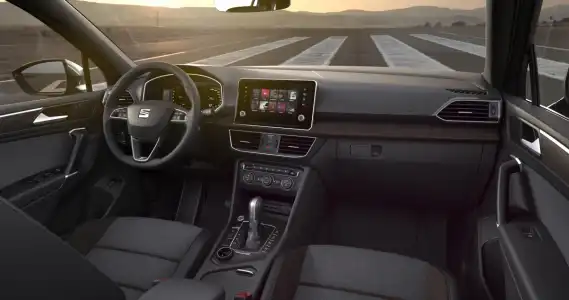 Behind the Wheel
If you've ever sat in a Volkswagen, Skoda or SEAT before, there won't be many surprises here. Everything is logically laid out, with traditional dials and buttons for heating controls. Above those sits an eight-inch touchscreen infotainment display that houses sat-nav, a DAB radio and both Android Auto and Apple Carplay.
Move up a grade or two and you'll also get a wireless charging pad built in, enabling you to leave your phone charging without having cables dangling around the cabin.
Right on the front of the driver sits a digital instrument binnacle, which adds a little pizzazz. However, while it's customisable and offers a number of different display styles, none of them are particularly clear. The longer we spend with systems like these, the more we long for an option of traditional dials and a decent speedometer, even if they're represented digitally.
Visibility is good up front, but reversing such a big beast can be tricky. Parking sensors are standard across the range.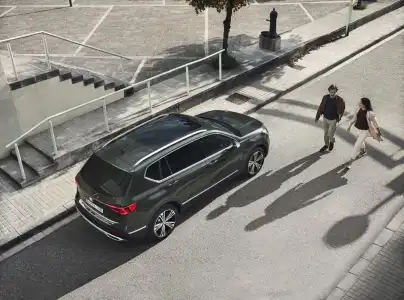 Space & Practicality
Squeezing seven seats into a car requires some compromises, but the Tarraco remains a supremely practical and flexible proposition. The two front seats are excellent, offering plenty of adjustment, including lumbar support, and lots of space.
Move back a row and three can squeeze in, assuming they're close friends. The outer two seats have Isofix points too, allowing easy fitment of a couple of child seats, while there's also picnic tables that fold out from the front seats. Head and legroom are all good, even for adults.
The final row of two seats is probably best reserved for small children. They're tight, but an adult could just about squeeze in, assuming they remain flexible enough to climb through the back doors and through the small gap left by folding the centre row forward.
With all the seats in place, the boot is small but fold down the rearmost set and it extends to offer an impressive 700 litres of capacity, along with a near-flat floor. Fold down the middle row, load it up to the roof, and the Tarraco will accommodate a whopping 1,775 litres of luggage.
Ownership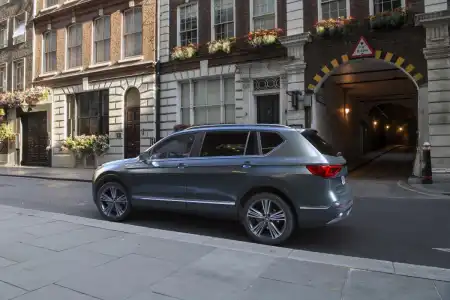 Running Costs
Choosing to go with a petrol engine, as most buyers will, brings some benefits - lower purchase costs and tax - but there are downsides in the form of lower fuel economy and higher CO2 emissions. Where the balance gets struck is down to the mileage you cover, with longer distance drivers probably better off with diesel power.
The 1.5-litre petrol model returns an official 37.2mpg in the spec tested here, while the similarly powered diesel model manages 47.9mpg. Anecdotal evidence suggests both are a little on the optimistic side, but the difference over 12,000 miles could be around £360 in favour of the diesel.
It'll cost you an extra £1,500 to buy the diesel though, and PCP rates aren't going to be hugely helpful thanks to the downturn in diesel sales and the resulting drop in second hand values.
CO2 emissions across the range are quite high, thanks mostly to the sheer size of the car, ranging from a low of 129g/cos (leaving a BIK of 30%) right up to 166g/km (meaning a BIK of 34%.)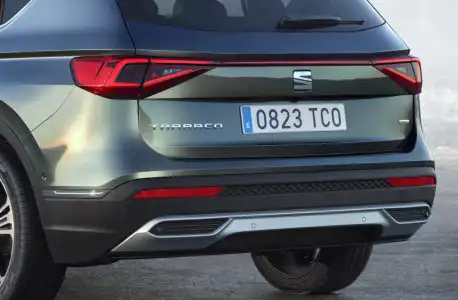 Quality & Reliability
There's nothing revolutionary about the Tarraco. It uses proven technology from Volkswagen and puts it all together in a conventional form. Reliability should be on par with other group models,
SEAT Finished in 14th place in the most recent Auto Express Driver Power survey, ahead of both Ford and Peugeot, and even BMW and Mercedes. Impressively, the brand came sixth in JD Power's 2018 reliability survey.
The Tarraco is too new to draw any conclusions on, but SEAT as a whole do reasonably well.
You'll also get a three year warranty, limited to 60,000 miles, but this can be extended to as long as five years.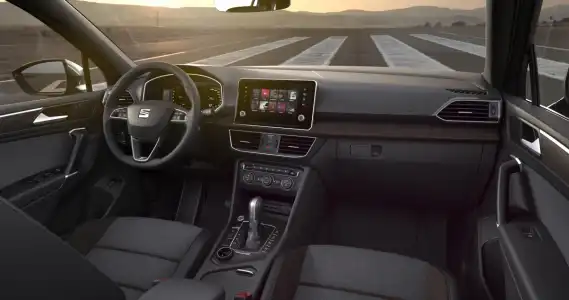 Safety & Security
Each Tarraco comes with a slew of safety gear, including lane keeping assist and tiredness recognition. There's also automatic lights and wipers across the range, and cruise control with a speed limiter option. Emergency automatic braking is also standard, helping to reduce the possibility of pedestrian impacts.
Should things go wrong, the Tarraco is likely to be a safe place to be, with countless airbags, including knee bags, surrounding the occupants.
EuroNCAP have yet to test the Tarraco, but the closely related Skoda Kodiaq scored the full five-stars when tested in 2017. There's no reason to suspect the Seat will do any worse.
The only disappointment is that some safety gear, including blind-spot detection, is relegated to the options list, or requires you to buy a high-spec model.
Secure your test drive today
Request a SEAT Tarraco test drive