Pros:
Spacious cabin

Claimed battery range

Safe as houses
Cons:
The badge still lacks status for some

Options can hike the price
More On This Car
Need more information?
Request More Information
Introduction
The car sits on a "skateboard platform", in which the battery is shoehorned into the floor to save space. It paves the way for a generation of electrically powered Skodas and is spot on for families or even private hire drivers looking for inexpensive pure-electric motoring.
The vehicle is excellent value for money, as long as you're not all toffee-nosed about the badge. It's also somewhat unique in the sense that there aren't a plethora of pure-electric SUVs on the British motoring market yet. Of course, that'll soon change, but so far, rivals include the likes of Mercedes' EQA and Kia's e-Niro.
We slid behind the Enyaq iV's wheel at its media launch to fully evaluate it over a few hours - so keep reading to find out what we thought.
On The Road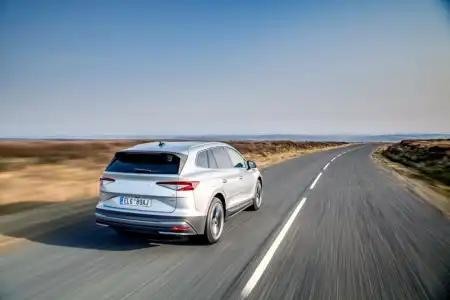 Performance
The Enyaq iV isn't a car for folks who make vehicle-buying judgements based on 0-60mph times. But it's no sloth, either. The near fifty-grand Enyaq iV 80 we drove is sizeable, rock-solid and planted. It accelerates to 62mph in 8.5 seconds and has an all-out speed of 99mph. Okay, the top pace isn't all that, but this is the UK – and this is an electric car – so do we really care?
Our test route from exotic Milton Keynes to the outer reaches of the Midlands meant we drove the Enyaq on a bunch of diverse roads. The iV's large size made us fret a bit in the villages. It's a wide motor, but then we were in a left-hand drive model, so we were perhaps apprehensive about kerbing the electric SUV's 21-inch alloys. On the motorway, though, it feels at ease, with oodles of mid-range thump around the 50-70mph band. This is a car that'll happily do lots of miles comfortably with a family of five onboard.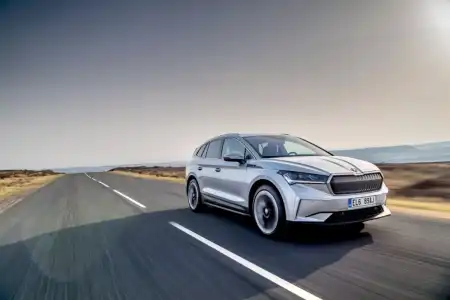 Ride Handling
Given the Enyaq iV's size and comfort, it won't surprise you to hear that the all-electric SUV is constructed with refinement in mind. Yes, the iV is a big lump, but it feels sprightlier than you might think. Why is that, then? Well, the Skoda's steering gives you a tireless feeling of control, and the five-door car copes with bends well, with its body staying unflustered - even when taking cornering quickly.
You can also change the softness of the SUV's ride using drive modes. Switched to "Comfort", it rides over speed humps and beaten-up blacktop without missing a beat. At the other end of the spectrum, when "Sport" mode is picked, the car stiffens up and gets ready to hit the ground running.
The Skoda's brakes are a piece-of-cake to temper and comparable with the brakes you'd encounter in a traditional diesel or petrol SUV. There's no apparent numb spot where it's challenging to work out what's happening - as is the case with other electric sets of wheels.
In addition, you can alter the intensity of energy recuperation the Skoda offers to agree with the way you like to drive. Fundamentally, you can either lift off the accelerator and speed scrubs off leisurely, or you can lift off, and it's like throwing an anchor out of the window – you stop quickly. This essentially enables you to drive a lot of the time with just one pedal.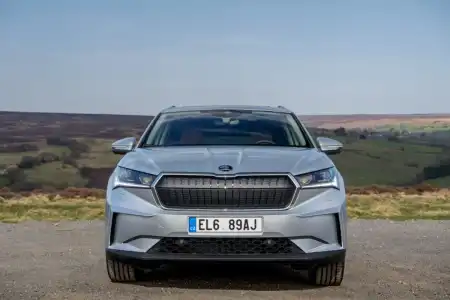 Styling
Refinement is what the Enyaq iV is supposed to be about. On the move, there's hardly any wail from the electric motor, and, inside, it's sophisticated and, compared with its competitors, well-equipped.
The electrified SUV is undoubtedly handsome and nicely trimmed inside. The car houses a discerning array of materials and feels well put together. The Skoda's front seats are exceptionally welcoming and relaxing, and getting yourself well-adjusted, whatever your height or size, is straightforward.
However, even though the interior feels far from ill-chosen or low-rent, it lacks the ambience of a German "premium-badge" model (think Mercedes-Benz, BMW or Audi). What we're trying to say is that the iV is a well-built vehicle for comfort and practicality, though it's no electrified limousine on stilts, in terms of lavishness, either.
In The Car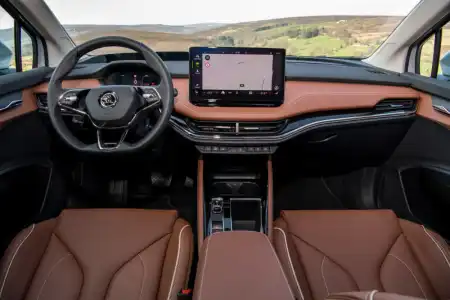 Behind the Wheel
The ship-shape design language of the Enyaq iV's exterior is carried to the cabin. Once behind the wheel, you feel immediately at home. The easy-to-use function of the switchgear is an elegant Skoda touch. It's similar to the latest Octavia, meaning most of the iV's functions are run through a sizeable i-Pad-like touchscreen. You also get a compact digital instrumentation binnacle as well as Android Auto and Apple CarPlay connectivity.
In addition, Skoda offers an optional and fairly pricey head-up display that directs important driving data into your eye line via the windscreen. An internet connection also ensures that all info is always current, while an app allows you to regulate and schedule cabin pre-conditioning and charging remotely.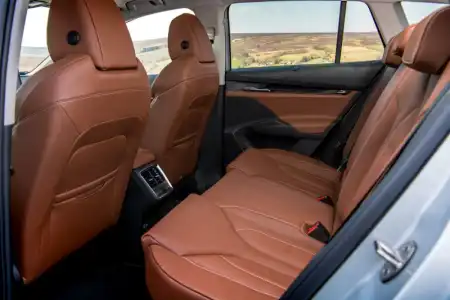 Space & Practicality
This is the Enyaq iV's party piece. The front seats deliver excellent room for driver and passenger, and the rear seats are incredibly capacious. If you've ever sat inside Skoda's Kodiaq, then you'll know the kind of decent leg and headroom we're talking about. There's generous foot room due to the car's flat floor as well, making this electrified SUV more than comfortable for five-up. What's more, there's a whole bunch of storage areas in the back, along with a couple of USB slots to power rear seat occupants' phones or tablets.
This high-rider's 585-litre cargo capacity offers more room than you can shake a stick at, too. Like most other Skoda boots, it's practical and easy to load with suitcases, pushchairs, or shopping. Fold the rear seats down, and suddenly your Enyaq iV is van-like, with 1,710-litres on hand. That latter figure is even more significant than the voluminous 1,700-litres the Octavia Estate offers.
Ownership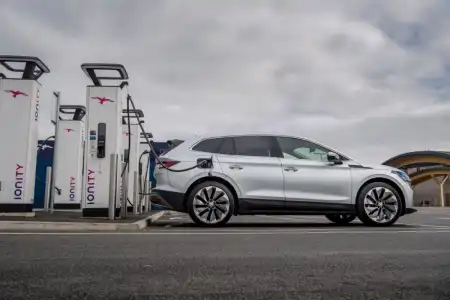 Running Costs
The Enyaq iV brings in a range structure based on battery volume rather than trim designations. You can pick between a duo of battery packs, 62kWh and 82kW. The 62kWh variant contains a 179PS motor that pushes the rear wheels through a single-speed transmission. The car has a combined range of around 256 miles on a single charge. The more substantial 82kWh model that we drove generates a meatier 204PS and can return as much as 333 miles on a solitary charge.
The all-electric Enyaq iV offers a trinity of charging methods, as well. Over and above using a standard household socket, the car can be charged up at home via a 7.2kW wall box. Subject to the battery size, the wall box charging procedure takes anywhere from nine to 13 hours. The Skoda can also be joined up to rapid DC charging stations with a capacity of 125 kW. This method enables the Enyaq iV to charge from 10 to 80 percent in around thirty minutes.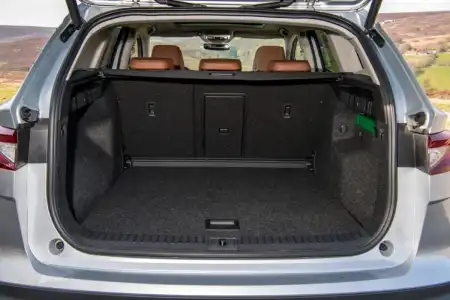 Quality & Reliability
As unwarranted as it may be, the Skoda name still carries a bit of a stigma. But for heaven's sake, don't let that put you off the brand. Jokes about the automaker's products simply aren't warranted – and haven't been for years. Furthermore, Skoda has been part of the Volkswagen Group since the year 2000, and VW's illustrious reputation means you're buying or leasing a quality vehicle at a moderate price.
Indeed, Skoda has a terrific reputation for reliability and shares components used across Audi, VW and SEAT models.
For extra certainty when ordering new, the Enyaq iV is guaranteed for 60,000 miles/three years. And because it's electric, the SUV also has a 100,000-mile/eight-year battery pack warranty. It's even better news when it comes to servicing; the iV only needs booking in every 18,750 miles or two years – whichever comes first.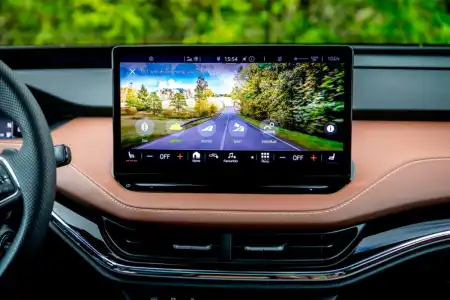 Safety & Security
The Enyaq iV holds the top Euro NCAP five-star safety rating, which is no astonishment given the expanse of safety kit fitted. The car comes fully loaded with nine airbags – even encompassing an airbag in the middle of the front seats. There are also many hi-tech assistance systems to warn you of potential crashes in numerous situations. The technology includes Side Assist with Rear Traffic Alert, Front Assist with predictive pedestrian and cyclist protection, along with Turn Assist and Collision-Avoidance Assist.
As for security, the iV hasn't been examined for anti-theft protection by Thatcham Research thus far, but Skoda fits a good standard of security systems to its cars. Furthermore, insurance groups for the SUV are moderate. Dependent on which battery pack you select, your Enyaq iV will be positioned between insurance group 23 and 26.
Essentially, the Enyaq iV is a car that not only looks and feels good – it's also as safe as houses. The electric vehicle revolution is here, so if you're thinking about turning your back on the traditional internal combustion engine now, then as far as electrified family SUVs go, this is one of the best there currently is on the market.
More On This Car
Need more information?
Request More Information