From £14,535
Pros:
Choice of punchy engines

Easy to drive and lots of passenger room

Three trim levels to choose from
Cons:
Rapid Spaceback is actually smaller than the standard Rapid saloon – strange naming choice

Interior quality is a little poor with hard plastic surfaces

Noisy when driven hard
Buy and save on quality approved and used cars
Introduction
The Skoda Rapid was introduced by the Czech manufacturer to plug the gap between the Fabia and Octavia, and shortly afterwards the Rapid Spaceback was launched. Whilst its name is a little misleading as the boot capacity is actually considerably less than the standard Rapid, it does offer huge amounts of passenger space within the cabin.
Both models were treated to a facelift in 2017 with freshly designed front and rear ends, new lights an extended rear window to accentuate the length of the car, plus the arrival of a 1.0-litre TSI petrol engine with 95PS or 115PS.
In addition to the new petrol powertrain, the Skoda Rapid Spaceback is also available with two diesel engines - a 1.4 TDI 90PS and TDI 1.6 116PS.
On The Road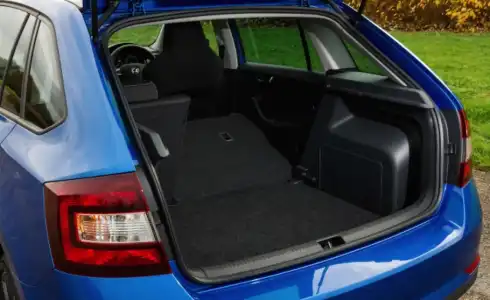 Performance
The Skoda Rapid Sportback is available in three trim levels called S, SE Sport and SE Tech and we tested the mid-range SE Tech version powered by a 1.6 116PS diesel engine mated to a five-speed manual gearbox. This car can complete the 0-62mph dash in 9.9 seconds and maxes out at 123mph. According to official figures, it can achieve combined fuel economy of 67.3mpg with carbon emissions of 109g/km and although we didn't quite match that efficiency, we did see an average 57.4mpg on a road route that included fast dual carriageways, twisting country lanes and congested town centres with lots of stop start driving.
Whilst the Rapid Spaceback is not the fastest hatchback on the scene, it was never designed to compete with the hot hatches. Skoda wanted to offer a compact, easy-to-drive, feature-rich car that was practical for young families and could be used for work, the school run and holidays – in fairness they have done just that.
The acceleration is ample for a family car and the ride is nice and smooth with a good amount of power on tap when needed to overtake at short notice. The diesel powertrain offers a gentle rumbling noise if pushed hard, but that aside, the Rapid Spaceback is excellent value. The test car carried a price-tag of £18,135.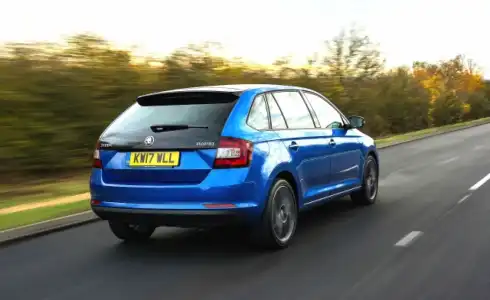 Ride Handling
If it's an edge-of-the-seat, thrill seekers ride you want, then the Rapid Spaceback may not be the car for you. If it's comfort, reliability, practicality and safety that top the agenda then it could meet all your expectations.
And although it doesn't set the world alight with blistering handling, it is a well balanced car to drive. The road-holding is grippy into tight bends and the stability and traction control will keep you firmly planted. There is little sign of any body roll and the car is actually quite good fun to throw around. In busy town centres the steering is light and makes manoeuvring round tight corners a doddle and the good all-round visibility is another plus factor with cars and pedestrians darting out from all angles. The downside to the light steering is noticeable when travelling at higher speeds as it can seem a little jumpy.
I liked the five-speed manual gearbox as it delivered smooth and responsive acceleration. That said; on more than one occasion I went looking for a non-existent sixth gear. There is a seven-speed dual clutch automatic gearbox available on certain models, but generally the five-speed manual transmission is the most common.
Styling
The Skoda Rapid Spaceback offers plenty in the way of refinement. The cabin is well insulated with very little road surface, engine or wind noise filtering through. And the highly efficient suspension system will iron out the majority of the road bumps along the way.
In fact, it's only when the car is driven in an over-enthusiastic manner that any irritating factors enter the mix. The engine gets quite loud when the revs are increased dramatically and the unexpected pothole will send a ripple through the cabin. Driven more responsibly all those factors are removed once again.
The interior is Skoda through and through with a simple, clutter-free layout and a wealth of on-board technology to explore. The V-shaped centre console that rises from the footwell to the dashboard houses the car's infotainment system and on-board features include the likes of an easy-to-use sat nav system, DAB digital radio, a smart touchscreen (some models offer gesture control), along with all the connectivity options to link up to smartphones via SmartLink.
The recently face-lifted models also boast new door inlays as well as redesigned air vents, control panel, manual air-conditioning system, tinted tail lights and new alloys.
In The Car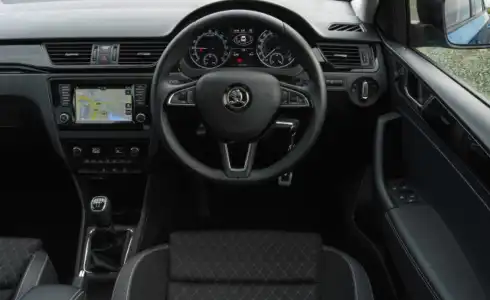 Behind the Wheel
There is plenty of seat and steering wheel adjustment so it's quick and easy to find a good driving position. In addition, the seats are comfortable and supportive. All dials, instrumentation and readouts are ideally placed for ease of use and features such as the sat nav are easy to operate on the move.
As is the norm these days, most cars are offered with a raft of optional extras and the Rapid Spaceback is no exception. It seems we can't be separated from our smartphones and internet access for more than a minute or two so manufactures need to ensure we can stay connected.
With that in mind, smartphones can be accessed via SmartLink, but there is a rather clever optional extra that's worth considering too. That's because the Connect services introduce Infotainment Online and CareConnect for a cost of £400. Infotainment Online delivers online traffic information and offers alternative routes to dodge the jams, along with details about fuel stations, fuel prices, parking spaces, current news and weather. The CareConnect feature supports the driver with automatic emergency calls, breakdown call function and, via an app, it is possible to double check the car is locked and the doors and sunroof are closed.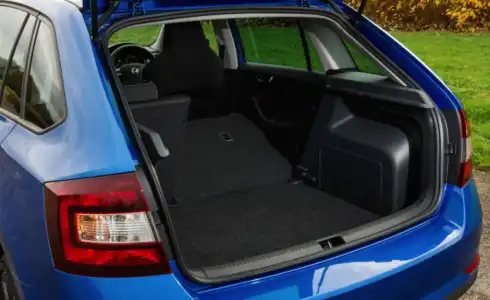 Space & Practicality
First came the Skoda Rapid back in 2012 which was big on passenger space and was in a saloon-style guise. The following year the Rapid Spaceback arrived on the scene and despite its name suggesting it would boast additional space, it didn't. In fact, the boot on the standard Rapid ranges from 550 to 1,490 litres, whereas on the Spaceback it is reduced to a range of 415 to 1,380 litres.
But, ignoring the name, the space within the car is excellent with ample room for a couple of six footers to sit comfortably in the back. The cabin width is also good so back seat passengers won't feel too huddled together and there is enough space for a third passenger in the back for shorter journeys.
The test car featured a dual-height boot floor and the 60:40 split-folding rear seats are quickly dropped to accommodate longer items.
As has become the norm with Skoda vehicles, there are a number of what the company describes as Simply Clever solutions such as an ice scrapper located in the fuel filler cap, a double-sided boot mat with carpet one side and rubber the other, a parking ticket holder, hooks to keep shopping bags upright and multi-media device holders.
Ownership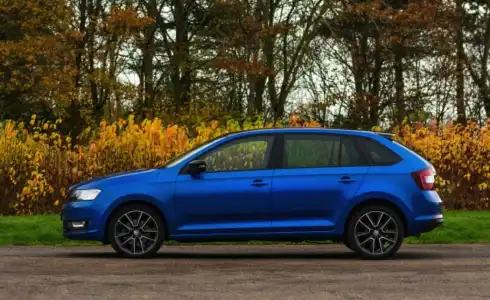 Running Costs
The Skoda name is synonymous with great value and, although Rapid and Rapid Spaceback sales have not exactly soared, they do offer excellent all-round appeal.
The Spaceback starts from £14,535 but that is for the entry-level S spec level which is rather basic. So, it is worth making the move up to the SE Tech range which starts from £15,770.
The test car was priced at £18,135 and offered excellent economy figures with combined fuel efficiency of 67.3mpg and CO2 emissions of 109g/km. Even on the more stringent tax set-up, these figures will mean a first year Vehicle Excise Duty cost of just £140 and then remain at £140 for the following years.
The insurance group rating for the test car is 17.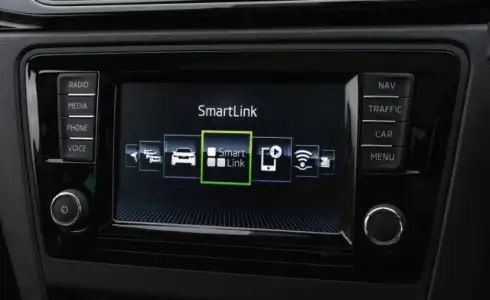 Quality & Reliability
Skoda is part of the VW Group so shares the same reputation for building reliable cars that are made to last.
There is a little hard plastic on display within the cabin, but it does wipe clean very easily. All the upholstery and switchgear feels high quality and looks like it will survive the test of time.
If you're still not sure how dependable Skoda cars are it's worth noting that in the 2016 JD Power rankings Skoda ranked the highest in vehicle dependability for a second consecutive year - that's one of the highest accolades out there.
The car comes with a three-year/60,000-mile warranty, but this can be extended to four-years/80,000-miles for £230 or five-years/100,000-miles for an extra £460.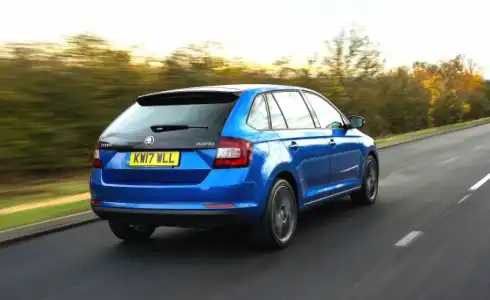 Safety & Security
The Rapid Spaceback was awarded the maximum five stars in the Euro NCAP safety tests and comes fitted with a comprehensive range of safety features as standard with the option to introduce various additional driver aids.
Included in the price are the likes of electronic stability control, anti-lock brakes, hill-hold assist, rear parking sensors, pedestrian protection measures and numerous airbags.
You can add extras including driver fatigue monitoring, cruise control with speed limiter, automatic lights and rain sensors plus a rearview camera.
The car is fitted with an alarm and immobiliser.
Buy and save on quality approved and used cars