Price: From £11,125
Pros:
Fun exterior design

Comes with a lot of standard equipment

Ideal size for parking
Cons:
Ride can be a bit harsh

Pricey
More On This Car
Take one for a spin or order a brochure
Request a Smart Fortwo Coupe brochure
Request a Smart Fortwo Coupe test drive
Introduction
The Smart Fortwo first hit UK roads in the year 2000 as a quirky supermini aimed at city dwellers. Nippy around town and so often seen parked up in the tightest spaces around European cities it became a global hit. Selling over 100,000 models since then in the UK it has been updated, offering much more over the outgoing model making it well packaged and better equipped.
On The Road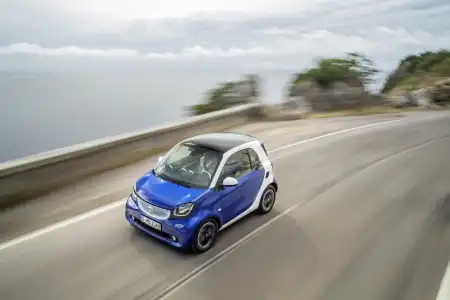 Performance
There are two, three-cylinder petrol engine choices, a 71 hp 999cc and a turbocharged 898cc producing 90 hp. The more powerful engine is really nippy but is also quite noisy with a top speed of 96mph and a 0-62mph time of 10.4 seconds.
Using a new five-speed manual gearbox, an improvement on the previous transmission which nobody liked, it shifts smoothly through the box as you get the tiny car up to speed, although you don't want to spend a huge amount of time motorway driving as it does struggle.
An option that will become available is a twinamic 6-speed dual clutch automatic transmission that will cost £995.
Ride Handling
The Fortwo is that small at 2.69 metres that it has an impressive turning circle of 6.95 metres so is ideal when manoeuvring, even better than a London cab, apparently.
Driving along city routes and the ride is fine, but as road surfaces become less than pleasant it can feel a bit harsh and being so close to the rear axle it makes the Fortwo uncomfortable at times. But that being said, with the new chassis based on the Renault Twingo bringing with it an improved suspension, it is so much better than the previous model.
The steering is light and feedback is good, although it's better not to carry too much power into corners as the fortwo will feel quite twitchy.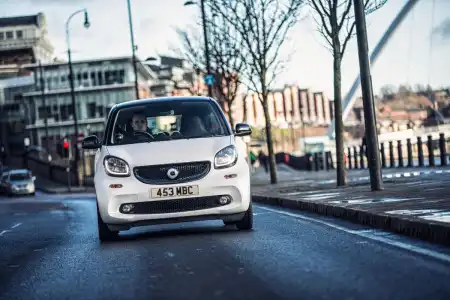 Styling
The less powerful 71hp engine seems a better option for the rear-engined car as it's quiet and the the 90hp engine has an annoying throttle issue which feels like it's giving you more power when you have in fact lifted off. The engine noise is particularly loud, even when we were waiting to set off on the route.
Once up to speed the cabin isn't that quiet with some wind noise around the mirrors and door handles.
In The Car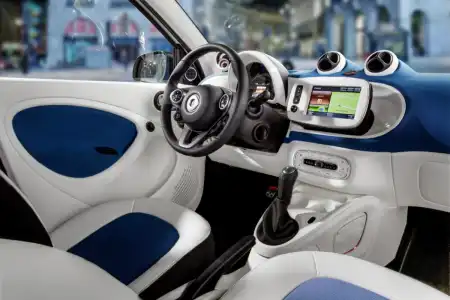 Behind the Wheel
Visibility is still a bit hampered because of the small rear window, but it has been improved and forward facing it is really good. Driving position helps this and you don't feel too cramped in the car knowing it only seats two people.
The interior is funky, yet simple and clutter free and the choice of colours to personalise it make it vibrant. Trim levels available are passion, prime and proxy with the entry level passion containing plenty of standard equipment, including cruise control with speed limiter, direct-steer electric power steering, a leather multi-function steering wheel and a smart audio system with automatic climate control. Further trim additions include a panoramic roof, heated seats and a clock and rev counter on the dash, which are a bit odd as they look like they've just been added last minute before it rolled off the production line.
Space & Practicality
The new Smart Fortwo is incredibly spacious, as a passenger it is possible to sit with legs stretched out and not feel like you're being driven around in a two-seater capsule.
Boot space on the car is never going to be huge but we managed to put in a suitcase and various bags and coats with ease. It also comes with a nifty split tailgate too for ease of loading.
If you like the Smart but want something larger then the five-door Forfour is an option. The rear doors open at an 85 degree angle so access is easy, ideal if you want to buy one as a family car. The front passenger and rear seats fold flat so items up to 2.20 metres in length can be loaded into the Smart, ideal when heading to Ikea.
Ownership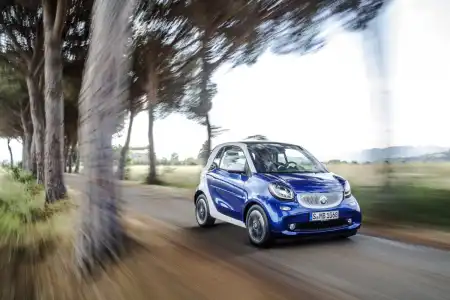 Running Costs
The 71 hp engine returns 68.9mpg on the combined cycle and emits just 93g/km of CO2 while the more powerful 90 hp manages 67.3mpg with 97g/km of CO2, both will be exempt from Vehicle Excise Duty.
The Smart is priced from £11,125 for the Fortwo, which does seem quite high for such a small car, but it does come with plenty of standard equipment that you'd struggle to get on rival models, not that there are many comparisons as it's such a unique car. The Forfour costs from £11,620 so is not much of a step in terms of the better practicality you'd get with it and is more likely to be the popular of the two.
Quality & Reliability
What is really good about the new Smart Fortwo is the quality of the car, materials are solid and the cabin is well built with a premium feel. The previous generation was really reliable and with the many improvements on this new version then it should be just as good.
Safety & Security
The new Smart Fortwo uses their well-proven tridion cell and to see how well it performs a Smart was on show at the launch that had been in collision with a Mercedes-Benz S-Class. At an impact speed of 30mph with 50 percent overlap the passenger cell remained intact, so driver and passenger would be able to walk away.
With five airbags offering plenty of protection, there is also Crosswind Assist, a Forward Collision Warning and Lane-Keeping Assist on the new Smart.
More On This Car
Take one for a spin or order a brochure
Request a Smart Fortwo Coupe brochure
Request a Smart Fortwo Coupe test drive