From £17,000
Pros:
Two-tonne towing capacity

4x4 capabilities for £18.5k

Impressive 5-year limitless mileage warranty
Cons:
Noisy when pushed hard

Competing against outstanding rivals in segment

Range-topper is £23,500 which could scare off potential buyers
Buy and save on quality approved and used cars
Introduction
The SsangYong Korando first hit the scene back in 2010 and was viewed as a modern, stylish and upmarket SUV. The latest face-lifted 2017 model features a contemporary front end and some upgraded equipment.
There are four models in the range with the two-wheel drive SE version priced at £17,000.
With practicality in mind, the Korando boasts storage up to 1,312 litres and the car's excellent towing power has made it a popular choice with people who regularly tow a caravan, horse box or boat trailer.
On The Road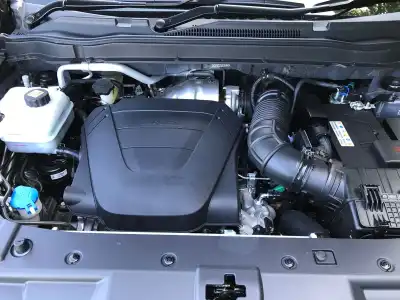 Performance
The Korando is only available with one powertrain – a turbo-charged Euro 6 compliant 2.2-litre diesel engine with a maximum power output of 178bhp and 400Nm of torque. The engine can be mated to a six-speed manual gearbox or six-speed automatic transmission. Customers can also choose between front wheel-drive or an intelligent on-demand all-wheel drive system.
We tested the range-topping Korando 2.2 ELX auto with 4x4 priced at £23,500. It could sprint to 62mph in 9.9 seconds and topped out at 115mph. Although these are not the most dynamic performance stats out there, the Korando is a very simple car to drive. By that I mean the light steering makes manoeuvring the car an easy task and the automatic gearbox is beautifully smooth as it accelerates away.
You will hear quite a lot of engine noise when driven hard and there is a fair amount of body lean into corners, but it's worth remembering the lower-priced Korandos offer a whole lot of kit and the likes of 4x4 capabilities for less than rivals such as the Nissan Qashqai.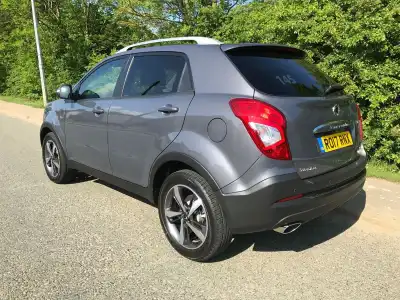 Ride Handling
When driven in a 'sensible' manner the Korando is perfectly acceptable with nice steering, acceleration and all-round driving performance. However, when you push the car to find a little more dynamism that's when the odd problem rears its ugly head.
Firstly, engine and noise levels are accentuated considerably at higher speeds. Then there is the lean into bends and corners if taken too 'enthusiastically', and finally the road-holding was not particularly confidence-building when pushed along.
The suspension was efficient though and absorbed most bumps and dips along the way and the car seemed very at home on the motorway where it cruised effortlessly at faster speeds.
It is only when it is taken out of its comfort zone that any real issues begin to appear.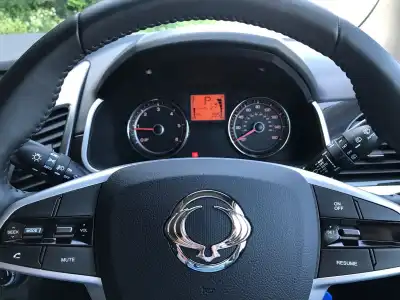 Styling
Although refinement isn't a word usually associated with the SsangYong marque, the Korando definitely displays a huge increase in standards especially on the top-of-the-range ELX model.
The latest Korando features a distinctive piano black grille along with fresh lighting clusters that include fog lights and daytime running lights that use 11 LED lamps with separate lenses to improve visibility. The interior has an ergonomically-designed steering wheel and a whole array of technology worth exploring including a seven-inch touchscreen with TomTom navigation, leather upholstery, heated front and rear seats, a power-adjustable driver's seat, powered windows, puddle lamps, iPod and Bluetooth connectivity, air conditioning, roof rails and tinted windows. The blue instrumentation needles are a neat touch too.
Whilst the Korando may fall short on some issues and noise levels within the cabin are not always particularly refined, it's worth noting that many of the features that are included in the standard price would be expensive extras on rival models and some features such as heated rear seats would only be available on more upmarket and premium cars.
In The Car
Behind the Wheel
Comfort levels within the Korando are good and the driver benefits from excellent all-round visibility thanks to the elevated seating position.
The SsangYong brand has come under fire in the past for building a reputation for poor build quality within its cars. But on the range-topping ELX model the Korean company has certainly raised the bar. The leather upholstery looks and feels good, there is a very little hard plastic compared to older versions and the ergonomics are impressive too with all dials switches and instrumentation easy to access and read.
The seven-inch touchscreen is a little small especially when trying to read directions, but elsewhere it was simple to connect a smartphone, the seat heaters were very efficient and soon warmed up and the car has a nice comfortable feel to it.
Another thing that SsangYong has done very well is include high levels of kit in the £23,500 asking price. In fact, the only additional cost was for thThe Korando excels in this area and has proved itself to be a very practical and versatile compact SUV designed to suit the active family who like to get full value for their money.front wheel-drive. price-tag.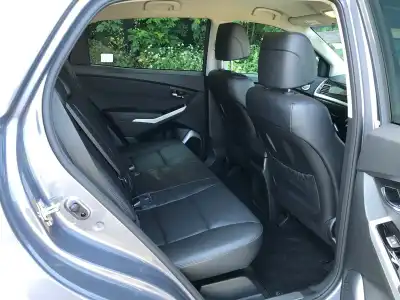 Space & Practicality
The Korando excels in this area and has proved itself to be a very practical and versatile compact SUV designed to suit the active family who like to get full value for their money.
The boot has a load capacity of 486 litres which can be increased to 1,312 litres with the 60:40 split-folding rear seats dropped flat. The tailgate is opened electronically and an internal hand grip makes it easier to close again. Elsewhere there are cup holders, a central bin, a glovebox and deep door pockets to store bits and bobs.
The car is spacious enough to accommodate four adults (five at a squeeze) and the high roofline (1,710mm) means back seat passengers are treated to plenty of headroom, along with elbow and leg space.
And anyone who regularly tows will be impressed with the two-tonne capacity that the Korando offers. Another factor that will be of interest to this towing community is the on-demand 4x4 system which automatically shifts the power to the wheels with the most traction – another plus factor if pulling caravans or horseboxes on rough ground. When the 4x4 capabilities are not required the car reverts back to front wheel-drive.
Ownership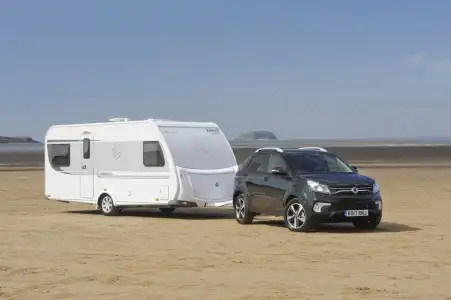 Running Costs
The SsangYong brand has always been viewed as fairly bargain basement when it comes to pricing and with an entry level price-tag of £17,000, the Korando lives up to that reputation.
However, the test model in ELX trim certainly moves away from that cheap and cheerful label and introduces a car that features good, if not dynamic, driving and performance capabilities; a multitude of quality techno treats, practicality for all the family, along with 4x4 capabilities and class-leading towing limits – all for a very reasonable price.
When it comes to day-to-day running costs the Korando is okay but not spectacular. The combined fuel economy is officially 41.5mpg, but I was seeing around the mid-30s during my test run. The CO2 emissions figure is set at 177g/km. On the more stringent tax set-up, these figures will mean a first-year Vehicle Excise Duty cost of £800. The insurance rating for the car is 26D.
A plus-point on the economy front is the impressive 5-year limitless mileage warranty.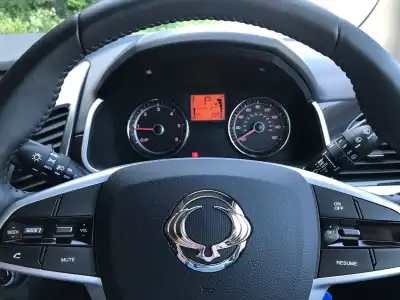 Quality & Reliability
The build quality of the latest SsangYong Korando has seen a vast improvement compared to earlier SsangYong models, but there is one major problem. Whilst SsangYong has upped its game, so have its closest rivals including the two major alternative Korean brands Kia and Hyundai.
However, the Korando test model did feel like it would pass the test of time. The seats and leather upholstery were of a good standard and most surfaces would be fairly scratch resistant. The switchgear could be better and felt a little cheap, but that aside the all-round quality is a marked improvement.
That impressive warranty should also bring some peace of mind though and covers all the major mechanical components including wheel bearings, suspension joints and bushes, steering joints, shock absorbers and even the audio system.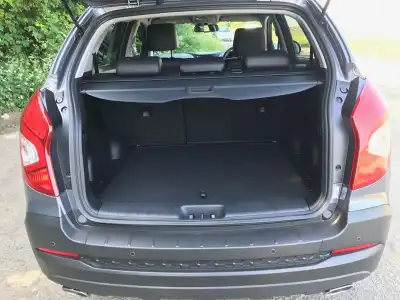 Safety & Security
The safety kit on the Korando is fairly comprehensive with the likes of anti-lock brakes with electronic brakeforce distribution, electronic stability programme with active rollover protection, hill start assist, front seatbelt pre-tensioners, active head restraints to help prevent whiplash plus front, side and curtain airbags.
The car is fitted with an engine immobilizer and alarm to keep thieves at bay.
The Korando has never been selected to be tested for a Euro NCAP safety rating, but SsangYong is confident it would achieve high marks.
Buy and save on quality approved and used cars