From £19,995 (ex VAT)
Pros:
Outstanding value - Musso is the most reasonably priced double-cab pick-up

Good off-road capabilities

Sector leading 7-year/150,000-mile warranty
Cons:
Strong competition from established rivals such as the Nissan Navara, Isuzu D-Max and Mitsubishi L200

The stick-on transfer decals look a tad cheap
More On This Car
Take one for a spin or order a brochure
Request a SsangYong Musso brochure
Request a SsangYong Musso test drive
Introduction
Once upon a time the only place for pick-up trucks was on a farm loaded with hay bales or pulling a hefty old caravan or horsebox. But that was then and this is now – these practical double-cab vehicles with go-anywhere styling and all the on-board luxuries we've become accustomed to, are all the rage.
And the latest SsangYong Musso is an excellent contender for sales. It looks rugged, offers good off-road ability and is available in four trim levels called EX, Rebel, Saracen and limited-edition Rhino.
The Musso, which is Korean for rhino, is built in Korea and SsangYong is confident the vehicle will account for as much as 50 per cent of its UK sales.
On The Road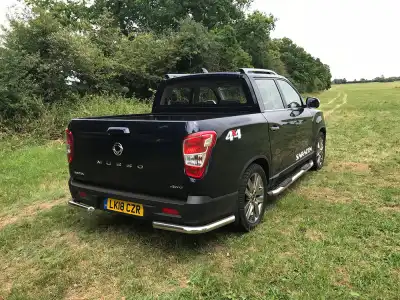 Performance
The Musso is only available with one engine choice – a powerful 2.2-litre unit delivering 181PS and 400Nm of torque. It has the same chassis and drivetrain as the multi award-winning Rexton and is available with a six-speed manual or an Aisin six-speed automatic gearbox.
We tested the Musso both on and off road so we could assess its ability as a working vehicle as well as a family car. First up was the Musso Saracen automatic priced at £26,245 excluding VAT and this was taken on an extensive road route that incorporated congested stop/start traffic, country lanes and fast-moving motorways.
Although there are no official 0-62mph sprint times as the Musso is classed as a light commercial vehicle, it seemed nice and spritely off the mark and maxes out at 115mph (121mph for manual versions). The engine delivers plenty of power and the transition through the automatic gearbox is responsive and smooth. I would have liked paddle shifts but they were not available.
A session traversing a five-mile stretch of off-road terrain featuring steep drops, shallow river wading and bumpy road surfaces was tackled in the Musso Rebel and it excelled at every task. The hill hold was confident, the hill descent was composed both in 'drive' and 'reverse', and the switch between 2WD and 4WD along with low ratio gears is a quick and easy process. It is a car that feels quite invincible.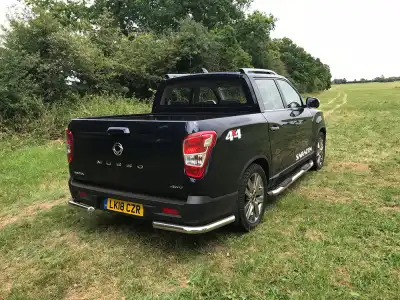 Ride Handling
Getting the perfect balance between a vehicle that doubles as a family car and workhorse is no mean feat – after all it needs to be comfortable for long family outings yet still maintain the ability to pull a caravan or horsebox whilst stacked high with hay bales. In fairness, the Musso makes a respectable job of it. When taken away from the comfort of the Tarmac it is composed and well balanced on uneven ground and the 4x4 operational systems are easy to access.
We chose to drive our on-road vehicle laden down with sand to see how the Musso handled and it was certainly not fazed by the additional weight. The road holding was assured meaning the car can be driven with attitude and it was also well balanced into bends. Admittedly, it's not a high performing pick-up such as the Mercedes X-Class but it hasn't been designed to take on the premium marques.
The steering is neither fabulous or awful – it simply does the job with enough driver feedback along the way. In fact it would be fair to say that at times, the Musso felt and drove more like an SUV than a pick-up truck.
There are three driving modes to select from called Eco, Winter and Power which alter the way the car handles accordingly.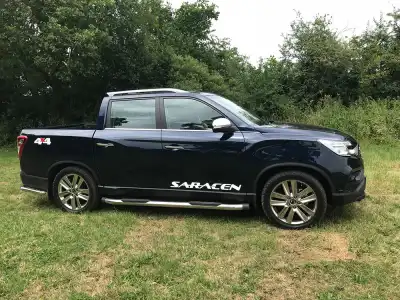 Styling
If there is an area that has held SsangYong back in the past it's been refinement. That was until the Korean marque released the latest Rexton which oozed upmarket, elegant and first-class equipment levels matched by premium styling.
And in a way, that success story has been carried forward into the Musso. Obviously, the Musso is more about practicality than luxury, but long gone are the days when a brief exploration beneath the steering column of a SsangYong resulted in cuts and grazes. There are soft touch finishes, Nappa leather upholstery, a wealth of on-board technology and lots more besides. Yes, there's hard-wearing plastic surfaces, but they are more of a practical rather than eye-sore nature and would be easy to wipe down.
When it comes to cabin refinement, the diesel engine is beautifully hushed even when pushed on. You will hear a little road surface noise on motorways and the double wishbone suspension system which has been specifically designed to cope with heavy loads, makes the ride feel quite firm at times.
As I mentioned we were driving a loaded vehicle – others who drove the Musso unweighted described it as being a little juddery over all but the smoothest Tarmac.
In The Car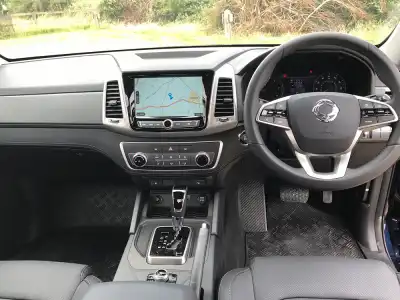 Behind the Wheel
Comfort levels within the Musso are generally high and there is ample seat and steering wheel adjustment available. The driver benefits from good all-round visibility thanks to the elevated seating position, large rear window and clear over-the-shoulder view with narrow pillars.
The leather seats could be heated or cooled and were power adjustable. The heated steering wheel will be much appreciated in winter months too.
Infotainment needs are catered for thanks to the 9.2-inch touchscreen with TomTom navigation. There is Apple CarPlay or Android Auto to connect smartphones and other kit includes a reversing camera, DAB radio and Bluetooth, cruise control, automatic projection headlamps and LED positioning lights, metal front skid plate, bright finished tubular side steps, bright rear corner bars, bright finished mirrors and door handles and Saracen graphics. Personally I though the 'Saracen' and '4x4' stickers lowered the quality a little but it's a matter of taste.
All the controls, dials and read-outs are perfectly positioned for ease of use and many of the car's systems can be accessed and controlled via the multi-function steering wheel.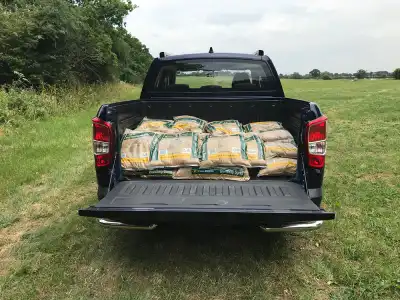 Space & Practicality
This is an area where the SsangYong Musso needed to excel in order to attract buyers and it does just that by being practical on the inside whilst delivering all the lifting, carrying and towing capabilities necessary. The Musso boasts a 3.5 tonne towing limit which is the benchmark for those who tow large work trailers, caravans and horseboxes, but at the same time it can also carry a one tonne payload. And that, according to SsangYong, is the highest combined total load capacity for any pick-up on sale in the UK.
In addition, it features a Euro pallet-sized load deck which includes a load liner and tie down hooks to secure items.
Passenger comfort and practicality levels are also good with side steps to make entering or exiting the vehicle easier. There is bags of space up front and even if the seats are pushed well back, the rear legroom is still generous. There is ample head and shoulder space for a trio of back seat occupants although the stiff-backed front seats can be hard against the knees.
Throughout the Musso there are plenty of handy storage compartments including a glovebox, door bins, sunglasses holder, pockets in the back of the front seats, a central box and cup holders.
And for anyone who finds the car isn't quite big enough, there will be a long-wheel-base model introduced a little later down the line.
Ownership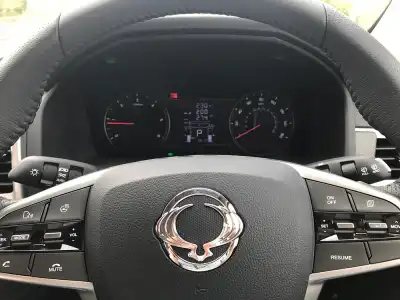 Running Costs
SsangYong describes the Musso as a tough, strong, value-for-money 4x4 and it's exactly that. There's no frills and added extras to bump up the cost. In fact, the only options available are the automatic transmission which adds £1,250 (ex VAT) to the price and metallic paint which is £430 extra (also ex VAT).
Our test car carried an on-the-road price of £26,245 and featured the auto gearbox and metallic paint. Of course these are prices before the VAT has been added which would see the cost rise by more than £5k, although most business drivers can claim that back.
As the Musso is classed as a light commercial vehicle there is a set tax rate across the range meaning a charge of £250.
According to official figures the Musso can deliver combined fuel economy of 32.9g/km with carbon emissions of 226g/km. Insurance group ratings are estimated to be between 40 and 42 although this is still to be confirmed.
One major USP though is the class-leading warranty of seven years or 150,000 miles.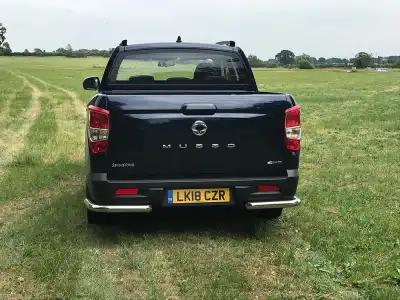 Quality & Reliability
The fact that SsangYong has introduced the Musso with an industry leading seven-year/150,000-mile warranty shows just how confident they are in the vehicle's durability, reliability and longevity.
It certainly feels sturdy in its build and the switchgear looks like it will survive the test of time. There is a nice mix of creature comforts with leather or imitation leather upholstery along with harder wearing plastic surfaces that can be wiped clean. Thankfully there's no sign of any piano black shiny surfaces that would scratch within days of taking ownership.
As for the stickers on the exterior of the vehicle, I could see them peeling away in time. I'd prefer they were left off in the first place!
It's difficult to predict how reliable this Musso will be, but it would be fair to say SsangYong has drawn on its history spanning back more than 60 years where it has built a strong reputation for developing 4x4 technology.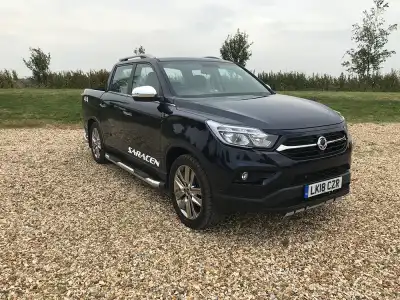 Safety & Security
It's far too early to have any Euro NCAP safety rating for the Musso, but it has a so-so level of equipment to protect occupants and passengers alike. There are six airbags as standard, along with a strengthened chassis, energy absorbing elements in the steering wheel and steering wheel column and a re-shaped front end to protect pedestrians.
The lack of many driver aids such as lane departure warning, lane keep assist and autonomous emergency braking are noticeable through their absence though in an otherwise well-equipped car.
More On This Car
Take one for a spin or order a brochure
Request a SsangYong Musso brochure
Request a SsangYong Musso test drive