From £21,995
Pros:
Generous kit levels

Impressive all wheel drive

Very good touch screen display
Cons:
Not that economical

Firm ride at low speeds

High spec models become expensive
Buy and save on quality approved and used cars
Introduction
While the UK has become obsessed with crossover cars with 4x4 looks (but often not 4x4 guts) it has taken a while for a manufacturer with genuine off-road pedigree to step up to rival the likes of the Nissan Qashqai. Introducing the XV from Subaru; a car which on paper should outshine the Qashqai for capability and versatility with unquestionable outdoorsy-ness, but is that what the general public actually want? Or do they just want to look like they do?
Most crossovers try to appear like they can go off road, but don't. The XV is the opposite.
On The Road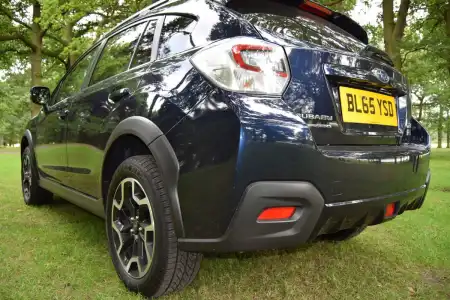 Performance
There are two 2.0 litre engines to choose from; a petrol boxer engine or a turbocharged diesel. The petrol unit pushes out 148bhp and runs the industry stand 0-60mph sprint in 10.7 seconds. Sadly the petrol engine doesn't couple up with the CVT gearbox very well at all. Happily we can report it works fine with the manual though. The diesel is available exclusively with a manual gearbox and although it drops 2 or 3 horsepower on the petrol it has loads more torque (350Nm, compared to the petrols 195Nm) and therefore will run the 0-60 sprint in just 9.3 seconds, which is more like it.
Although the petrol is slower it can be a bit more engaging to drive as the boxer engine needs to be revved to get power out of it, whereas the diesel has a much shorter power band and you'll find yourself changing through the gears more often.
The best thing about driving the XV is the immense amount of grip thanks to the all wheel drive system. Crossovers in this segment often suffer horrific understeer due to having roughly the same size, weight and centre of gravity as a traditional 4x4 but they don't have the mechanical prowess to keep the car planted to the ground. This immediately makes the XV one of the most exciting crossovers in this segment to drive; you can tear through B-road bends at a terrifying rate, if you dare.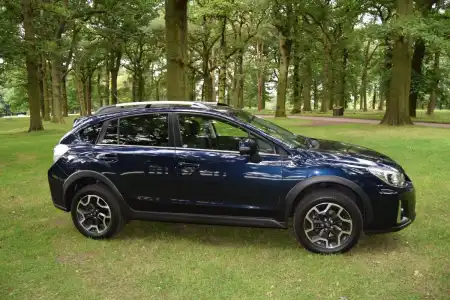 Ride Handling
Driving the XV around town is no chore at all. The suspension is enough to cushion road surfaces adequately but the XV can't quite glide over speed bumps as well as the likes of the Nissan Qashqai or the Audi Q3. The latter being a premium car which is a genuine competitor, as the diesel XV costs the same as the Audi, albeit with the prestigious German being an entry level model. You'll be left wanting a more cushioned ride than the XV can actually provide.
The handling of the XV is far superior to most in the segment though. The steering is really direct and easy to predict making tight bends simple enough and, as mentioned, the forward momentum of a car this size is contained well thanks to the all wheel drive system - which is on all models.
It's worth mentioning that we really value the fact that the XV is genuinely capable of going off-road; as cars of this appearance are supposed to even though in reality few can cope. The XV has a good ground clearance, rugged aesthetic and extremely capable all wheel drive, not to mention Subaru have a history of consistently creating incredibly reliable engines. If you tow a caravan or live in an area with particularly rough winters, we'd recommend the XV highly. If you just want to look like your car can go off road, when really it can't, there will be cheaper options which are more pothole-friendly.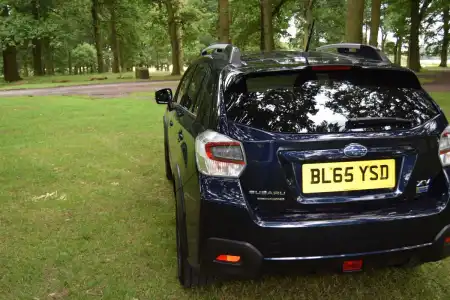 Styling
All modern cars with diesel engines fall victim to some scrutiny here as no manufacturer has really nailed making a unit with the same level of refinement as a petrol. The XV is no different. The diesel engine has a prominent rumble at normal speeds, which can be easily ignored, but when you put your foot down and work the engine then the volume picks up substantially. Happily though the pedals don't vibrate and neither does the steering wheel so it's no worse than most other diesels in the segment, although it doesn't quite compare the level of refinement from the 1.5dCi engine in the Qashqai.
One thing we did notice is that wind noise is certainly intrusive from the wing mirrors. It is audible at motorway speeds and becomes exponentially irritating the more you break the speed limit. Stay within the laws and it shouldn't annoy you too much - but don't say we didn't warn you.
In The Car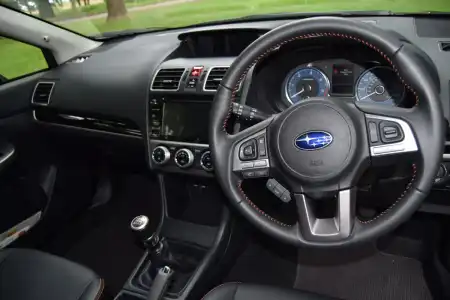 Behind the Wheel
Kit levels are generous - you get leather seats on every level except the base 'SE' but the leather steering wheel, leather gear knob, touch screen display and heated seats are standard from top to bottom. Thanks, Subaru; very generous of you.
There are some cheap plastics on the dashboard but it's nothing too off-putting as you're also given very comfortable seats, an attractive centre console as well as plenty of tech that competitors will charge through the roof for. The dials for the air con operate with a satisfying 'click' and are easy to use with gloves on. Our favourite features include the touch screen entertainment centre - which is the most responsive we've seen from a Japanese manufacturer - and also the reversing camera has a really wide angle which makes reversing out of bays a breeze.
All-round visibility is good due to plentiful glasswork around the body and all the key driving features are close to the wheel. It's a well thought-out and ergonomic cockpit. My only quirks were; 1) the seat heater buttons are located below the armrest at a bit of an awkward angle and 2) once I'd arrived at a destination, I couldn't figure out how to turn off the engine but keep the radio playing. I couldn't even turn the radio back on by hitting the on-looking button. I'm sure there's a way of doing it, there must be, but it wasn't obvious enough and I couldn't find it. Some of us like to go and sit in Tesco carpark and listen to Talksport by ourselves on our lunch break - I'm not the only one, hopefully. I don't want the added guilt of harming polar bears because I only have radio that runs off burning fossil fuels.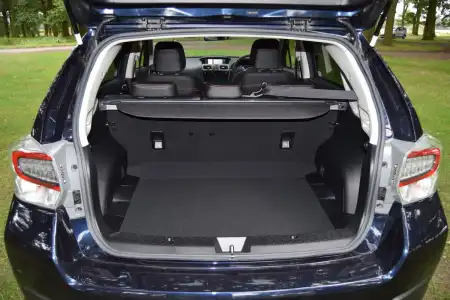 Space & Practicality
The XV boasts a very spacious cabin which is plenty big enough for a family of 5. Leg room is generous and head room isn't bad at all either. We like the attention to detail that Subaru have achieved just to make sure the car serves its purpose. The glovebox is nice and big, the door-bins are all deep enough to hold a water bottle each and there are loads of stow-away storages spots. This isn't a big deal for manufacturers to achieve but so few actually bother and it makes life significantly easier for buyers throughout ownership. I got in a brand new DS 3 the other day and the glovebox was too small for the logbook - brilliant.
They've done a good job with the boot too; 380 litres with the rear seats in place is 'ok'. I'd say that in this segment anything over 400 litres is exceptional so they're only just short of that. It's when you fold the rear seats down that the boot opens up to a hefty 1,270-litre of luggage space which is 400 more than the Qashqai offers.
Ownership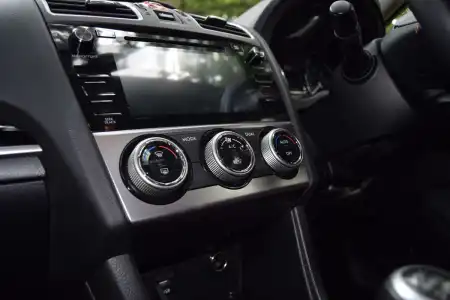 Running Costs
The XV only comes with 2 engines which makes your decision for you, really. The 2.0litre diesel is our pick because of the performance reasons we've mentioned, but also because the numbers add up. You'll get 52mpg and a road tax bill of £145 a year, not amazing but it could be worse. Here's worse: the 2.0 petrol will only do 43.5mpg and costs an extra 40 quid to tax each year. Can you really be bothered putting up with a slower, less powerful, less economical car, just to tell your mates it has a more 'linear powerband'? No, you can't, so get the diesel.
Quality & Reliability
Subaru has always been a manufacturer synonymous with bulletproof reliability. Their engines last forever and the materials used in production are very hard-wearing. Yes there are some scratchy plastics inside but it's a well put together car and will last a long time. Still not sure? Subaru offer a 5 year warranty with all their cars - just in case...
Safety & Security
The ridiculous amounts of grip that the XV provides should count as a safety system in its own right. You're noticeably more stuck to the road in the XV than in any front-wheel-drive crossover on the market. You also get plenty of airbags (7) throughout, traction control, anti-lock brakes and pedals that retract on impact. As expected the XV got the industry standard 5 out of 5 stars in the Euro NCAP safety tests, with a staggering 90% for child safety protection.
Buy and save on quality approved and used cars